Your beautiful day is coming up; creating the perfect wedding backdrop may be in the back of your mind, while thoughts of catering and the dress, amongst other things are whirling around in your head. But have no fear! The perfect wedding backdrop doesn't' have to take you hours upon hours to create. Even for those of us who have no 'green thumb' (or shall we say "glitter thumb'?) when it comes to crafting. Here are a few ideas to inspire you to create a casual and romantic way to accent your photos of friends and loved ones, and you! These will certainly make for photos worthy of constant display in a digital photo frame.
Curtains and Lights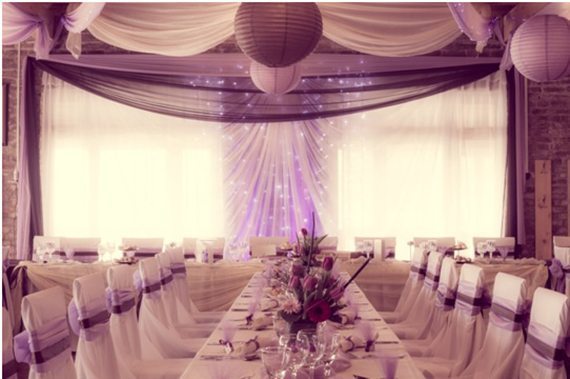 This works for the backdrop of the head table or a separate photo area indoors. Hang white or light-colored curtains (maybe gold or match a wedding color) and string white lights behind them. A daytime/outdoor version can be made out of mosquito netting, draped from a tree, with an arranged seating area underneath. Use an old sofa or a large bench with a back, and several colorful, mismatched pillows propped across the back of the bench to keep with a soft look.
Paper
The biggest trend right now is paper backdrops. The options are endless and usually take more time than skill. Indoors, hang any of these across a horizontal fixture, wall, or the ceiling. Outdoors, string them up between trees or attach to a trellis you bought or make from something else.
Here are some options for you to consider for your paper backdrop:
Streamers (regular size), or make your own wider version of streamers from long rolls of colored paper. You can then cut them into shapes.
Place cutouts of any shape like hearts or circles, hung at different intervals, using fishing line.
The larger the flower, the fewer you need. You can use one color or several. Or you can use theme colors, or gradations of one color.
Paper Substitutes: Wax paper or coffee filters with many variations, including ombre.
Fresh Flowers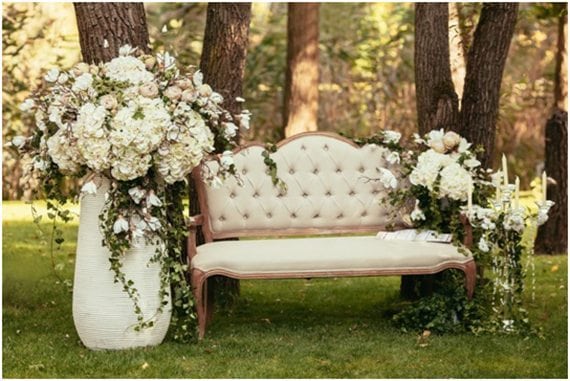 These can also be used indoors or outside. Outside you can hang them on fishing line, use chains, or beads at different intervals; want to arrange a seating area under trees? Place large bouquets in planters arranged around the seating area. The flowers need to be as fresh as possible to last throughout the photo session, so arrange your flower pick-up accordingly. This is easier than making the flowers yourself.
Hay Bales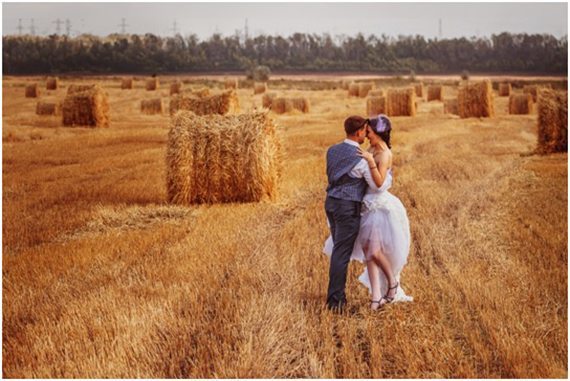 These are easier to use outdoors, but could be used inside, as well. Pile hay bales up to be the backdrop. Set out some old metal containers or milk buckets on the ground and you're ready. To continue this theme, have the subjects hold large picture framesmade of wood around them, together, or use separate frames per person. (Photo courtesy of Buzzfeed)
You can make your backdrop anything you'd like. Use paper, twinkle lights, fresh flowers or more unusual items like hay bales as a special touch to your day. Create a custom and memorable backdrop as unique as the two of you, and make one of your best wedding gifts an electronic picture frame to proudly display your crafty photos.
**
Melanie Valenzuela has been writing about business topics for several years and currently writes on behalf of the digital picture frame specialists at Nixplay . When not writing, she can be found working on her world perspective through travel; or challenging her heart rate through tennis, running or attending a Kansas City Royals baseball game. You can find her on LinkedIn.