Whether they're for your engagement, bridal portraits, or wedding, the photographs commemorating this special time in your life should both look and feel classic, joyful, and timeless. Krystal Troutt of Krystal Troutt Photography, based in Hammond, Louisiana, is committed to capturing just that. Krystal's passion for her work is contagious. She cares about each of her clients and has curated an eight-step process that's organized, interactive, and personal.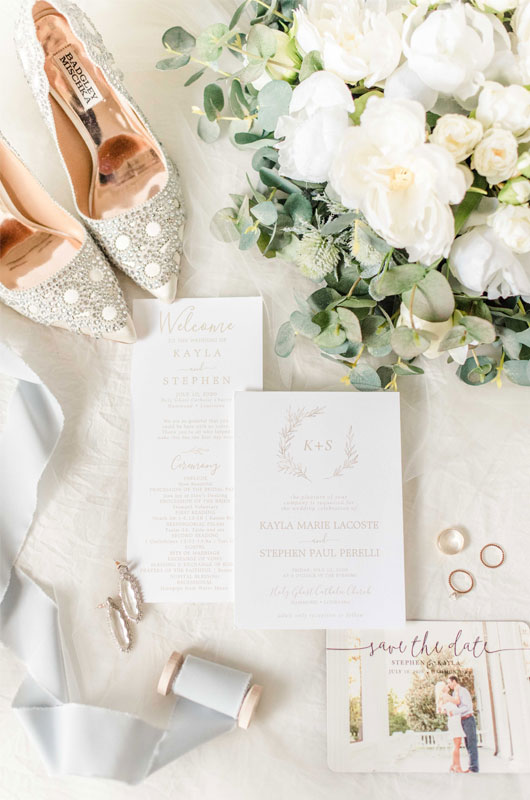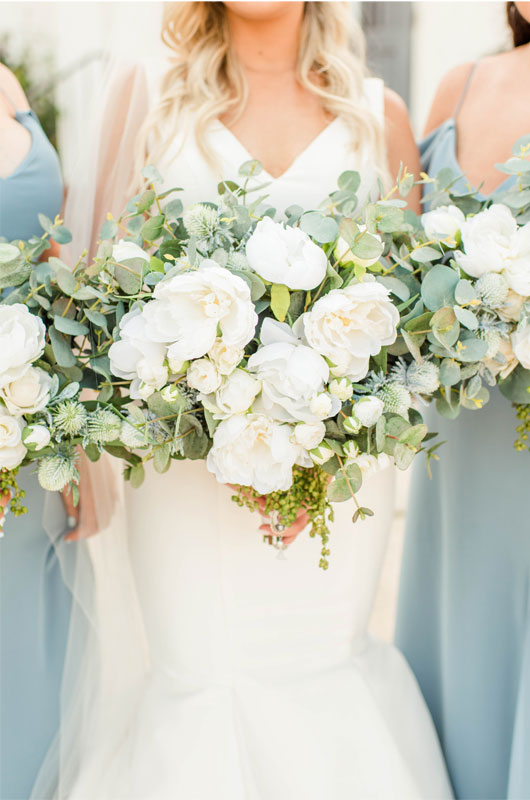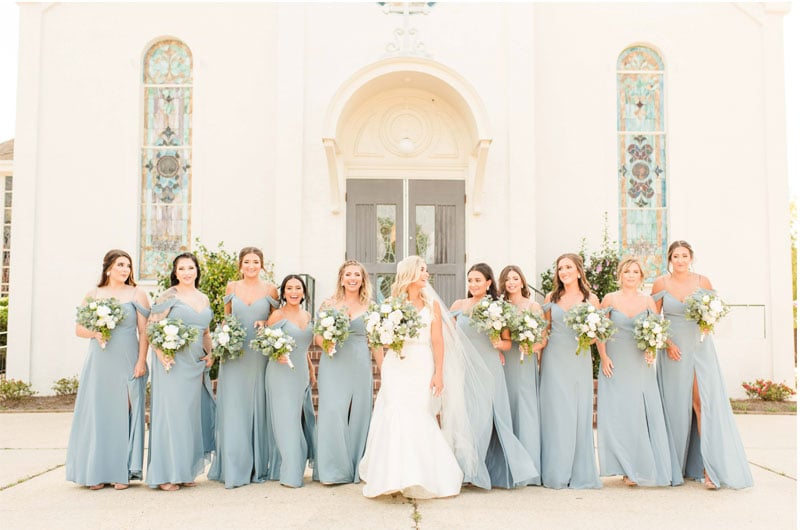 Clients can begin working with Krystal for engagement photoshoots and bridal shots before the big day—she'll even send a custom bridal guide filled with 72 pages of helpful tips and tricks as soon as you book! Krystal also offers phone calls and meetings with potential and existing clients to help make the wedding planning process smooth and enjoyable. Invested in each couple she photographs, Krystal creates a blog post for each couple after their wedding day and finishes their wedding galleries within one month of the ceremony date. Learn more about Krystal in her own words as she reminisces about this romantic summer wedding shot in Louisiana.
Soft dusty blue and ivory seamlessly mesh into a backdrop of a historic Hammond, Louisiana, church and a bright summer day. When you add a couple like Kayla and Stephen Perelli, it becomes every photographer's dream. You wouldn't even know that it was 112 degrees in Southern Louisiana that day. That's the magic of a photograph: a Louisiana July most certainly brings the heat, but with a couple basking in the joy of their wedding day, everything looks and feels effortless.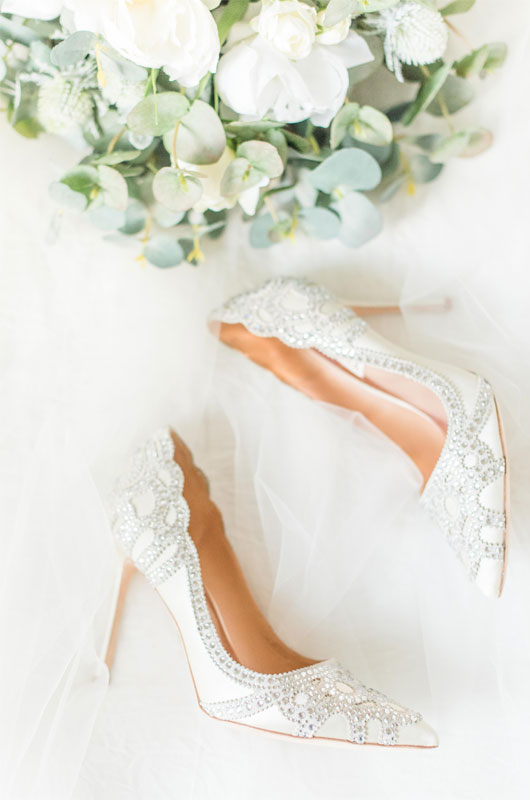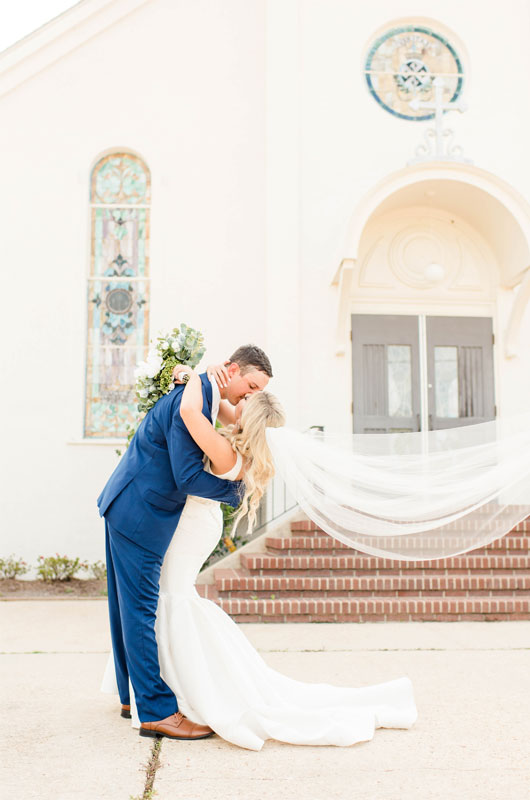 Kayla and Stephen began their wedding photography session with a "first look" before their ceremony, soon followed by breathtaking portraits in front of Holy Ghost Catholic Church in Hammond. The over-twenty-two-person bridal party and the couple were lively and bursting with energy, taking the heat like champs. Shooting in front of the chapel, Krystal marveled at the love and support flooding from the bridal party, family, and friends onto Kayla and Stephen before their beautiful and heartfelt Mass. With laughter and love, everyone in attendance cherished each moment of that day. "My clients make my job easy—this day and the photographs I took of it represent why I do what I do," she said.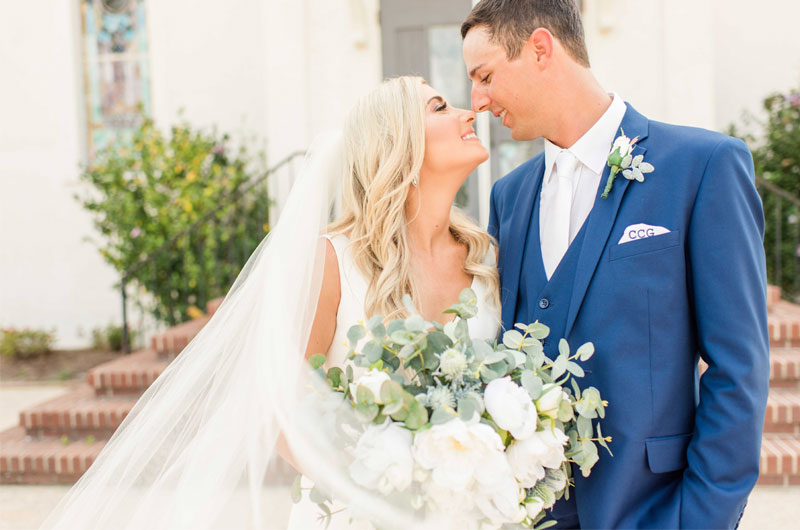 Krystal considers herself lucky to meet and work with couples like Kayla and Steven. As Krystal shoots couples for their engagement, bridal shots, and wedding day, she hears their stories and cherishes the different ways love takes its shape. What began with a cosmo and a number written on the back of a cell phone at a local bar unfolded into a truly amazing couple. It's amazing how two people can cross each other's paths at just the right time. Many congratulations to newlyweds Kayla and Steven Perelli!