Engagement season is right around the corner! And, luckily for those who are looking for an engagement ring this year, 2019's engagement ring trends are as varied as they are beautiful. This year's trends include ultra unique engagement rings, highly traditional engagement rings, and many styles that blend traditional silhouettes with unique modern touches. Ready to see the best of the 2019 trends? Read on to see the top 10 engagement ring trends of 2019!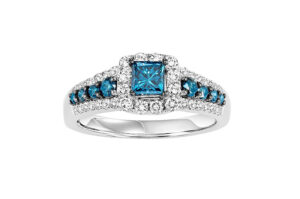 1. Colorful Diamonds and Gemstones
If there's one dominant engagement ring this year, it's the colorful diamond and gemstone trend. More and more couples are opting for colorful gems for their engagement rings, whether they choose a colorful center stone, colorful accent stones, or both! While many types of colorful engagement rings are trending this year, blue sapphire and white diamond engagement rings, like the Le Vian Jewelry design pictured above, are a top choice within this category. The immense popularity of blue sapphire and white diamond engagement rings is likely due to the influence of one of the world's most well-known celebrity engagement rings: the blue sapphire and white diamond engagement ring worn by Kate Middleton.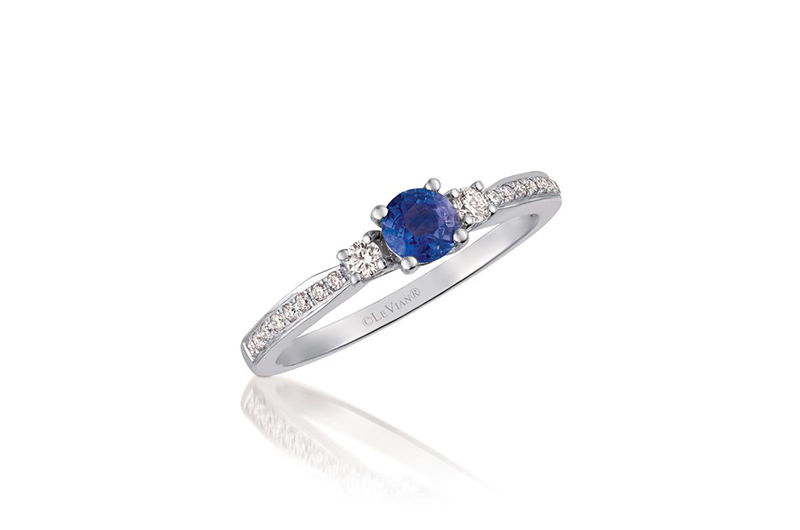 2. Fancy Shaped Diamonds
While more and more couples are opting for engagement rings that feature colorful gemstones, white diamonds are still a popular option. However, this year, couples are opting for more unusual diamond shapes than in years past. Among fancy shaped diamonds (which is a category that includes any diamond shape that isn't round), pear and oval shaped diamonds are the top trending shapes.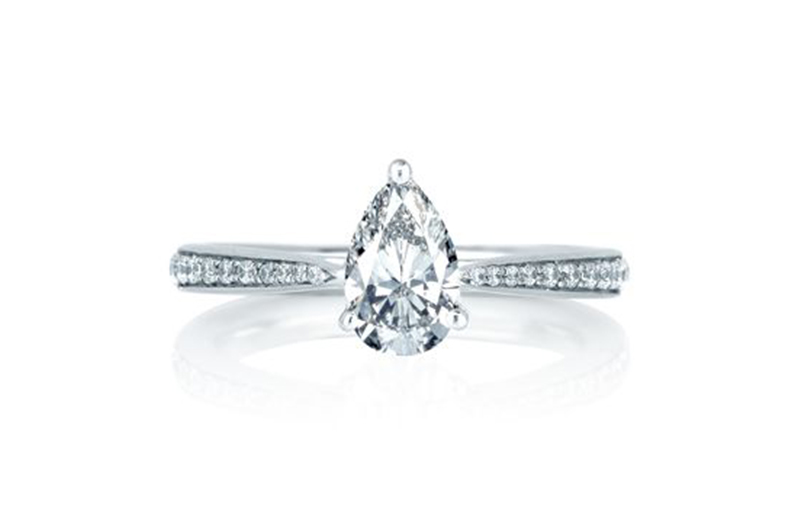 3. Solitaire Settings
Classic solitaire engagement rings are back in a big way in 2019, as more couples are drawn to this style's elegant simplicity. Ultra classic solitaires that feature a round brilliant center diamond are trending, as are solitaires with unique center stones (like gemstones or fancy shaped white diamonds).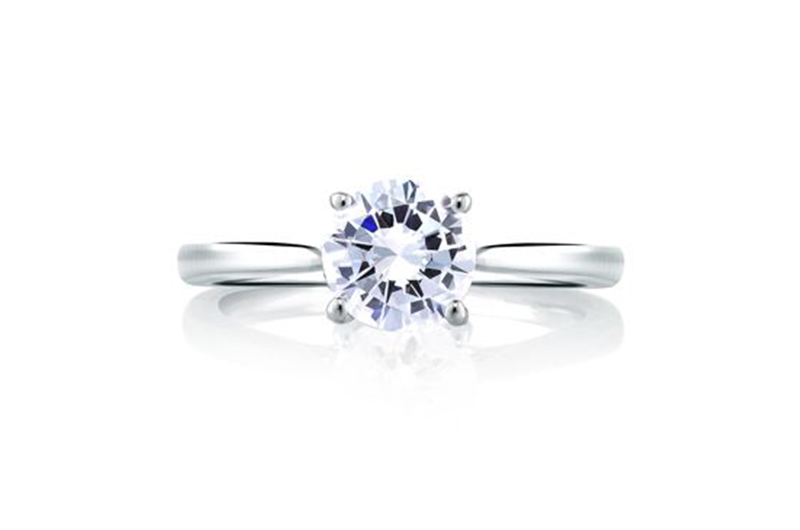 4. Clustered Settings
Engagement rings with clustered gemstone or diamond settings are another big 2019 trend. Clustered settings add beautiful visual interest to an engagement ring. Engagement rings with symmetrical clustered settings, like the one pictured above, are trending, as are asymmetrical clustered settings that provide a more artistic, abstract look.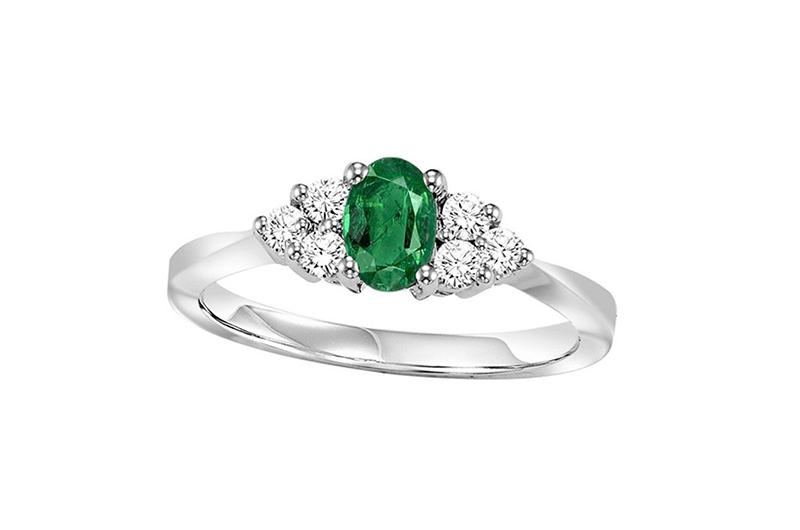 5. Vintage and Antique Style Engagement Rings
Vintage and antique style engagement rings of all types are trending this year. Many different types of vintage and antique designs are trending in 2019, but the most popular trend within this category is the antique or vintage style halo setting. Halo settings are often thought of as a new style, since they've been so popular in recent years. However, this style of engagement ring has been around for centuries. Antique and vintage halo designs lean toward being more intricate (often featuring a complex pattern of diamonds or gemstones), rather than sleek and streamlined like modern halo designs, which gives a vintage or antique inspired halo engagement ring a more regal, ornate look.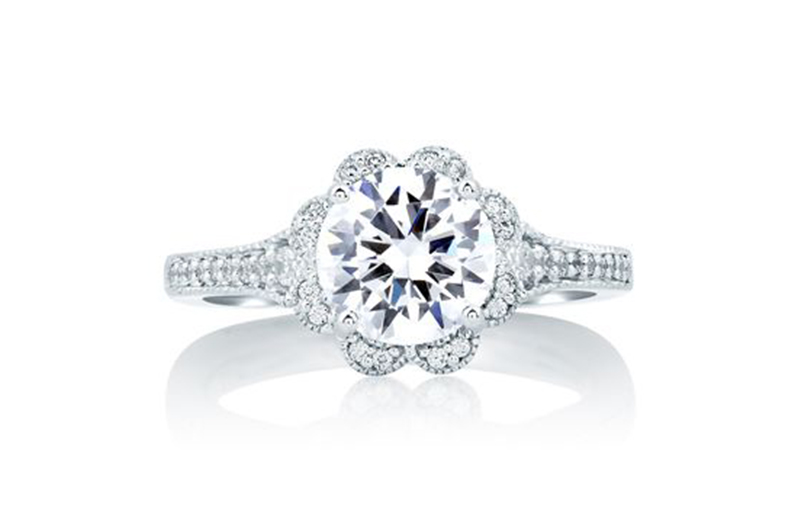 6. Unique Three Stone Engagement Rings
Three stone engagement rings are a timeless engagement ring classic. Three stone engagement rings of all types are trending this year, including both traditional three stone engagement rings and modern three stone styles. Some unique, modern design elements that are trending in this category include unusual side stone diamond shapes (like the trillion cut diamonds seen above), side stones in unusually small or large sizes, and gemstone side stones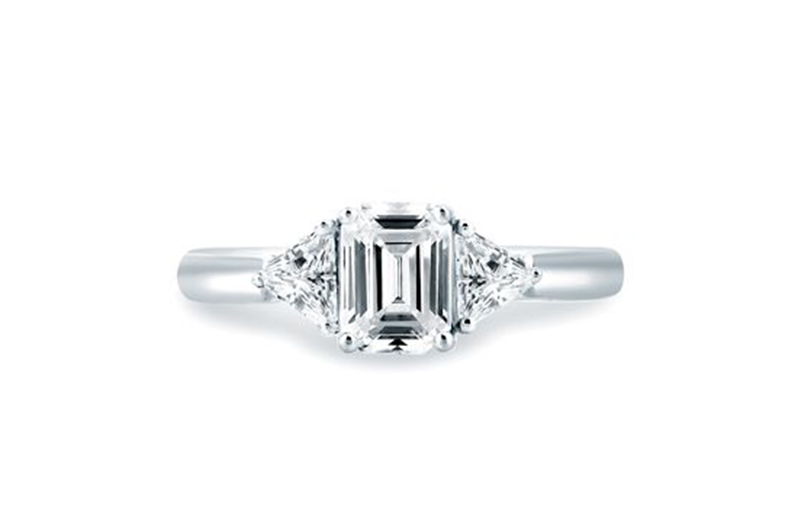 7. Five Stone Engagement Rings
The five stone engagement ring trend is an evolution of the unique three stone engagement ring trend. This engagement ring style is similar to the three stone design, except that instead of featuring two sizable side stones, it features four. Five stone engagement rings offer a glamorous and eye-catching version of the classic three stone engagement ring design.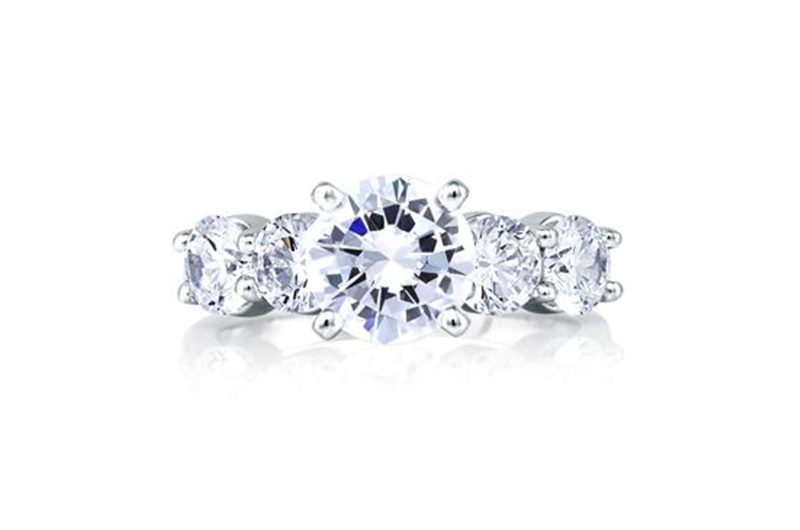 8. Modern Asymmetrical Bands
While many of the unique styles trending this year lean toward being romantic and vintage-inspired, the asymmetrical band trend is distinctly modern. Diamond set criss cross bands, like the ones featured on the Gabriel & Co. engagement ring pictured above, are the top style within this category. A diamond criss cross band lends a highly modern, and decidedly fashionable, look to an engagement ring.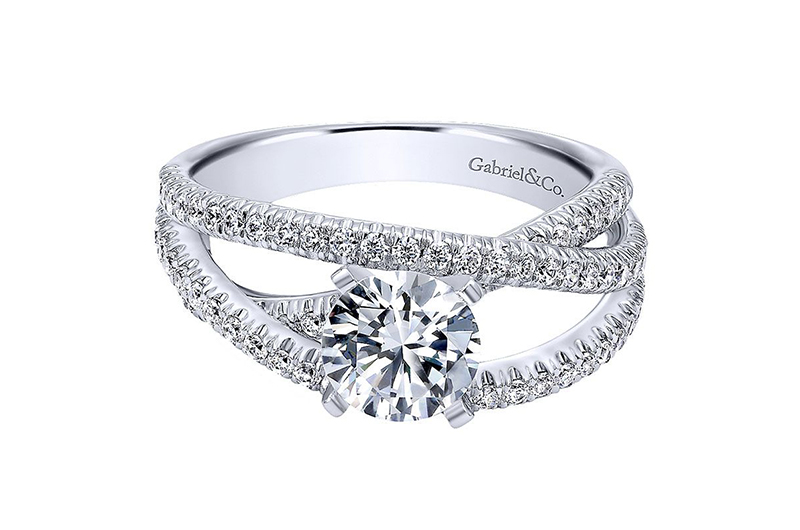 9. Hidden Diamond Detailing
A very popular trend for 2019 is delicate, hidden pave diamond details. Many of this year's top engagement ring styles feature pave diamond accents in unusual places, like along the sides of a slim band or along the sides of a raised cathedral setting. Hidden diamond accents can add beautiful detail to simple engagement rings or add even more intricacy to ornate, glamorous engagement rings.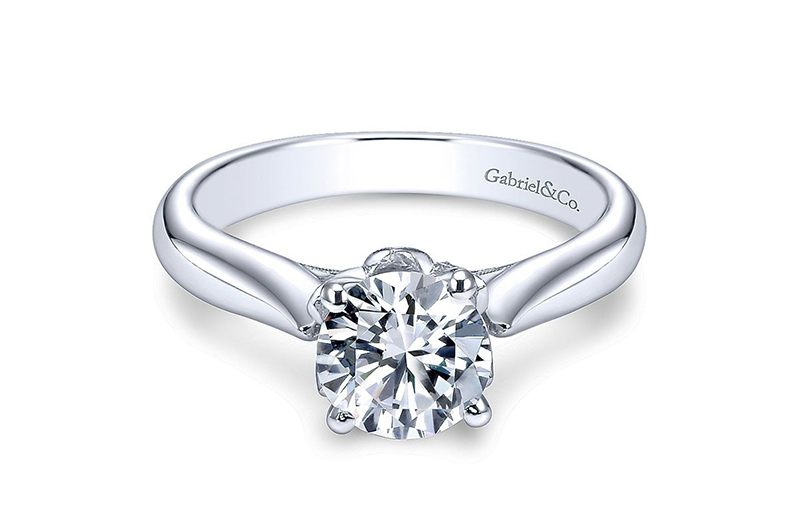 10. Yellow Gold
While white gold, platinum, and rose gold have been the top precious metals in recent years, this year, yellow gold is making a serious comeback. Yellow gold is considered the most traditional and classic of all precious metals. So it makes sense that, in a year where couples are showing more love for traditional styles, yellow gold would rise again in popularity. Yellow gold perfectly complements classic, timeless engagement ring styles and can also add a touch of warmth and timeless beauty to more unique or modern engagement ring styles.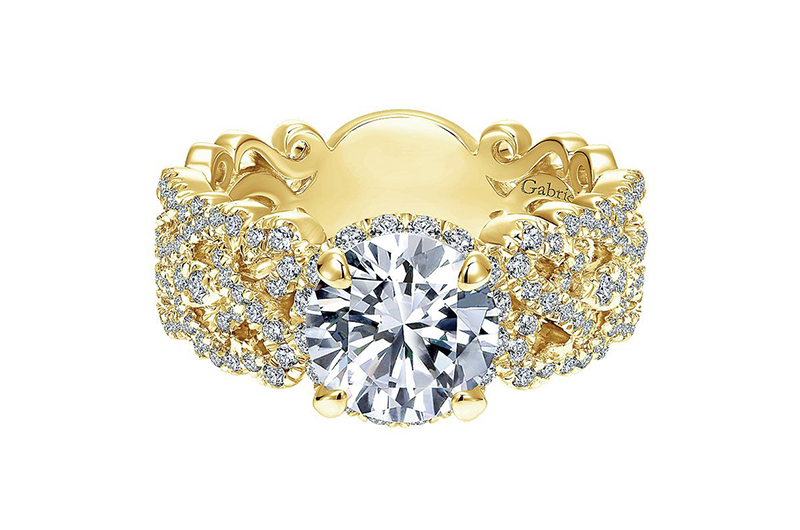 Images provided by Frank Jewelers