Aidan Grano & Brady Mickelsen 
OCTOBER 31, 2020
WASHINGTON, VA
Why did you choose the Inn?
Funny you should ask! We had the story printed on the back of our menu cards at the dinner after the ceremony. When we decided to have our small, pandemic-compliant family wedding and postpone our big celebration, we were brainstorming places that would be meaningful to us and give it a distinct feeling without stepping on the toes of the future big event. When one of us (we can't remember which!) suggested the Inn, it immediately clicked, and we knew we had to get married there.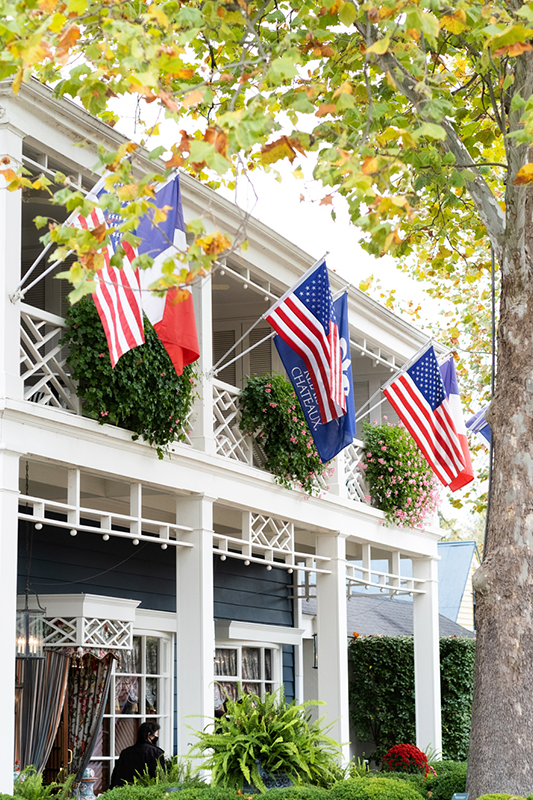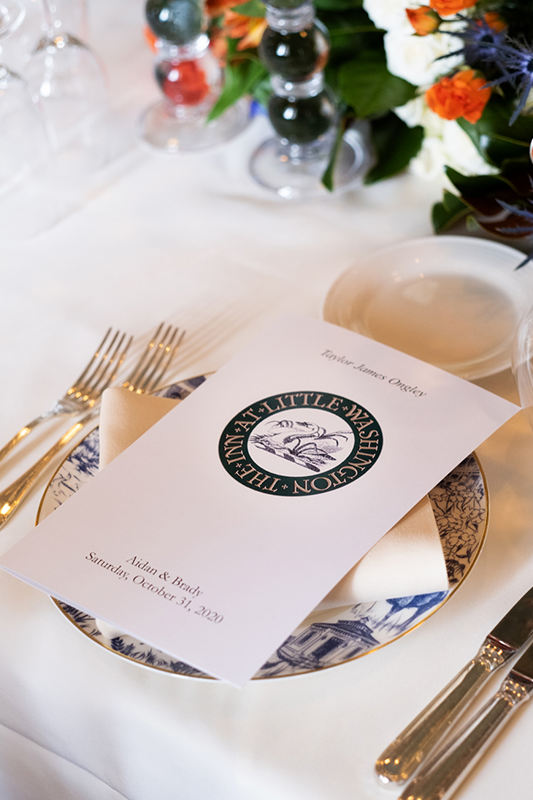 It has some special associations for us. First, it is a landmark in the Washington-Virginia region, where Aidan grew up and where we've chosen to make our home. Second, it is just an extraordinarily beautiful setting, unlike anything else. And perhaps most interestingly, it has been famously frequented by two legal role models of ours: the unlikely duo of Justices Antonin Scalia and Ruth Bader Ginsburg. In many ways, the justices are uniquely emblematic of our relationship.
Brady went to UVA Law School, where Justice Scalia taught, and Aidan went to Columbia Law School, Justice Ginsburg's alma mater. The two Justices had such respect for each other and a close friendship despite wildly differing political and judicial beliefs that it always inspired us to find common ground, even when we disagree. Though we've now lost them both, we thought having our wedding at the Inn (where our colors were UVA orange and Columbia blue) was a fitting way to honor their memory and celebrate the lessons they taught us.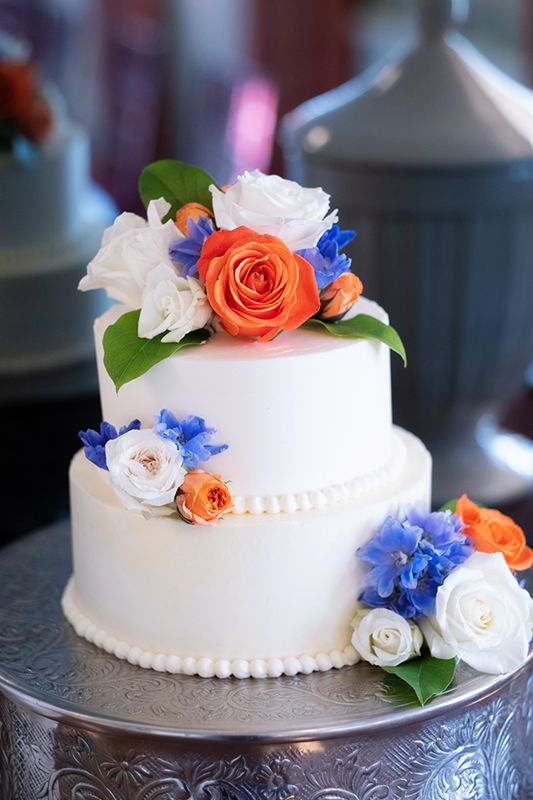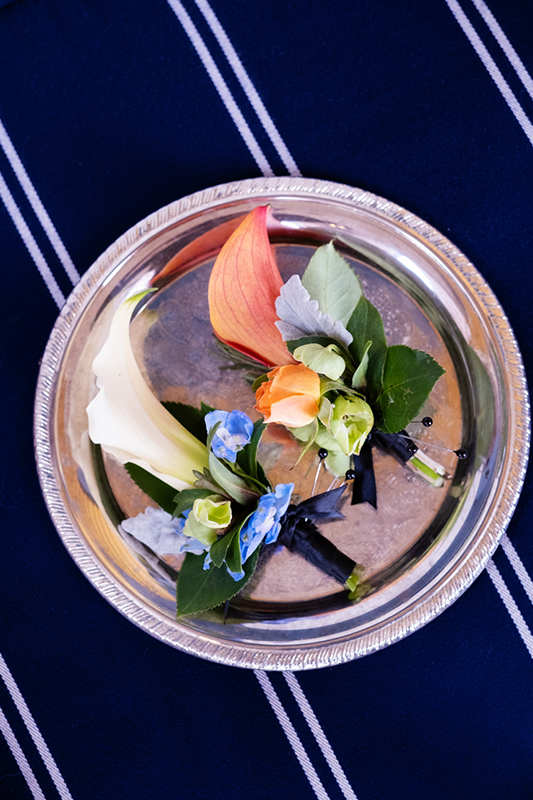 What was your favorite part of planning the wedding?
All the customization! We still wanted to have our big Nashville wedding in the future and wanted that one to remain our religious Jewish ceremony with full pomp and circumstance. To make our "little" wedding distinct and special, we steered away from including any of the traditional elements of a Jewish wedding, like exchanging rings, signing our ketubah, or breaking a glass. 
But that meant we got to work from a blank slate and be creative about how we wanted it to unfold! To replace exchanging rings, for example, we had our friends and family all take hold of the edges of a tallit, a Jewish prayer shawl. They offered us good wishes and hopes for our future before the four parents each took a corner and wrapped us in the shawl to symbolize our joining together as one. What's more special, when we get married in Nashville this fall, that tallit will cover the chuppah under which we get married, literally covering us in our family's good thoughts on our (second) wedding day!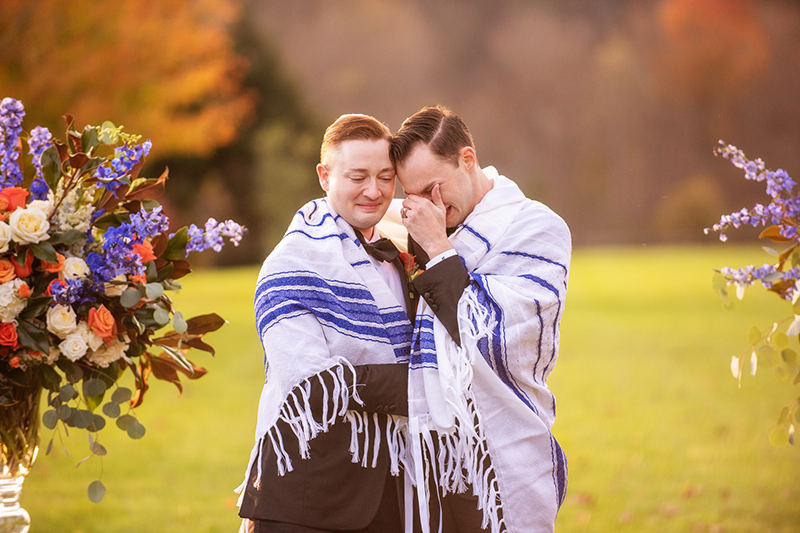 What was your favorite memory of the day?
For Brady, it was hearing everyone's wishes for our future and being wrapped in the tallit by our parents. For Aidan, it was that his brother Evin and Brady's close friend and law school classmate Vin got to officiate our ceremony and pepper it full of funny, personal, and heartfelt stories about us and our relationship.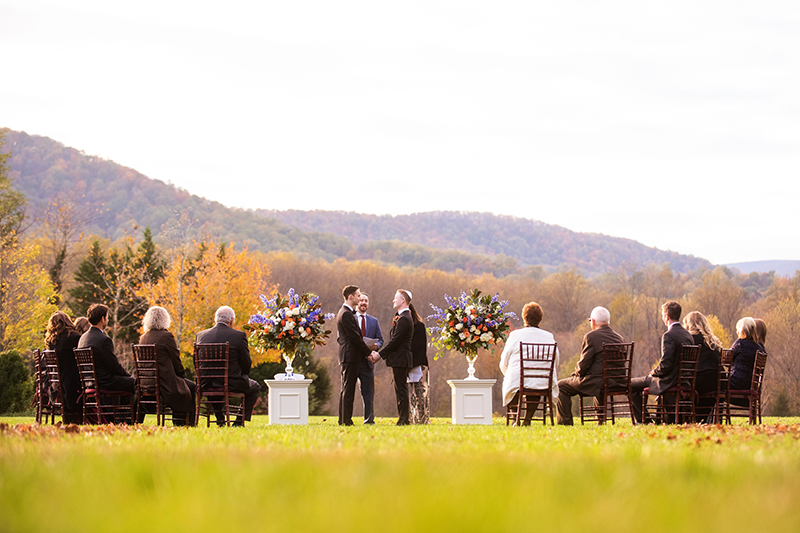 "Due to the uncertainty of the pandemic, we really wanted Aidan and Brady to have a small but beautiful ceremony without forfeiting any of the attention to detail. It was such a special treat for Aidan and Brady's family and close friends to get to experience the Inn at Little Washington, which really should be on everyone's bucket list! We had so much fun coming up with a truly unique menu and playing with fun colors, that of course had to tie into their love story.
We are busy again working on their original (but postponed) big celebration in Nashville, and I can tell you these guests are in for a real treat and true southern hospitality!!"
— Sara Fried, celebrity wedding planner, Fête Nashville Luxury Weddings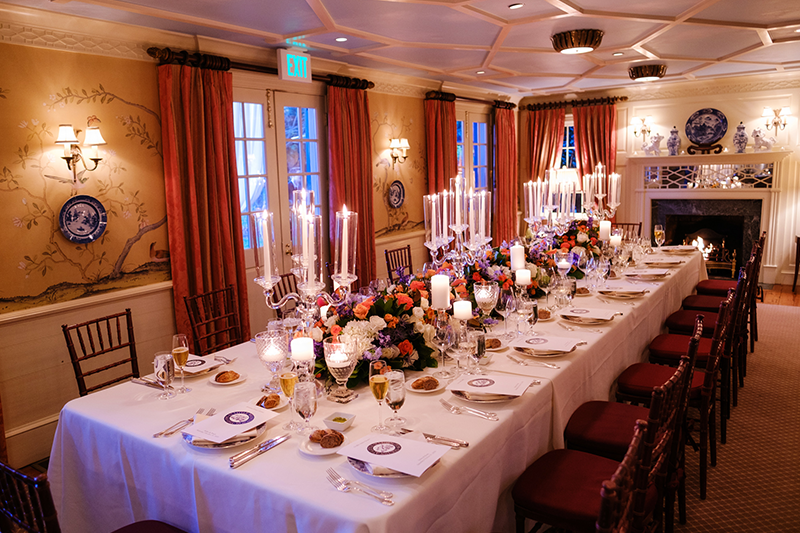 Aidan Grano and Brady Mickelsen married at six o'clock in the evening on October 31, 2020, at the renowned The Inn at Little Washington founded by Chef Patrick O'Connell. After COVID-19 forced them to postpone their Nashville ceremony two times, the couple decided on a "little wedding" with family and a "big wedding" post-pandemic. Both attorneys in the D.C. metropolitan area, the grooms opted for sophisticated wedding style and wore custom tuxedos by Tom James. The couple exchanged vows outside at the Inn's Field of Dreams that overlooked the fall foliage of the Blue Ridge Mountains.
Afterward, the grooms and their families dined privately at the Inn's Michelin three-star restaurant. The Inn thoughtfully arranged florals in University of Virginia orange and Columbia blue, reflecting the grooms' legal alma maters and offering tribute to the late Supreme Court Justices Antonin Scalia, a former UVA professor, and Ruth Bader Ginsburg, a Columbia alumna, whose close friendship despite ideological differences always inspired the Aiden and Brady. The newlyweds intend to celebrate their marriage again in Nashville when events permit.