This past December, we featured one of our most favorite wedding products, Love Notery, on our blog. We told you all about founder, Kristen Rocco, and her adorable love story capturing service. We also held a contest and offered a free gift from Love Notery to one lucky southern bride. Taylor Wright of Atlanta, Georgia was our lucky winner and we have her love story as told by Kristen below. We hope you enjoy the story as much as we did!
Congratulations Taylor & Nick! We can't wait to see wedding pictures!
For Southern Bride Magazine
The love story of Taylor Wright and Nick Spooner
Documented by Kristen Rocco, Founder of Love Notery
A Love Bound By Second "Firsts"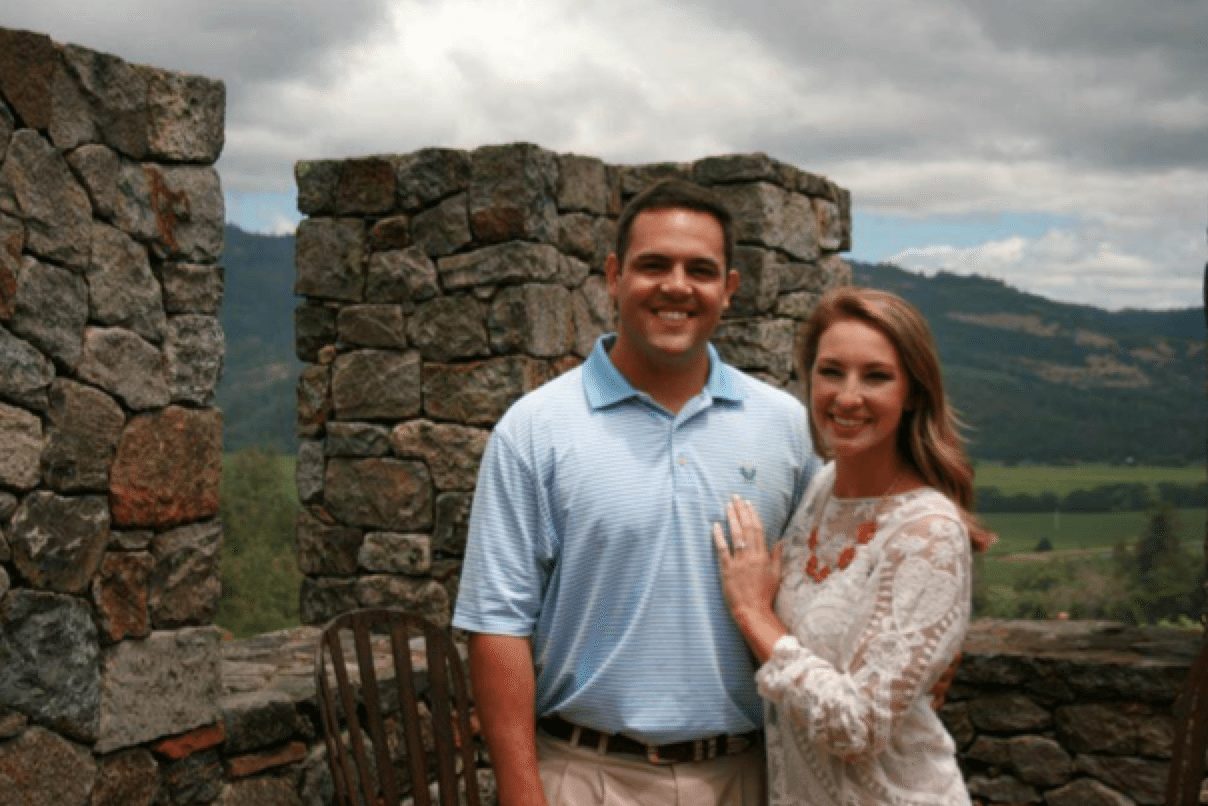 Twisting and turning in the underground caves of an Italian castle nestled in the heart of Napa Valley, Nick Spooner and Taylor Wright had been told they won an exclusive VIP experience of Castello di Amorosa or the "Castle of Love" winery through a random drawing done when every tour group arrives. They would receive concierge-level service, including a guided tour for just the two of them taking them behind the scenes and seeing the winemaking process up close as well as trying the winery's highest-caliber wine.
Taylor couldn't have been more excited. Just a few months earlier, her boyfriend, Nick, surprised her with an extravagant birthday gift. He fanned out three envelopes which he pulled from behind his back and said, "pick one."
Each contained an itinerary for a romantic week-long getaway and it was up to Taylor to choose their destination. She selected the middle envelope first. It was for an all-inclusive resort in the Caribbean, but she couldn't control her curiosity and asked if she could peek at all of them. After eyeing each prize, she ultimately chose the six-night San Francisco/Napa Valley excursion scheduled for early June in 2015.
As she imagined her birthday trip and all the things they'd experience together in Northern California, Taylor couldn't help but to also think about the long road that got her and Nick to this point.
They met for the very first time the summer before 6th grade, almost 15 years from current day, according to Nick who recalls meeting Taylor at a fellow classmate's birthday party. He saw her again at the 6th grade orientation, but their first real conversations came on the football field. Nick played football for the Junior Knights program and Taylor was a cheerleader. They saw each other frequently during their practices six days a week.
They had an immediate chemistry despite only being 12 years old and they began dating. They went out in middle school just like one would expect, going to the movies, mall, and local restaurants transported by their parents.
Their relationship continued the entirety of middle school and in 8th grade, they knew they were each other's first loves. Nick's parents took Taylor along with them on a family houseboat trip to Lake Lanier in Atlanta. She and Nick spent all night laying under the stars, listening to Rascal Flatts (their favorite band) and realizing that this feeling they were experiencing wasn't just something you feel towards a friend.
Their young love relationship continued into high school where they both advanced as athletes as well and were known as the archetypal football player/cheerleader couple. But into their sophomore year, Nick and Taylor were growing individually and honing their self identity, which made it hard to continue a relationship with each other and they went their separate directions.
After high school graduation in May 2008, Taylor left for the University of Alabama while Nick headed to Emory and Henry College in Virginia on a football scholarship. Taylor never expected to see or talk to Nick again.
A year later, a little message popped up on her "Words With Friends" app, challenging her to friendly game. The request was from Nick. Slightly hesitant, but couldn't really find the harm in it, she accepted. After a few games, they began communicating over the texting feature within the app and a little spark began to reignite.
That spring, while Nick was visiting a friend at Alabama, he also couldn't miss the chance to reconnect with Taylor and asked her on a date.
"I'm sorry, but I'm seeing someone else," she told him. He was insistent, but so was she.
Although it may have seemed like a closed door, this was the start to a new beginning. For the new school year of 2010, Taylor transferred from the University of Alabama to the University of Georgia. Nick had also decided to transfer to another college, the University of Tennessee.
Saturdays for students at SEC schools are always devoted to football so it was no wonder that Nick didn't want to miss out on an opportunity to travel to the rivalry game between UT and UGA on Oct. 9, 2010 in Athens. That day UGA was the clear victor in a sweeping win of 41-14 and the hometown fans packed all the Athens bars. Nick's excitement grew when he noticed Taylor had joined his group of friends. A charmer at heart, he tried pulling her on the dance floor to bust a few moves, but Taylor shut him down again. She still had a boyfriend.
Then some unexpected circumstances ended Taylor's long-term relationship in December of 2010 and a few weeks later she was home from school on winter break. As was Nick.
You could say that Taylor had her second first date with Nick during this break. It was more of a group date in which several of her friends, including Nick, went to an Atlanta Hawks game. Taylor felt something unexpected while interacting with him during the game.
"I had that tingly feeling come back," Taylor said. It was their second first kiss that sealed the deal though. "It took my breath away. I really couldn't breathe. I had butterflies and realized all those times that he popped up into my life again was a sign. I thought to myself, 'he is in my life for a reason.'"
After months of causal dating, Nick asked Taylor to officially be his girlfriend at a Knoxville bar called The Roaming Gnome on April 3, 2011.
"So I know it's been a long time coming," Nick said. "But do you want to be my girlfriend?"
Her mind raced back to the present moment. Five years had blown by since rekindling their love for each other. All the reasons she loved him back in middle school were all the reasons she loved him now. He's genuine, down to earth, authentic, and patient plus he loves kids, is driven and goal-oriented. The full package.
It was June 1, 2015 and she and Nick had traveled to one the most picturesque places in all of America. She felt on top of the world. They were on the last experience of the VIP tour: a movie. Presumably, Taylor thought, about the history of the winery. She and Nick walked through ornate floor-to-ceiling wooden doors. She looked around a bit and became very confused. There was no movie projector only hundreds of lit candles as well as a bottle of their favorite wine, Fantasia, and a spread of cheese and fruit for sampling.
It dawned on her then and she looked back at Nick. He was already down on one knee.
"I gave you this promise ring at Christmas two years ago and now I want to fulfill my promise. I've loved you since the day I met you all those years ago and I want to be with you for the rest of my life," he proposed. "Will you marry me?"
Taylor started crying tears of joy. "Yes, yes, of course!" she exclaimed. It was the happiest moment of her entire life. And then she looked down at the ring and smiled even wider. He couldn't have picked a more gorgeous ring that was the perfect fit for her sparkling personality.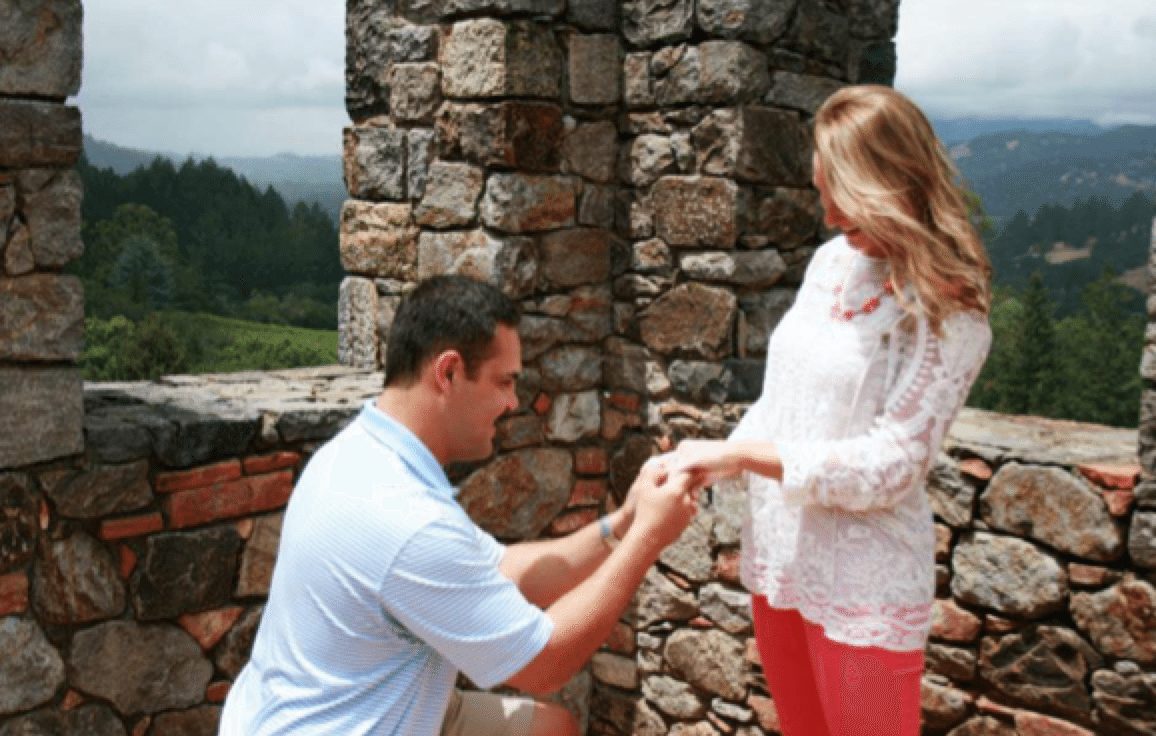 Written and documented by Kristen Rocco
To have Kristen tell your love story, visit lovenotery.com and be sure to follow Kristen and Love Notery on Facebook, Twitter, and Instagram!