Bethany McQueary & Dakota Caudill
May 22, 2021
An Outdoor Wedding in Monticello, Kentucky
The Proposal
One of Bethany and Dakota's favorite pastimes is riding horses. Preparing for the proposal, Dakota and Bethany's father put up a hitching post in secret. Little did Bethany know that this "hitching" post was crafted from the wood of a cedar tree on her family's farm and carved with their names and the date they met.
When the day of the proposal came, Dakota left Bethany a letter, instructing her to follow a trail of horseshoes and to bring her mother with her. Bethany and her mother walked along Dakota's trail and found Dakota waiting, on horseback along with Bethany's dad. As Dakota took Bethany's hands and got down on one knee, saying, "They say if you want something to last forever, you carve it in a tree." He asked her to become his wife, and she happily accepted.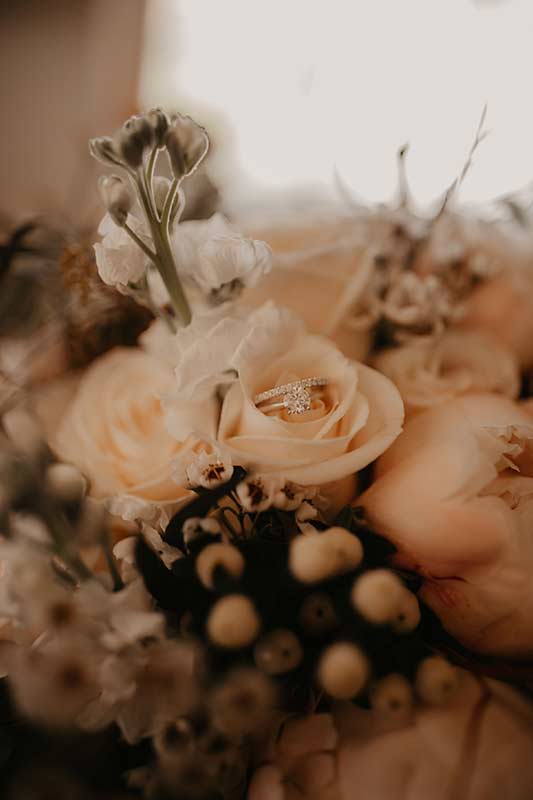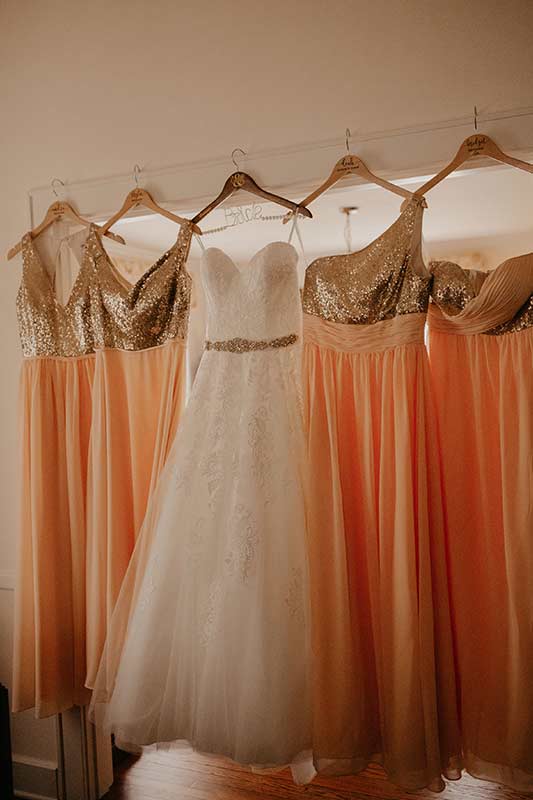 The Big Day
Bethany had been dreaming of her wedding since she was a little girl, and her intimate ceremony at her Aunt Dottie's home in Monticello, Kentucky, was nothing short of that childhood wish. She and Dakota said I do on the same front porch as her parents almost thirty years ago.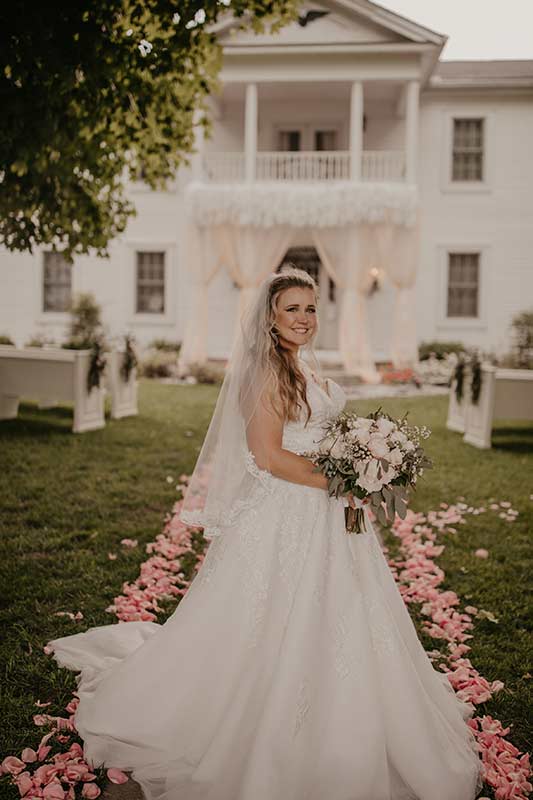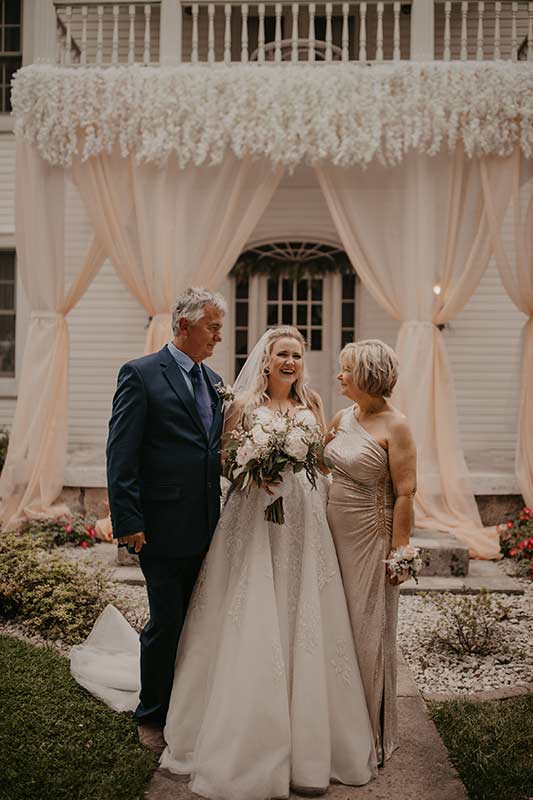 Alex Antle captured each moment of the wedding day, from sentimental moments between the bride and her parents to the series of congratulatory toasts from the newlyweds' loved ones. Embracing the soft light of the May sun, Alex's photos illuminated the entire day and enhanced Bethany's bridal glow.
Bethany found her wedding gown and her bridesmaid dresses at Chantilly Prom & Bridal in Russell Springs, Kentucky. Bethany wore a strapless gown with a lace bodice sweetheart neckline and full skirt embellished with a crystal waist band, while her bridesmaids wore gowns with glittery gold bodices and blush skirts that coordinated with the ceremony's color palette.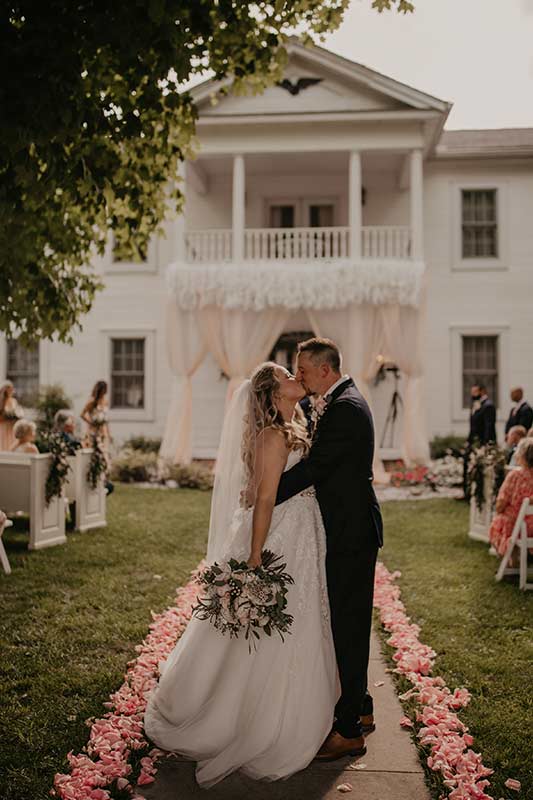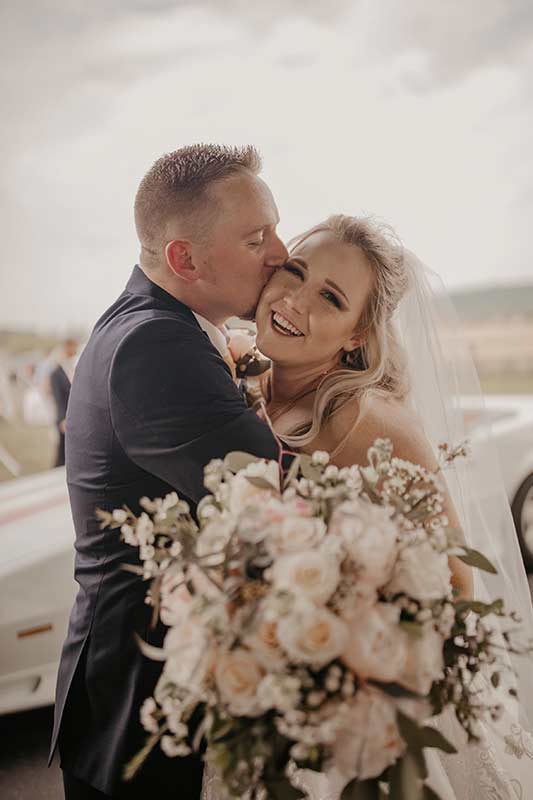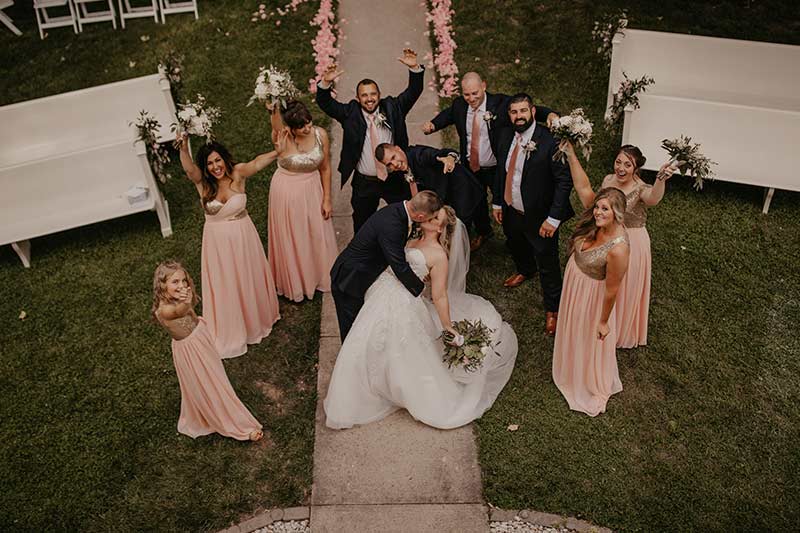 Friends, family, and vendors collaborated to create Bethany and Dakota's unforgettable celebration. They purchased and decorated everything for the big day themselves, along with the help of those willing to pitch in. Pink rose petals adorned the sides of the aisle, accompanying Bethany as she walked up to Aunt Dottie's front porch. White flowers hung from the bottom of the balcony along with blush sheer drapes that framed the bride and groom as they said their vows.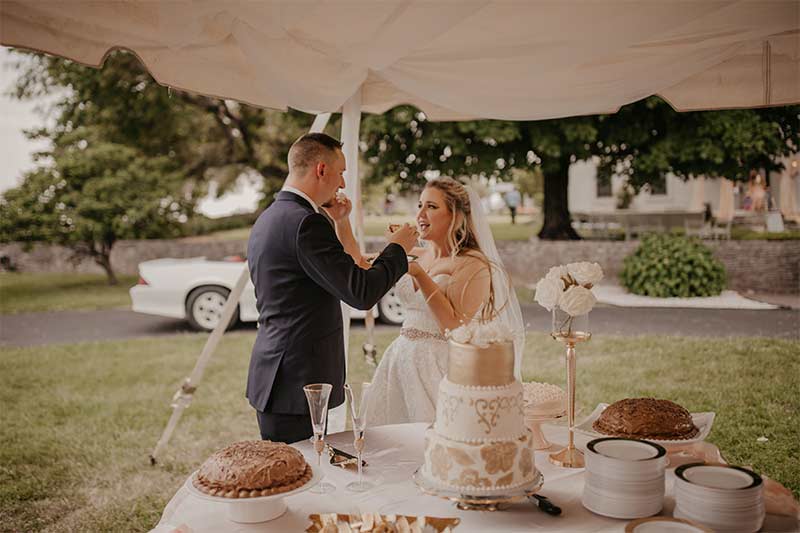 Bethany's Uncle Dwight was in charge of cooking the food for the wedding. The newlyweds enjoyed a piece of cake from a three-tiered gold embellished cake, and guests had their pick of desserts, from wedding cake to an array of homemade pies. 
Mourning Farm Report, a band founded in Pleasant Shade, Tennessee, played live music during the reception, their roots rock sound blending in with the venue's ambiance. They even learned a few songs close to the newlyweds' hearts to make the celebration all the more personal. Surrounded by loving friends and family at one of her favorite places, Bethany married the love of her life in an outdoor Monticello, Kentucky, wedding on a beautiful day and experienced the joy of her dream coming true.