Brooke Melton & Shane Moran
October 24, 2020
Tomball, Texas
How They Met
The Recruitment
Brooke and Shane's story dates back to grade school in The Woodlands, Texas, where they first became friends. Following high school graduation, the two went separate ways for college, but they reconnected over winter break in 2016 when Shane invited Brooke to work out at 8 am every day. There must have been quite the spark at those early morning gym sessions: after being back at Baylor for only a few weeks, Brooke made the spontaneous decision to hop on a plane to visit Shane at Auburn. Their relationship blossomed, and they started dating long distance before the pair made their way back to The Woodlands together upon graduating.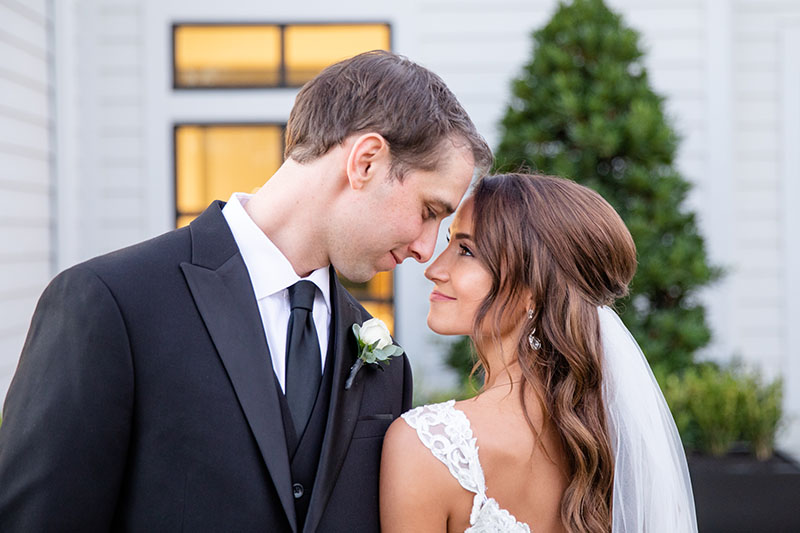 Brooke thought she and Shane were going on a trip to Telluride, Colorado, to celebrate her dad's birthday, but Shane had other plans: everything that seemed spontaneous was carefully planned to give Brooke the greatest surprise of her life.
"Shane and I went to Telluride, Colorado, to celebrate my dad's birthday—or at least that's what I thought. I knew that my sister, Breanne, was coming into town that afternoon to join in on the celebration, but what I didn't know was that she was coming with Shane's parents. When we woke up Saturday morning, we immediately hit the slopes. We had dinner reservations at Allred's later that night, but I (a Bear for life) figured it would be fun to watch the Baylor men's basketball game at The Peaks Resort & Spa's bar before dinner."  
When we got to The Peaks, my parents suggested that  Shane and I go outside to check out the overlook while they got us a table. There was only one person out on the entire balcony (who was clearly a photographer, but I still wasn't clued in). Shane asked him if it was okay for us to come outside. He said he was just waiting on a bride and groom for a photoshoot, and I didn't even question his alibi. I was just starting to take in the view when the next thing I knew, Shane was on one knee asking me to marry him. Suddenly, everything fell into place. The photographer was there for us! Out popped my parents, sister, and Shane's parents, all of whom had been hiding inside. It was the greatest surprise of my life!"
"We were so thankful to be able to get married in 2020 despite all of the craziness around the world. From our venue going above and beyond to our photographer capturing all of our special moments, our big day was an absolute dream." 
Nearly two hundred fifty guests gathered on October 24, 2020, to celebrate Brooke and Shane's love story. The couple's grade school relationship roots weren't the only sentimental part of their big day: theirs was the first wedding ever to take place at the light and airy Boxwood Manor in Tomball, Texas.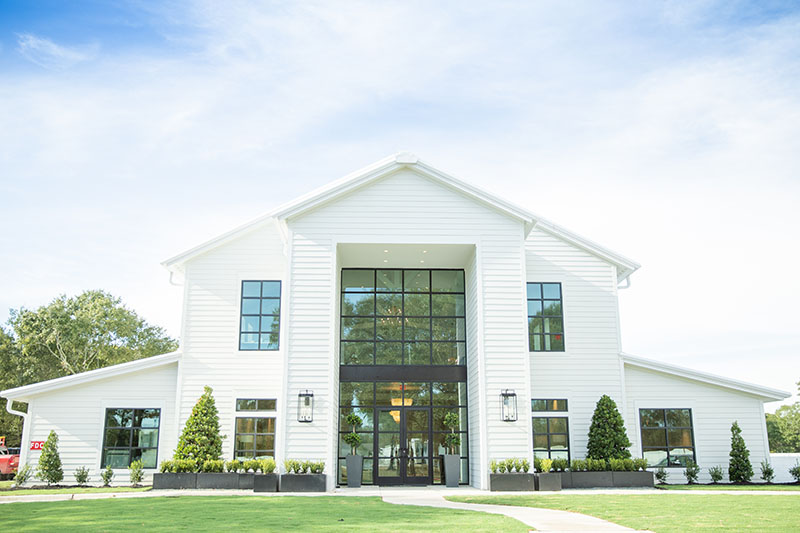 Before the ceremony, Brooke and her bridesmaids got ready in the manor's private bridal cottage while Shane and the groomsmen were getting their college football fix over in the groom's cottage. Brooke shared a special first look with her father before  meeting  Shane out in front of the church for a sneak peek of her dress, an off the shoulder cap sleeve gown with an intricate lace bodice. 
As the ceremony began, guests saw Shane sporting a simple, black Cole Haan tuxedo and the bridesmaids processing down the aisle in blush off-the-shoulder dresses with a fashion-forward slit down the trumpet skirt.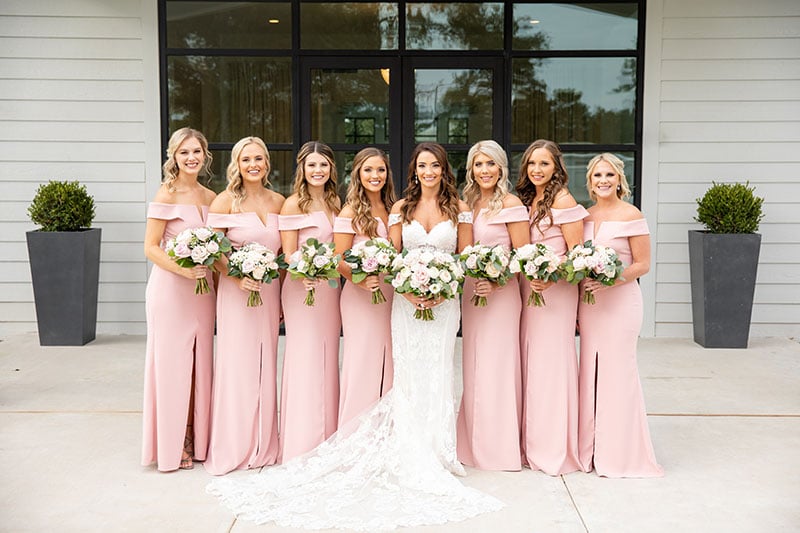 The head table, adorned with a shimmering rose gold table linen and lined with pastel pink florals and greenery, was not the only statement maker at the reception: the newlyweds and the guests were greeted with a confetti entrance, and the seven tier cake boasting four layers of rose-filled acrylic boxes in between three edible layers had guests awestruck.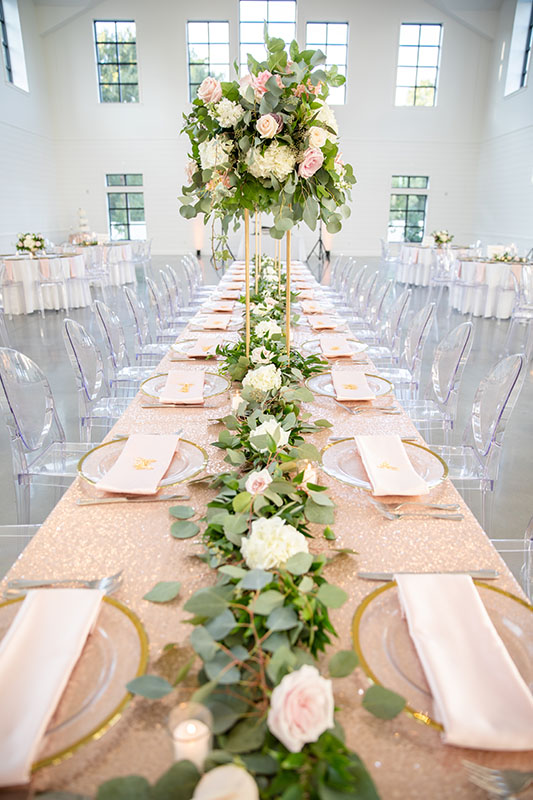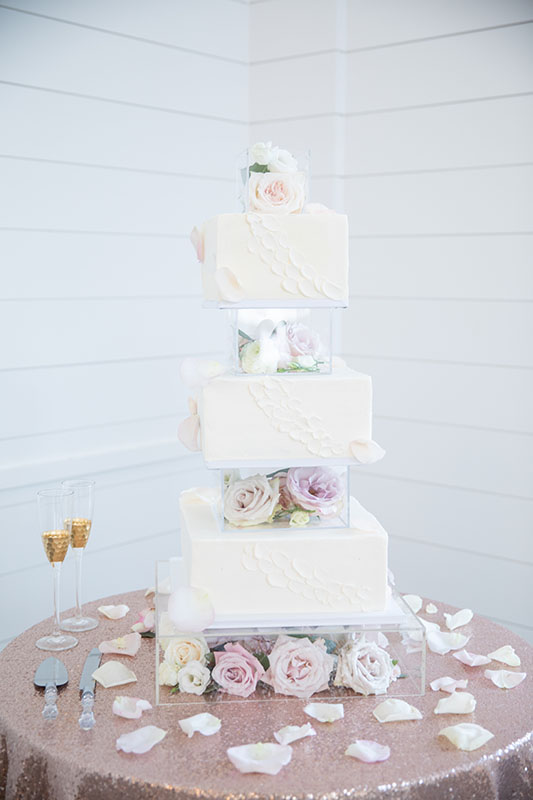 To end the night, Shane and Brooke shared a  private dance as guests grabbed Chick-fil-A edible favors—perfect for the late-night munchies—and lined up for the sparkler send off that led to the couple's vintage Rolls Royce getaway car, where the newlyweds said their thank yous and goodbyes to all their loved ones who made their dream wedding a reality, even during the challenging year of 2020.