Jami-Lyn Fehr and Christian Hall
June 27, 2020
We met in high school at a rival football game!
Where was your first kiss?
Our hometown's Central Park— there were Christmas lights all through the trees and it was quite magical.
Where was your first date?
A lovely little spot in Tampa— Oxford Exchange.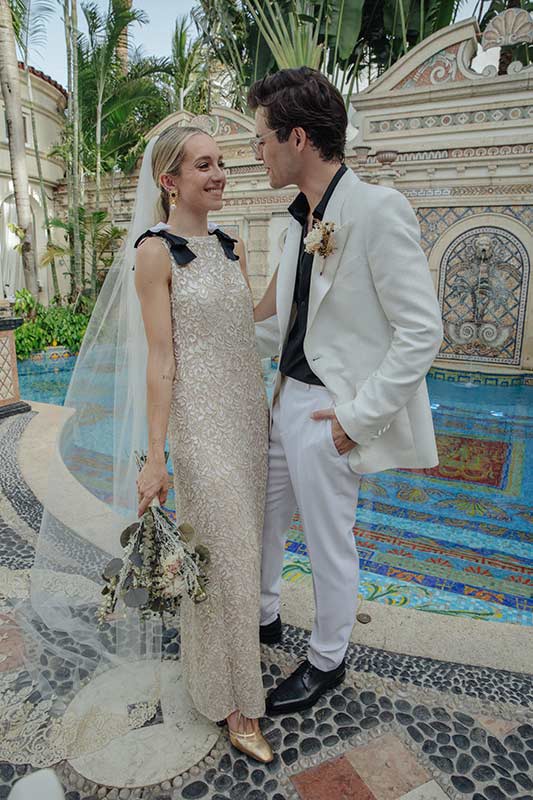 Who's the better cook? Undoubtedly Christian. We both have the same answer for this! Haha.
Christian is a 2w3, and Jami-lyn is a 3w2.
What would you do on a lazy Sunday morning?
Ideally we're watching some English Premier League Football with our lattes in hand and pets by our side.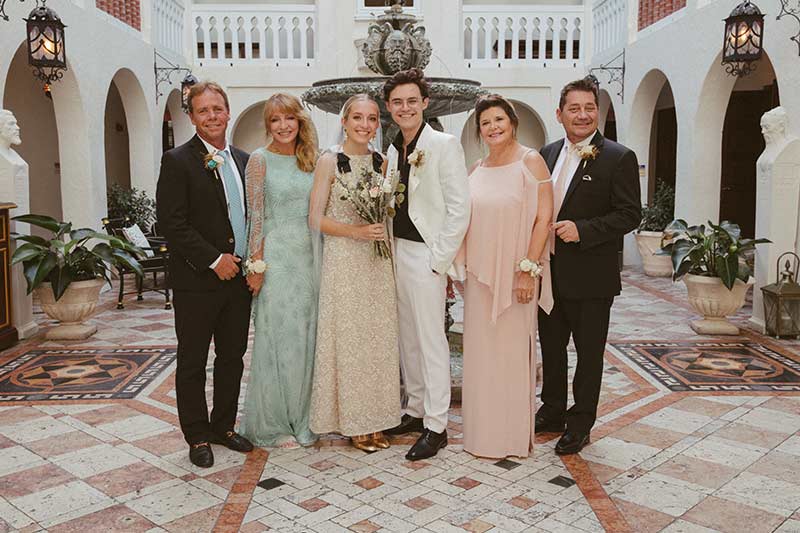 Family traditions you incorporated into your big day?
We didn't really opt for any traditions— in fact, we probably broke many. We spent the morning together poolside at the Versace Villa, and we even had lunch together at Malibu Farm the day of our wedding!
Did you do a first look? Too see or not to see?!
No first look. He turned around to see me for the first time as my father and I descended the stairs into the courtyard of the mansion!
Touching Heaven by Johnnyswim.
Our Tres Leches cake, for sure.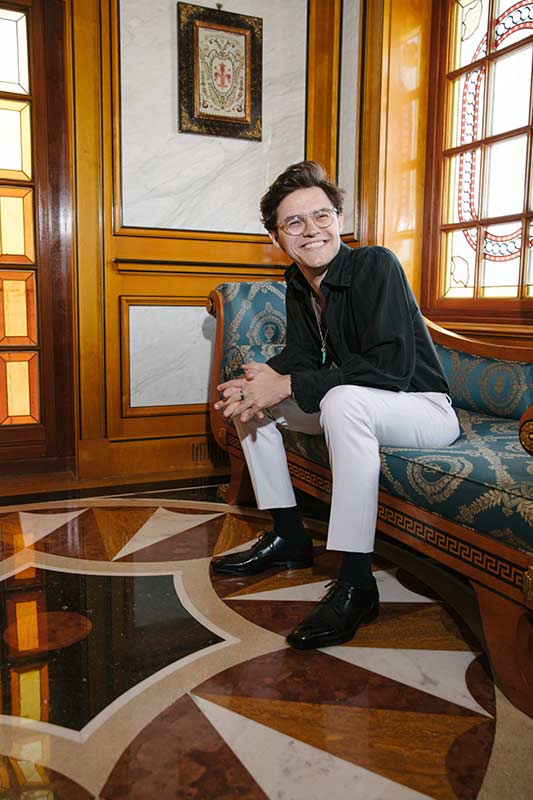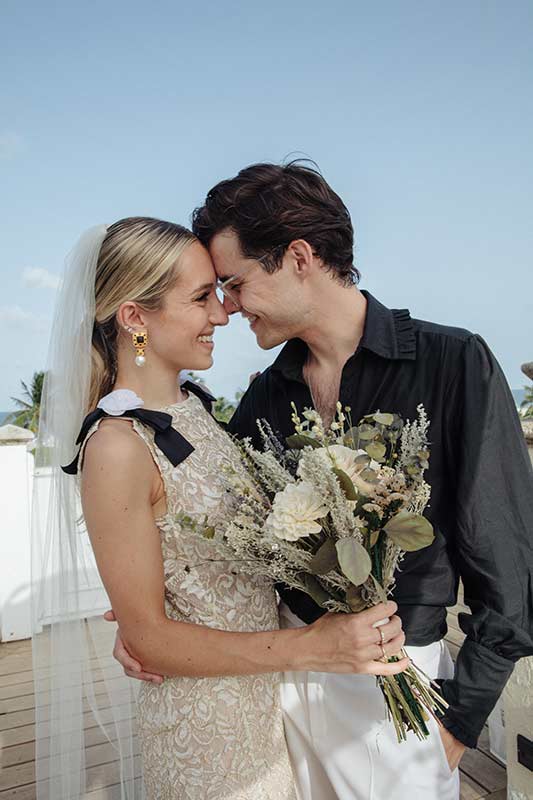 Favorite part of the day? Favorite Private Moment?
I have the same answer for both questions— we had our first dance in our pajamas on our balcony of the villa, overlooking Ocean Drive and the beach. It was breezy and perfect.
What did you give each other?
I am the luckiest woman— he gave me an Hermes Evelyne I PM bag (to commemorate my new last initial), and I gave him a Dior bracelet that is the inverse of one I got for myself. We wore them until they fell apart. They almost made it to our one year anniversary!
Oof. We still have yet to honeymoon. The plan is still London! We want to go to a Chelsea FC game; we're big (English) football fans!
Any other fun/unique ideas from your big day that you'd like to share?
The Versace Villa really went above and beyond. They created programs personalized with our names and the iconic Medusa logo, and even put a Medusa cookie on our Tres Leches cake from Versailles. I had no idea they were doing any of this, and it was truly the loveliest surprise.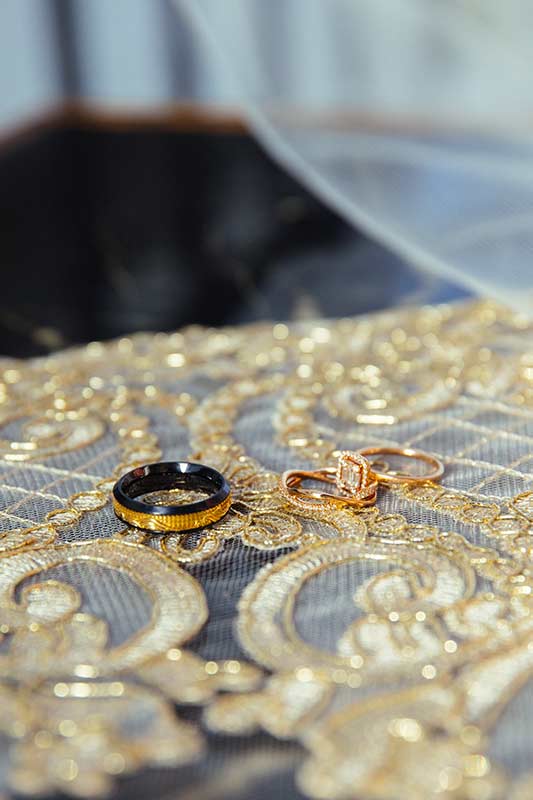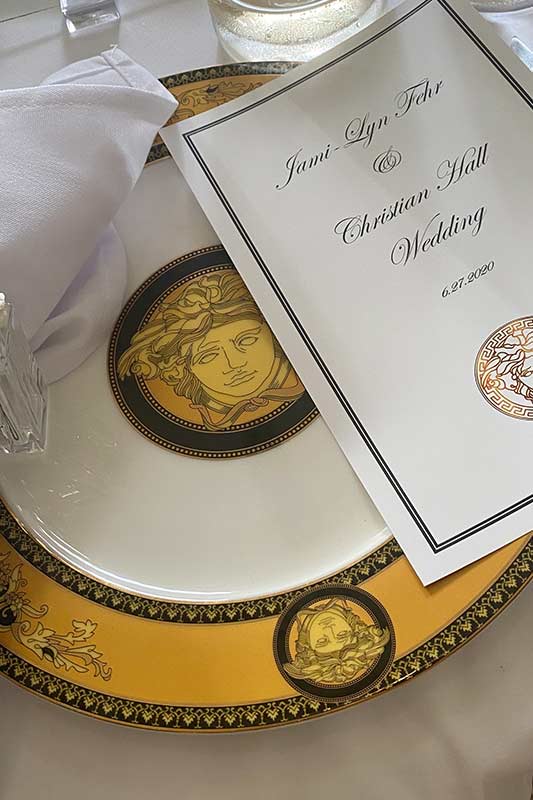 Jami-Lyn Fehr and Christian Hall were married at 5:30 pm on June 27, 2020, at the Villa Casa Casuarina, the former mansion of the late Italian designer Gianni Versace. Jami-Lyn and Christian originally planned to say "I do" in Nashville, the couple's current hometown, but due to pandemic-related reasons, the couple chose to wed at this historic landmark in the South Beach neighborhood of Miami, Florida. The bride, the founder of Modiste, an online upscale womenswear store, wore an elegant sheath-style Chanel runway gown and gold Chanel shoes. The groom wore a Givenchy dinner jacket paired with Yves Saint Laurent wool trousers and a custom silk dress shirt designed by Amy May, a Nashville-based designer.
Jami-Lyn and Christian said their vows before immediate family in the Villa's Mediterranean Revival style courtyard. Following the ceremony, the couple hosted a celebratory Italian dinner at Gianni's, where guests dined in a private rotunda by the famous Thousand Mosaic Pool, which features more than one million mosaic tiles, including hundreds made from 23-carat gold. The newlyweds are planning a European vacation as stylish and luxurious as their ceremony when international travel is permitted again.