Alexa Callanan & Joe Bowater
Tennessee Countryside Charm
Married
Oct 20, 2017
Shelbyville , Tennessee
Photo Credit
Caitlin Steva Photography
---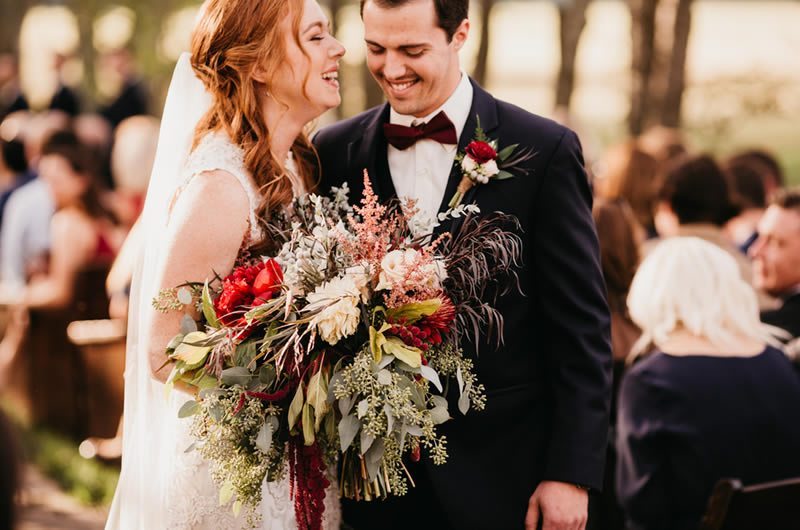 The First Encounter
Our proposal was in a special place for us. Every year for our dating anniversary, we would travel to Gatlinburg, TN, in the Smokies. The plan was to travel up to Chimney Top Trails, one of the first places we hiked together. Unfortunately, the rain had other plans and Joe was getting anxious, so the proposal came a day early. I was in the kitchen unloading groceries and he was outside setting up the GoPro for what I thought was a time lapse of the nearing night sky. He called me outside, and the rest is history.
In Preparation
Since we had an eighteen month engagement, the wedding brain was a real struggle. Weddings were all I looked up, thought about, and dreamt about. Two things I knew for sure: I wanted an outdoor fall wedding and I wanted a big beautiful bouquet with lots of greenery around the ceremony and reception. Oh boy, did I get just that and MORE! My florist brought my floral dreams to life and the weather ended up being the most perfect it had been in weeks. My mom bought me the most beautiful dress, that seemed as if it was made for me, and my step-mom helped plan all the way from New York. My mother-in-law (un)fortunately broke her ankle, so she had plenty of time to help from home. It really ended up being a blessing in disguise. We could not have had the wedding we did without the love and support from our parents and families. To say I have the post-wedding blues would be an understatement.
The Big Day
Our Wedding day was an absolute DREAM. Literally, everyone involved brought my visions and dreams of a fall wedding to life. The weather was perfect. My flowers were absolutely breath-taking. They were done by a dear friend, Shelley, and they were out of this stinkin' world! I mean, I am still drooling over and forever missing holding that big beautiful bouquet. And our photographer, Caitlin Steva, captured our day in such beauty. I am so lucky we get to relive that perfect day through these beautiful photos. They capture the love and support of all of our family and friends throughout the day. It was so special to see and have both my mom and step-mom there helping me get ready, my brother by my side as my man of honor, and joe's dad and brother helping him get ready. It was the most perfect day, ever.
The Retreat
For our honeymoon, we both knew exactly where to go; Jamaica! Joe had been twice before on mission trips and fell in love with it there. It was so special to him, and we both love reggae music, so it was no contest. We stayed 7 days at The Jewel Dunn's River all-inclusive resort. It really was seven days of pure fresh marital bliss. Everyone we met in Jamaica was so friendly, the clear blue waters were beautiful, and the Jamaican culture is one of a kind. We will definitely be going back.
Contributing Vendors
WEDDING CAKE
Kristina Grace
CATERER
CJ's in the Boro
CEREMONY VENUE
Lovers Lane, Grace Valley Farm
Entertainment 
DJ Mikey B
Event Planner
Kari Mauk
FLOWERS
Flourishes
GOWN
The White Room
HONEYMOON ACCOMMODATIONS 
Jewel Dunns River Resort
PHOTOGRAPHER 
Caitlin Steva Photography
RECEPTION VENUE 
Grace Valley Farm
RENTALS & DECOR
Flourishes & Grace Valley Farm
VIDEOGRAPHER 
Brooke Shropshire Photography
HAIR STYLIST
Megan Hof
MAKEUP ARTIST  
Style By Katie Anderson