Alyssa Barr & Jesse Petrus
Happily Ever After
Married
Jul 23, 2016
New Orleans , Louisiana
Photo Credit
Julia Bailey Photography
---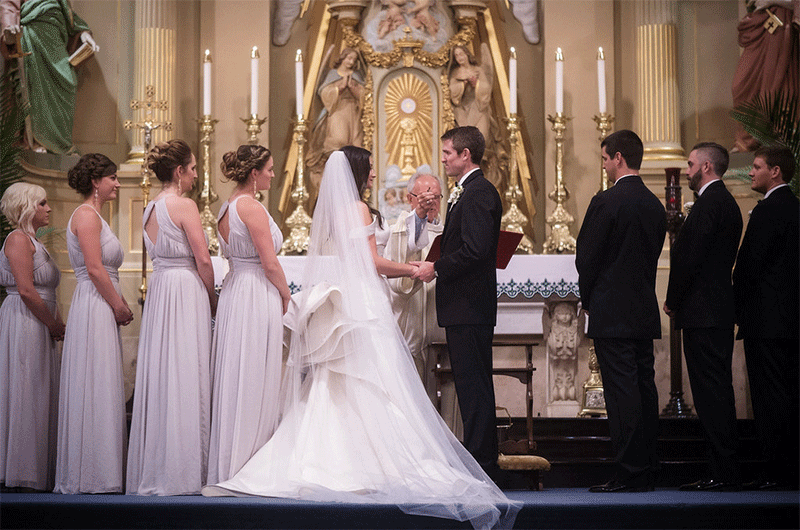 The First Encounter
Jesse surprised Alyssa with an evening at their favorite French restaurant where they live in Fort Worth, TX- Le Cepe. As the dinner came to an end and the champagne cart was rolled out, there was her ring, a sign that said "happily ever after", and Jesse on one knee. He had a close friend secretly capturing photos of the evening. The night continued at an after party Jesse had arranged with close friends.
In Preparation
The year of planning was a complete blast that included multiple trips to New Orleans. Trips with family to look at venues and vendors, a girls trip for bridal photos, and a trip that included close friends for the tasting and wedding cake design. Working with our amazing vendors, family and friends to pull off such an amazing night was truly special. We could not have imagined getting married anywhere else.
The Big Day
We did not just a have a "big day" but an entire "big weekend". Having our closest family and friends all together in our favorite city was unforgettable. The weekend kicked off on Friday morning with a bridal luncheon at Arnaud's, and the gentlemen lunched at Galatoire's. We then had our rehearsal at St. Louis Cathedral, followed by dinner at Royal House and a night of dancing and celebrating after. On the wedding day, the ladies prepared in a suite at Royal Sonesta, and the gentlemen at a quirky apartment featuring multiple Blue Dog paintings above the Rodrigue studio in the French Quarter. Group photos were taken in Exchange Place, as well as first look photos on the gorgeous balcony of the Royal Sonesta. The Ceremony was at St. Louis Cathedral in Jackson Square. A second line procession then lead us to the Royal Sonesta for an amazing night of dinner, drinks and a lot of dancing.
The Retreat
We honeymooned the week following the wedding in the Exuma Islands in the Bahamas. After catching up on some sleep, we explored the islands, swam with the famous swimming pigs, snorkeled, hiked, rode bikes, enjoyed local fare, and completely relaxed for 6 days. We enjoyed the island so much, we will be returning for our one-year anniversary in July.
Featured Wedding Vendors
Caterer
Cake
Reception Venue
Contributing Vendors
Ceremony Venue
St. Louis Cathedral
Entertainment
Louisiana Spice Band
Paulin Brother's Brass Band
Event Planner
Belle Soiree Events
Favors & Gifts
Tobasco
Aunt Sally's Pralines
Flowers
The Plant Gallery
Gown
Austin Scarlett
Invitations
Alexa Pullitzer
Photography