Anna Wilkins & Brandon Kilgus
Plantation Perfection
Married
Oct 7, 2017
Bowling Green , Kentucky
Photo Credit
Morgan Marie Photography
---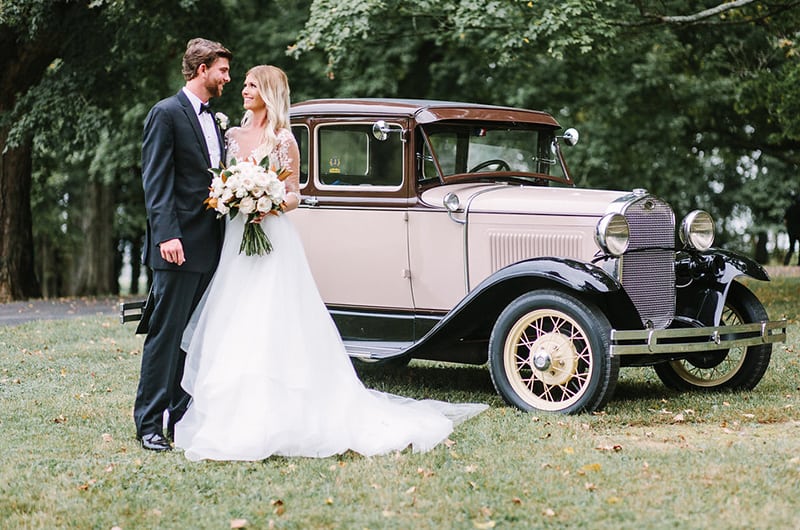 The Proposal
Having evacuated from Charleston due to Hurricane Matthew, Brandon and I were back in our
hometowns in Kentucky visiting with family and friends. One afternoon, my parents suggested
going out to my grandfather's farm to see him. Right before sunset, Brandon asked to go see an
old windmill my grandfather had recently restored and had installed on his farm. While there,
Brandon dropped to his knee and asked me the easiest question I've ever been asked – of
course I said YES! It was the most perfect setting – surrounded by the people I love, on land that
had seen the love of past generations for over 125 years
In Preparation
We decided to set the date for October 7, 2017. This allowed us exactly one year to
plan and prepare! Planning a wedding that will place over 500 miles away was certainly
stressful at times, as I wasn't always able to fly in for things such as appointments with
vendors. Luckily, I had the help of my wonderful planner Leona Morelock. She under-
stood my vision and I fully trusted her to convey it to everyone who had a hand in pre-
paring for our big day. I have always dreamed of having a big, southern wedding on the
grounds of an old plantation house. My color scheme included black, white & gold. In-
stead of trendy and modern, I stuck to more of a classic theme. As the months rolled by
and the planning picked up, my vision began to come to life.
The Big Day
Finally, the big day arrived and it couldn't have been more perfect. Every little detail came to-
gether to form something out of a fairytale. It was everything I had dreamed of plus more. De-
spite the weather forecast calling for thunderstorms, the rain went completely around us! At half
past 4 in the afternoon, my dad gave me away to my very own Prince Charming. Surrounded by
our family and friends, Brandon and I read aloud our own heartfelt vows to each other and said
"I do!". There are no words to describe the overwhelming amount of love we felt in those mo-
ments. I remember thinking to myself how I wish time would just freeze for a few minutes so I
could soak it all in! After the ceremony, we celebrated and danced the night away at the white-
tented reception. It was literally the best day EVER
The Retreat
After the wedding, we spent 10 romantic days in Maui for our honeymoon. Over the course of
those days, we enjoyed relaxing by the pool, snorkeling with sea turtles in the ocean, attending
a traditional Hawaiian luau, and eating delicious meals at local favorite restaurants. Every day,
we made it our mission to explore a different area of the island. One of our favorite activities
was adventuring down the Road to Hana. We swam in waterfalls, hiked through the rainforest,
and saw some incredible sights. It was the most perfect trip and we can't wait to return one d
Featured Wedding Vendors
INVITATIONS
Cardinal and Straw Fine Paper Goods
Contributing Vendors
VENUE
McCuchen Farm Meadows
CATERER
Bowling Green Catering
ENTERTAINMENT
Dizzorderly Conduct / Viva La Strings
PLANNER
Leona Morelock Designs
FLORIST
Florals by Taylor
GOWN
Hayley Paige
PHOTOGRAPHER
Morgan Marie Photography
Cake
Bowling Green Cakes
Videographer
Peerless Films
RENTALS & DECOR
Tent Times / Liberty Party Rental / A Family Affair / Blue Moon