Arlette Mugeni & Jared Davis
Holidays in Harmony
Married
Dec 30, 2017
Memphis , Tennessee
Photo Credit
SteadiMotions
---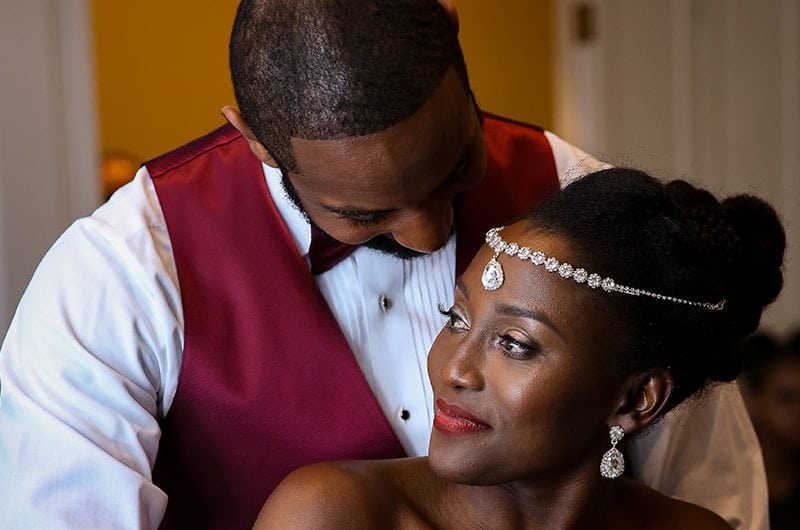 The Proposal
We went to the dog park with our puppies and had a picnic before going to a more isolated area. When we were completely alone and had let one dog off of the leash, he said, "Baby, I could spend the rest of my life like this, just me and you. I would be perfectly happy with that. Would you be willing to spend the rest of your life like this – just me and you?" I just replied "Sure," thinking that he was being a smooth talker as usual. He replied "Well in that case…" and pulled out the ring!

In Preparation
We planned this entire wedding in just two months. It was exciting but stressful. Dress shopping was fun, but it started getting so stressful that I almost settled for a boring dress and even put down a deposit. Then I went to Barefoot Bride and found my dream dress. As soon as I saw it, I knew it was the one. Booking everything else was further complicated by the fact that vendors were given no more than seven weeks notice, and most places were already booked or closed for the holidays. At some moments, I didn't think it would ever come together, but with the help of our families, friends and prayers, it got done and we made it happen.
The Big Day
I woke up at 6 a.m. to start getting ready. I was so excited and so happy that the day I had been waiting for was finally here…the man I had prayed for was finally becoming my husband. Our main goal for the reception was to see all of the people who had traveled so far to celebrate with us have a great time, and it was a total success. The dance floor was full for the entire reception, and both of our cultures were celebrated while we became the Davis family.
The Retreat
We spent New Year's Eve and New Years Day in New Orleans, Louisiana. We planned to go enjoy some time on Bourbon Street, but exhaustion prevailed. We celebrated our marriage from within our honeymoon suite. It was just me and him, and just like he promised, it was perfect.
Contributing Vendors
Caterer
Sweet Potato Baby + G. Alston Restaurant
Ceremony Venue
Hope Presbyterian Church
Cake
Sweet Potato Baby
Entertainment 
Sounds By DJ MikeMike
Event Planner 
Scottie Watson
Gown
Barefoot Bride
Photographer 
SteadiMotions
Videographer 
SteadiMotions
Rentals & Décor 
Affordable Rentals
Tuxedos
Tuxedo Central