Ashleigh Liggett & Josh Stewart
Longhorn Destination Wedding
Married
Jun 9, 2018
Driftwood , Texas
Photo Credit
Monica Alberty Photography
---
Style Guide
Color Palette
Style
Casual, Destination, Informal, Rustic
Season
Summer
---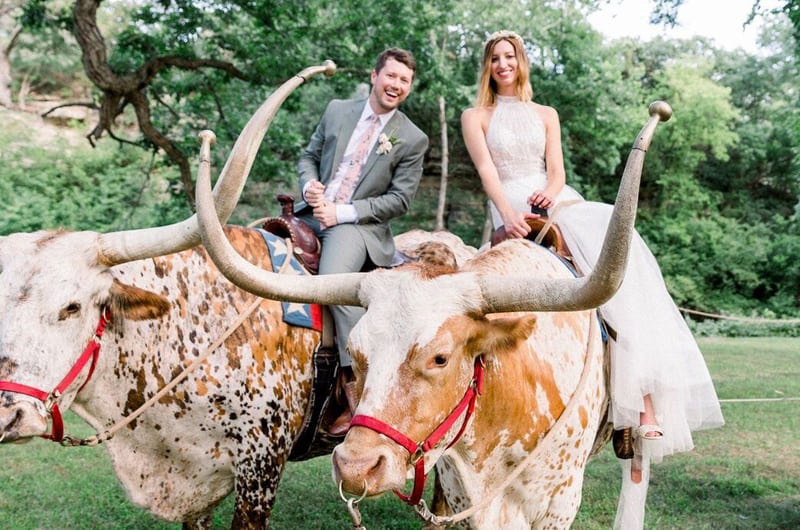 The Proposal
A swipe right connected Josh and I. We talked constantly for three months before eventually meeting at a show in DC. Almost four years later, Josh proposed on a trip to Amelia Island, Florida. We were with a few of my best friends, enjoying a long weekend. Josh had coordinated a dinner with the group, and we were ready early. He suggested we walk along the beach while we waited for our friends. Wearing heels, I suggested we get a cocktail instead, but quickly realized what was going on when he nervously insisted on the beach. He proposed when we hit the shoreline. We both cried. It was honestly magical.
[URISP id=72228]
In Preparation
We both agreed to have a short engagement. Josh and I love to travel, and he grew up going to Hill Country in the summer as a Texas native, so Pecan Grove was perfect for us, as it was destination but very meaningful to Josh. We even ended up finding a DC-based coordinator who had moved to Austin to help on the day of. As a graphic, web and interior designer, I was extremely excited and terrified to plan and design our wedding. I designed the stationery, our website, koozies and welcome bags for the guests, and I also picked out vintage furniture for a lounge area / photobooth with the help of Birch & Brass. Last minute, we made an Amazon buy for inexpensive pink Chinese fans to lay on each seat (it was supposed to be 95 degrees the night of). But it turned out to be surprisingly cool under the pecan trees! Everything came together perfectly.
[URISP id=72229]
The Big Day
Our outdoor wedding ceremony at Pecan Grove, hilly with the rushing water sounds of Onion Creek and decorated by countless massive pecan trees, was everything we dreamed of. We were surrounded by friends and family from Texas as well as from across the US.
Josh's grandfather officiated the wedding, and my brother Greg kicked off the ceremony with a message from Friedrich Nietzsche's The Heaviest Burden — "What if you were told one day that this life as you live it and have lived it, you will have to live over an infinite amount of times; and there will be nothing new in it, but every pain and every joy and every thought and every sigh would happen again. What would you do?" Greg hoped we would live our life over and over. Not a dry eye in the house.
After the ceremony, our guests moved slightly to the right for cocktail hour under the pecan trees. We rented corn hole and giant Jenga to keep things playful (and competitive). The big surprise for the group was the company of Abilene and Dallas, our longhorns! Guests could get pictures next to or on top of the steer. I have a huge love of animals, and since our pitbull Mac could not make the trip, they brought a smile to my face.
We walked inside for more drinks, speeches from the man of honor and maid of honor and Josh's brother, cake cutting and dancing. The night at Pecan Grove ended with a sparkler send off. School buses carried us away to a local bar to play ping pong and enjoy a night cap under the stars.
[URISP id=72230]
The Retreat
Our honeymoon was spent in Kauai and The Big Island. We stayed at the Beach Club Marriott resort in Kauai for four nights and explored Kauai and Princeville during the day, including an ATV tour, a boat ride along the Napali Coast, Queens Bath, Hideaway beach… Hawaii is stunning. After a quick plane ride to Hilo, we visited the Tropical Botanical Gardens, downed poke bowls, and then we stayed in an Airbnb treehouse for a night. The next morning, we took our rented Jeep and drove through the rainforest rains to Mauna Lani Bay for our last night. The beach sand is white, contrasted with lava rock and palm trees — unbelievably stunning.
[URISP id=72231]
Featured Wedding Vendors
Venue & Caterer
Contributing Vendors
CATERER
Salt Lick BBQ
VENUE
Salt Lick BBQ
WEDDING & GROOM'S CAKE
Iced Cakes & Confections
ENTERTAINMENT
Clam Bake Shake DJs
EVENT PLANNER
Highland Avenue
FLOWERS
Clementine Botanical
GOWN
Luxx Nova
HONEYMOON ACCOMODATIONS
Marriot Kauai, Mauna Lani Bay, Airbnb
PHOTOGRAPHER
Monica Alberty Photography
RENTALS & DECOR
Birch & Brass Rentals
TRANSPORTATION
Austin Charter
Company