Beth Anne Cobb & Chris Winkler
Perfect Timing
Married
Dec 15, 2017
Ponder , Texas
Photo Credit
KET Photography
---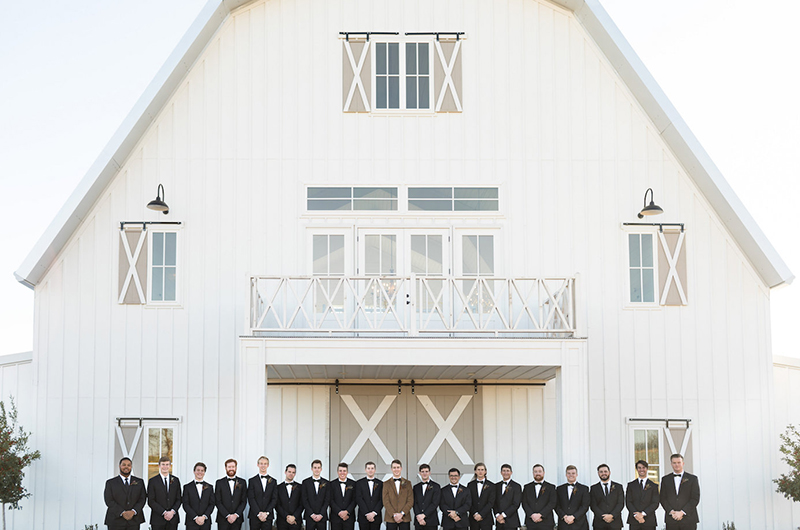 The Proposal
Chris & Beth Anne met in college during the summer away from home. They had both just begun taking steps to invest in their faith at this time (which started at Kaleo – a summer discipleship program) and they were running with the same crowd. Being involved in the same ministry and friend group at OU kept them close. Chris knew that he really had the feels for Beth Anne after a fun trip with friends. Their lives continued and they shared fun memories together as friends, but the time never seemed right for a love story. They went on a date 2 1/2 years later in the spring of Beth Anne's last year at OU, but again it just wasn't right. After graduation, Chris got a job opportunity in Tokyo, Japan. After Chris called Beth Anne to tell her the great news, she got off the phone and a waterfall of sadness came over her because she, for the first time, knew she had feelings for the Chris. After a crazy series of events, which was all in God's perfect timing, they went on their real first date on December 17, 2016 and a little over a week later they were official. They dated for about 8 months (8 months of long-distance dating). Then on August 31, 2017 Chris surprised Beth Anne in Lubbock and asked her to spend the rest of her life with him. She said YES before he could even finish the sentence!
In Preparation
When Beth Anne first reached out to me about her wedding, my first words were, "oh boy!" These words were ones of excitement because she was going to be my first bride at the new venue, The Nest at Ruth Farms, but also because we would only have 3 months to plan. As Beth Anne shared more about her and her future husband, Chris, I could feel how much they truly love each other. This wedding was going to be such a celebration and a culmination of every person that has touched their lives.
The Big Day
All day the venue was bursting with people smiling from ear to ear. Although the wedding party was Texas-sized, you could tell that every member of the party had a tight, special bond with the couple. They were always ready to help the couple with anything they needed, crack a joke, and to ensure the day was nothing short of magical. When it came to the design of her wedding, Beth Anne started out with a very neutral color palette, but I could tell that her heart was calling her to step a outside the box a little. I encouraged her to find some inspirational images that made her heart sing and from there the neutral and natural wedding she thought she wanted turned into deep tones, eclectic finishes, and the coolest florals you can find! Winters in Texas can be unpredictable and December 15th was one of those super chilly days that comes out of nowhere. The sun shined so brightly and turned the landscape into pure gold. To warm the guests from the inside out coffee and hot cocoa was served. HD Liquid Catering provided the hot beverage bar decked out with all the fixings needed to create a scrumptious winter beverage. Amuse Bake Shop created a stunning mini dessert display to compliment the coffee and cocoa. Cupcakes, pies, cookies, oh my!
The Retreat
We went to Boulder, Colorado for about 5 days for our honeymoon!
Contributing Vendors
PHOTOGRAPHER
KET Photography
CEREMONY + RECEPTION VENUE
The Nest at Ruth Farms
WEDDING CAKE
Amuse Bake Shop
ENTERTAINMENT
Do It Big Studios
EVENT PLANNER
Liz Ise for Chancey Charm Dallas
FLOWERS
Haute Poppies
CATERER
Hot Beverage Bar: HD Liquid Catering