Carly Westling & Jared Stensland
Bluff-side Bliss
Married
Sep 23, 2017
Sewanee , Tennessee
Photo Credit
Blue Dahlia Photography
---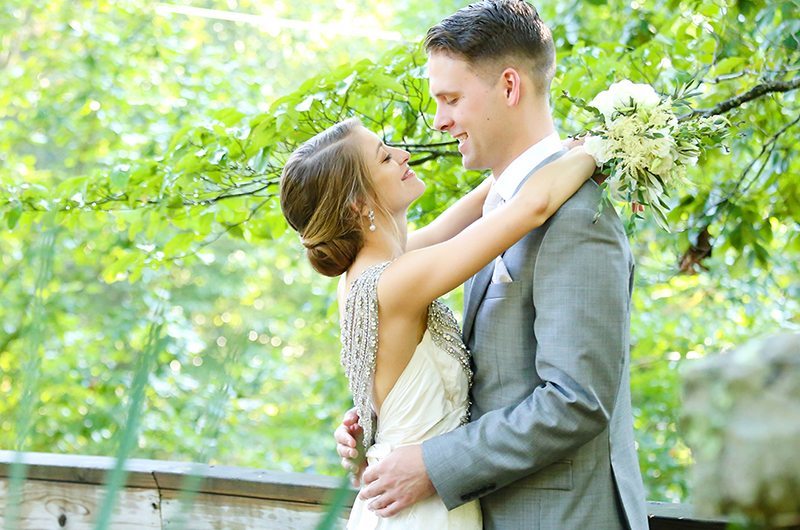 The Proposal
Every time "when?" came up when talking with friends, he would joke that he was just waiting for me to propose. I knew he was feeling some cultural pressure to make the proposal some big, special surprise, but to me what was important was that we were agreeing to make a lifelong commitment to each other, not the manner in which that agreement happened. My parents, brother, and grandmother were planning a visit soon, and it felt like it would be perfect timing for a proposal. I didn't think it was on his radar, so I decided I would propose to him. Knowing him, a lifelong supporter of gender equity having been raised with his mom and sister and man of honor is in his sister's wedding to her wife, I thought he would find me proposing to be a very romantic gesture. We were planning to go on a family hike. I managed to get Jared alone on a beautiful bridge above a ravine, surreptitiously pulled out the ring, told him how much I felt we both had grown in the time we'd been together, and that I wanted to continue learning and growing with him for the rest of my life. "Will you marry me?" He said, "WHAAT!?" Then laughed and said, "Yes, of course."
In Preparation
Admittedly the planning process was not always easy. If I had any one piece of advice to give, I would say make sure to take the time to enjoy being engaged – let yourselves feel giddy and love-struck all over again – before you jump in to the where and when and who of things. In the end, though, all of the hard conversations we ended up having with each other and our parents about money, differing expectations, and family traditions left us feeling like more of a team and closer with our families than ever. We also talked a lot about what promises exactly we were making to one another and what we agreed to do when we didn't live up to those promises. We wrote down those promises in our vows. The vows were the one part of the whole wedding we kept a surprise from my mother, and now every time the wedding comes up in conversation she raves about how beautiful and meaningful they were – how they reminded her of the real reason for all the work we put into the planning.
The Big Day
Things turned out even better than we could possibly have imagined. We rented a big house for all of our closest friends to stay in for the days before the wedding, and everyone worked together on all sorts of projects getting ready for the big day. It truly felt like a community effort – everyone felt like they had played a meaningful part, and friends from all the different aspects of our lives formed relationships with one another as they created sometime together. On the big day, Jared got ready with his groomsmen downstairs, and I was upstairs with my bridal party. Jared and I didn't see each other until our first look. The sunset over the bluff during the ceremony was the most beautiful I'd seen in a long time, and just as we started reciting our vows, coyotes started howling. The stars came out as we were finishing up the receiving line, and then heat lighting began over the bluff – the atmosphere felt truly magical. We cut the cake, we drank from the loving cup that my parents had drunk from at their wedding and my grandparents before them, and then the dancing began. The DJ said he had never seen anything like it – four and a half hours straight with the dance floor crowded and people of all ages (from 8 weeks to 93!) helping create an atmosphere that was so authentically full of joy and fun!
The Retreat
We stayed in Sewanee an extra day with some of our friends to help break everything down, say goodbye to our widespread families, and talk over the best parts of the weekend with everyone. When we finally landed in Cabo for the honeymoon, all we wanted to do was sleep and spend time with just each other. We talked over and over again about how wonderful everything had turned out and how grateful we were for all of the love in our lives. We spent the week recharging, walking around in the sunshine, eating good food, and practicing our Spanish talking to some of the locals.
Contributing Vendors
CAKE
Amy Van Tries
ENTERTAINMENT
The TC Show
PHOTOGRAPHER
Blue Dahlia Photography
VENUE
Chattanooga Tents
EVENT PLANNER
Amanda Bailey
FAVORS & GIFTS
Lowell Mosley
RENTALS & DECOR
Reliable Rental
FLOWERS
Nashville Wholesale and Wedding Flowers
GOWN
Brides for a Cause
HONEYMOON ACCOMODATIONS
Villa Del Palmar
INVITATIONS
Vista Print
TRANSPORTATION
Signature Transportation Services
VIDEOGRAPHER
Sadie Lloyd