Caroline Messier
 & Justin Rayman

Pretty Pink Charleston Wedding
Married
Apr 22, 2017
Charleston , South Carolina
Photo Credit
Tim Will Photography
---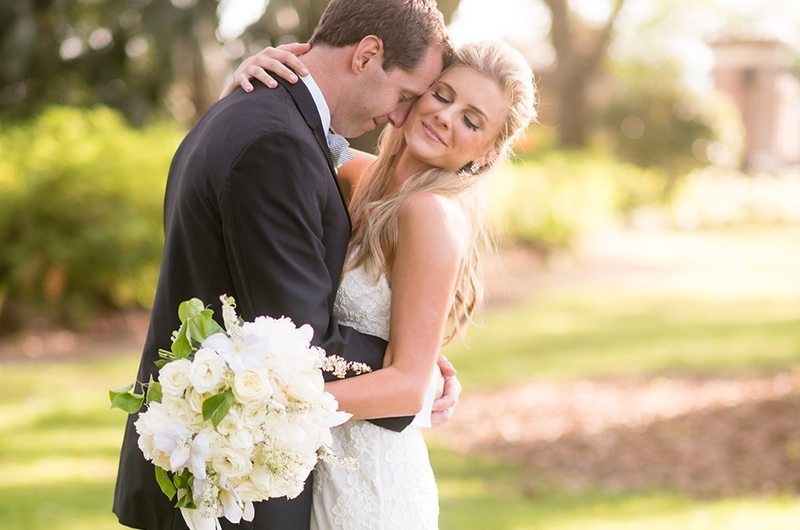 The Proposal
Justin proposed to me in the Florida Keys. I was confident it was going to happen. I didn't want to jinx it, though, so I didn't get my nails done before the trip. What a mistake. My family takes a yearly trip to the Florida Keys for New Year's. It's a tradition for all of my brothers to wear tacky Hawaiian-style shirts for New Year's Eve on the town, and Justin refused to put one on. My youngest brother was a bit upset to say the least. He told Justin that he would never be part of our family. Little did we know what was coming. While getting ready to head to dinner, Justin kept pressuring me to hurry up because he wanted to watch the sunset. What a giveaway since we never watch the sunset. Once I was ready, he was fidgeting in his pockets…another dead giveaway. But despite his nervous energy, it was very romantic and he was down on one knee even though my mother was clumsily running up and down the stairs to locate her camera and alert everyone else.
In Preparation
To say my mother is a meticulous planner would be an understatement. True to form, she had already put a hold on a half-dozen venues in Charleston when Justin had asked for my hand months earlier, and we were thankful she did. Every venue on our list was already booked for the next two years! She then made the executive decision there was only one place that I could wed and that was Lowndes Grove Plantation – not too shabby. Since I work in the event industry, it was nearly impossible for us (me) to nail down one idea for our big day, but we worked with the lovely ladies at A Charleston Bride, and we finally decided on a color palette and design. Justin and I are pretty relaxed, so we chose to avoid the sit-down dinner and opted for a fun, social atmosphere with multiple lounge areas and pub tables instead.
The Big Day
Wedding planners are absolutely right when they say your wedding day is the quickest day ever. Justin and I chose not to see each other before the ceremony. He wanted to be surprised when I walked down the aisle. My most memorable part of the day was taking all of the family photos after the excitement of the ceremony. Justin and I had a private dinner upstairs at Lowndes Grove while the guests enjoyed cocktail hour. We wanted a moment to reflect on the vows we just took and a chance to eat. Your wedding is the only day in your life where you are surrounded by all of your family and friends. The moments go by too fast.
The Retreat
We met in Australia so we figured it was only fitting to go back to the South Pacific. We went to New Zealand and Fiji for three whole weeks. 
Contributing Vendors
Ceremony Venue
Lowndes Grove Plantation
Caterer
Patrick Properties Hospitality Group Catering
Coordinator
A Charleston Bride
Floral Design
Palmetto Bloom
Ceremony Entertainment
Bob Williams Duo
Cocktail Hour Entertainment
Bob Williams Duo
Cake
Patrick Properties Hospitality Group Catering
Photographer
Tim Will Photography
Videographer
Life in Rewind
Equipment Rentals
Ooh! Events
Equipment Rentals
Snyder Events
Equipment Rentals
Old South Vintage Rentals
Wedding Textiles
The Social Spool Co.
Lighting Rentals
Technical Event Company
Reception Entertainment
Charleston Groove Factory
Hair + Makeup 
Paper Dolls
Invitations 
Studio R Designs
Transportation 
Charleston Style Limo
Gown 
Lian Carlo
Jewelry 
Marlena Dupelle
Shoes
Jimmy Choo
Bridesmaid Gowns
Amsale
Tuxedos
Charleston Tuxedo