Carri MacGregor & Trip Tanner
Reconnection
Married
Mar 8, 2016
Charleston , South Carolina
Photo Credit
Aaron & Jillian Photography
---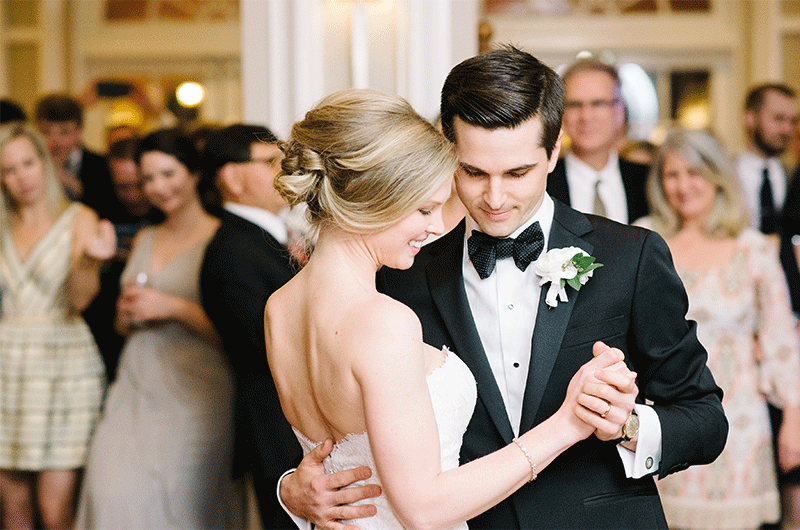 The First Encounter
Well, Trip says our first encounter was in 6th grade and he hasn't loved another woman since. We did meet in 6th grade- that part is true and we love that we both grew up in a small town together. This made randomly connecting fourteen years later at a work event in Charlotte, North Carolina even more special. I was planning corporate events at the time and Trip happened to attend an event. Not recognizing Trip at first, I walked right up and welcomed him. We quickly recognized each other, and our first date followed soon after.
In Preparation
My husband likes to tell our friends that he did it all, but when you marry a wedding planner, we know that's not the case. I lucked out because I already had a good idea of which vendors I wanted to work with and I am familiar with all of the Charleston venues. We chose the Mills House because we wanted a venue that was beautiful, historic, and convenient for our friends and family. Trip has always loved the hotel so it just made sense for us. It was the easiest wedding I've ever planned!
The Big Day
I started the day with my bridesmaids, mom, and mother-in-law at my friend Kristen's gorgeous shop, The Silver Starfish, where we all got ready together. From there, Trip and I had a first look that I'll never forget. We got married on the rooftop of the Mills House and then had cocktails in the courtyard while we took pictures and our DJ Bryan Mahanes played awesome, vibe-y music. Trip surprised me after our first dance by dancing with my grandmother; it was so sweet. Trip and I talk about how fun our wedding was all the time and how lucky we are to have such incredible friends and family.
The Retreat
We both have fairly demanding work schedules so when we started discussing ideas for our honeymoon, my aunt and uncle's cabin in Blowing Rock seemed like the perfect easy retreat. We drove Trip's old BMW up the Blue Ridge Parkway, stopped at the Grove Park Inn in Asheville, and spent the week hiking, relaxing at the spa, eating wonderful dinners, and – possibly the best part – sleeping in with our phones turned off.
Featured Wedding Vendors
Entertainment
Gown
Invitations
Contributing Vendors
Caterer
The Mills House
Ceremony Venue
The Mills House
Reception Venue
The Mills House
Flowers
Tiger Lily Florist
Rentals
EventHaus
Videographer
Epic Charleston
Photographer
Aaron and Jillian Photography