Christine Jelinek & Scott Martin
Life, Love & Luxury
Married
Nov 11, 2017
Charleston , South Carolina
Photo Credit
Monika Gauthier
---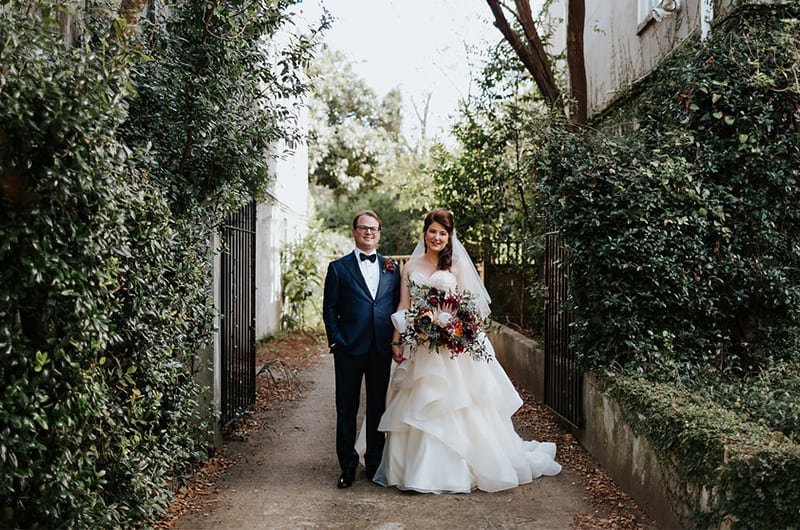 The Proposal
Scott asked me to marry him in our kitchen. He dropped to one knee, took my hand, and told me that he wanted to spend the rest of his life as my husband. Scott and I had discussed marriage before, but the proposal still came as a complete surprise.  We'd had plans that night at Marcel's, a French-Belgian restaurant in Washington, D.C. where our friend, Executive Chef Paul Stearman, prepared some of the best tasting menus we have experienced. Although I knew it would be a romantic evening, I had no idea Scott was planning to propose until I saw the ring box. My (now) husband is masterful at surprises. I said yes, of course, and we proceeded to have a lovely dinner accompanied by the warmest wishes from our friends at Marcel's.
In Preparation
A bridal confession: I chose to keep most of the wedding design elements a secret—from myself. Scott and I knew that we wanted to be married in Charleston, where he was born, and both of us had fallen in love with the charm and vibrancy of the city.  We also knew that we wanted to combine Charleston's southern feel with a nod to my home and its casual Californian vibe.  Given that we had a fall wedding, we thought a dark romantic palette could help bring everything together. It was extremely important to me to commit to being emotionally present on my wedding day, so we asked Francesca DiSalvo-Follmer and Blake Bush at Pure Luxe Bride to keep most of the design a secret from me until the big day. Entrusting Scott and Pure Luxe Bride with these details enabled me to connect and celebrate with our friends and family with a singularity I really needed. And ok, I had a wedding dream team, veritable fairy godmothers who scoff at Pinterest, bringing bridal fantasies to life with just a click their Louboutins. Pure Luxe Bride understood our aesthetic and vision so effortlessly; it seemed natural to give them freedom to execute creative decisions. Maybe they didn't exactly need my help. This decision was empowering too, as my focus became people (rather than process) and the dynamic relationships that have defined Scott and me as individuals and again as a couple.
The Big Day
Our creative team produced an elegant, unforgettable evening that captured our formal but joyful approach to life, love, and entertaining. Scott and I exchanged vows in the courtyard of the Dewberry Hotel. Our reception then started with a garden cocktail hour featuring shucked oysters and a personal favorite, bottles of 2002 Krug. To kick off our dinner, Scott sabered a 15L "Nebuchadnezzar" of Billecart-Salmon champagne—the equivalent of 20 regular bottles—that the Dewberry had delivered from France. I had been worried that my honeymoon would start with a trip to the ER. Fortunately, with some guidance from the Dewberry's beverage director, Ryan Casey, Scott was a total pro, and this became one of my favorite memories from the day. The executive chef from Henrietta's at the Dewberry, Geoffrey Deconinck, prepared a multi-course tasting menu for our guests— his continental style brought a perfect update to low country classics. To help guide our 60 guests through the eight wines that Ryan paired with our tasting menu, we enlisted the help of a dear friend—Kristy MacDonald, currently of Per Se in New York—who served as our personal sommelier for the night. To honor Scott's southern roots, we ended the night with red velvet cake and the last of state's annual allocation of 2002 Krug.
The Retreat
We left the Dewberry to travel a few blocks south to Charleston's romantic Planters Inn.  We had agreed that with work obligations pressing back in Washington, we would save a lengthier honeymoon to the Maldives for later.  But we both wanted to enjoy a mini-moon before plunging back into life in the District.  The Planters Inn was a perfect choice: a quiet haven for relaxation and a base from which we explored the rest of the peninsula.  At my first opportunity, I visited stylist Austin Welch at Elysium at Charleston Place for the fourth time that week, this time for a haircut. Goodbye wedding hair! And I came home with our trip with an added souvenir:  A stuffed bear that I call "Moony," for obvious reasons, who sports a Planters Inn t-shirt as a reminder of our time spent there.
Featured Wedding Vendors
PLANNER
Contributing Vendors
VENUE
The Dewberry Charleston
INVITATIONS
Smythson
CATERER
The Dewberry Charleston
ENTERTAINMENT
Bob Williams
FLORIST
Branch Design Studio
CEREMONY STRINGS
Palmetto Strings
PHOTOGRAPHER
Monika Gauthier
LINENS
La Tavola
RENTALS & DECOR
Event Works
HAIR
Wedding Hair by Charlotte
GOWN
Fiore Couture
VEIL
Bellissima
JEWELRY
Bulgari
GROOMS TUX
Isaiah
CAKE
The Dewberry Charleston
SHOES
Dior
FAVORS & GIFTS
A Signature Welcome
GROOMS SHOES
Salvatore