Elissa Ealey & James Moore
It Was Always You
Married
Dec 28, 2018
Springfield , Illinois
Photo Credit
Kate Spencer Photography
---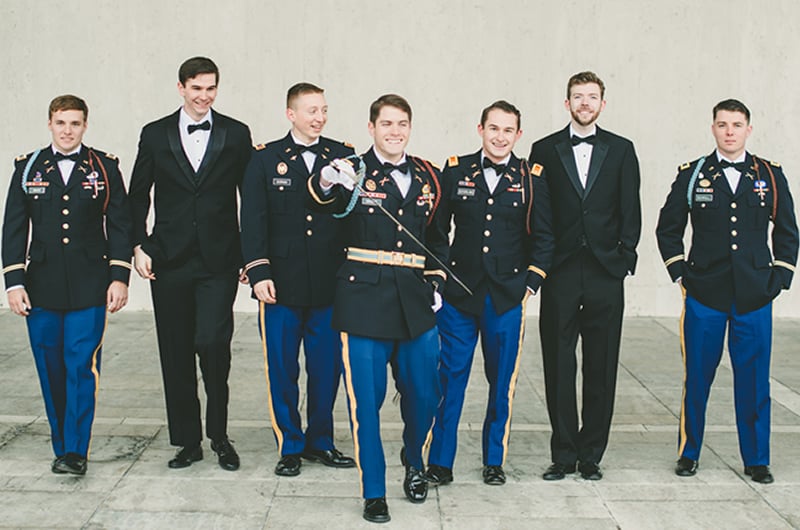 The Proposal
When Jimmy visited Elissa on Easter weekend of 2018, he mentioned he had brought an Easter basket for her. As she arrived home from work the day after his arrival, she noticed Jimmy was dressed very nicely and the basket, full of thoughtful items, was awaiting her on the table. As she walked further into her apartment, she opened the bathroom door to find the bathtub full of rose petals, candles, and a ring on sitting on a floating tray with decorated with a single rose. He retrieved the ring, got down on one knee and popped the question. She said YES!
In Preparation
Preparing for the Big Day was nine months full of excitement, but also challenges as Jimmy and Elissa had a long distance engagement. So much of the planning was done with the expertise of Cassandra Dattoli, who planned their celebration perfectly. From choosing tablecloths to bridesmaid dresses, every detail was well-thought out. Elissa and her mother met with Cassandra almost every week leading up to the big day to create a day they would cherish forever.
The Big Day
The Big Day was unforgettable. The bridal party was treated to makeup and hair at the Gallery Salon where they sipped on mimosas and enjoyed being pampered. Gifts from the bride and groom were exchanged – delivered by the best man. Jimmy and Elissa wrote love letters to each other which they will cherish forever. Elissa had an emotional "first look" with her father before leaving the hotel and Jimmy and Elissa shared a first look before the ceremony, and of course Jimmy cried a bit! The 4 o'clock faith-centered ceremony was full of family and friends. Full military attire was worn by all members of the Armed Forces, including the groom and groomsman. After the ceremony, guests headed a couple blocks away to the reception in a grand hotel ballroom. Cocktails were served before dinner. Friends and family celebrated and danced the night away with the bride and groom before participating in an elegant horse and carriage exit.
The Retreat
With the Army comes a crazy schedule. Due to the fact that we live far away from our family and friends, we decided not to take a honeymoon right away in order to spend more time with our loved ones during the holiday season. We do enjoy taking little weekend trips that feel like honeymoons to us.
Contributing Vendors
CEREMONY VENUE
First Presbyterian Church
RECEPTION VENUE
President Abraham Lincoln Springfield DoubleTree Hotel
PLANNER + FLORALS + DECOR
Cassandra Dattoli
CAKE
Specialty Cakes
GOWN
Frew's Bridal
INVITATIONS 
The Paper Boutique
TRANSPORTATION 
1 Up'N Limos
VIDEOGRAPHER 
Pancho3
HAIR + MAKEUP
The Gallery