Jenna Maitre & John Buckman
Jenna Maitre & John Buckman's Traditional New Orlean's Wedding
Married
Jun 16, 2018
New Orleans , Louisiana
Photo Credit
Kim Ashford
---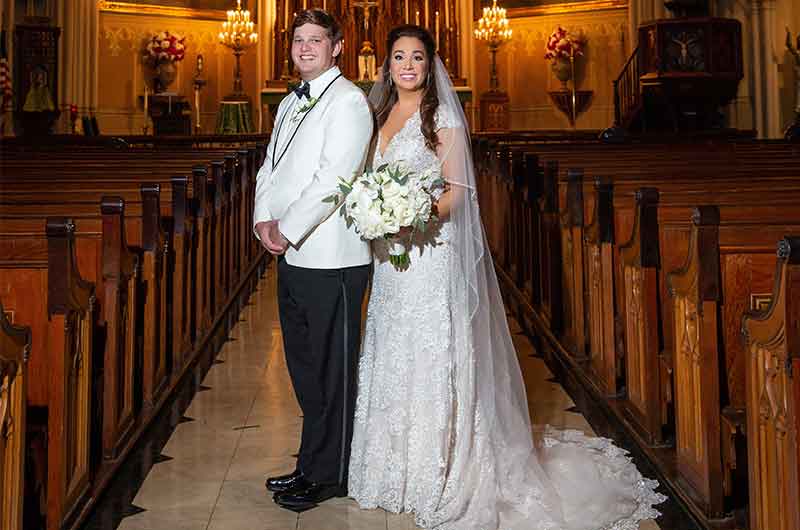 The Proposal
John proposed to me on April 29, 2018. He took me for a long walk along the lake where he grew up. We made our way to a park bench overlooking the lake as the sun began to set. As soon as we sat down, he handed me a picture book titled "Ten Things I Love About You." It was a ton of photos of us throughout our four years together as a couple. I finally got to the last page of the book and in big bold letters appeared "Will You Marry Me?" Of course, I said "Yes!". It was all so sweet and a wonderful surprise. John even had a photographer secretly capturing our special moment. We then continued the celebration with all our friends and family in downtown New Orleans.
In Preparation
When the preparation began for our wedding the only think we knew was that we always wanted a large traditional, southern style, New Orleans wedding. After only one visit to St. Patrick's Church, we both instantly knew that was where we were going to get married. John's family has their own personal wedding reception venue which was a blessing for us. However, I never realized the amount of time, effort, and work that went into planning a wedding especially a large traditional one. It was truly a great experience despite all the work. I really enjoyed working with my mom, my bridesmaids, and all the local vendors throughout the year. They certainly helped make the process as easy and as fun as possible!
The Big Day
On our wedding day, my bridesmaids and I celebrated with mimosas while waiting for our glam squad to arrive at the hotel.  The first-look photo session that I did with my dad is a moment that I will always remember because it was so special to me. I knew everything was going to be perfect from the moment I stepped out of the vintage Rolls-Royce. Seeing John waiting for me at the end of the aisle is something I will never forget! I realized that all of the hard work & planning certainly paid off. From the venue, flowers, music, and cake all the way to the delicious Drago's oysters we had, everything was perfect. John and I never left that dance floor. It was exactly what I envisioned for our dream wedding!
The Retreat
For our honeymoon, we decided to travel throughout Italy and made some stops in Rome, Florence, Venice and our favorite, Cinque Terre. It was by far the most perfect honeymoon! We had time to relax and reflect on our dream wedding while lying on the beach in Monterosso al Mare. Then there was the food which was absolutely amazing, from the delicious pasta in Rome and Venice to the steak Florentine in Florence. Then there was the fresh seafood in Cinque Terre which was to die for.  We even saw the Pope make his weekly address which fulfilled a lifelong dream of ours. We truly fell in love with Italy and we cannot wait to go back.
Featured Wedding Vendors
Wedding & Groom's Cake
Contributing Vendors
Ceremony Venue
St. Patrick's Church
Entertainment
Souled Out
Favors & Gifts
Lolli's Chocolates
Flowers
Ever After Floral
Gown
Yvonne Lafleur
Honeymoon Accommodations
European Destinations
Invitations
Gem Printing Company
Photographer
Ashford Halley
Reception Venue
Jefferson Orleans South
Transportation
V.I.P. Transportation
Videographer
RZ Productions
Catering
Black Peal Catering Co.
Live Wedding Painter
Denise Hopkins Fine Art