Kelsey Farese & Taylor Stephens
Match Made in Heaven
Married
Oct 14, 2017
Holly Springs , Mississippi
Photo Credit
Bryan Johnson
---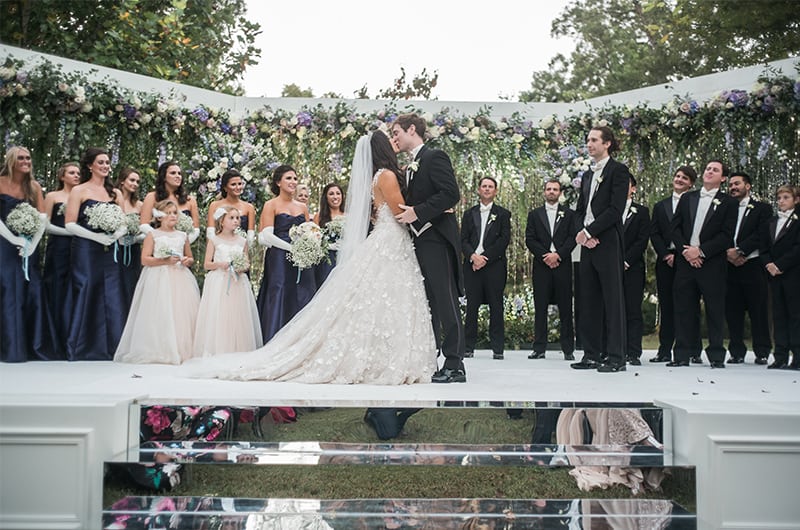 The Proposal
On our first day in London, we decided to take a walk through Kensington Palace Gardens. As we approached the swan pond I ran ahead and turned back to Taylor and said, "This is my favorite place in the whole world". When he dropped to one knee he pulled out an old piece of paper that looked like it had been unfolded and re-folded a million times. It was a paper I wrote my senior year of high school for bible class outlining the kind of man I wanted to marry and when we began dating, Taylor had asked for it. Little did I know that he had carried it with him everyday for the last 8 years to remind him the kind of man he wanted to be. He read it to me and it sounded like I had wrote it with him in mind all along.
In Preparation
As for our style, it really choose itself. Since we were engaged at Kensington Palace Swan Pond in London and with London being our favorite city, an English Garden theme emerged on its own. We wanted food to be at every corner and Elizabeth Heiskell from the Today Show made it happen! My two favorite elements were inside the tent. One was our centerpieces which were custom swan topiaries dripping with flowers. The second was something I dreamed up and was told over and over again it would not be possible— we had about 400 candles hung from the ceiling of our clear top tent with invisible wire to give the illusion that they were floating. Music was also important to us so we had a custom 12 piece orchestra which included two dueling pianos, then a roaming sax player for cocktail hour. Another unique detail included an engraver who created custom mirrors of our guests, we wanted everything to feel like an experience.
The Big Day
I spent the morning getting ready at the house where I grew up, two blocks away from our venue. When Taylor and I had our first look I sighed and said "Ahh Home" and Taylor responded "Do we have to be separated anymore?" We were married in front of 275 of our friends and family by my cousin from Boston. One of my favorite vows was "Today I surrender who I've been for who we are together." As soon as our ceremony ended we met our guests at a champagne tower where Taylor made a speech and sabered a bottle of champagne to begin the celebrations. We spent the rest of the night dancing and hugging as many people we could before we went back on stage for an end of the night surprise. so we also brought out Brandy Alexanders (my husbands middle name is Alexander) during an epic fireworks display,.the perfect way to end the evening before we ran through confetti to catch our flight to…Italy!
The Retreat
We landed in beautiful Positano Italy where we spent the first few days as husband and wife. The water was crystal clear and the town was quiet and romantic. We laid in the sun, sipped limoncello and kayaked around the coast. Then we headed to Capri where we ate our weight in gelato and spent a day cruising around the island. I brought two slices of our wedding cake all the way to Italy and we ate them at sunset on the boat. We then headed to Rome before going to Cliveden House in the english countryside and a revisit to Kensington Palace swan pond in London where it all began.
Contributing Vendors
VENUE
Montrose Antebellum Home
INVITATIONS
Jonathan Wright and Co.
CATERER
Elizabeth Heiskell
ENTERTAINMENT
Josh Threlkeld
PLANNER
Regel & Co.
FLORIST
Garden District
GOWN
Galia Lahav
PHOTOGRAPHER
Bryan Johnson
HONEYMOON ACCOMMODATIONS
Le Sirenuse Positano
VIDEOGRAPHER
Brandon Rice
RENTALS & DECOR
White Door Events
FAVORS & GIFTS
Steven Rose Jewelers
CAKE
The Flour Garden
GROOMS CAKE
Mad Lily Bakery