Melissa Ballentine & Scott Sitz
A Formal Florida Wedding
Married
Nov 19, 2016
Jacksonville , Florida
Photo Credit
Viktoriya Chuprov Photography
---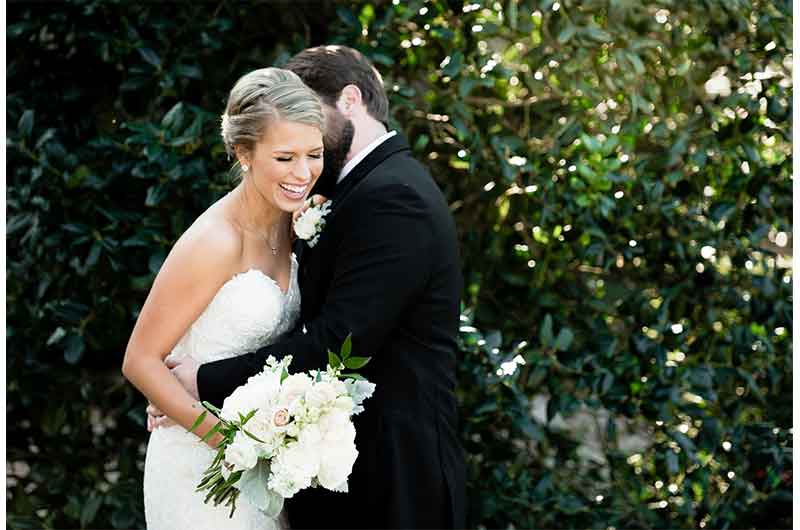 The Proposal
On our six year anniversary after a long day at work, Scott asked if he could meet me at my grandparent's house. He had picked up our dog and decided to bring him along as well. Since I had arrived before him, I was just sitting on the couch waiting for them. I then heard the door open and my dog came running towards me. I immediately noticed his new harness and thought to myself "What a fancy new harness". I soon realized there was a ring attached to it and I was shocked. I quickly looked up to find Scott down on one knee proposing to me and of course, said yes. The whole proposal was a complete surprise!
In Preparation
Scott and I decided to push out our wedding date almost two years so that we could save up and have our dream wedding. We knew we'd be getting married in Jacksonville since our families are from there and that's where we met. I decided to tag along with a co-worker to tour Crosswater Hall and I instantly fell in love with the venue. I knew at that moment that is where I wanted to get married. After booking the venue and choosing the date, I met my wedding planner, Kristen, through a mutual friend. Kristen was amazing and was truly a live saver for me wedding-wise. She understood my vision, budget, and how important the day was for the two of us. After that, everything just seemed to fall in to place.
The Big Day
When our wedding day finally arrived, I couldn't believe it! I had woken up perfect 75 degree weather. It was sunny and perfect for our outdoor ceremony. My girls and I got ready at the venue that morning while the guys got ready in a hotel a few miles away. Once we were done getting ready and the guys arrived, Scott and I did our first look. I am so glad we chose to go the non-traditional route because we were able to slow down and spend more time together and with our guests. People had told me the day would fly by, so I wanted to make sure I soaked it all in. The evening was filled with good drinks, food, even better company. We made plenty of memories and didn't want the night to end.
The Retreat
Two weeks after our wedding, we left for our honeymoon in Nuevo Vallarta, Mexico for seven days. We knew we wanted to go somewhere that we could unwind and relax while also doing some fun excursions. We stayed at The Grand Bliss at Vidanta and feel in love with the people and the atmosphere. Most of our time there was spent out by the pools with drinks in hand or on the beach enjoying the ocean. We did make it off the resort for a super fun zipline, jungle excursion and had a blast!
Contributing Vendors
Jewelry
Jared
Invitation Designer
Minted
Groomsman Attire
Men's Warehouse
Bridesmaid Dresses
Bella Bridesmaids
Dress Designer
Maggie Sottero
Hair Stylist
Beyond A Salon
Makeup Artist
Makeup by Christina Burns
Event Planner
KLM Designs
Equipment Rentals
Luxe Party Rentals
DJ
Island Sounds
Floral Designer
Floriade Florist
Event Venue
Crosswater Hall at Nocatee