Meredith Hamner & Hunter Nicholson
Best Proposal Ever
Married
Mar 24, 2018
Florence , Alabama
Photo Credit
CREATE Portraiture
---
Style Guide
Color Palette
Style
Formal
Season
Spring
---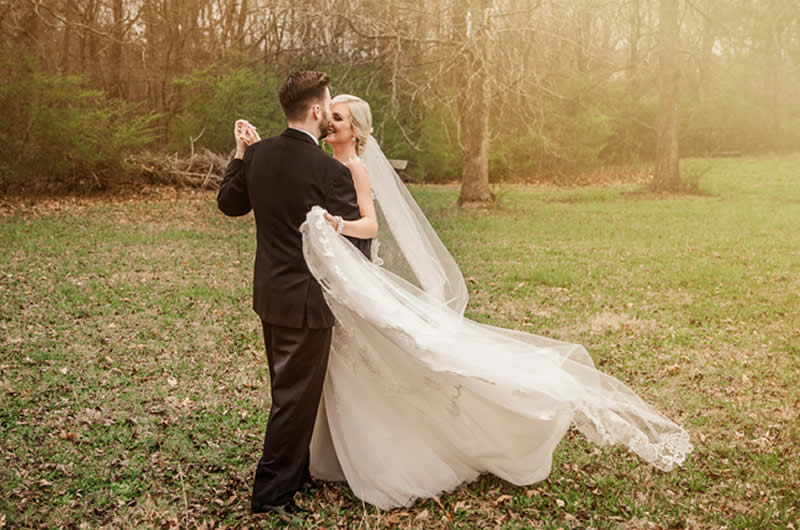 The Proposal
On December 24th Meredith thought it was just a normal Christmas Eve complete with a family dinner with her grandparents, parents, aunt, and uncle. When her mom announced that they would be playing a game, Meredith thought nothing of it for it was nothing out of the ordinary for their family to play a game at Christmas time. Meredith was the first to unwrap the present of the, unknowing to her at the time, fabricated game. As soon as she opened the carefully wrapped box, she saw a DVD case that was titled "H + Mere." Meredith knew in that moment what must be happening, or hoped anyway.
She rushed over to the television to play the DVD. What she then watched was the sweetest and most thoughtful video of Hunter telling her fifty reasons of why he loves her. He ended the video asking her to meet him at her grandparents house, which was just about ten minutes away. Meredith jumped in the car with her parents to go meet him. It felt more like a fifty minute drive rather than ten.
When she arrived at her grandparents house, she saw a line of white lamps leading her to him. He had built a backdrop complete with lights. He asked her to marry him, and of course, she said yes (many times)! See the adorable video HERE.
[URISP id=72078]
In Preparation
Our relationship is deeply rooted in our Christianity faith. It has been my dream since I was a child to get married at the church that taught me about Jesus and how to love others. It was the church that I welcomed into as an infant, a church that I at one time lived across the road from, and a church that even my great grandmother attended. I was overjoyed when Hunter agreed to this request. Our reception was chosen at a venue that Hunter and I went to our first sorority formal together at, Sweet Water Depot in Florence, Alabama. I was an Alpha Gamma Delta at The University of North Alabama while he was an Alpha Tau Omega at the same University. We were very young and full of life. We wanted to celebrate our marriage at the same place that we spent falling in love with each other.
[URISP id=72079]
The Big Day
The day of our wedding was a God-given gift and a dream come true. In a very special and sacred place, we repeated our vows to each other in front of nearly 450 family and friends. The ceremony was officiated by the bride's father, Michael Hamner. The wedding guests and bridal party sang acapella the hymnal, "Blessed Assurance." The bride, a first grade teacher, had fifteen of her students in attendance that day. The bride and groom had all 8 of their nieces and nephews in their wedding as flower girls and ring bearers. The bride and groom had a large bridal party. The bride and groom had their first dance to a mash-up between the movie, Up's, theme song and the musical's Grease, "You're the One That I Want." The Bride and Groom left the reception to a sparkler exit.
[URISP id=72080]
The Retreat
We spent our honeymoon on a seven day cruise to Cozumel, Belize, and Mahogany Bay. While there, we went snorkeling, swam with dauphins, rode horseback through the Belize jungle, won a karaoke contest, and enjoyed the cruise's VIP spa experience. We had a wonderful and relaxing time together!
[URISP id=72081]
Featured Wedding Vendors
CHILDREN'S WEAR 
Contributing Vendors
CATERER
Dawn Pettus
CEREMONY VENUE
Atlas Church of Christ
CAKE
Aunt Beas Bakery
ENTERTAINMENT 
The Midnighters
EVENT PLANNER
Terri Brown
FLORIST
Jut's Weddings
GOWN
Something Blue Shoppe
INVITATIONS
City Folk Creative
RECEPTION VENUE
City Folk Creative
TRANSPORTATION 
Quad Cities Taxi and Limo