Olivia Espinoza & Josh Espinoza
Sunset in San Diego
Married
Jul 26, 2016
San Diego , California
Photo Credit
Kayla Illies Photography
---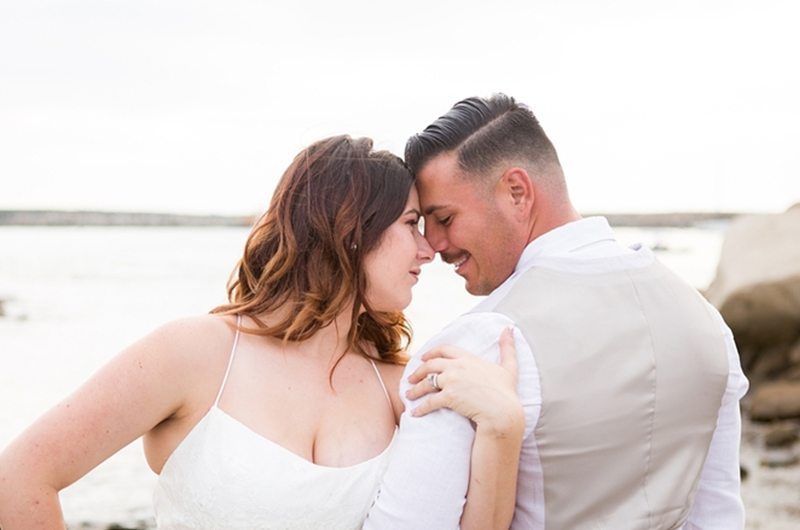 The Proposal
It was a beautiful winter afternoon when all of a sudden our favorite song played, and he drops down to one knee. With the biggest smile and tears running down my face, I said "yes" to the love of my life.
In Preparation
After Josh proposed we knew we had to get married fairly quickly. Josh is in the Navy, and he was receiving new orders for a new duty station. We didn't want to live so far apart from each other, but the only way that we could move together was if we were married. We only had a month to get everything planned, so we decided to keep things simple for our wedding day by having our wedding on the beach at Camp Pendleton. The only planning that we had to do for our simple beach wedding was to find our wedding attire, build our ceremony arch, buy our cake and find a small place that we could share a meal with our families. Our families, thankfully, were able to help us with the other small details.
The Big Day
Our wedding day was something pieced together so well, yet so simple. Standing on the beach looking in the eyes to my husband with our family standing along side of us was so memorable. Then we had a small reception where we got to celebrate our future and love all night long.
The Retreat
Once we were married, Josh and I took a short two day trip together to Palm Springs, CA to celebrate our marriage. We stayed at the Marriott, enjoyed an amazing steak dinner, walked around downtown Palm Springs, spent a day at the spa, and just relaxed together. 
Contributing Vendors
Venue
Private Residence
Jewelry 
Chloe & Isabel
Floral Designer 
Studio 2053 Floral and Event Design