Tolu Babalola & Samuel Perales
Coming Together in California
Married
May 5, 2017
Fairfax , California
Photo Credit
Emily Jean Images
---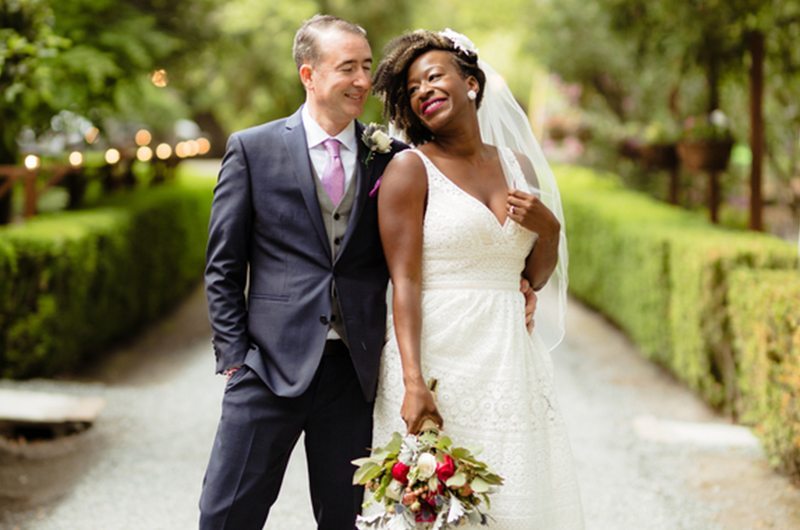 The Proposal
I was born in Nigeria but grew up in Texas. Sam was born in Spain and moved to Florida when he was just 8. We met at in San Francisco in May of 2013. After talking for a while, we realized we lived on the same street just eight blocks away from each other. Sam proposed to me on Hawk Hill in Marin Headlands just across from the Golden Gate Bridge. It was absolutely gorgeous!
In Preparation
We knew we wanted our wedding to be an intimate event for us, our friends and our family, but we also wanted to honor our distinct family traditions. We had a traditional Nigerian ceremony the evening before our western ceremony. This was important for both of us so that we could show our loved ones how were were becoming one family.
The Big Day
Both nights were filled with great food and dancing, but we were just blessed to be surrounded by our loved ones as we celebrated our union of love. Our fondest memories involved our families coming together and the beautiful toasts from our friends.
The Retreat
As we left the reception, our friends and family cheered us on and held sparklers up to create a walkway of light. We were whisked off to start our new lives together.
Contributing Vendors
Caterer 
Cater Marin
Venue 
Deer Park Villa
Cake
Raphael Ferrenbach
Event Planner
Perfectly Planned Moments
Florist
Tawnia Quick
Gown
Brickhouse Bridal
Invitations
Minted
Photographer
Emily Jean Images
Hair
Tanja Ogilvie
Makeup
Meko White
Rings
Brilliant Earth