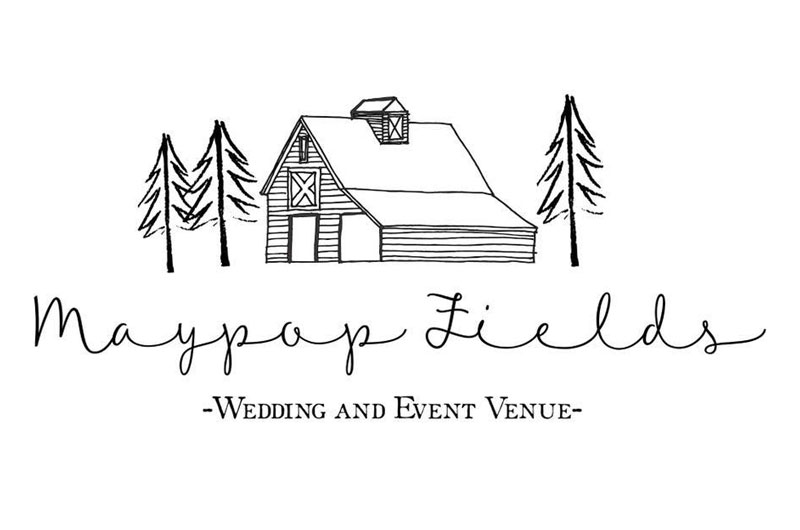 Maypop Fields Reception Setup
Maypop Field Inside Chapel
Maypop Field Tree Lighting
Maypop Fields Outside Ceremony
Tucked away from all the hustle and bustle, Maypop Fields Wedding and Event Venue is located in the small town of New Tazewell, Tennessee, just outside of Knoxville near the Smoky Mountains.
The venue features a white-washed, tin roof barn with over 3,300 square feet and can comfortably seat 250 people. The barn creates a romantic atmosphere with vaulted ceilings, exposed woodwork, and chandeliers throughout.
A pond and stately oak tree are situated on the property and provide a beautiful backdrop for those who prefer an outdoor wedding ceremony or reception. Twinkle lights adorn the oak tree to make for a magical evening setting.
A bridal suite and groom's quarter are conveniently located onsite. The bridal suite is furnished with mirrors, vintage seating, and an antique bridal vanity to allow for a beautiful, functional day. The groom's quarter is tailored for fun and relaxing with games and old-fashioned furniture.
Maypop Fieldss wedding venue also offers handcrafted wooden reception tables, wooden garden chairs, white-washed church pews for ceremony seating, a full kitchen, restroom facilities, parking, sound system, and wireless internet.
More In These Selected Blog Posts: