WEDDING GOWNS  •  BRIDESMAIDS  •  CAKES  •  INVITATIONS  •  FLOWERS  •
FAVORS  •  INSPIRATION  •  RENTALS  •  FOOD & BEVERAGE
Picking Jewels & Gems for your Wedding
It's all about jewels and gems today on the Southern Bride Blog! Once you have found THE dress, then comes the next big part of your wedding day ensemble: the jewelry. For some brides, this can be just as tough as selecting the gown, which is why we have some great tips on picking the perfect jewels and gems for your big day!
1. Consider the style of your DRESS! The style of your dress can have a lot to do with the type of jewelry that would look best. If you have a sweetheart neckline, then a stunning necklace would work beautifully. If you have a high neck or halter style dress, then obviously a necklace is most likely out of the question and beautiful earrings are in!
2. Are you wearing hair/head accessories? If so, this can determine if you need to go simple with your jewelry or not. If you are wearing a larger floral crown, then you may want to stay simple when it comes to your jewelry and probably just go with simple earrings. If you are wearing a piece with some sparkle or a tiara, then again – simple earrings are probably best.
3. The time of day is another thing to consider. If you are having an outdoor/day wedding, then you probably would not wear large, sparkly, statement earrings – that type of earring would be best for an evening wedding.
4. Bracelets can be the perfect addition to your wedding day look, however there are a few things to keep in mind. Will the bracelet snag your gown? If you are wearing a chunky bracelet or bangles – will they make noise during the ceremony (clinking together – that could be distracting)
5. It's all about detail! Does your gown have a bodice with lots of elaborate detail? If so, then you would want to stick with simple jewelry so that it does not take away from the detail of your gown.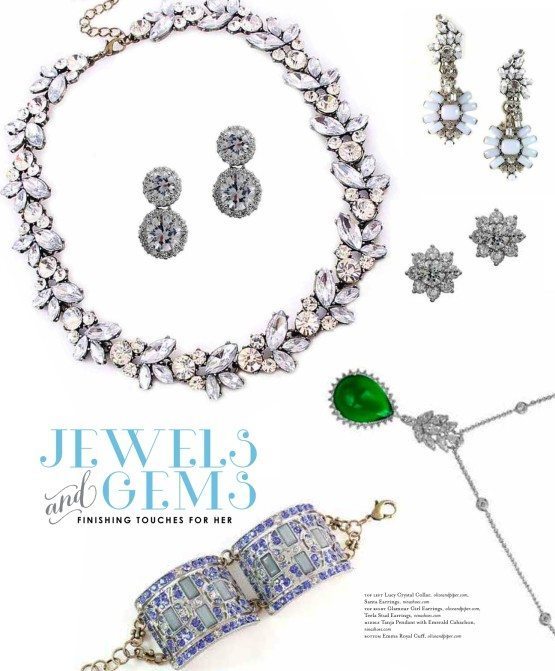 6. Try it on! Once you have your gown and you are trying to select your jewelry, be sure to try on pieces with your dress. Don't want till the week before or even the day of. That could be scary! It's always better to be safe and make sure the jewelry you have selected will work with your dress. You may discover you don't like what you have chosen for jewelry and you want to be sure to have plenty of time to search for the perfect pieces.
7. Don't forget about the do! How you will be wearing your hair on your big day is also something to consider. If you are wearing it down and thinking about a necklace, make sure that your hair will not get caught in your necklace and be uncomfortable. You don't want to be pulling your hair out of your necklace all night. If you will be wearing your hair up, then some lovely dangly earrings may compliment your hair style beautifully.
8. What's the style, theme or colors of your wedding? If you are having a vintage style wedding, them some gorgeous vintage jewelry would be perfect as you stick with your theme. And while you don't want to go crazy with color, incorporating a small pop of your wedding color(s) into your look can be fun. For example, if yellow is one of your colors, some earrings or a bracelet with some stunning yellow diamonds or sapphires would be lovely!
9. Family Heirlooms are always very special. If you have a piece of jewelry that belonged to your grandmother and you know you will be wearing it, then make that the number one factor as you select other pieces. Be sure to try it on with any other jewelry items you may be considering and make sure it compliments your treasured pieces.
10. Be True to Your Bridal Style! If you really love something and you feel it's totally you – then wear it! Just make sure you are certain about what you go with so that you do not regret taking a risk or wearing something too trendy and regretting it one day when you look back at photos. It's always nice to step outside the box, however classic and timeless never goes out of style!
{jewelry by Olive + Piper & Nina Shoes}