WEDDING GOWNS  •  BRIDESMAIDS  •  CAKES  •  INVITATIONS  •  FLOWERS  •
FAVORS  •  INSPIRATION  •  RENTALS  •  FOOD & BEVERAGE
Bacara Resort and Spa in Santa Barbara, California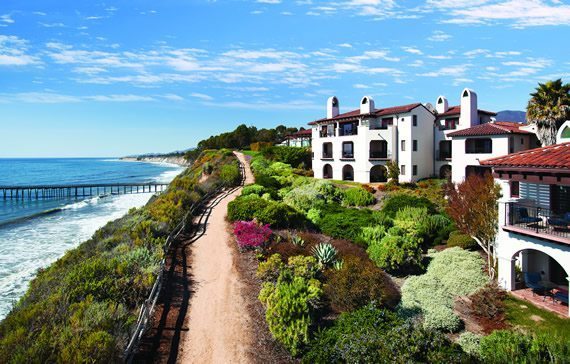 By Monique Jalenak
Get Acquainted
Bacara Resort and Spa
is located slightly north of Santa Barbara, nestled between the Santa Ynez Mountains and the beautiful coastline of sunny California. Easily reached by hopping off the 101 freeway, you'll feel worlds away as you take in the lovely views from any direction and the fresh ocean breezes. With 78 acres of oceanfront property – including two miles of natural beach – this five-star hotel offers 354 guest rooms and luxury suites in an expansive sun-drenched setting. Featured on a recent episode of The Bachelorette, the award winning Bacara Resort and Spa guarantees an intimate, romantic destination with the feel of a Spanish Mediterranean village. Indeed, each of the innovative, artfully designed low-storied buildings are aptly named Villas, and each offers lush landscapes and ocean views. Accommodations are spacious and comfortable using the colors of sea, sand and sky, along with natural materials, elegant Spanish tile, overstuffed furnishings and fine linens for a luxurious, but relaxed stay.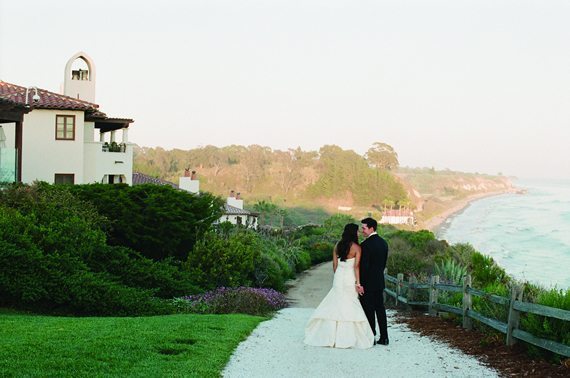 Out and About
Wine tasting adventures all through Santa Barbara County
Strolling through the town of Santa Barbara for shopping and dining
Hiking trails on the Bacara property- the Nature Loop Run for intermediate hikers (2.5/3 miles) and the Santa Barbara Shores Run for advanced athletes (4/4.5 miles).
Santa Barbara Helicopter Tours offer the perfect flight excursions for whale watching, viewing the Channel Islands National Park, and of course, flights over the Santa Ynez Wine Country.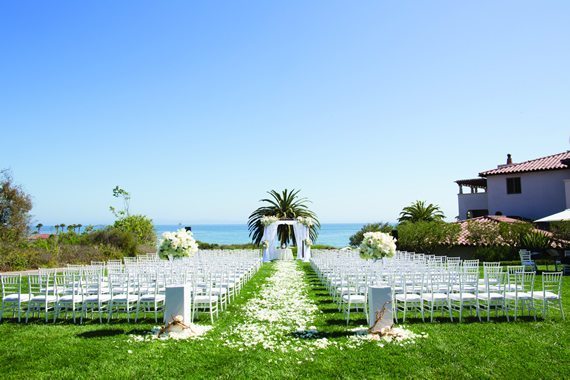 The Big Day
From an intimate garden setting to a sparkling seaside ceremony, Bacara offers exquisite wedding locations and the perfect place the say I Do. Venues include the Miró Lawn, Ocean Lawn, Presidential Lawn, Oval Lawn, and Rotunda Balcony.
Ceremony packages also include white or fruitwood chiavari chairs, a sound system with two wireless lavaliere microphones, one dedicated bellman for two hours, and complimentary iced tea and lemonade for your guests.
Catering and wedding cakes are offered by the onsite restaurants and catering staff.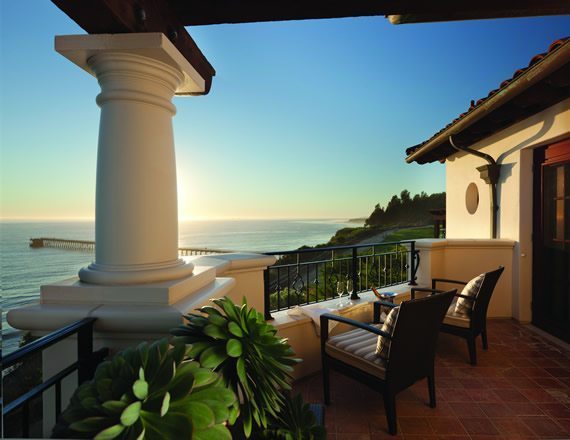 We Simply Adore
The lush, natural and bountiful landscaping on the grounds of the resort. Beautiful native foliage and mature trees make you feel a world apart from the hustle and bustle of city life. Bougainvillea vines are abundant with vibrant fuchsia blooms over every villa and building.
The friendly and helpful staff. Bacara employees strive to help you feel welcome and happily taken care of for the duration of your visit.
Lovely ocean views from all over the property. The terraced design of the villas allows for the majority of guest rooms and suites to have a balcony embracing the sparkling Pacific Ocean. Each dining area allows for the sights and sounds of an ocean front resort.
Spacious and luxuriously comfortable rooms and furnishings. While there is plenty to do outdoors at Bacara, you'll look forward to returning to your private refuge to unwind and revel in fine European linens.
Three lovely zero-edge, saline pools on property to lounge by. Private cabanas and poolside casual dining are available, as well as an adult only pool at the spa.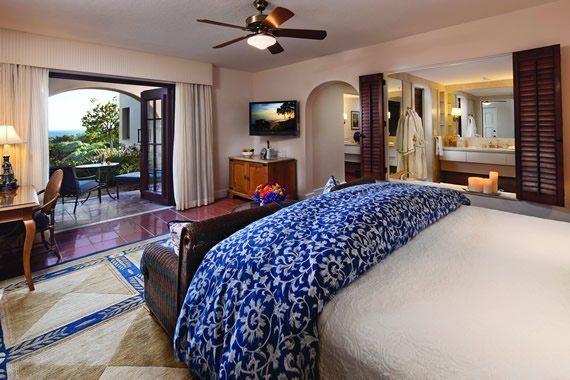 Note to Self
Request a top-level guest room. The tiered lay-out of the resort's villas allow for most upper level accommodations to have an ocean view.
While pleasantly walkable, the Resort is somewhat spread out, so there are a multitude of "chauffeured" golf carts with friendly staff to move you around as needed.
Plan ahead and hire a driver to take you through Santa Barbara's wine region- the safety and convience well out-weigh the cost. There are small group or private tours available that will include 3-5 wineries and a catered lunch, as well as exciting, scenic aerial tours! Contact Bacara Resort's concierge to arrange the tour that fits your schedule best.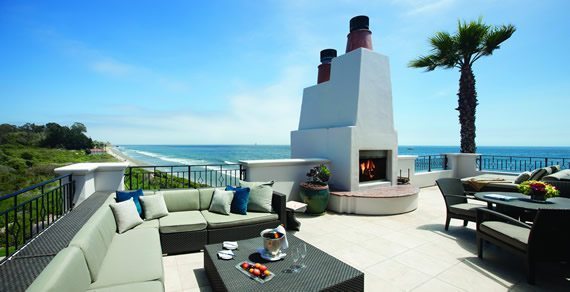 The Scoop
From the moment that you drive onto Bacara Resort's cobblestone circular entryway, you feel as though you've been transported to a Spanish Mediterranean village. The lobby has a guitarist strumming flamenco tunes as you check in and enjoy a cool beverage. The resort is designed with red tile roofs and stucco walls with arched doorways, all beautifully landscaped with local flora. Giant aloe plants, butterfly bushes and rosemary bushes line the walkways as you stroll in and out of the villas on your way to the spa or a meal. Each villa houses several guest rooms and suites which are comfortably furnished, yet give off a luxurious feel as you open your double doors to a private terrace to hear and see the ocean waves beyond. Soaring birds and gentle breezes keep every moment as amazingly pleasant as any romantic getaway ought to be. The spacious bathrooms are marble lined and offer both a tub and shower, with the tub opening to the bedroom and the balcony so you have a lovely view as you soak. The bedding is plush European linens, allowing for a satisfying night's sleep.
The grounds of Bacara are ideally laid out so there are many perfect outdoor venues for weddings and events. The lush landscape is decoration in itself so it would not be necessary for much more adornment. There is also a grand ballroom with Juliet-like balconies should you desire a lavish, indoor setting.
The restaurants on property offer a variety of culinary experiences. The Miro restaurant, named after the Surrealist art of Joan Miro, is a delight for the senses. The artwork features several of Miro's own masterpieces but also other works inspired by him. Colorfully lit, it is romantic and delightful. The outdoor seating boasts views of the ocean that cannot be missed. The food is contemporary American fare, with a strong influence from the sea you sit beside, and offers a well-rounded yet not overwhelming selection of entrées sure to please anyone. The Bistro, set near the zero edge pools, is less formal, but equally delicious and also offers ocean breezes on the outdoor area.
The property offers many activities to fill a week or long weekend for destination travelers. There are tennis courts, kayaking, mountain biking, paddle boarding, horseback riding and paragliding (by concierge arrangement). Not to be missed would be a visit to Santa Barbara's renowned wine country. Set amongst rolling hills reminiscent of Tuscany, there are many superb wines to try. Also, nearby Santa Barbara offers fine dining and shopping for a lovely afternoon away from the property.
The Spa at Bacara is one of the largest in the country. The fitness center has cardio equipment, weightlifting areas and a yoga/pilates studio as well as showers and steam rooms and saunas. The Spa features 36 impeccable treatment rooms, offering many options for mind, body and spirit renewal. There is an adult only lap pool to rejuvenate by after your treatment. The Salon offers hair, and nail treatments of every possible choice. Don't miss the rooftop lounge area to relax and enjoy the ocean air and lovely California sunshine.
Whether you're looking for a romantic weekend get-away or a memorable destination wedding/honeymoon, Bacara Resort and Spa has the ambience and beautiful accommodations to ensure you will leave knowing your experience was everything and more than you could have hoped for!