5 Ways to be the host with the most for your out of town guests.
by Abby Turner of Turner & Co. Events 
Planning your wedding and inviting a lot of guests from out of town? Consider these great ideas to keep your guests entertained and welcome all weekend!
Your wedding will be one of the most exciting weekends of your life, so don't let the stress of wedding guests scare you away from inviting those that live out of town. We tell our brides at Turner & Co to remember that their wedding is just a very large party – so treat your guests like that! Think of it like this… your guests are driving hours to spend two nights in a hotel to party with you! That's simple, right? Well, in case you forgot how to throw a party… follow these simple 5 rules to help your guests have a great time!
Save the Date! This is more of a great reminder instead of a rule of thumb. When picking your wedding date be considerate of weekends. For instance, fall weddings are huge in Arkansas, however, we always encourage our brides to be sensitive to home football games when picking dates. Yes, your wedding should be the "most important" but sometimes – that 25 year relationship with their favorite team might conflict with your special day.
 Turner & Co tip: Always put the city and state of your wedding on your Save the Date so that out of town guests know what to plan for.
Plan a Welcome Reception. Welcome Receptions are definitely not required, but if you have a little extra room in your wedding budget – it's a nice gesture to invite your friends that have spent the time and money coming to your wedding to a welcome reception!
 This is also a great place to hand out a welcome bag, weekend itineraries, and see your guests before the chaos of the "big day".
This does not have to be a fancy dinner, of course it can be, but this can be as laid back as milk & cookies in the hotel lobby.
 Turner & Co tip: If your Mother In Law is okay with it, in lieu of a Welcome Reception, invite your out of town guests to the Rehearsal Dinner.
Welcome Gift Bags. One of the sweetest touches for your wedding weekend is a simple gift bag in each guest's hotel room. This can be as elaborate or as simple as you like. For one of our brides, she wanted to include all of her favorite Arkansas items for her guests to enjoy! We also loved her Welcome Stationary Suite perfectly designed by Fresh Cut Prints from Etsy! In this suite we included a map around downtown Little Rock where the guests would be staying, an itinerary of fun events, a welcome and thank you note, and my favorite part – we included a what to do card!
Whatever you decide, the wedding welcome bag is a great way to welcome your guests even when you can't be there to greet them!
 Turner & Co tip: Forego the trendy monogrammed or personalized bag which can run you $15 and up and find a simple basket from a discount store and embellish with foil crinkle paper.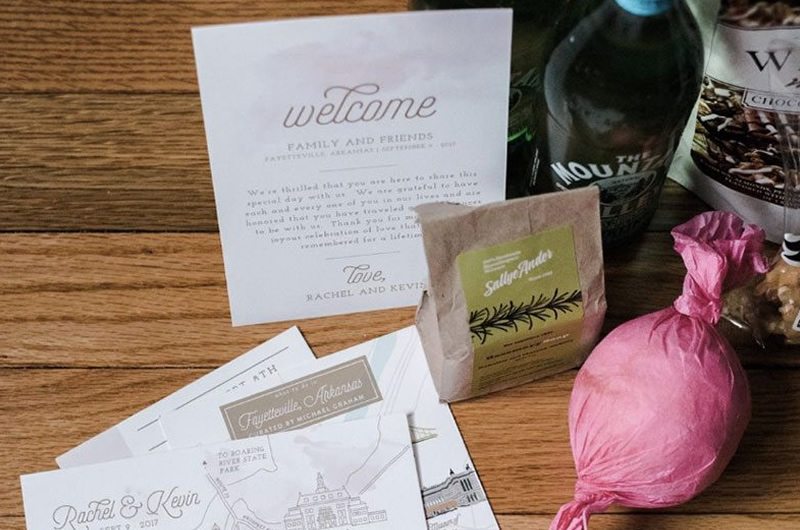 Saturday Morning Options. I debated on whether to move this up in the list because it is very important. Provide options for your guests. If you anticipate having a good group of people come in town for your wedding, you should definitely host a bridal brunch for Saturday morning and invite those out of town guests. This is a great way to mingle with them if they couldn't make it in for the Welcome Reception AND it gives the ladies another event to get dressed up for! Again, this brunch can be as formal or as informal as you want! Our bride Leslie, had a group of women throw her a brunch potluck for the girls and it was very sweet and simple.
For your male guests, as much as we would love for them to be excited about a Bridal Brunch, they do NOT want to come. Leave a list of your favorite coffee/breakfast spots and if you want to be really generous – provide $5 gift cards to those spots for your guests to enjoy as a part of their welcome basket
Hospitality Suite. I absolutely LOVE this one! In your welcome basket leave a note that lets your guests know where the Hospitality Suite is in the hotel and when they could enjoy little goodies! It's a good idea to put something in the Hospitality Suite during arrival times and then high-snack times (mid-morning, night cap, early afternoon – prior to wedding, etc…)
Turner & Co tip: Delegate this to an aunt or sweet friend. Bagel baskets from a bakery, Cookies & Milk from a favorite spot (or pre-order personalized cookies); and make your own trail mix are great ways to add a little hospitality to your guests stay.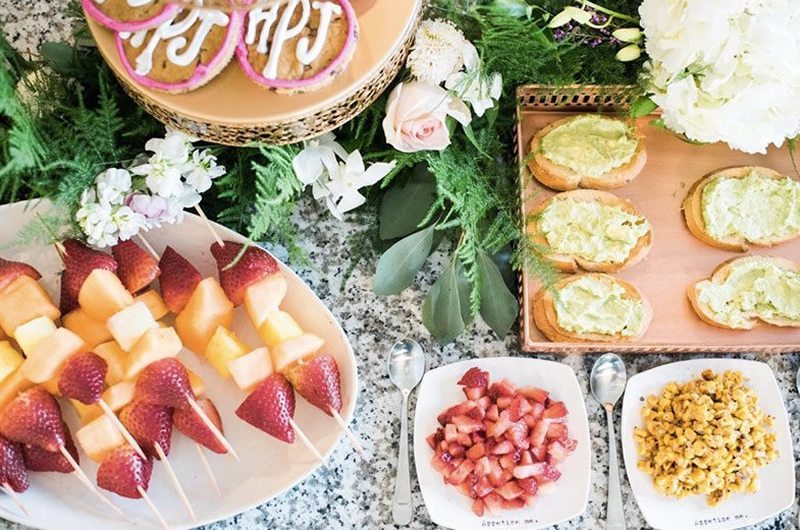 At the end of the day – it's not about how much money you spend on your guests or welcome bags, it's all about the thought and the sentiment behind every part. Focus on the people and not the objects because its about making your guests feel appreciated and special and feeling like they are an important part of your big day!