Searching for the perfect gift for a wedding or the upcoming holidays can make some people feel stressed and overwhelmed. While there should be thought and time put into giving a great gift, it should not be something that leaves you feeling stressed. Shopping for a gift should be a joyous and stress free task.  It should be something you enjoy as you think of the special person or couple you are shopping for. Below are some tips on gift giving and what to keep in mind as you shop (in store or on-line) for that special someone or bride and groom.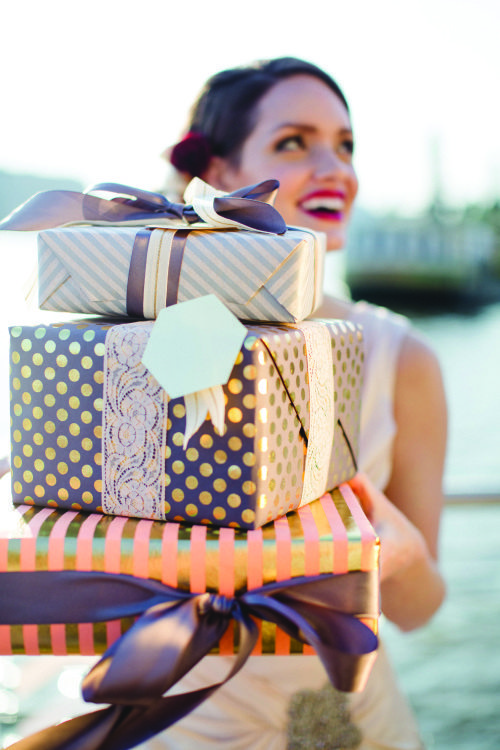 | photo credit: Izzy Hudgins Photography &  French Knot Studios |
-Gift giving is much more than just the physical exchange, it brings happiness to the recipient and lets them know that you were thinking of them, which is exactly what you should be doing!
 -Give some special thought to the person or couple
–What are their interests? Do they have hobbies? What do they enjoy? Did they just buy a new home?
-Personality! Thinking of the person/couple and their personalities can help you a great deal when shopping for a gift and will send a message that you care about who they are.
-For the traveler or soon to be honeymooners,  a nice travel bag,  passport holder or camera would all make great gifts.
-Unique kitchen items or barware might be perfect for your friend who loves to entertain or cook.
-If the person/couple is involved in community service, think of making a donation to the charity or organization that means the most to them. A person who selflessly gives their time will most likely appreciate this kind of gift over a physical gift.
–Don't be afraid of a gift card! Often times we think a gift card is an impersonal gift, but it's all about how you give it.
-If you know a person/couple has a favorite restaurant, a gift card for that restaurant is a thoughtful gift. But what makes it a great gift is giving it with a sweet card or note telling them that you know this is their favorite place to dine and you hope they enjoy a much deserved evening and dining experience. This will make it more thoughtful than just handing over a gift card alone.
-If you're not sure, just ASK! There's no shame in asking a person close to the recipient some questions. If you need to know more about what the person/couple likes – get in touch with someone close to them via e-mail, text or a quick phone call.Instead of wasting so much time looking and searching for a gift because you're not sure what the person/couple will like, make it easier on yourself by reaching out to a close friend or family member to find out a little more about the recipient's interests.
-Think from your own, personal experience! What have been some gifts you have received and loved over the years? When you got married, what was one of your favorite weddings gifts? Sometimes reflecting on our own gift experiences can help a great deal!
-Personalization! Almost everyone loves getting a gift that has their name or initials on it. It's always a classic, special gift that the recipient will always remember came from you. And these days there are endless options to personalized gifts! Some of our favorite websites for personalized gifts are: Mud Pie & Red Envelope.
We hope some of these thoughts and tips on gift giving helps you this holiday season and any time you are in search of a great gift! The perfect gift isn't one that costs the most. It's the one that says "I was thinking of you!"