Did the new year come with a new ring and a fiance? Congrats, Future MRS! Now that you have said "yes" to the one, it's time to say "yes" to the wedding dress. Here are a few tips on finding your dream gown from Charleston bridal stylists Michelle Miller and Lindsey Principi of Maddison Row South.
ALLOW ENOUGH TIME
Do yourself a great favor and be proactive in your bridal gown search. Yes, some designers offer rush orders (often with an up-charge), but this decision is not one you want to be rushed if it can be helped. Aim to start shopping and choosing your gown 6- 8 months before the Big Day. This leaves plenty of time for customizing, ordering, alterations and accessory pairing. Also, keep this in mind when scheduling your bridal portrait.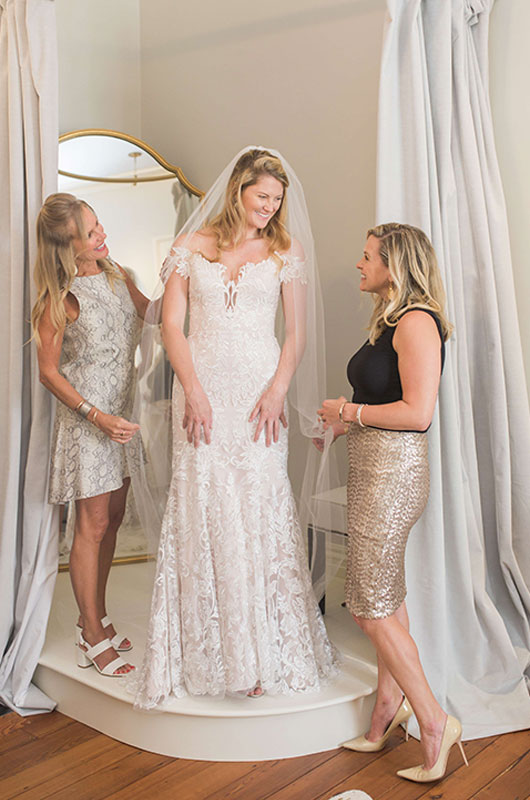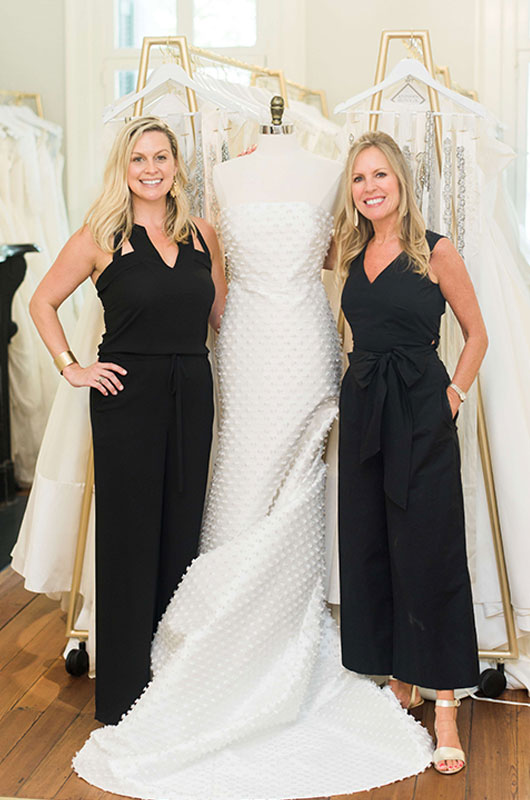 SECURE YOUR DATE AND VENUE
If you're getting married on the beach, a big ball gown may not make the most sense for you – sand and tulle are not always fast friends. If you already have selected the venue – or have your heart set on one – tell your stylist while trying on gowns so they can help you bring your whole vision together. Picturing yourself in your gown at your gorgeous venue makes choosing easier. Same with selecting the time of year for your Big Day! Many times the type of gown you wear will need to coordinate with the season.
BE SELECTIVE WITH YOUR ENTOURAGE
Sometimes, less is more here. It may be tempting to bring the whole bride tribe with you when you shop, but many voices can make for noise, distraction and, ultimately, confusion. Consider choosing no more than 3 of your closest pals or family members whose opinion is really important to you. Many brides like to bring just a couple of friends for their first round of gown shopping and then come back with Mom and Grandma to narrow down their top choices. Some brides go the opposite approach, narrowing the selection to three with Mom and Dad and letting your maids help select the final beauty. Just remember, it is your day, gown, photos and choice!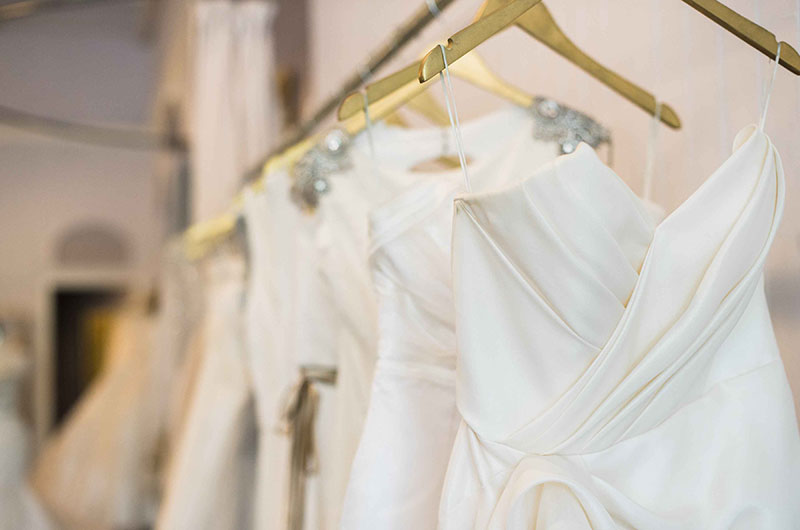 DO YOUR RESEARCH
Doing a little research will help you feel more confident going into the gown shopping process. Peruse Pinterest and Instagram to get a sense of what you like. Once you have a sense of dresses you like, dig into the designers and see who your local boutiques carry – this will help you hone in on a starting point. Even if you don't have a specific look in mind, knowing the feeling you want your gown to elicit is helpful in finding your dream dress. Focus on that feeling and use it to find the gown that gives you all those warm, fuzzy feels.
Part of your research should also be understanding your body type. With infinite options across silhouettes, cuts, and fabrics, there is a gown that will flatter every inch of you and have you feeling like the leading lady you are on your wedding day. In order to find this perfect fit, it helps to know what you want to accentuate and downplay. Keep in mind that a benefit of a made-to-order gown is that it is commissioned based on your unique measurements – couple this with careful alterations and the end result is a gown fitting you like it was made for just for you…because it was.
Another big part of the research is knowing your budget. When you sit down to plan your wedding, be sure to factor in your wedding dress and buffer a bit extra in your bridal gown budget to account for final alterations and accessories such as veil and sash.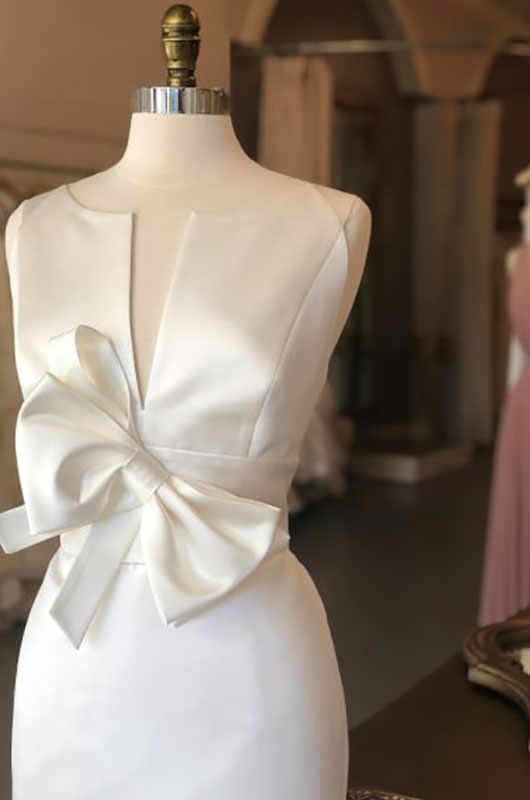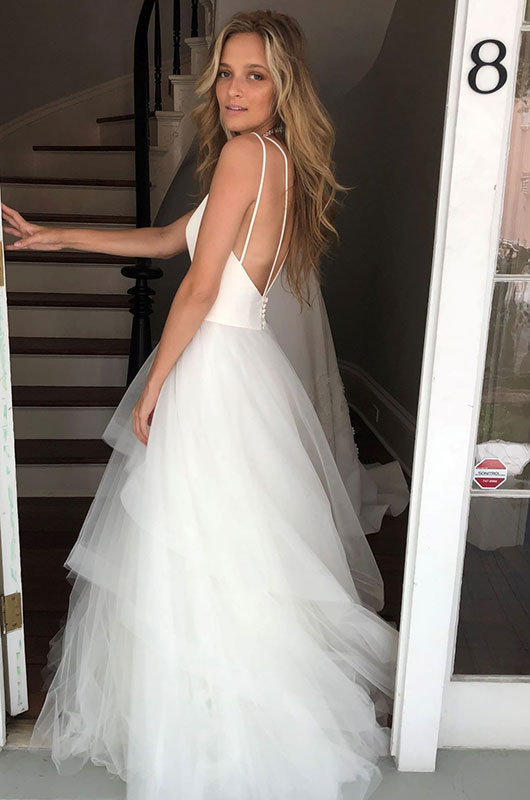 BE OPEN MINDED TO WHAT SEASONED STYLISTS SUGGEST
Almost every bride "knows" what she wants, but oftentimes, finds "the one" in an entirely different gown. Trying on a few different silhouettes and exploring fabrics is part of the fun, so don't be afraid to expand your horizons. Challenge yourself to try on a wild card or two – who knows, you may just fall in love with something delightfully unexpected. Seasoned stylists are experts in fabrics, silhouettes, designers, trends and timelines!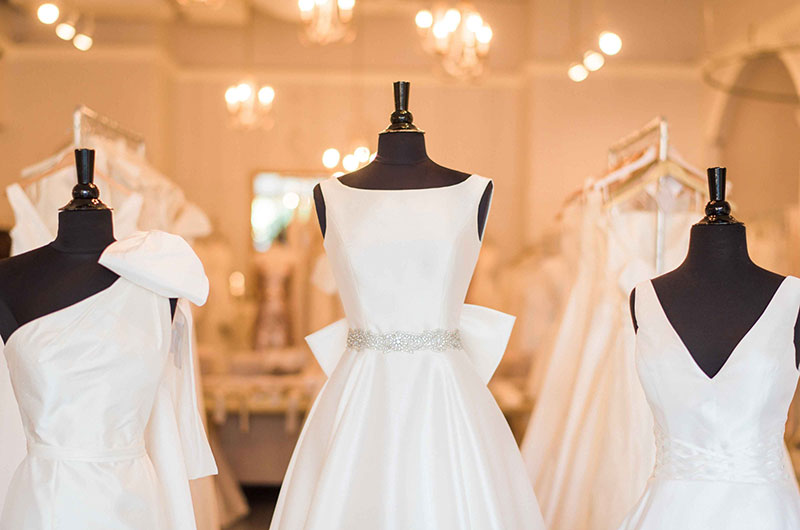 Images provided by Alex Thornton Photography