Health & Fitness expert and founder of LadyBoss, Kaelin Poulin dishes on her "3 day" wedding planning style and gives us tips and tricks on how to lose weight and be fit for your wedding day.

What was one of your favorite aspects of your wedding that you put a lot of energy into?
I think the fact that we didn't spend a lot of time planning our wedding is actually my favorite aspect.
My now husband and I actually didn't have a wedding date planned, but woke up one day and said "We need to just DO this thing! What are we waiting for?"
So, in true Kaelin & Brandon fashion, we immediately starting executing on the idea and spent the next 3 days planning our entire wedding.  
Here's how we did it:
DAY ONE | We chose a date less than 90 days away. My husband secured a resort in Puerto Rico where we could get married on the beach and I  found a wedding dress online for $197. We chose restaurants for our rehearsal dinner and reception, booked our cake, and called a pastor for our ceremony.
DAY TWO | We went to the mall where I found the bridesmaids' dresses and my husband found the guys suits, shirts, and ties. Our wedding party texted us their measurements and we had them altered without their bodies ever in them until the wedding day.
DAY THREE | We made virtual invitations and texted them to friends and family (Yes, I said we texted our wedding invitations!).
And we were ready to go!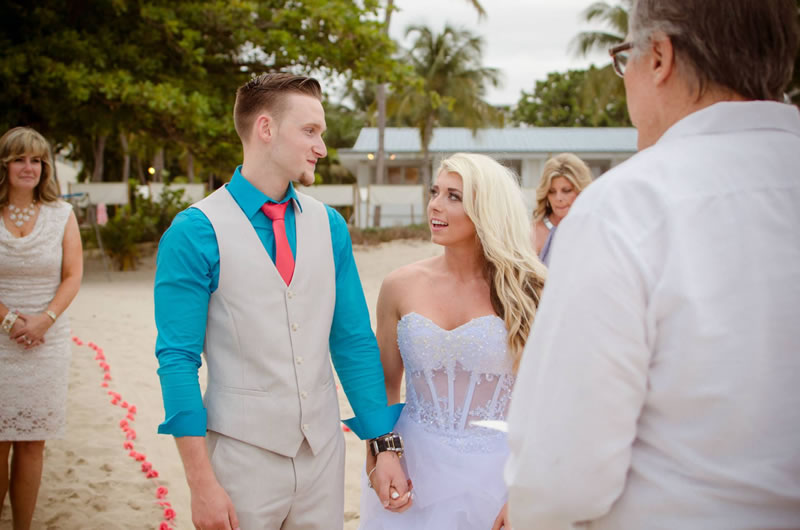 Our wedding turned out absolutely perfect, people suspected that we spent tens of thousands of dollars on our wedding and our grand total was less than $3,000.

What advice do you have for soon-to-be-brides that are busy with all the planning and trying to get in their best shape for the big day?
My advice to soon-to-be brides that are getting ready to be in the best shape for their big day is to not stress yourself about crash dieting and losing weight before the wedding. Focus on moving every day, somehow. Whether that's going for a walk, working out, going to Zumba, just get your body moving because contrary to popular belief, it will actually allow you to have more energy during your planning than less. Getting moving will help you get results. Also, focus on everything you eat and ask yourself, "Does this fuel my body? Is this for pleasure or is this for purpose?" If you're going to mess up, it's going to be okay. That's fine that you're going to have pleasure things that you eat, but try to keep everything on the guideline of this is purpose, this is fueling my body, and this is healthy for me. This has lean proteins, good carbs, vegetables, healthy fats and focus on those two things: moving and eating for purpose and not pleasure. By the time the big day rolls around, you're going to be extremely happy with your results and you're not going to feel overly stressed or out crash-dieted or done something unhealthy to try and get there.

How can LadyBoss help a bride prepare for her wedding day and beyond?
LadyBoss is great for brides that are getting ready for their wedding day and beyond because the LadyBoss lifestyle isn't just about losing weight for 30 or 60 days. Living the LadyBoss lifestyle is about learning to lose weight, while loving yourself again because if you can't love yourself where you're at, in your body, who you are, losing the weight will never actually make you feel better about yourself, give you the confidence or energy you want, or give you the fulfillment of losing the weight. It's all in the ability to love yourself and have that confidence. The LadyBoss lifestyle is not just something you do for 90 days, it's a mentality you step into that makes you a better version of yourself and that helps you tackle your weight-loss and health goals because of the person and woman you've become.
Now that you're an expecting mom, how have things changes as far as your diet, fitness, etc.?
Now that I'm an expecting mom, health and fitness has shifted for me. But, because I've lived this lifestyle for so long and lost 65 pounds about 7 years ago now, it was so easy for me to stay in the routine of working out every day which has given me so much more energy in my pregnancy. Instead of turning into a couch potato, I stayed with my normal routine of working out on a daily basis and trying to eat as healthy as I can. Overcoming pregnancy cravings was easier because I had overcome binge eating habits through my weight loss journey. So, I really haven't fell victim to a lot of pregnancy cravings because I learned how to overcome cravings in my weight loss journey, which is pretty cool. Fitness, the way that it has changed for me, as I move along through my pregnancy doing things are more geared toward being 6 months pregnant. I don't do the same things now that I did when I was 7 weeks pregnant. I do lighter things and I do a lot of cardio to get my body moving on the days I'm not feeling very good. As far as nutrition, I pretty much eat the same three things every day. I can only eat cold things, so I eat a lot of salads, fruit, and LadyBoss Lean shakes.