A gift, keepsake, and entertainment bundled in a brushstroke-colored canvas, live-wedding paintings are personalized mementos that forever preserve the magic of your wedding day. Pay tribute to talent as skilled artists render your venue, ceremony, or reception with stunning depth and accuracy and captivate your guests with entertainment that will surely be a popular topic of conversation. Every live-wedding painter has their own individual focus and style, providing your wedding portrait with distinctive originality. Meet each of these artists who are featured in
our new Winter 2021 print issue
to learn more about live-wedding painting for your ceremony and reception.
By Brittany Branson
"Turn your memories into masterpieces."
Brittany is a destination live-painter based in Washington D.C. who celebrates the moments of couples in love all over the world. With her signature whimsical brush strokes and bubbly personality, Brittany not only entertains guests, but also creates an heirloom work of art to be treasured forever…live! (Gasps and clutched hearts guaranteed!) A portion of the proceeds from every live painting experience is lovingly donated to local dog rescue efforts.
Website: bybrittanybranson.com*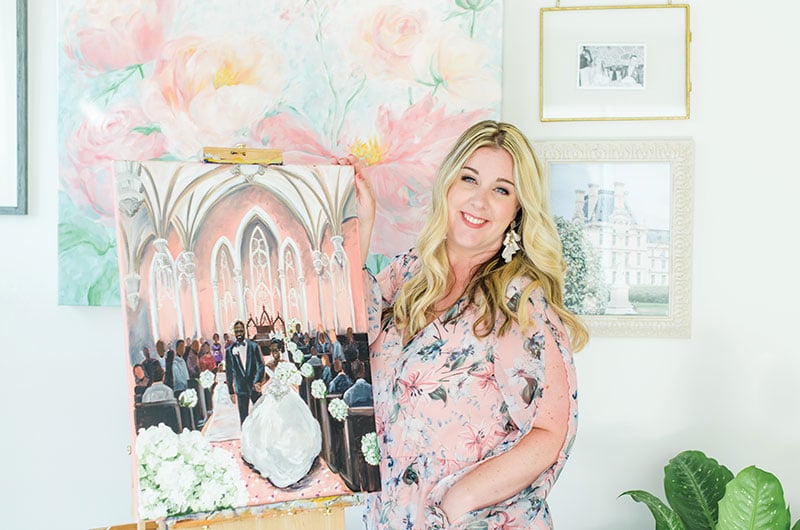 Heather Wolfe Art
Tennessee native Heather Wolfe, a professional painter of over fifteen years, has a nationwide client base. Focusing on regional live wedding painting and custom artwork, Heather Wolfe Art offers a creative way to capture a moment in time and to have a keepsake to pass down for generations to come. Heather paints weddings live on site, working with the couple in advance to pick the moment and special details to include and also offering a unique way to entertain guests during the event.
Instagram: @Heather_Wolfe_Art
Website: heatherwolfeart.com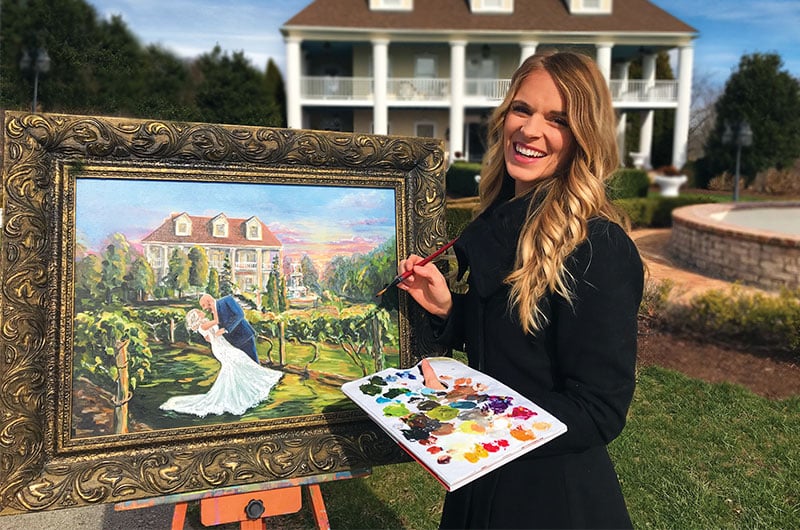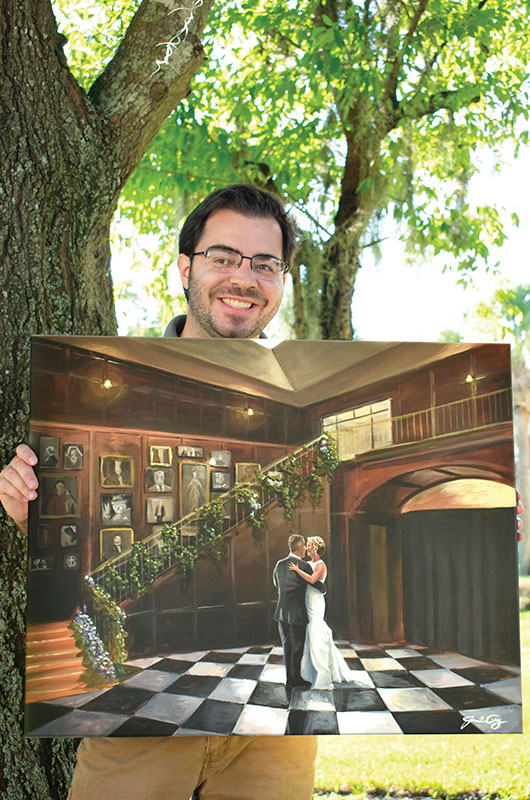 Event Painting by Jamie
"My favorite part of my job is creating something specifically for the couple.  While most wedding services are aimed at the wedding guests and the event as a whole, live wedding painting is something special just for the couple that they can have as a living memory of their day,"  says Jamie.  Event Painting by Jamie features professionally-trained fine artist Jamie Pogue, who, based in Orlando, Florida, paints weddings and other events across the country.
Website: eventpaintingbyjamie.com**
Kat Dress Illustration
"Bridal illustration is a unique, personal, and intimate way to remember your special day."
Kat loves fashion that makes a statement. Growing up with a super fashionable mom, I would often spend my childhood drawing little, tiny outfits inspired by hers and completely fill up the page. She revisited that "person" and "creative outlet" of childhood through various dress illustration sketches just last year, beginning her journey of bridal commissions. Since then, her business has unexpectedly but thankfully flourished – a happy accident that she wants to grow even more into.
Website: katdressillustration.com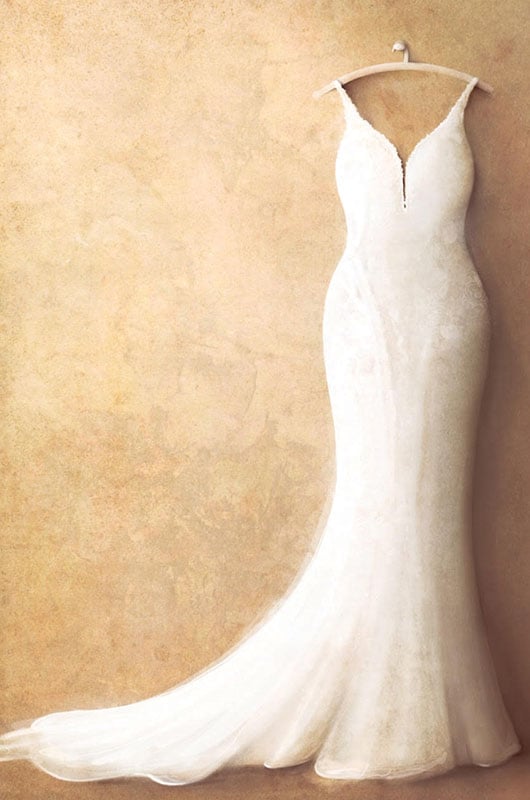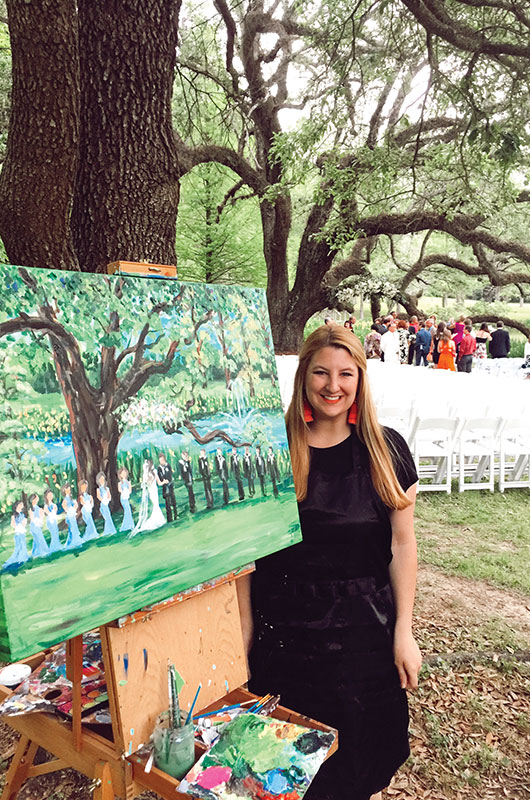 Kate Lee Laird Art
On your wedding day, watch your vow exchange or first dance as it is transformed into an enchanting painted scene on canvas. Kate Lee Laird is an award-winning, live-wedding painter from Mississippi who travels throughout the South painting weddings. Her live-action paintings are not only a lasting memento of the happiest day of your life, but are also unique entertainment for all of your guests. Kate Lee's use of vibrant color and fast brushstrokes capture the emotion and atmosphere of your wedding day, bringing you back to how you felt in that moment every time you look at your painting for years to come.
Website: kateleelairdart.com
Torregrossa Fine Art
Stephanie T. Gaffney is a fine artist in New Orleans, Louisiana, who is best known for her colorful and realistic live wedding paintings. Stephanie has a unique skill that allows her to capture the magic of your wedding night in a realistic style, taking the time to sculpt the architecture of the venue and capture even the smallest details. Whether it's of your ceremony or your first dance, your painting will come to life before your eyes with a new layer of depth and detail added with every passing hour. Contact Stephanie as soon as possible to confirm her availability for your wedding day and secure the best wedding gift possible: a work of art that will last a lifetime.
Website: torregrossafineart.com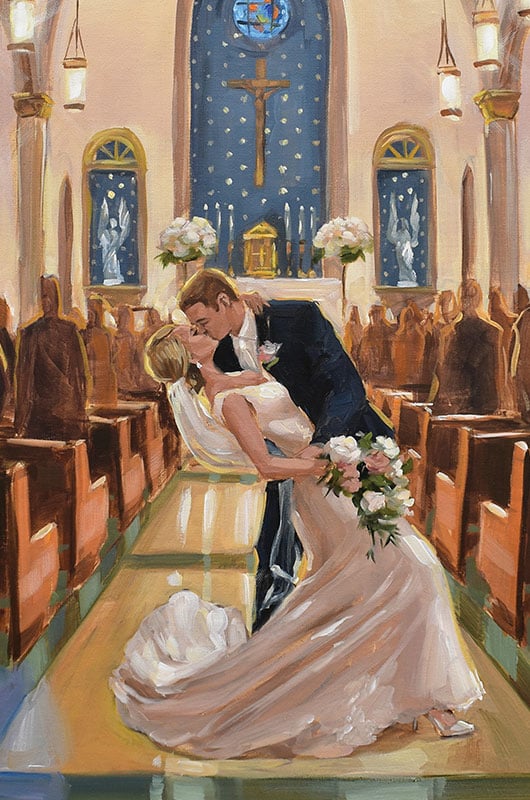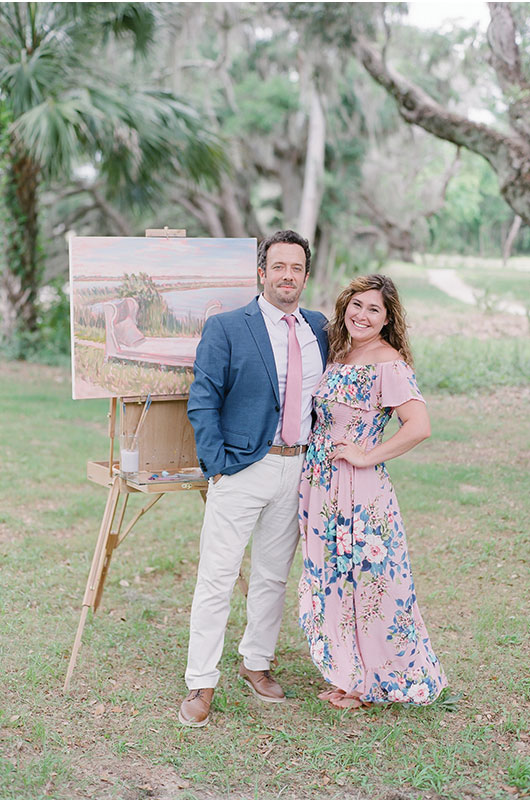 Wed on Canvas
Ben and Jen Keys are the husband-wife team behind Wed on Canvas. Based in Charleston, South Carolina, Ben has created nearly three-hundred live wedding paintings across the country and internationally, and Jen expertly assists each client from commission to delivery. Known for her welcoming charm and his ability to vibrantly and accurately capture the bride and groom's details, Ben and Jen are now celebrating eight years in the wedding industry.
Website: wedoncanvas.com
Live-wedding painting at your ceremony or reception is an inventive and entertaining way to commemorate your wedding day. These artists use their talents to revive the past, a time before photography in which all celebrations were commemorated with portraits. By commissioning a live wedding portrait, you can give yourself a wedding gift you'll treasure forever, engage your guests, and support a small business—all on the very day of your ceremony.
To find more ceremony and reception inspiration, order your copy of our Winter 2021 print issue here.
*By Brittany Branson's website was misspelled in our Winter/Spring 2021 print issue but has been corrected in this blog post. We apologize for any inconvenience.
**Event Painting by Jamie's website was misspelled in our Winter/Spring 2021 print issue but it has been corrected in this blog post. We apologize for any inconvenience.
Image Credits (in order of appearance):
Cait Kramer Photography, Heather Wolfe Art, Event Painting by Jamie, Kat Ash Illustration, Kate Lee Laird Art, Torregrossa Fine Art, Wed on Canvas