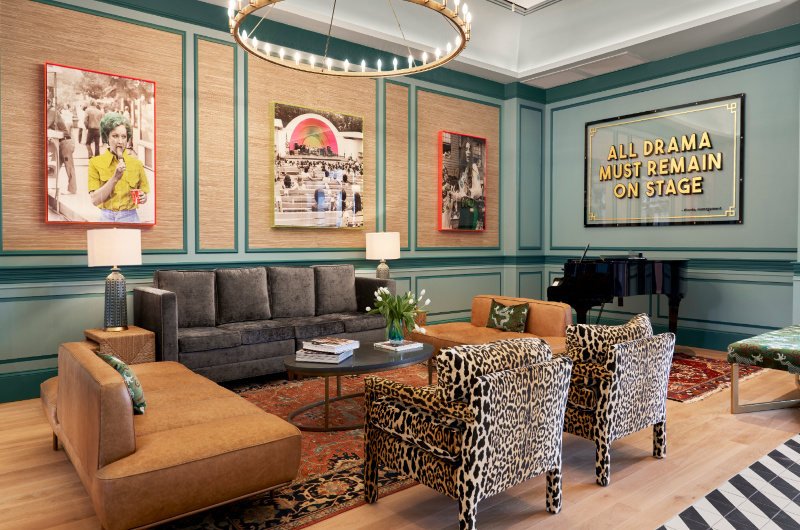 GET ACQUAINTED
The Memphian Hotel, located in the heart of Midtown, Memphis, Tennessee is a recent splendor to the already vibrant neighborhood. Inspired by the colorful design of Overton Square, the Memphian Hotel takes bold liberties with its decor. The moment one steps inside the burst of color, pattern, and unique wall art enhance the mood and indicate this is no ordinary hotel. The lobby provides a feeling of being in an artist's living room, ready to listen to records and sip an excellent whisky. The boutique hotel features 106 guest rooms designed in an appealing modern look in teal and dusty rose with bursts of orange armchairs and subdued browns of the guest beds. Thoughtfully designed, the guest rooms continue the impression one is in a stylish home. From the lobby to the rooftop, the unique bold decor dominates the experience without a lack of imagination. The Memphian Hotel is truly a sight to behold.
HERE'S THE SCOOP 
The Memphian Hotel offers thoughtful accommodation packages blending the hotel and neighborhood experience. Memphis Blues Package is particularly appealing with accommodations and a visit to Sun Studios, a historic Memphis recording studio known as the "The Birthplace of Rock'n'Roll". For in-house delectables, The Memphian presents The Complicated Pilgrim. This street-level restaurant invites  guests and locals with its contemporary stylish decor and a Memphis take on southern fare.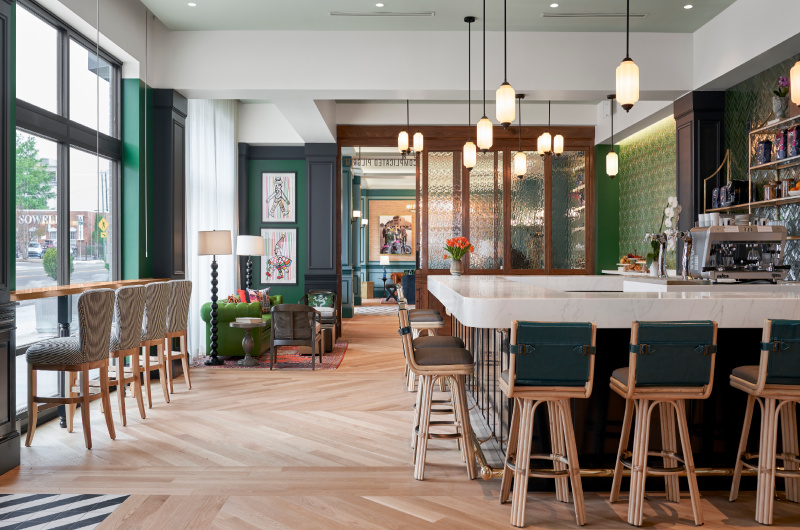 OUT AND ABOUT 
The Memphian Hotel is located in Midtown's Overton Square, an eclectic walkable neighborhood with an impressive history. Guests can indulge in fine dining at the adjacent Porch and Parlor or catch live music at Lafayette's Historic Music Room. A short stroll down Cooper Street opens to Overton Park, the largest urban park in the country. The park provides trails, a golf course, and hosts the Memphis Brooks Museum of Art and the Memphis Zoo. The attractions are endless in this special and sought-after neighborhood making The Memphian a perfect accommodation for a Memphis visit. 
WE SIMPLY ADORE 
The most alluring part of the Memphian Hotel is its rooftop bar Tiger and Peacock. The ingenious playful atmosphere is simply inimitable. For Tiger and Peacock whimsical is an understatement. With bold colors on emerald green benches with mixed patterns, and wall decor that includes a porcelain giraffe with a chandelier in its mouth, it is no wonder Tiger and Peacock quickly became a neighborhood favorite night spot. The Champagne Room is a camera favorite with hot pink decor and a disco ball. But Memphis the city steals the show from the rooftop patio. Overlooking Overton Square and Memphis downtown, Tiger and Peacock provides unmatched, memorable, and majestic Memphis sunsets. A perfect backdrop.