It's been a long (almost five year!) wait for the Summer Olympic Games, but on July 23, fans will become reacquainted with their favorite athletes from all around the world. A lot has happened since the Olympic torch was last lit: crushes have blossomed into engagements and long-awaited I dos. Before you watch their too cute celebratory hugs on screen, learn all about the LGBTQ Olympian weddings that you should know about and the ceremonies you'll be looking forward to long after the Olympic torch goes out.
Adam Rippon and Jussi-Pekka Kajaala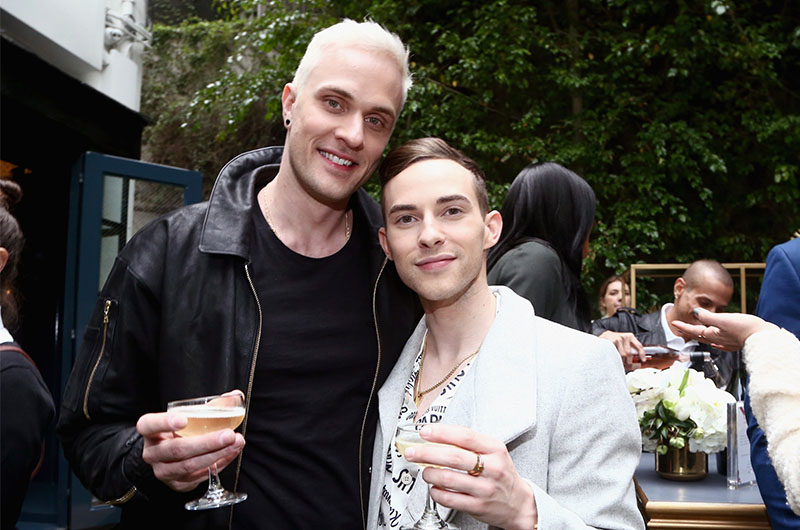 Image courtesy of Tommaso Boddi/Getty Images
Olympic figure skater and first openly gay medaled athlete in U.S history Adam Rippon captured the hearts of spectators at the 2018 Winter Games, but most importantly, the heart of Jussi-Pekka Kajaala, his handsome beau-turned-fiancée. While training in Finland, Adam's right swipe on Tinder marked the beginning of their love story, and there's been chemistry ever since. The pair spent months together in Jussi's Finland home and planned one dreamy engagement, but it wasn't the traditional surprise.
In December of 2020, they said yes simultaneously, planning every part of the proposal together. From the ring choices to the pick-up of the stunning gold bands to the proposal itself, they made every decision as a pair. Both of their rings were made in Finland where their love story began and where they plan to build their future.
The happy couple plans on having a casual, down-to-earth courthouse wedding, celebrating with friends and family privately and later moving into a forest cabin in Finland that Jussi has been building. Sounds straight out of a movie, doesn't it?
Breanna Stewart and Marta Xargay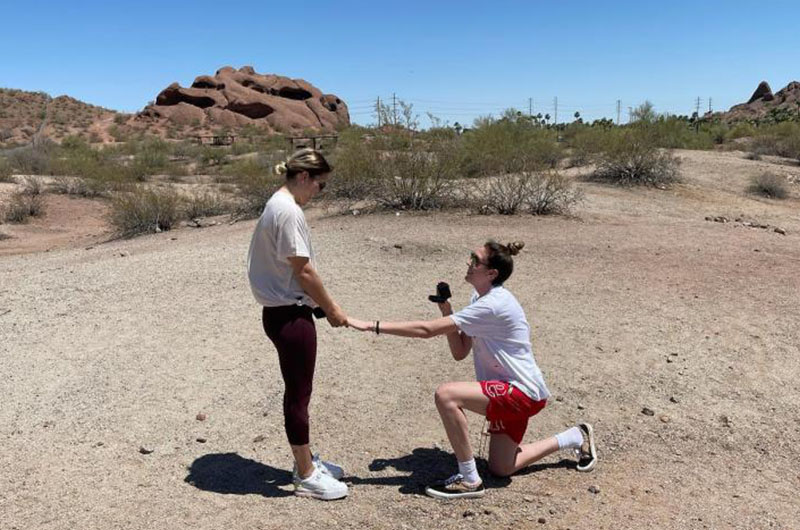 Image courtesy of Breanna Stewart/Instagram
Rivals on the court and partners for life? Yes, please! Basketball gold medalist Breanna Stewart had been begging her girlfriend Marta Xargay to go on a hike with her, and although Marta wasn't exactly up for spending the day in the toasty heat of May, little did she know she'd come back into the AC with a fiancée! The proposal went down at Papago Park in Phoenix with one sparkly rock, and while we don't know many details of the wedding yet, it's safe to assume that it'll be score-worthy.
The pair have faced off several times, but their biggest defeat was at the 2016 Rio Olympics, when Team USA (who Breanna played for) beat Team Spain (who Marta had represented).
Sue Bird and Megan Rapinoe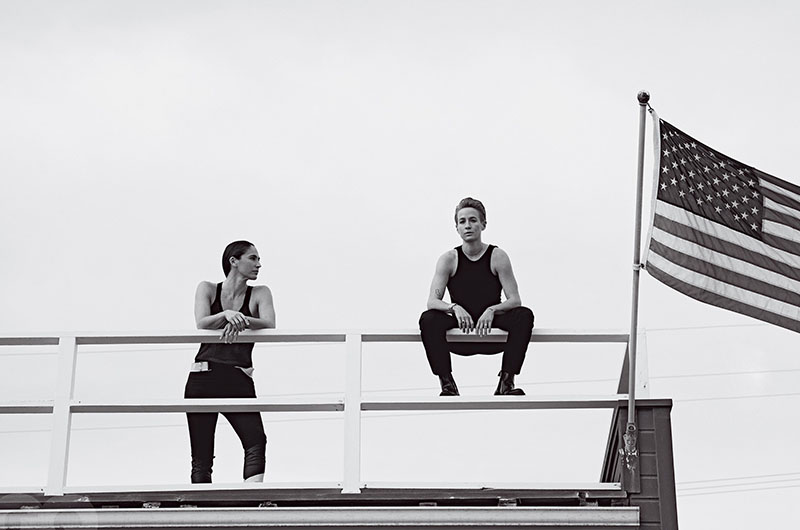 Image courtesy of Sam Taylor-Johnson / GQ Modern Lovers Issue
What happens when the first openly lesbian Olympic couple gets engaged? You celebrate, of course!
Sue Bird and Megan Rapinoe met at a press event during the 2016 Olympics in Rio, and while they kept their relationship on the down-low at first, the pair have been an inspirational duo ever since. On a trip to the Caribbean in October of 2020, Megan got down on one knee on the edge of an infinity pool overlooking the ocean and asked Sue to marry her. (I mean, can you say heart eyes?) While the couple isn't in a rush to plan their wedding, they know that they want to wait until pandemic times slow down so they can enjoy a safe and stress-free special day.
Both have qualified for the Olympics this year, and it isn't just the first time. This will be Sue's fifth year qualifying for the U.S Women's Basketball team and Megan's third year playing on the U.S Women's Soccer team.
Meghan Duggan and Gillian Apps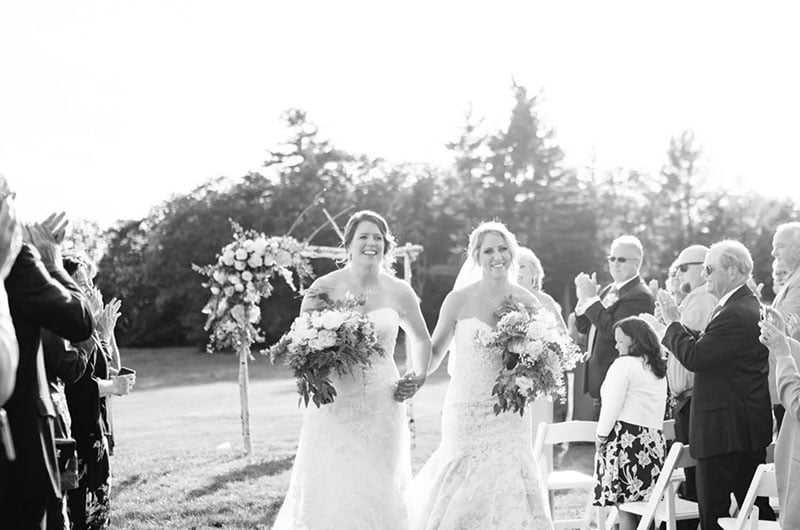 Image courtesy of Megan Duggan / Instagram
Meghan Duggan (Team USA) and Gillian Apps (Team Canada) were both team captains when they battled it out at the 2014 Winter Olympics, and have a combined total of four gold medals, a real-life power couple. This iconic duo of hockey rivals and Olympic gold medalists celebrated their special day back in September 2018. Meghan and Gillian celebrated their wedding at William Allen Farm in scenic Pownal, Maine, with some of their teammates standing at their sides as bridesmaids.
The couple welcomed their first little one, George, in February 2020, and recently announced that their little one will soon be a big brother! The Apps-Duggan family will welcome a baby girl this October.
Julie Chu and Caroline Ouellette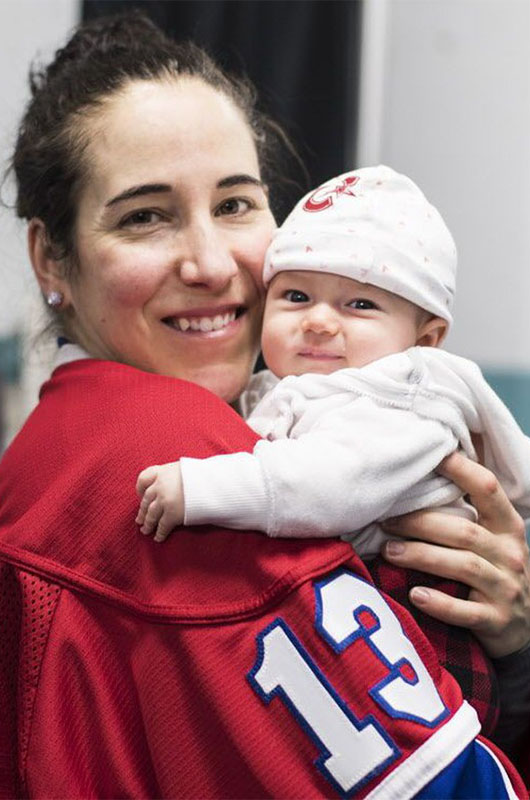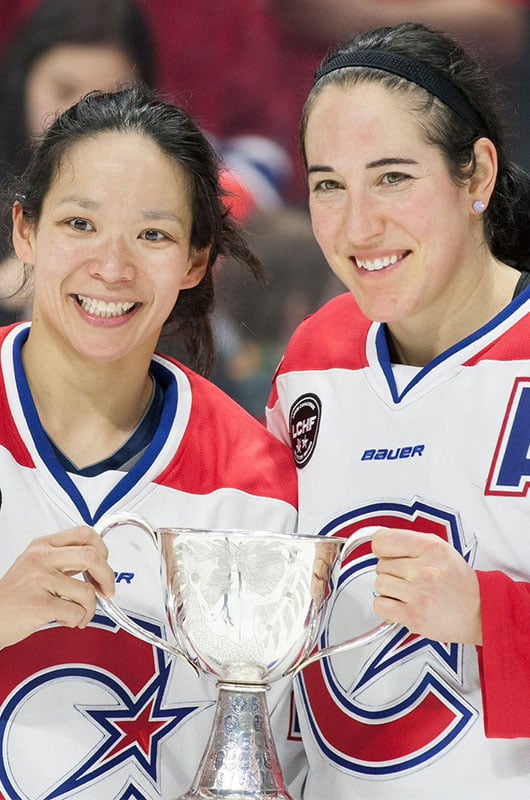 Images courtesy of Christine Muscho/Montreal Gazette and Chris Tanouye
There's another Olympic hockey couple who recently tied the knot! Julie Chu, an American hockey idol, has journeyed into parenthood with her wife, Canadian hockey rival Caroline Ouellette.
Their family grew in November 2017 when they welcomed their baby girl, Liv, and grew yet again in May 2020 when their daughter Tessa was born. Both Julie and Caroline played for Les Canadiennes de Montreal, Canada's female hockey team, and won the Clarkson cup when they took the ice as teammates—and when Caroline was pregnant with Liv!
Both Julie and Caroline now work for Concordia University's women's hockey team and love blending their family life into their work. They often bring their girls to practice, showing their players that meshing family career goals is absolutely possible and definitely worthwhile.
Keep an eye out for the fast-approaching Olympic games, and after the games, keep up with some of these upcoming LGBTQ Olympian weddings on social media. These athletes embody hard work and dedication, so it's safe to say that their I dos will be nothing less than a dream.