After months of Callie anticipating a proposal, Kyle dropped down on one knee and popped the question in a snowy mountainside engagement in Crested Butte, Colorado, the place where they fell in love only a year before. With the Colorado Rocky Mountains as the backdrop, Lyndi Ruth Photography captured the romantic moment that she said I do.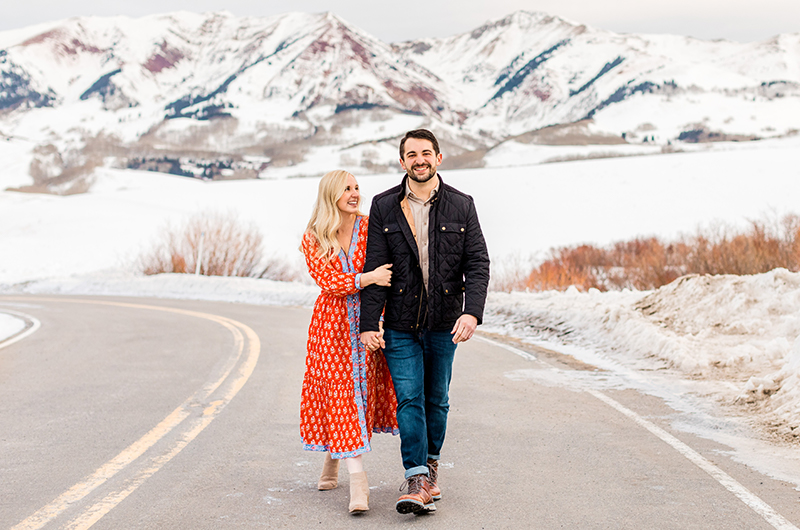 In September 2019, Callie's roommate, Lauren, knew she had found her friend the perfect match. Kyle was a close friend of Lauren's fiancée, Evan, and Lauren knew he was handsome and smart and had the most gentle heart. Lauren told Callie to keep an eye out for Kyle at Evan's birthday party the following weekend, but Kyle was drawn to Callie without knowing who her friends were. His funny stories and clever wit soon won her over. Not even an hour into the party, Kyle asked for Callie's number.
After Evan's birthday party, Kyle organized multiple group hangouts so that he and Callie could get to know each other. The two soon began dating. From their easy conversation to Kyle's open, kind heart, it didn't take long for Callie to realize that Kyle was her best friend and the man she hoped to marry.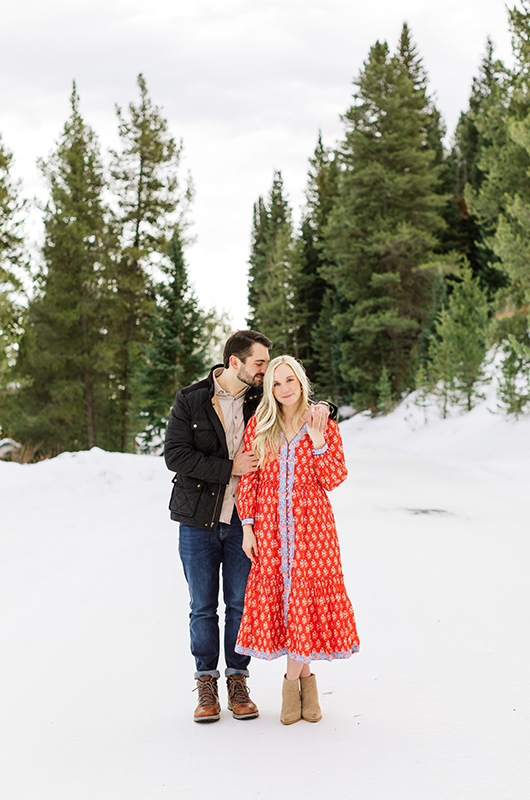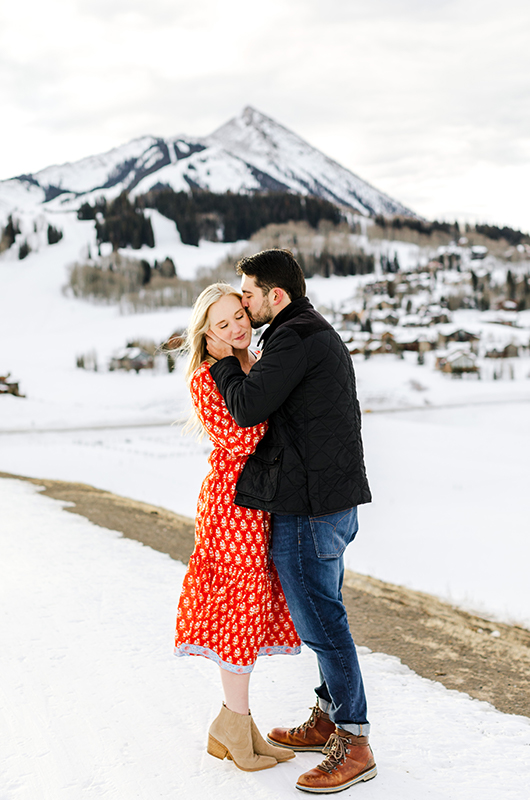 That same winter, Kyle invited Callie on a ski vacation to Crested Butte Mountain Resort, the place that he and his college friends went to every year. Callie was excited and nervous all at the same time: she had never been skiing, and she hardly knew anyone on the trip.
Even though Kyle could easily ski a double black diamond, he was very patient and stayed by Callie's side, even when she kept falling. Feeling the first little inklings of love, tears welled in Callie's eyes. Little did she know at the time that this was the moment Kyle was falling for her, too.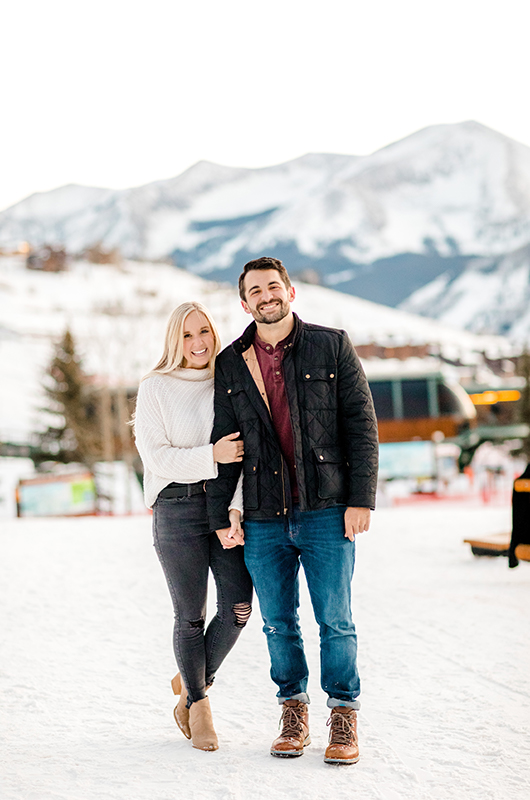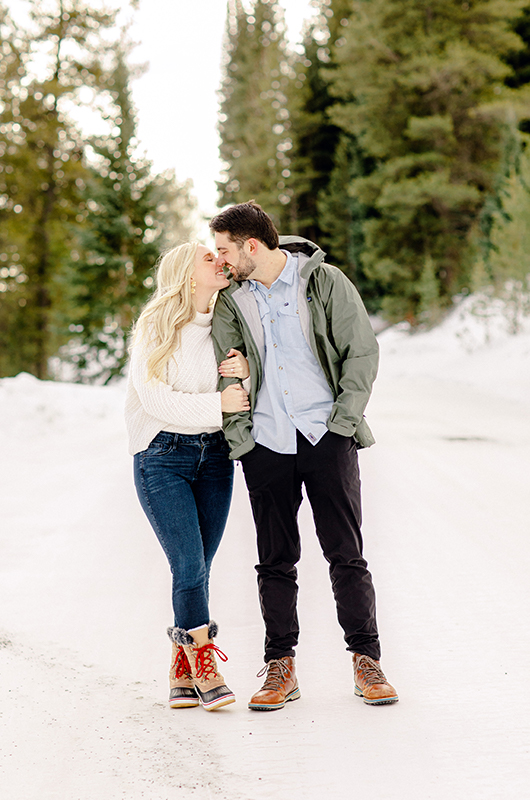 On the next annual ski vacation, Callie was expecting Kyle to pop the question, but Kyle was playing it as cool as ever. On the day of the proposal, most everyone spent the entire day skiing, but Callie, sensing a proposal might be coming, went back to the cabin to get ready for dinner a little earlier than everyone else.
When her friends came back from the slopes and rushed to get ready, Callie knew it had to be happening. Everyone loaded up in their cars and began descending the mountain to reach the restaurant at its base. When she got out of the car, Callie realized she wasn't walking to any sort of restaurant. Kyle, standing where he taught her to ski a year before, shared how this was the exact spot where he had fallen in love with her. Callie began to tear up, knowing that this was the spot where he would ask her to spend the rest of their lives together. Kyle then got down on one knee and proposed with a sparkling James Allen engagement ring. And, of course, Callie exuberantly said, "Yes!"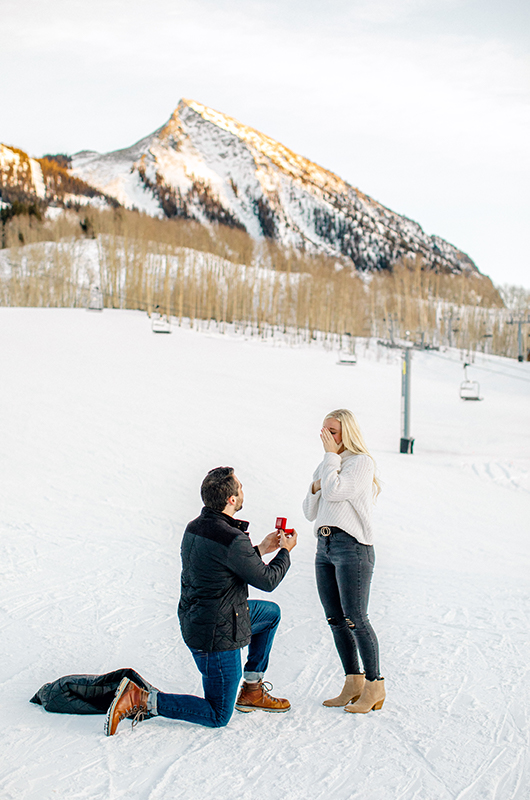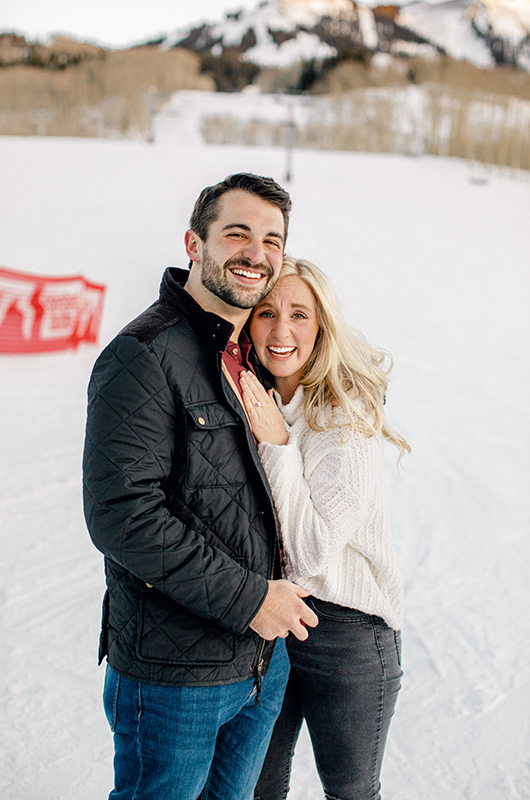 In Crested Butte, Colorado, Callie and Kyle found the perfect location to fall in love and to commit to that love for a lifetime in a snowy, mountainside engagement they'll cherish forever.