Sydnie, a SCAD fashion student, made plans to transfer to the Atlanta campus for a fresh start in the Spring of 2020. Little did she know that while making those plans, she would be engaged to Brett just a year later after a surprise golden-hour proposal on the beach of Tybee Island, Georgia.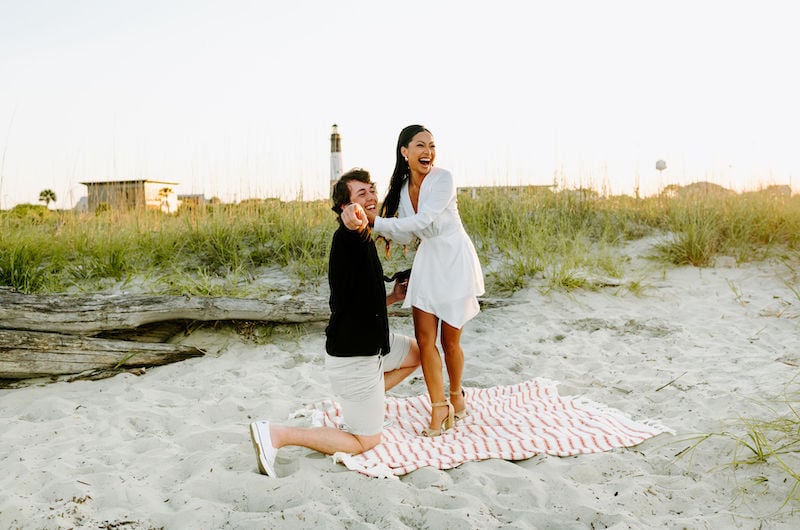 The two met in January 2020 in Savannah's Historic District. They were strangers who just happened to cross paths one evening at a downtown restaurant. Brett and Sydnie did not have any mutual friends or connections, so meeting that January evening had to be fate. The couple jokingly says, "We started dating the night we met since we were inseparable from that moment forward". Brett explains, "I knew I had found my soulmate. I didn't even question it. My first thought when I saw her from across the room was, "Oh…there you are". After a short time dating, they knew they were moving towards a serious relationship. Sydnie changed her plans of moving to Atlanta and stayed in Savannah. "Savannah never felt like home to me until I met Brett. He became my home and my safe place," says Sydnie.
As their relationship began to blossom the pandemic hit, sending Sydnie back home to Greenville, South Carolina as SCAD students transitioned into virtual learning. Brett continued to work in Savannah as he was considered an essential worker during that time. They continued to develop their relationship by commuting and talking on the phone. They were able to spend time together at Sydnie's family vacation home on Edisto Island, South Carolina, and had many memorable moments with family and friends at the beach house. "We were growing closer and closer, and I knew we were falling in love," says Sydnie.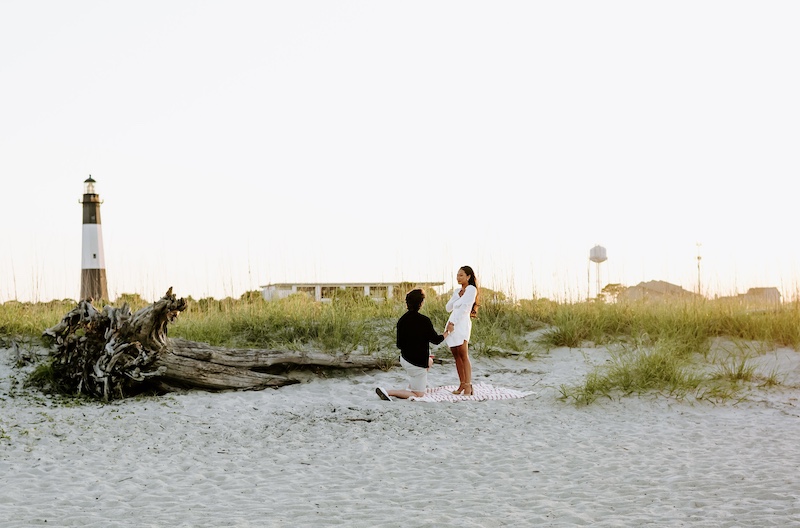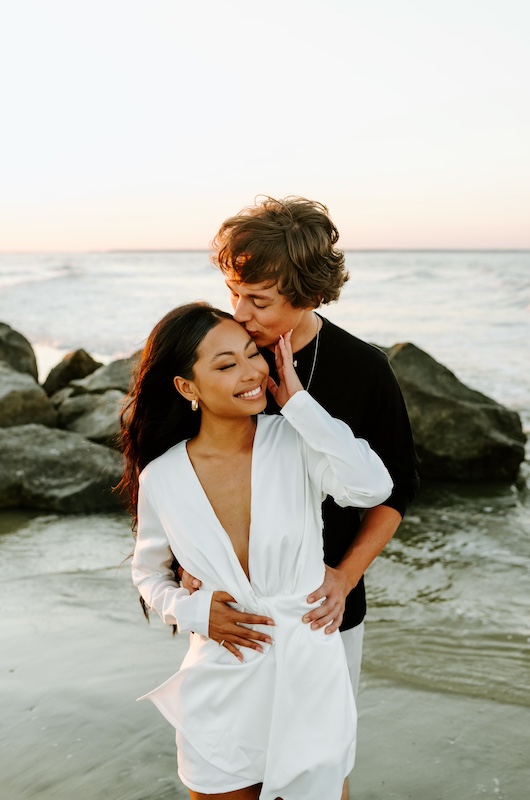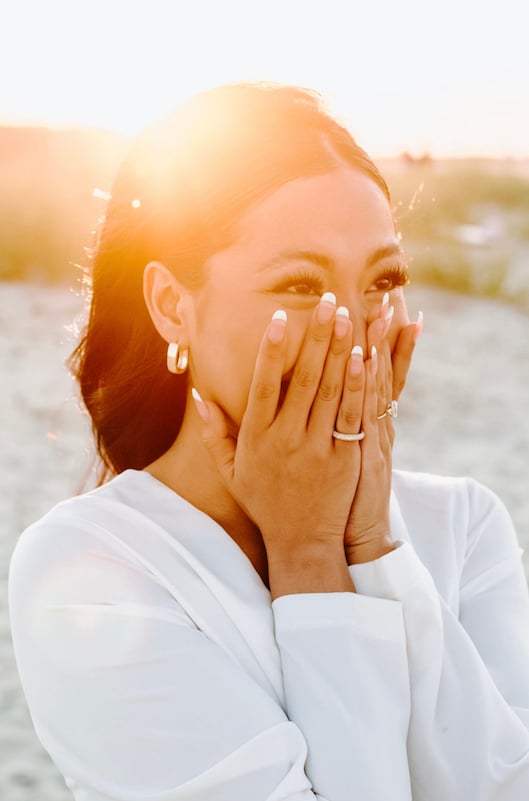 When September drew near, Sydnie decided to pursue creative collaborations in Savannah that resulted in her moving back to the city. The couple's one-year anniversary was coming up in a few short months. The pair began talking about their future together. Sydnie explains, "relationships can be easy when you see someone every day, but relationships can be hard when separated. But we wouldn't have had it any other way. We spent so much time talking on the phone to stay closely connected that we grew as people because of the things we learned from one another. It laid a solid foundation of what our relationship is built on today."
By the Spring of 2021, the pair began making plans for their lives together and Brett found the engagement ring he would soon give to Sydnie. On May 15, 2021, Brett asked Sydnie to be his wife. "I took Sydnie to our favorite restaurant near Tybee Island for dinner. I told her we should go to the beach and catch the sunset," says Brett. "We were walking on the beach further than we usually venture out, which I thought was odd. Little did I know that Brett hired a photographer to capture the moment and she was waiting for us at a particular spot on the beach. Brett then pulled a blanket from the beach bag for us to sit on and he asked me to help him lay it on the sand. As I turned to lay the blanket down, Brett was on one knee with a ring box in his hand and tears in his eyes. The four-word question and the easiest "yes" of my life marked our start of forever," Sydnie recalls.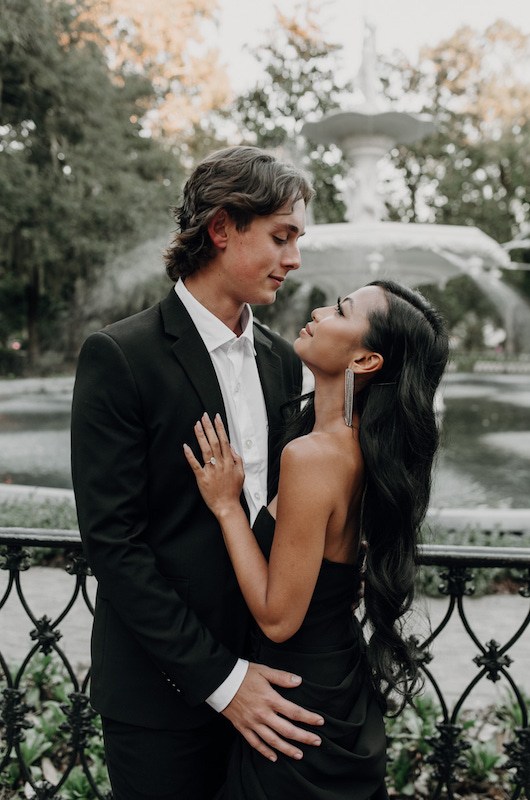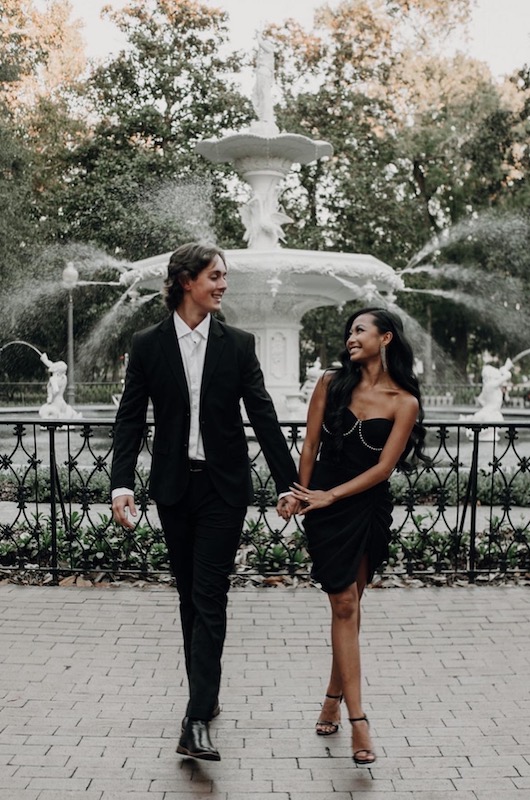 "God knitted our lives together for a reason and placed us in each other's lives intentionally. We love, admire, and learn from one another every single day," says Sydnie. The couple will say "I Do" on May 28th, 2022, at Cypress Tree Plantation on Edisto Island, South Carolina.
Proposal Photographer: Steph Powell Creative, Proposal Dress: Showpo, Proposal Heels: Jessica Simpson, Engagement Session Photographer: R Photos, Engagement Session Dress: Morgan Rae Boutique, Engagement Session Heels: Saint Laurent