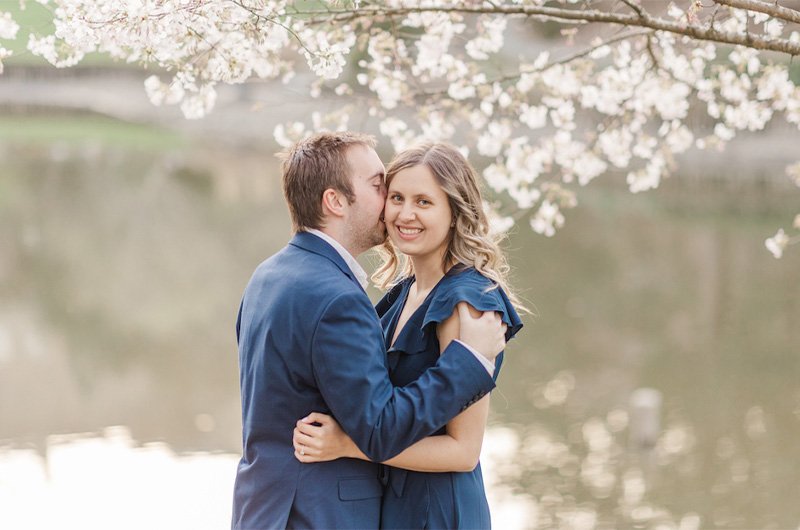 Kristin Snyder and Hunter Stag met briefly at an impromptu movie night as freshmen at North Carolina State University in the spring of 2013. Neither suspected that this chance encounter would lead to Kristin and Hunter's Romantic Cherry Blossom Engagement years later.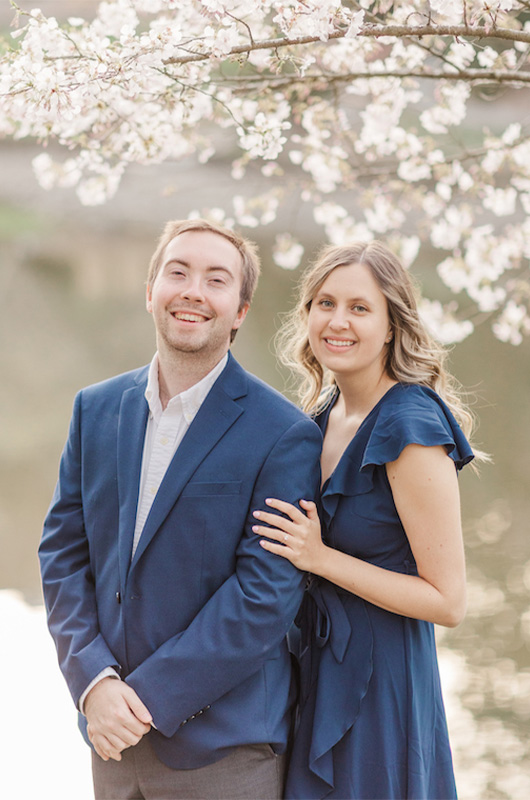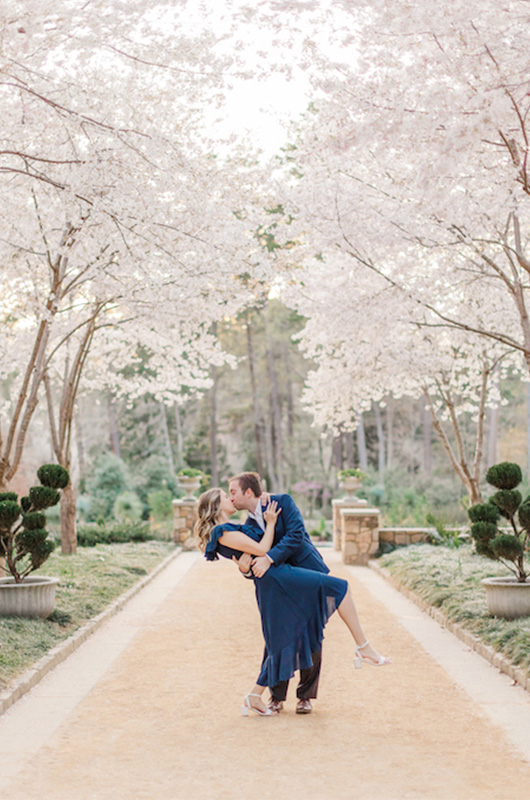 Though the couple exchanged only a few words that evening, fate (and a mutual friend) brought them back together the following fall. After spending hours talking and dancing the night away, Hunter quickly let their mutual friend know that he was "quite smitten" with Kristin, and soon reached out to invite her to a pumpkin-carving event. Kristin excitedly accepted and found herself equally smitten, even after witnessing Hunter's sub-par pumpkin carving skills. From then on, Hunter and Kristin began spending more and more time together and asked her to become his girlfriend officially a few days before Christmas.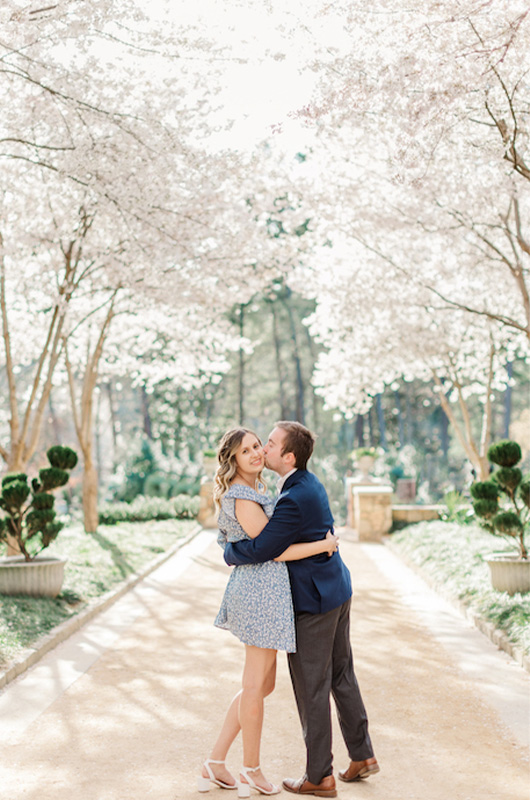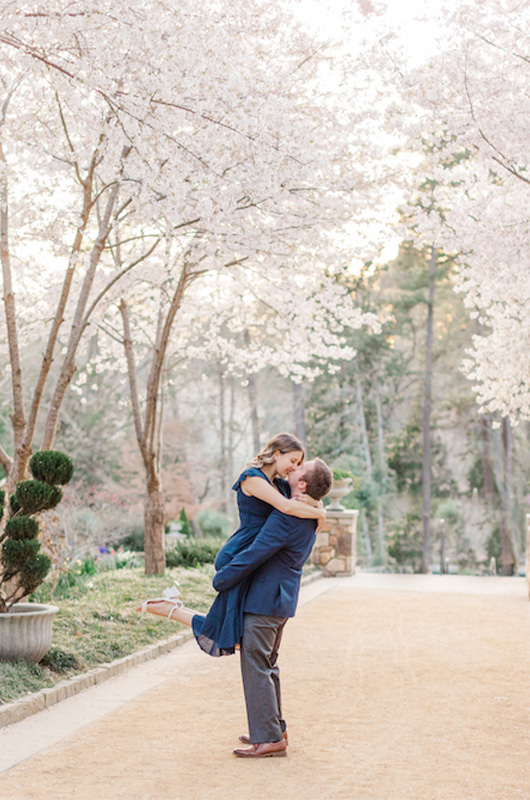 Hunter and Kristin continued to date over the years, creating many beautiful memories and learning everything there was to know about the other. They even discovered they had attended the same preschool! When Kristin accepted an out-of-state position at the start of 2018, both knew they didn't want things to end—and so began the grueling experience of a long-distance relationship. Though the physical separation was challenging, it only further cemented their devotion and love for one another. "After a year apart, I think we both realized that this relationship was something we wanted to last a lifetime," remarked Hunter. 
Thus—six years after that first chance meeting—he finally popped the question, to which Kristin responded with an enthusiastic "Of course!" She immediately began making arrangements to move back to the city where they fell in love.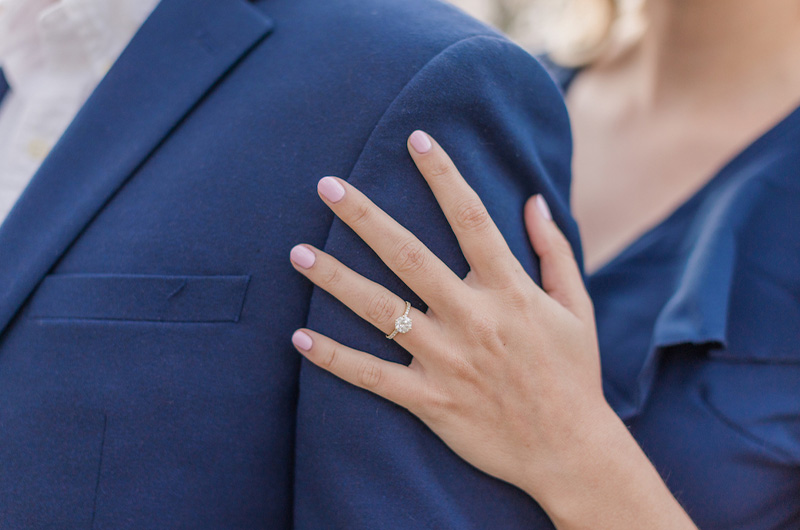 When the couple finally reunited in November of 2019, the search for the perfect venue began. Unfortunately, wedding planning was short-lived. Soon after booking their dream spot, things came to an abrupt halt when COVID-19 swept the nation. "With so many unknowns, we ended up postponing our wedding, not once, but twice, to ensure the event would be safe for all of our loved ones to attend," added Kristin. After a long hiatus, things were finally starting to look up again in 2022. So began the wedding planning process for a second time, starting with a photographer. Thinking back to a lovely photoshoot with Laurel Calabek Photography a couple of years prior, Hunter and Kristin reached out to see if she would be available to cover their upcoming nuptials. "We were thrilled when she was!" exclaimed Kristin and soon began discussions of an engagement shoot.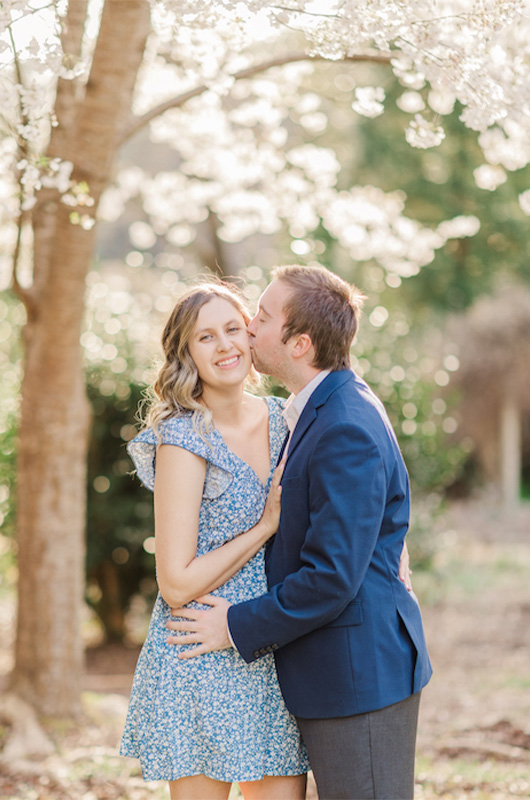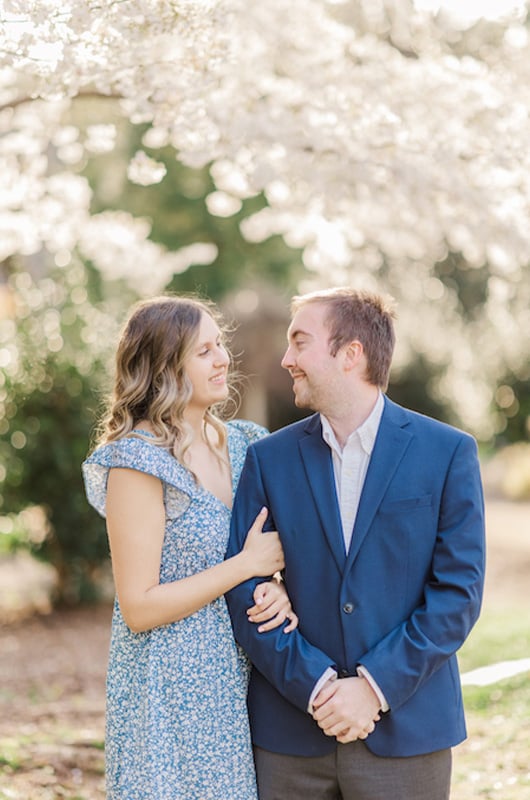 The couple's plan to honeymoon in Japan inspired a cherry blossom engagement at Sarah P. Duke Gardens in Durham. The only problem—no one can say exactly when the cherry blossoms will bud each year, and once they do, they only last a week or two. "Planning around the blossoms was tough," Hunter revealed. "Thankfully, Laurel was willing to do the shoot with only a couple of days' notice." He called the site every other day for weeks to check the status of the trees. Once he got the green light, Kristin contacted Laurel to put something on the schedule ASAP." The weather was perfect, the trees were beautiful, and just a few days later, we eagerly scrolled through the romantic cherry blossom-filled photos," shared Kristin.