When Cheyanne Brunner arrived in beautiful Georgetown, Texas, to celebrate her little sister's best friend's newly announced engagement, she had no idea she would spend the rest of the day slowly falling in love with the soon-to-be groom's best friend, Aaron Parks, or that their impending love story would lead to an engagement in Medina, Texas.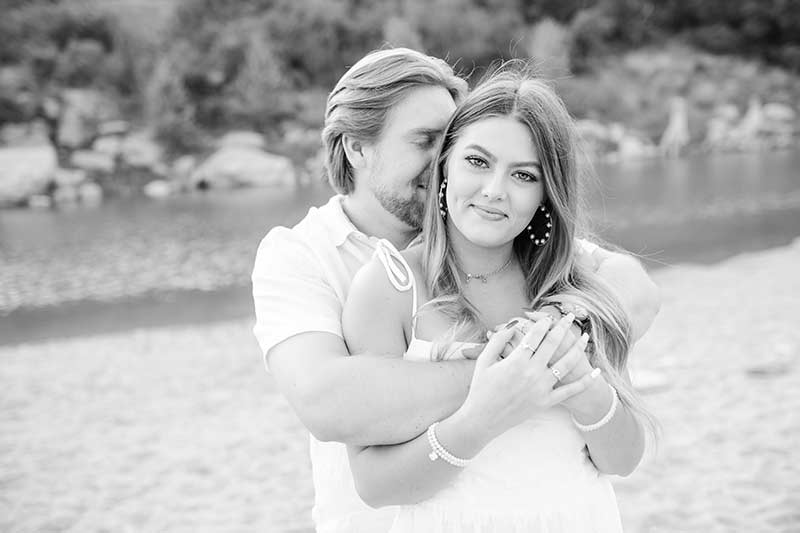 The two met at the very beginning of the worldwide pandemic, and the timing couldn't have been more perfect; although they had been going to the same college, Texas State University, for almost two years, somehow Cheyanne and Aaron's paths failed to cross. They both had been told time and time again by their mutual friends how great they would be for each other, but the craziness of being college students kept them apart.
Finally, in May of 2020, their eyes met for the first time. For Aaron, it was instant. According to him, he can recall every detail of what Cheyanne looked like that day, from the fiery auburn hair to the bright yellow sundress, it was love at first sight. He knew he would be spending the rest of the day trying to get the attention of the girl in the yellow dress. Cheyanne wasn't so quick to warm up, being in the middle of her junior year at Texas State, she had just decided she wanted to strictly focus on herself and her studies in her last year at the university. However, fate and destiny had other plans. She locked eyes with Aaron, and something just clicked.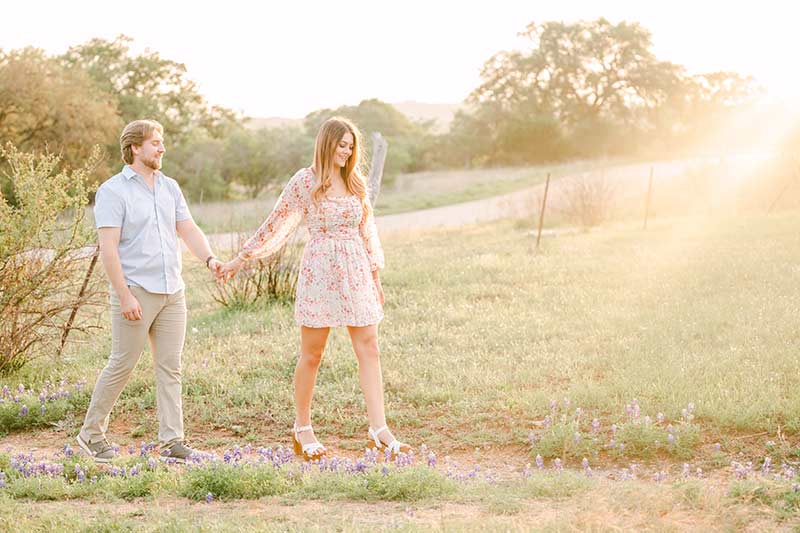 The engagement party went on, and the two continued to steal glances and exchange small smiles across the room, but it wasn't until the entire group decided to take a walk down to the river that Cheyanne and Aaron really got to know each other. From across the serene river, Aaron noticed Cheyanne trying (and failing miserably) at rock skipping, and as the self-declared "Best Rock Skipper in Town", he took it upon himself to gently guide her in her process.
As they skipped rocks upon the surface of the slow-moving water, it became more and more obvious the skipping was only an excuse to finally talk to each other. That first conversation was so familiar like they had been soulmates in every life before this one and every life after. Neither of them would admit to it at the time, but that was the small but beautiful beginning of their whirlwind love story.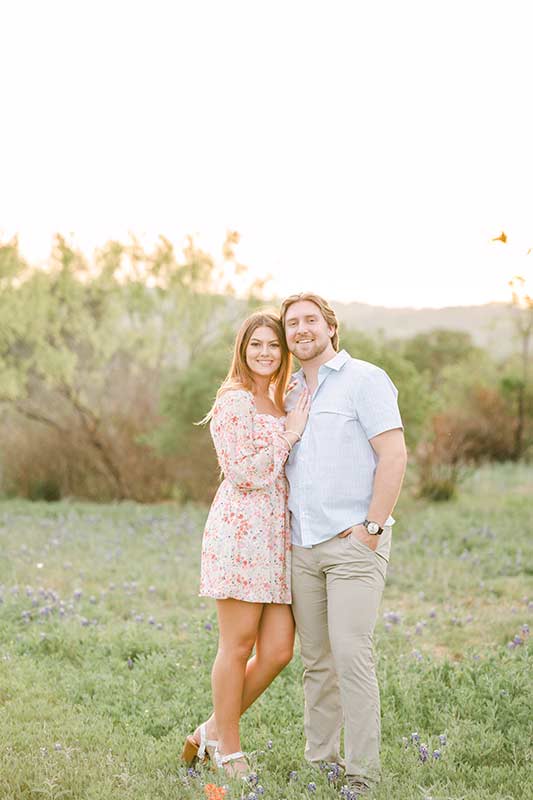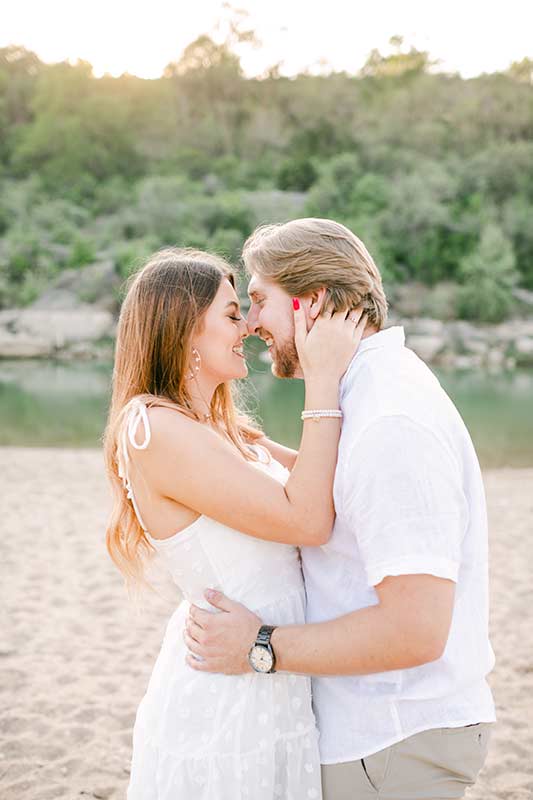 Like the best kinds of romance, things progressed fiercely and passionately, as days moved like months amidst the pandemic, which was all the better for the new couple. While some may have seen lockdown as a burden, Cheyanne and Aaron found an amazing love like no other, finally being able to cut out the outside world and really getting to focus on knowing and understanding each other. After some serious discussion, prayer, and prudent quarantining, the two took the leap and decided when faced with the ultimatum of not seeing each other for the duration of an impending lockdown or moving in together, they would rather spend the time with each other.
And so, they did! The two swiftly moved Aaron into Cheyanne's place right before the first lockdown and it all paid off on December 18, when Aaron took Cheyanne on a surprise trip to Medina, Texas to visit a little place called Love Creek Orchards, where coincidentally, they had both been visited and loved as kids.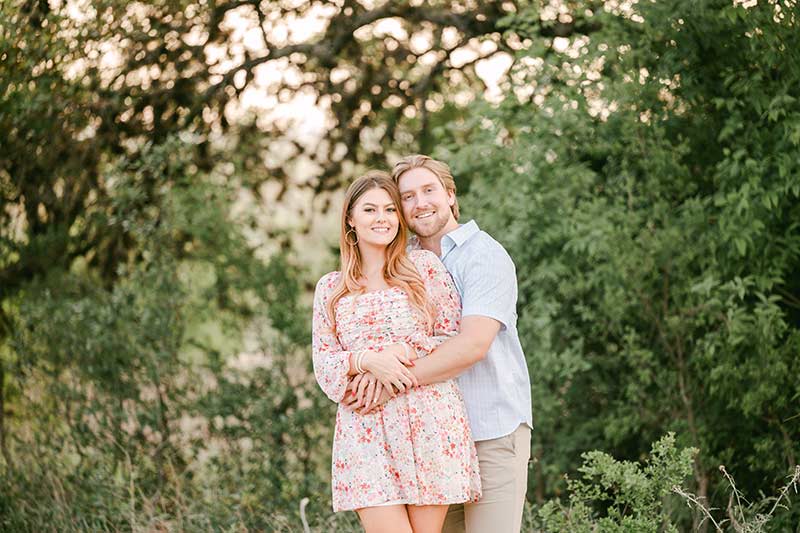 Originally, when Aaron had first bought the ring, he planned on waiting for New Year's Eve and the beautiful fireworks to pop the question (no pun intended). However, when he discovered the common childhood spot when talking to Cheyanne's sister, Gabbie, the night before, Aaron decided it was a sign to do it the very next day.
Love Creek Orchards is home to a tiny shop that makes any kind of homemade apple product you can think of, so of course, Aaron took Cheyanne in and ordered the two of them their mutual favorite childhood treat: a fresh slice of warm homemade Dutch apple pie paired with made-from-scratch frosty apple ice cream to share. All-day, Cheyanne had a sneaking feeling that Aaron would get on one knee (after all, she did help pick the ring out), but every time she thought it was about to happen, Aaron would switch things up to throw her off the scent!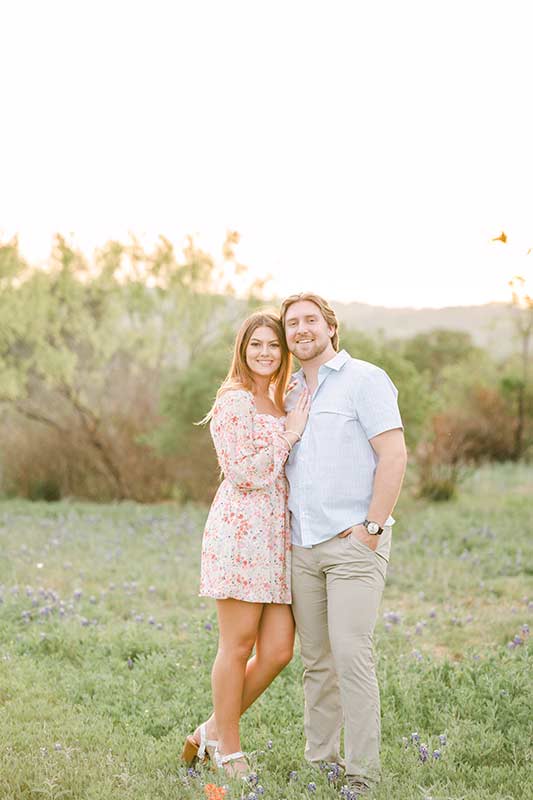 After having a picnic lunch and exploring the orchards, they walked around the charming town and made their way down to a rushing river, where while she was watching the ducks swim, Aaron took her completely off guard, dropped to one knee, and asked Cheyanne to be his for the rest of their lives. After telling him she was in suspense all day and dancing around asking if he was serious a million times, Cheyanne said yes, of course! After their engagement in Medina, Texas, Cheyanne and Aaron set their special day for January 8, 2022, and couldn't be more excited to live a life filled with love, laughter, and happiness.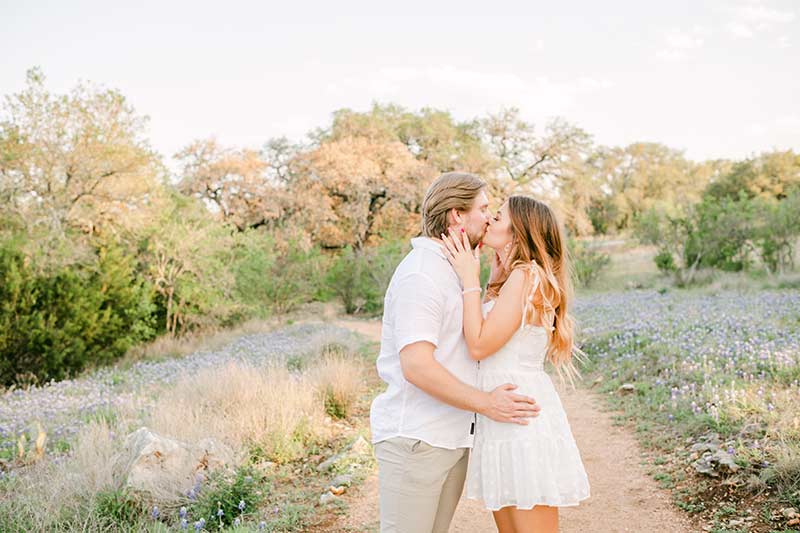 Vendor Credits + photographer: Claire Mulkey, Rising Oak Images | venue: Milton Reimers Ranch Park, Dripping Springs, Texas