In the world of dating, weddings, and all things love, mutual friends are often the best matchmakers. In the case of Oklahoma City based blogger Madelynn Dunham and her now fiancé Patrick, mutual friends helped make an elaborate proposal and a lifelong commitment become a reality.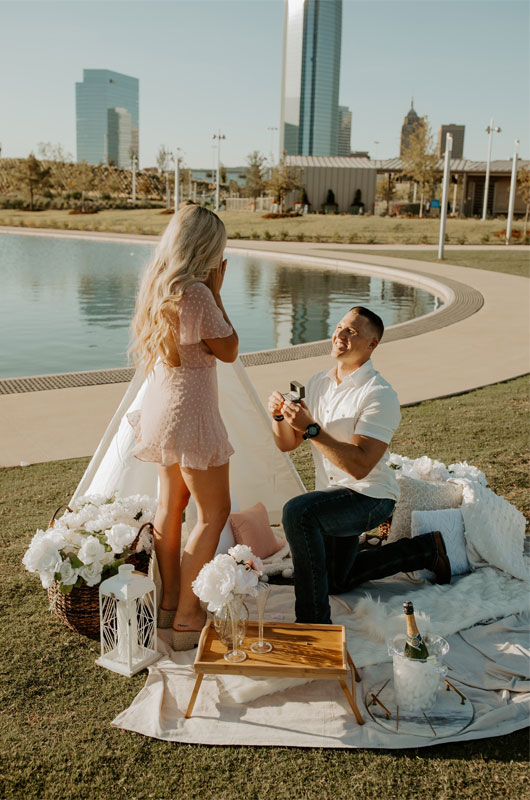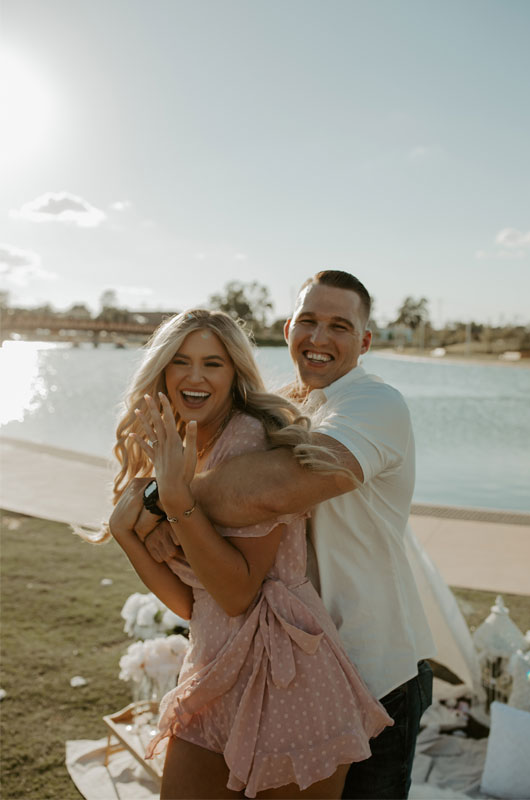 Newly single from a recent relationship, Madelynn's best friend Kortnei took the opportunity to introduce her to someone Kortnei and her fiancé David had known for years. With Kortnei's persistence and a little help from the follow button on Instagram, Madelynn met Patrick and liked what she saw. A few weeks later, they met offline while out with their mutual friends and spent the evening talking and hit it off as just days later, they went out on their first real date, and since then became inseparable.
A year and some months later, Madelynn and Patrick were heading out to dinner (supposedly) in honor of their close friends, Selina and Anthony's engagement. What Madelynn didn't know was that Patrick had made other life-changing plans. While walking towards the restaurant, Patrick took them on an unexpected detour through the park. After a few grumbling comments from Madelynn about trekking through Scissortail Park in platform shoes, and preferring to go straight to the restaurant and celebration, Patrick handed Madelynn his phone, urging her to please watch the video that he had pulled up on his phone.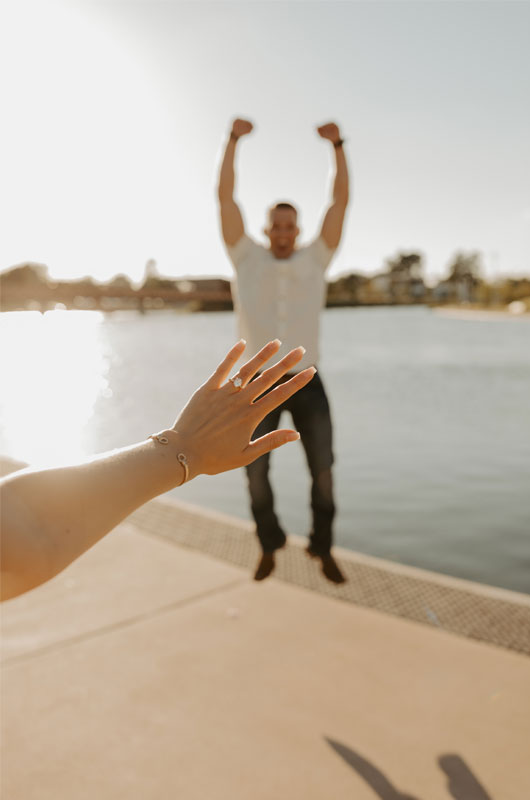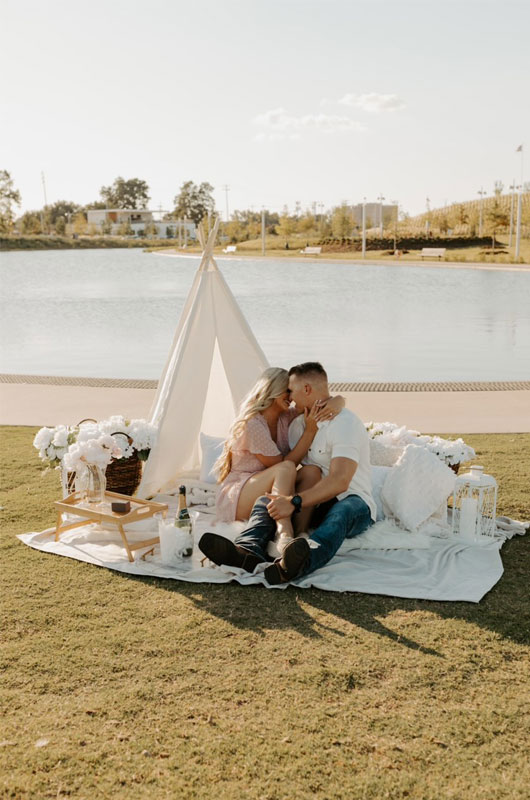 A bit startled, Madelynn took the phone and watched a video Patrick had pre-recorded that morning. Grinning and beaming with joy, Patrick told Madelynn that she was the love of his life, and could never see himself with anybody but her. Patrick then shared he had other special plans and held up a ring in the video. He couldn't wait to give the ring to Madelynn.
When the video ended, Madelynn and Patrick had just crossed over a bridge and reached the beautiful spot where Patrick planned to propose. With Selina and Anthony's help, a lovely little area near the water was sweetly decorated with a blanket, pillows, flowers, and champagne. Patrick got down on one knee, pulled out a yellow oval cut gold diamond ring, and asked Madelynn to marry him. Slightly shaking again, Madelynn answered the most important question of her life with incredible ease and shouted, "Yes"!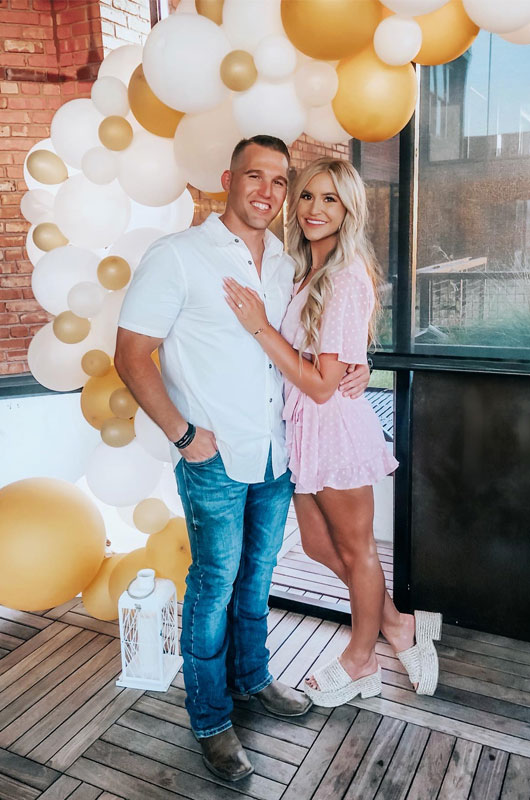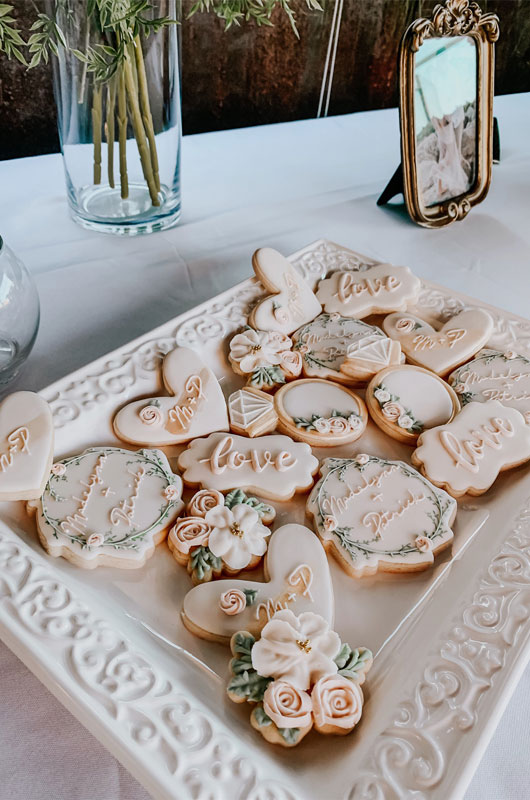 Madelynn and Patrick, filled with anticipation of sharing their news, joyfully headed to Parlor OKC, the restaurant where Patrick had actually planned their engagement party and where family and friends were waiting to party with the newly-engaged couple. The party featured beyond adorable cookies, a cake, lots of pictures, and tons of love and joy.
Follow Madelynn and Patrick's wedding planning journey by checking out her blog: maddogsblog.wixsite.com/maddogsblog. We can already tell it's going to be one for the books!