Basketball phenomenon and New Orleans Pelicans point guard Josh Hart proposed to his longtime girlfriend of eight years days before the New Year. Josh first met Shannon Phillips, an incredibly driven and hardworking professional herself, in high school in their hometown of Silver Spring, Maryland, and the two have been together ever since.
While the proposal and celebration were nothing short of luxurious, fabulous, and intimate, our Zoom interview with the newly engaged couple was low-key and revealed two, down-to-earth and fun-loving people who are head over heels for each other.
For those who missed this major celeb moment (though we're not sure how you could have!), the proposal spread like wildfire on social media and the news. Both and Josh and Shannon were surprised to see the news of their engagement announced by ESPN, countless wedding and pop culture sites, and the Pelicans team, who offered a heartfelt congratulations. Shannon, still basking in the proposal afterglow, kicked off the interview with a giant grin after we asked her, "Did you expect this incredibly intimate moment of your life to completely blow up on the internet?".
Keep reading to learn more about Josh and Shannon's engagement and to get a sneak peek into their relationship filled with playful teasing, deep mutual respect, and excitement for their future.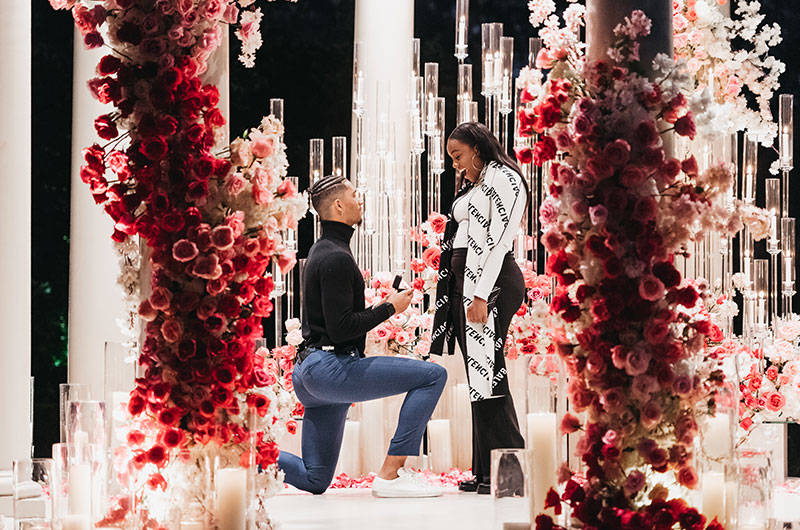 We want to hear all the details. Josh, give us the rundown on how you asked! And, Shannon, did you have any idea it was coming?
Shannon: "No and yes. Josh kept asking me to come to Miami or to come to L.A., and normally when he goes on the road, he's so ready for a break so I was like, Why does he keep asking me to come to places when he's playing? But then I thought I was overthinking it. But he actually really tricked me!
Josh: I'll give you the backstory. I actually had the ring since before Thanksgiving, so I knew I was going to do it for a while. We went to Sag Harbor in the Hamptons to have dinner and drinks with JJ Redick and his wife, Chelsea. We were drinking wine and talking about rings and all that and Shannon and Chelsea were going back and forth—you know, doing the girl thing with jewelry—and Shannon looked at me jokingly but half-serious and said, "You should talk to Chelsea about rings when you want to do it." So a day or two later, I started texting Chelsea about rings and ended up FaceTiming her at the jewelers.
I was thinking about proposing when we went back to the Hamptons for Thanksgiving a few weeks later. Her mom and my family were going to be there, but I knew she always wanted a water kind of engagement, so I thought I'd hold off until All Star Break so I could do something in Miami. But I started to see all the NBA COVID protocols, and I knew that wouldn't work either.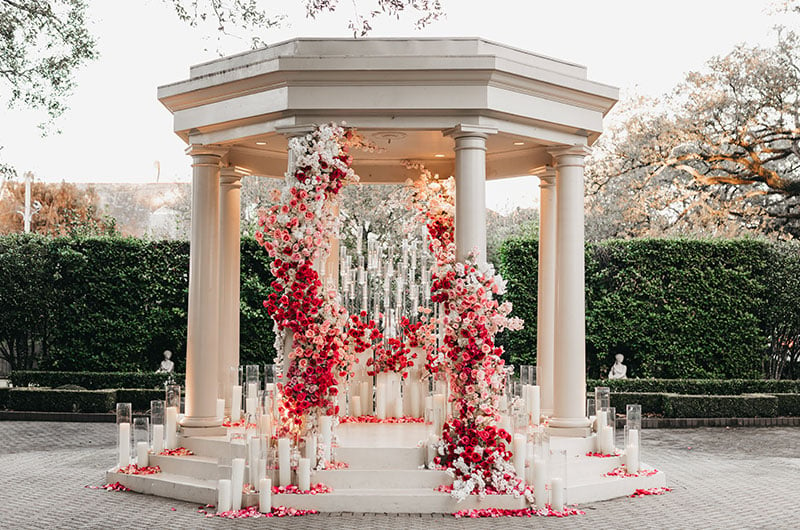 Josh: During all of this, I was calling and texting Shannon's best friend from Maryland trying to coordinate times, which was why I kept telling her to come to Miami or come to L.A. So I'm like trying to get her to come, saying it was my third Christmas away game in a row and I didn't want to be alone on Christmas Eve.
Shannon: But I didn't really want to go because I was just in Florida the week before so I was like, Why am I flying back to Miami again?
Josh: I mean, I'm pulling out everything so I just decided to do a regular kind of proposal. I told Shannon we were doing a wine dinner with JJ Redick and I asked my old manager Brandon who I'm really close with and one of my marketing agents Kristina to help me coordinate with the Elms Mansion and to get flowers from Wink Events.
The day of, I was kind of nervous and the thing about Shannon is that she asks too many questions! She wants to know everything.
Shannon: Because none of it made sense! We're going to a wine dinner in the middle of your season in the middle of COVID!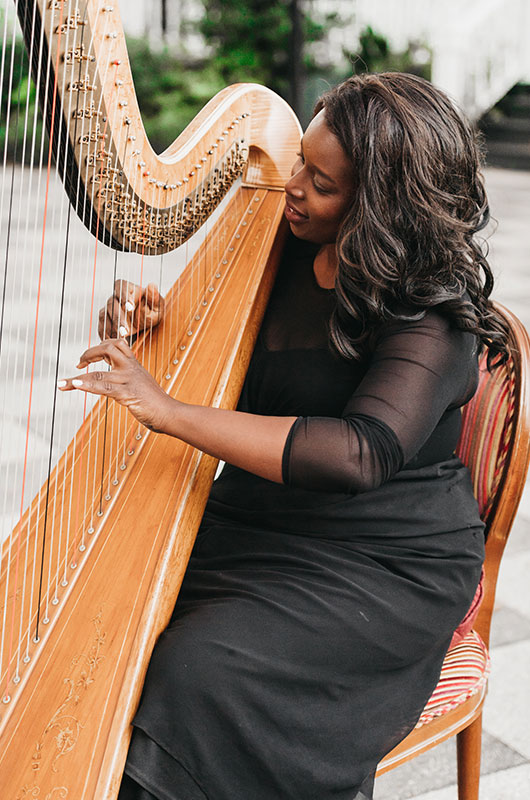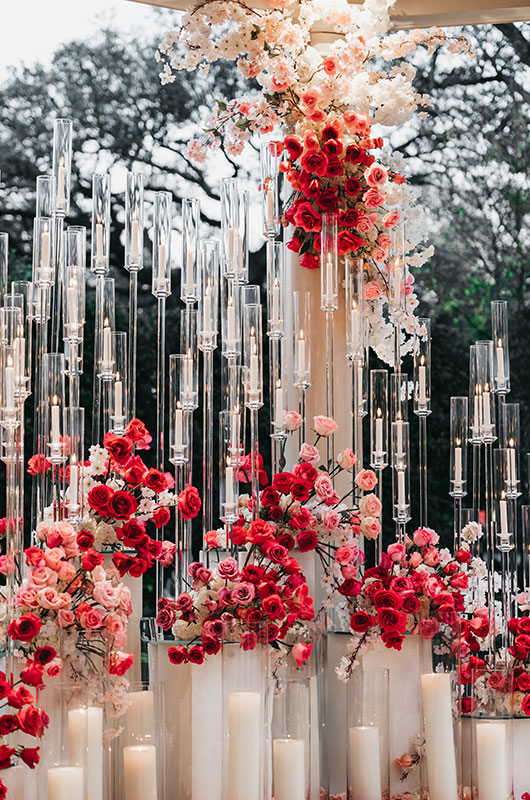 Shannon (laughing): I got there, and I thought I was at a real event! One of the women from Wink Design & Events told me to come through the back because the front was blocked off, but now I know she was, like, really acting, and then I went inside and saw Josh. I'm like, Where is everyone? and the people from Wink told us we got there an hour early so we should come outside and get food. That's when I saw the cameras flash.
Josh, were you nervous?
Josh: No, I was cool, calm, and collected. I knew what I was going to say when I got to the gazebo, but what I didn't think of was that 15-20 second walk to get there. I almost slipped up saying, Your mom and brother are coming here and I'm like, I'm an idiot. I got really nervous and I grabbed the ring when we went outside and started rambling on the first walk to the gazebo saying, When we first got together in high school you don't know what's going to happen, but you kinda know in the back of your mind and I was like, What am I saying?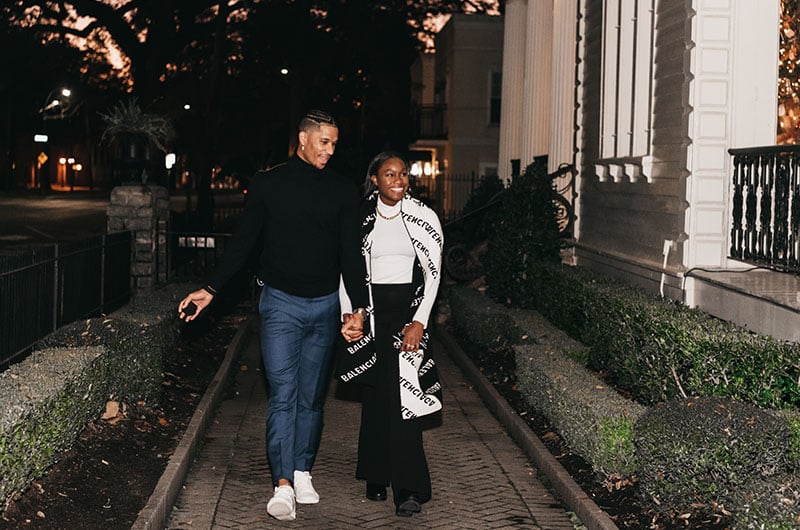 Shannon, do you even remember Josh proposing? What was your reaction? Did you cry?
Shannon: I blacked out. Afterwards, I asked if he even said Will you marry me? I didn't remember anything. I was freaking out.
Josh: She asked me that and then it made me freak out!
Shannon: But no, I didn't start crying then. I almost did when he pulled out the ring, though.
Josh: I'm happy she didn't cry because we were taking photos and afterwards she would have said she looked ugly in them and then we'd have to do a whole other photoshoot after.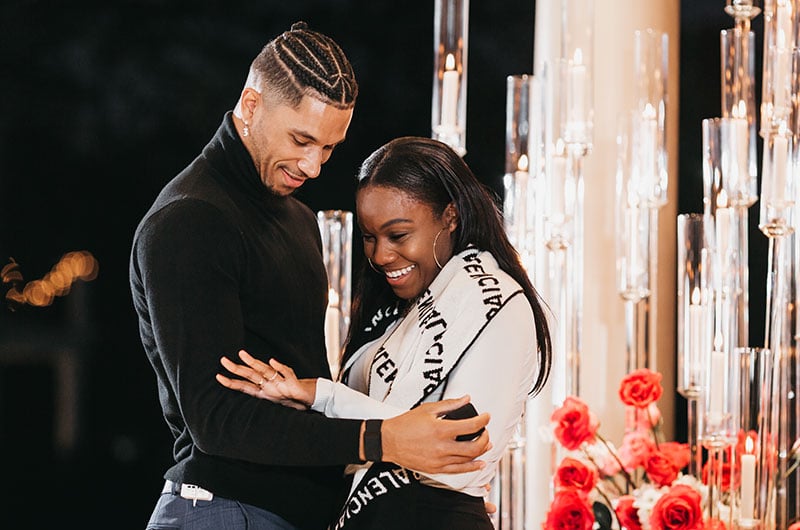 The photos were so beautiful. That whole setup was one of the most unreal setups we've ever seen. What followed the proposal?
Josh: We had dinner in the Elms Mansion and Chef Tasha made the most amazing full four-course meal. We had a whole charcuterie board, too.
Shannon: And she had menus that looked like wedding menus. They were so cool.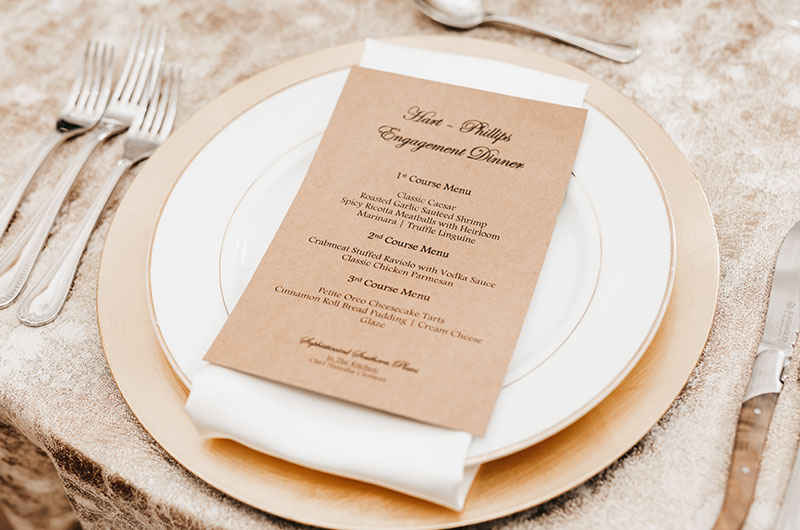 How did your family react?
Shannon: As soon as we got off from the flowers, my mom and my brother pulled up and they had dinner with us. My mom and my brother are also actors. I guess I was matched for my foundation in the summer, and that day my mom was like, Your skin is lighter now. You need a different color. I don't wear makeup that much, so I was wondering why she was caring so much about makeup. We were at lunch and she was like Well, I need one. She bought a foundation for herself just to trick me!
That's a hard secret to keep!
Shannon: They kept it though. I didn't suspect anything.
Josh: My parents knew, and I have a host family that we're both close with and they knew. Her mom and brother knew. Her best friend knew. All my friends knew. I was happy no one slipped up and said anything. They would have been in huge trouble.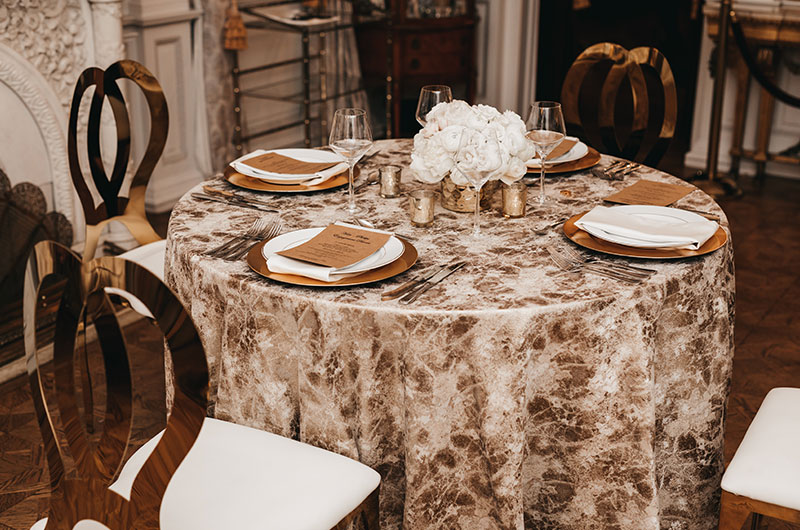 nHow is engaged life going so far?
Josh: It's exactly the same until Shannon randomly FaceTimes me stressing over the budget and asking me for the fifth time if I signed a contract for the wedding planner—
Shannon: Because he's so bad! I'm like, Can you sign the contract? and then a week later, nothing's happened, and I'm like, Everyone's literally going to drop us because it's been five weeks and we haven't signed the contract.
So you guys already started planning the wedding?
Josh: So, I'm having baby fever, and we want to be married before we have our kid. We'll most likely have our wedding at the end of August in Miami. On the All Star Break, which is the four days I have off and she has off, we'll go to Miami, rent a house, and look at the wedding venue.
How'd you choose Miami?
Shannon: We eventually want a house there. My mom lives in Ft. Lauderdale and a lot of my family is from the Caribbean, which is only a three hour flight. Josh's parents live in St. Louis and we're both from the East Coast, so it's the closest location for everyone. It's a two hour flight roughly for everyone to get there.
Josh, we know you're super into wine. What's on the wine and spirits list at your reception?
Josh: I'll probably have some nice bottles for the rehearsal dinner because the wedding will have a lot of tequila. Hopefully, we can get to Miami four or five days before and have our families there. I have some amazing bottles of bordeaux and burgundy that I've been wanting to open. But at our wedding it'll be a lot of Don Julio 1942 and Clase Azul!
And what about the bubbly?
Shannon: I love champagne.
Josh: When I first started really getting into wine a few years ago, I was hanging out with Rajon Rondo and Lebron who love wine too. Obviously those guys have been in the league for a long time with a lot of money, and they were bringing a lot of wine to things and I was starting my journey drinking like $500 bottles. At the time I couldn't afford it, and now I know more about wine so I know that there's Dom Perignon and other great champagnes. It's definitely going to have to be in the budget, though, because she loves champagne.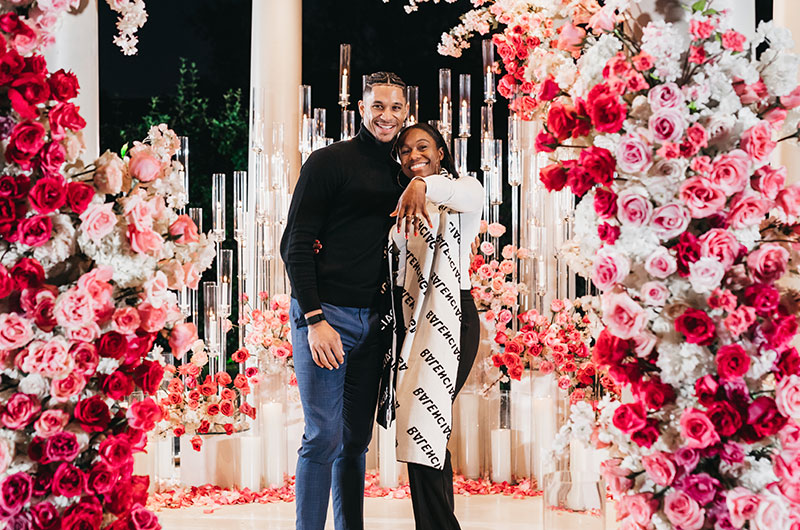 After their Miami ceremony, New Orleans Pelicans point guard Josh Hart and Shannon Phillips want to kick off married life in style. Barring COVID restrictions, the two plan to honeymoon (or babymoon, if Josh has anything to say about it!) in the Amalfi Coast for five days and then head to the crystal blue waters of Santorini. If their wedding and honeymoon are anything like their engagement, we can expect an event filled with romantic gestures, breathtaking backdrops, and stunning photos of the newlyweds to commemorate it all.
photographer: Calvin Gavion Photography | designer & planner: Wink Design and Events | venue: The Elms Mansion | florals & candle decor: Bella Blooms Floral | linen: ELEMENT | harpist: Cassie Watson Francillon | food: Chef Natasha | videography: Red Feather Films