A love story that blossomed from the internet dating app, Hinge, started with a first date on a picnic, and nearly a year later, led to a star-studded Nashville engagement with the help of country artist Spencer Crandall. Matt Ziance, and his new bride-to-be, Kate Stringfellow, were engaged on August 23rd, surrounded by twinkling lights and an ambiance of sweet acoustic country music.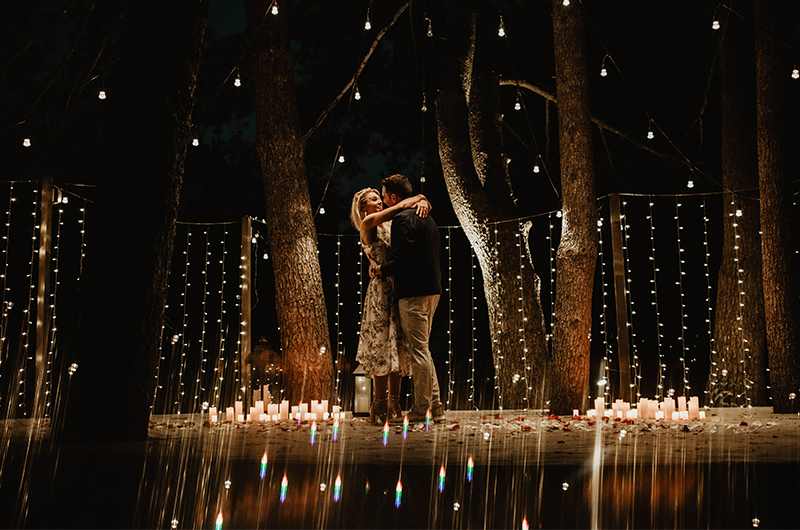 Matt and Kate met online in June of 2020, and, although the world was in the middle of a global COVID pandemic, fate wouldn't let these two get away from each other. The very day that they had matched on the dating app, Kate was considering deleting the app, and Matt was planning on moving back home to Johnstown, PA, as his job at NBC Sports was on 'Work-From-Home' status. Despite their previous intentions, the pair felt an instant connection and thought, "why not meet?" 
Their first date, an outdoor picnic, did not go as smoothly as they hoped as the day unfolded with more than a couple of wincing mishaps along the way. Nonetheless, forgotten picnic items of silverware and food, a cringing moment of Matt stomping on Kate's foot, and a gridlocked highway that turned a 10-minute trip into a 2.5-hour drive sparked an everlasting love story.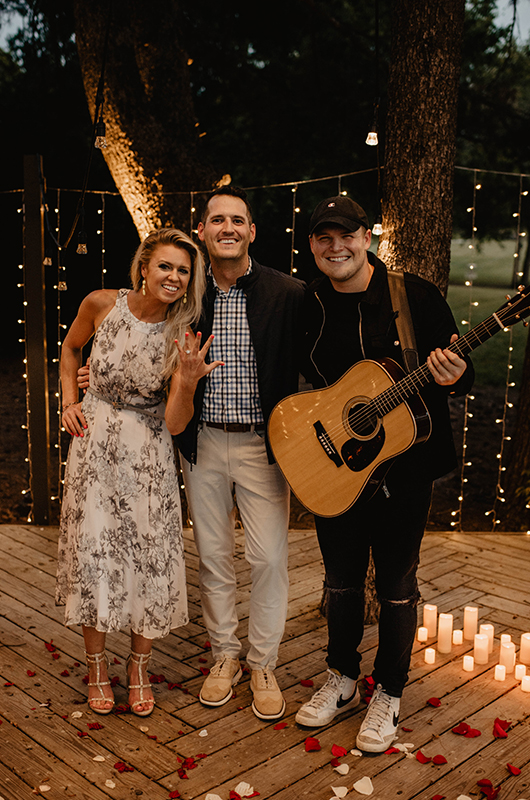 Despite all of the speedbumps, their date continued with a four-hour walk in a park. By the end of the day, they both agreed it was by far the best date ever.  Immediately after dropping Kate off,  Matt called his mother and commented that he might not be moving back home after all! Since their first encounter, the happy couple have spent nearly every day with each other and eventually moved in together in January of 2021.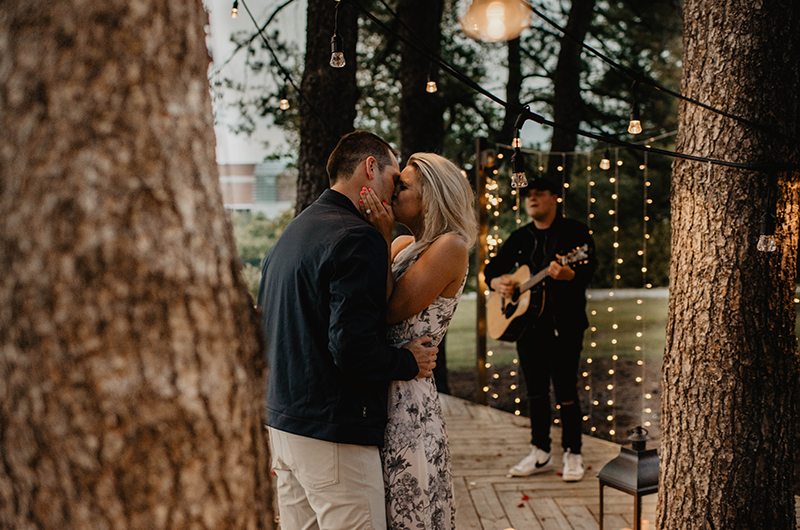 Later that spring, Matt left the house on an April morning to supposedly buy a new sleeve of golf balls and returned a few hours later with a ring. As a self-proclaimed gift spoiler, the ring box carefully hidden in his closet filled Matt with anxiety,  but he couldn't propose to Kate until he had a solid plan. After nearly a month of debating with himself, Matt sent the couple's favorite country music star, Spencer Crandall, an Instagram message pleading for assistance in his plan to propose.  Crandall's manager replied with a resounding yes, and a Nashville proposal with Spencer Crandall was set for the evening of August 23, 2021.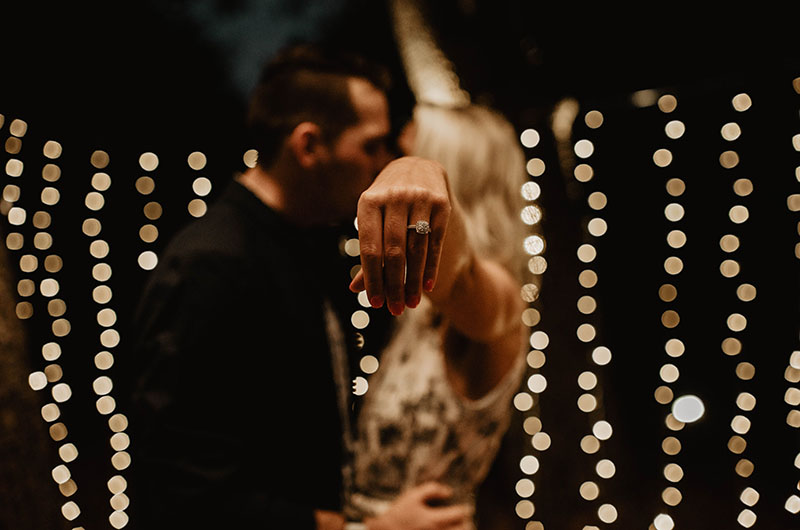 The date and details finally firmed up, Matt still needed a plan to get Kate to Nashville for the proposal. He concocted a story about needing to go to there for work to cover the Olympics, or as he describes it,  "the biggest lie of his life." It also happened to be his birthday and thus, easily convinced Kate to take off from work and join him.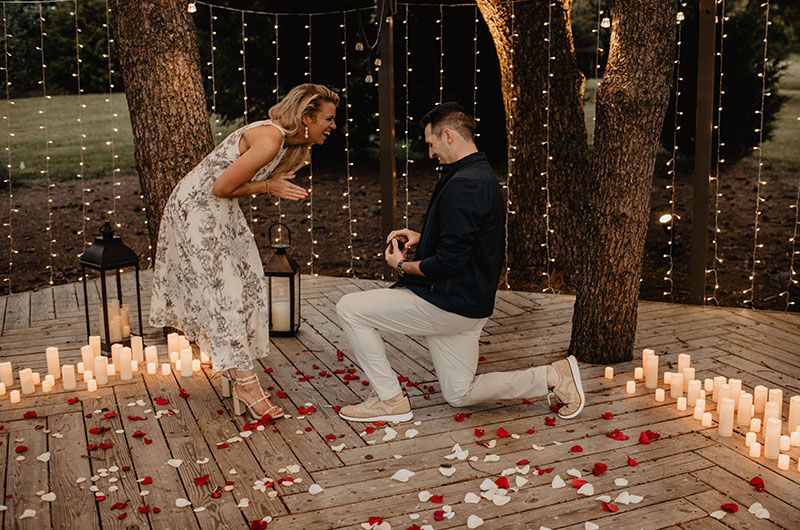 On the morning of August 23rd, after a round of early morning golf before Matt "had to leave for work,"  Matt presented Kate with a gift bag that contained a series of cards and gifts that led Kate on an entertaining scavenger hunt throughout the city. Meanwhile, Matt was on his own search for roses, candles, and other romantic items he would need for the site of the proposal.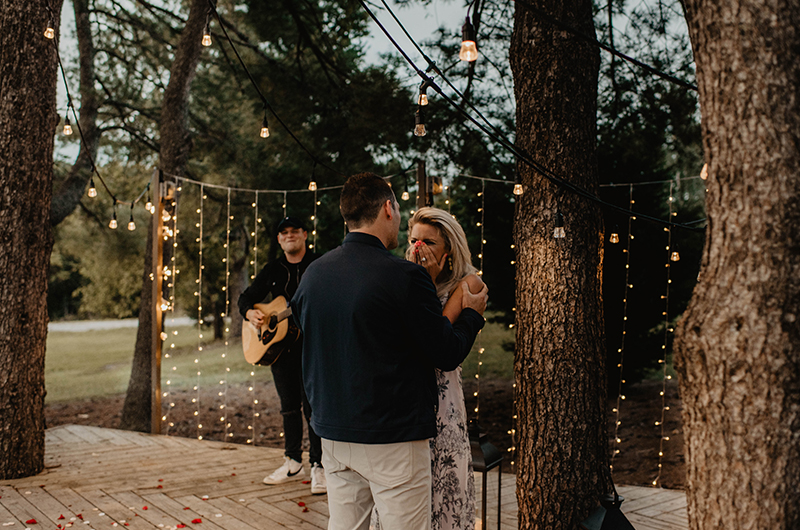 Finally, that evening Matt called and informed Kate of one last card that was hidden in their hotel room. The card mentioned that he was unable to pick her up, but there was a car waiting for her at the entrance of the hotel. 
Matt nervously awaited the SUV at the spot where he planned to get down on one knee.  Soon, Kate arrived, and as Matt led Kate towards the candle-lit area, Crandall appeared and began playing his hit song, My Person, which had become Matt and Kate's song. The surprise was a monumental success. As Matt perfectly summed up the unforgettable occasion, "On a hot August night in Nashville, surrounded by the sound of cicadas, Spencer's lyrics, and thousands of twinkling lights, I asked my person to be my wife. I went to Nashville with my girlfriend, and came back home with my fiancé."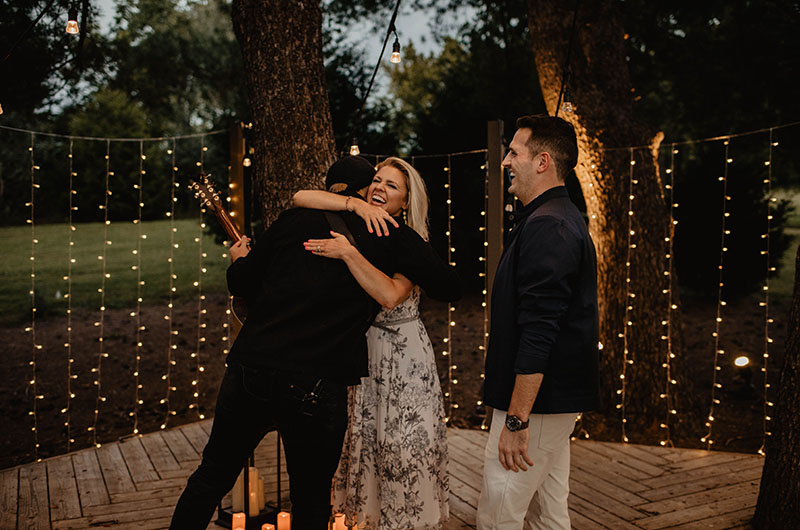 What Kate thought would be a  work trip with an added birthday dinner celebration for Matt turned into a star-studded Nashville engagement with the help of country artist Spencer Crandall.