From stilettos to sneakers, your wedding shoes carry a lot of responsibility. Not only do they complete your big day look, but also have to get you down the aisle and keep you dancing at the reception. Whether you're wanting a statement piece or shoes that will last throughout a night of dancing, we've gathered seven simple tips to help you select a pair of shoes to complement your big day.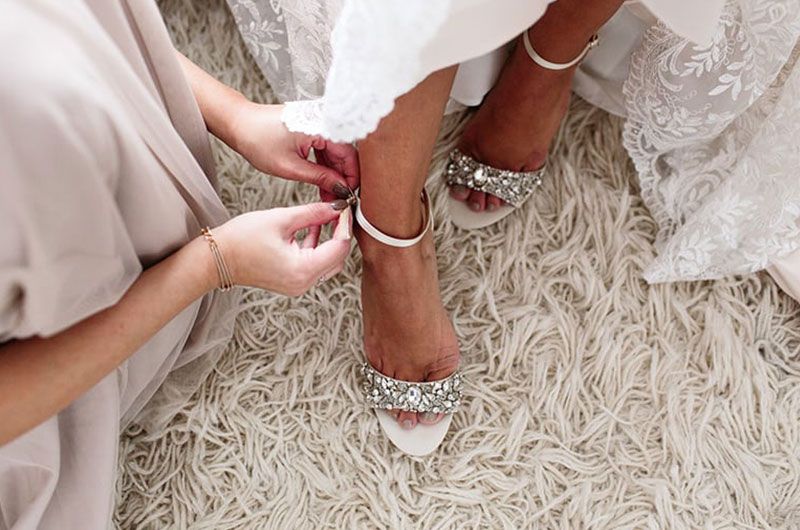 Tip 1: Consider the Venue
If you're getting married outdoors and will be walking in the grass or uneven areas, a high stiletto may not be the best idea. Instead, opt for a flat or wedge. 
Tip 2: Think outside the box…or should we say outside the shoe box?
Stay true to your personal bridal style. If you're not usually a high heel kind of woman, then go with flats for your wedding. If you love bold pops of color, then pick a shoe in a show stopping shade!
Tip 3: Don't forgo comfort for style
Yes, we know some shoes are to die for, but is it really worth torturing your feet during the ceremony and reception? Try to find the best of both worlds: comfort and killer style.
Tip 4: Examine any embellishments
We of course love rhinestones and sparkles, but make sure any embellishments on your shoes are not going to get caught on your dress or rip any linings as you walk down the aisle. 
Tip 5: Take them for a spin
That's right, we're telling you to test drive your wedding shoes. Wear them for a few hours here and there around the house a couple of months before your big day to ensure they're right for you.
Tip 6: Find them before your fitting
To make sure the length of your dress is just right, you'll want to take your shoes with when you get your dress tailored. 
Tip 7: Think long term
If you're going to spend a pretty penny on your shows, think about purchasing a style that you can wear for years to come. You may be more likely to wear a classic shoe for longer than something more on the trendy side. 
photographer: The Stewarts Roam Photography