For the 2023/2024 bride-to-be, the wedding planning journey is in full swing, so we thought there is no better time to round up our top 4 trends dominating bridal fashion right now!
1. 90's Minimalism
There is no doubt that we're in the middle a major 90's throwback with the return of the slip dress. And it totally makes sense why – they're easy to wear, so chic and such a timeless silhouette to wear on your wedding day. For 2023/2024 brides, our sleek silk and satin gowns offer a modern and elevated take on traditional 90's bridal slips. Perfect for elopements or for the bride who wants to celebrate simplicity without compromising on style, our silk and satin gowns, such as Goldie, drape around the body like liquid gold and celebrate the female form. We really designed these gowns to be elegant and effortless, while still making a statement.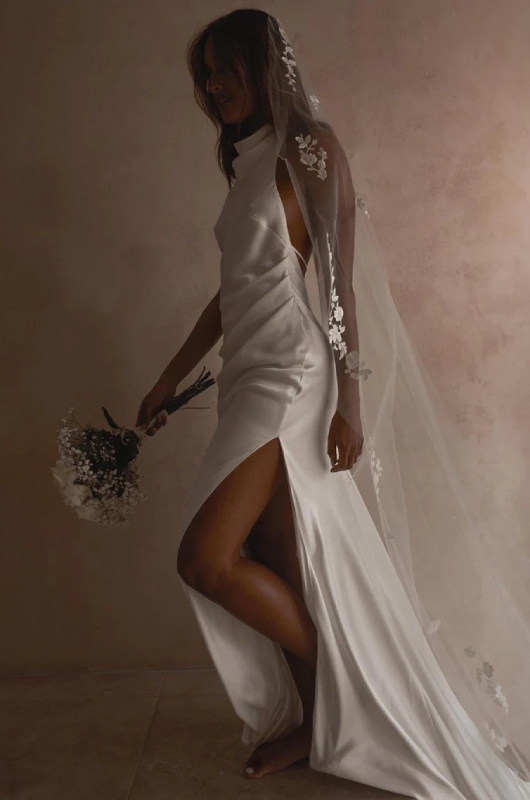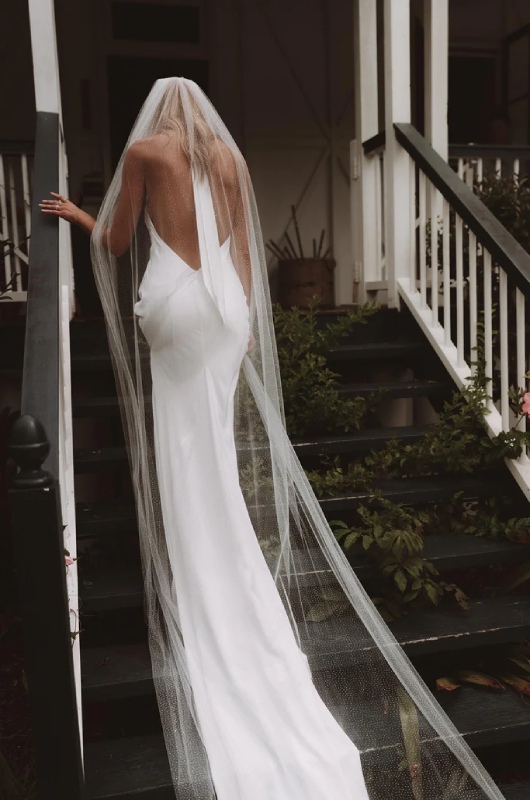 Goldie Dress by Grace Loves Lace
2. Low Backs
The modern bride loves to turn heads, and an open back gown definitely brings the drama. The low back has become a top request among GRACE brides, and can sometimes even be a feature our brides won't compromise on. The low back allows brides to show a bit of skin on their special day, while still keeping the look very elegant and timeless. Our favorite low back GRACE gowns have to be the iconic Clo, Pierlot and Martini.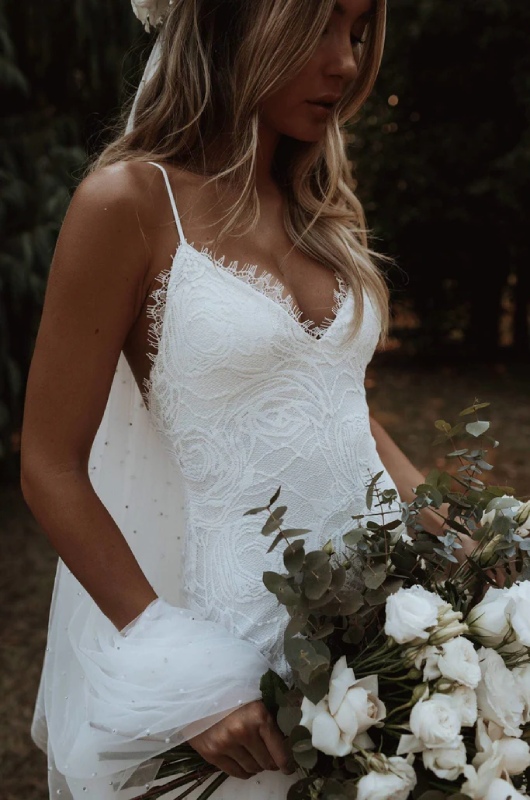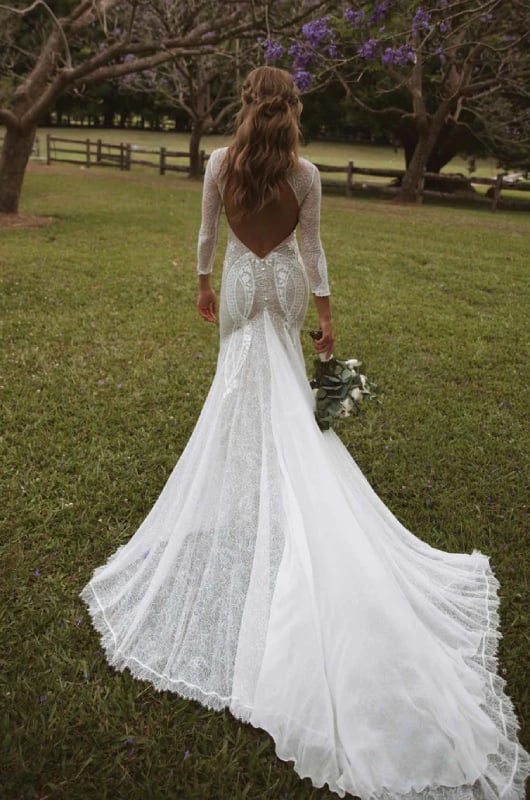 3. Copper and Rust Stones
Now we couldn't forget about your bridesmaids, could we! We've noticed more brides and bridesmaids reaching for rich, earthy tones for their bridal party and we have no doubt this will continue into 2024. Even Pinterest noted in their 2023 trend report that these tones will be some of the most popular in bridal not only in color palettes, but also in bridesmaid dresses too! At GRACE, our most popular bridesmaid dresses are a testament to this trend, with both Gold and Copper colorways making their mark as our best sellers – Anya, Silky Satin Midi and Classic Slip.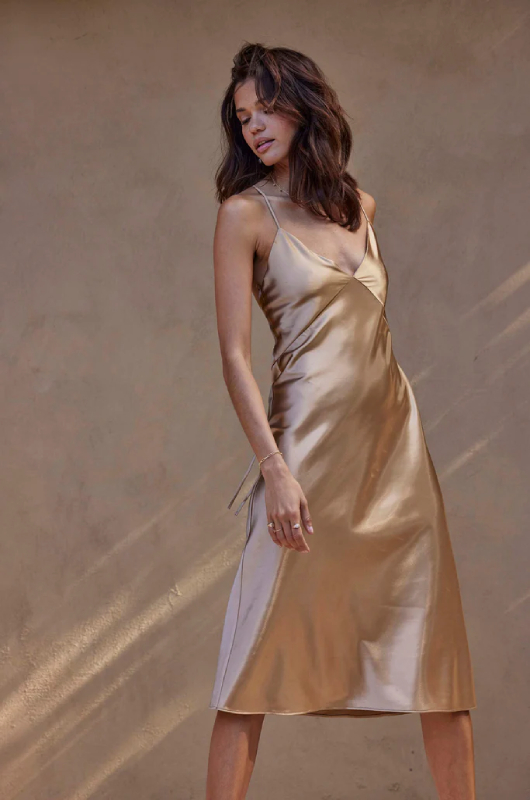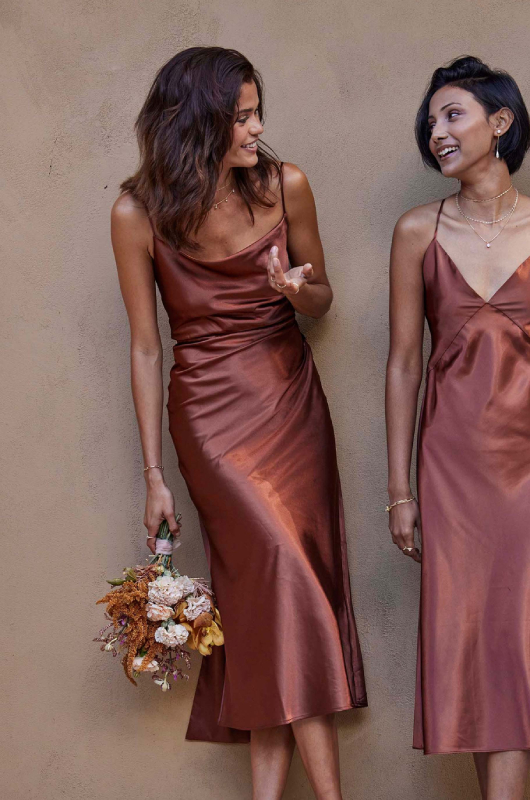 Silky Satin Mini Gold dress by Grace Loves Lace, Anya dress by Grace Loves Lace
4. Sustainability
We've certainly noticed more brides doing their due diligence and aligning their wedding dress purchase with their core values. Now more than ever, brides want to purchase from brands who champion sustainable and ethical manufacturing and they aren't afraid to ask where their dress will be made. If you're ready to start your wedding dress journey, join us for a luxury 1:1 showroom appointment! With 26 showrooms globally, you can find your nearest location on the Grace Loves Lace Website.
ABOUT GRACE LOVES LACE 
Grace loves lace is a stylish Australian bridal brand with 26 showrooms globally that designs effortless handmade gowns to make you feel confident and empowered. Their authentic and mesmerizing gowns have been featured in various fashion magazines such as, Vouge Paris and Fortune.