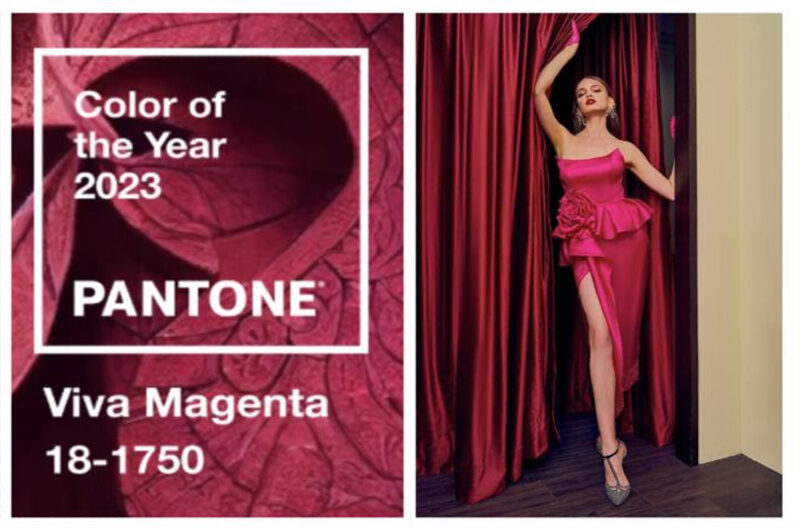 Symbolizing strength and optimism, Pantone's Color of the Year for 2023 signals everything we hope for the upcoming year. Magenta is a bold and vibrant shade of pink that features hints of blue and crimson red with a unique blend of warmth and coolness.
Viva Magenta is both powerful and empowering", says Lee Eiseman, executive director of the Pantone Color Institute. "It welcomes anyone and everyone with the same verve for life and a rebellious spirit. It is a color that is audacious, full of wit, and inclusive of all."
Vibrating with vim and vigor, magenta promotes a joyous celebration while writing a new narrative. Adding a touch of playfulness and elegance to any bridal ensemble,  this sophisticated color can be incorporated into various themes and styles.
Whether you are going for a classic, romantic look or a modern and trendy vibe, this shade is sure to make a statement. There are countless ways to integrate magenta into your style, from stunning magenta dresses to bold accents.
From stunning magenta gowns to accessories, this playful pink shade is easy to style for your bridal events.
Rehearsal Dinner

Looking for the perfect piece before the big day? How about embracing this exquisite two-toned pink ensemble or long full-length gown? Both offer style and sophistication while showcasing a sense of timeless beauty and grace, certain to make a lasting impression.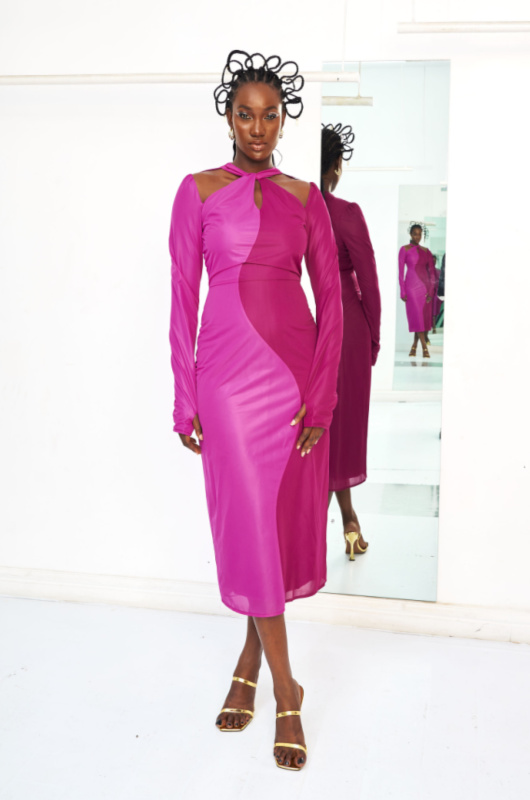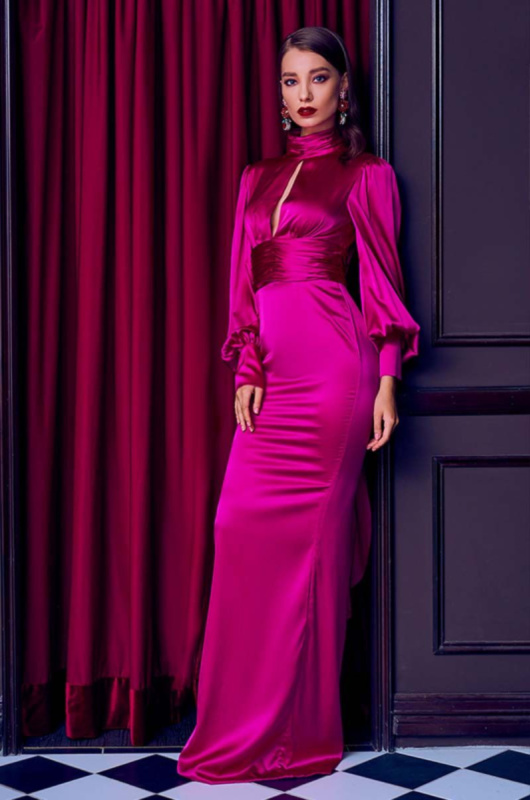 Turtleneck Open Back Silk Satin Dress
In the intensely radiant fuchsia, the Turtleneck Open Back Silk Satin Dress in Fuchsia is a piece that exudes abundant allure, femininity and prowess. The turtleneck and prominent balloon sleeves render the gown instantly empowering, yet its overall fluid appearance and lustrous backside ribbon call attention to an underlying softness while making way for a subtle chest slit and open back in its design, where hints of sensuality peek through..
Wedding Reception
Integrating magenta into your wedding reception accessories, such as statement jewelry, a bold shoe or a vibrant clutch, can make a striking statement.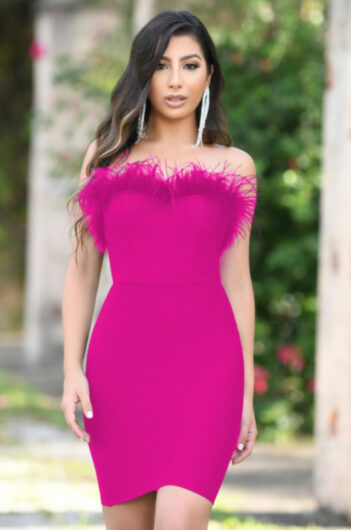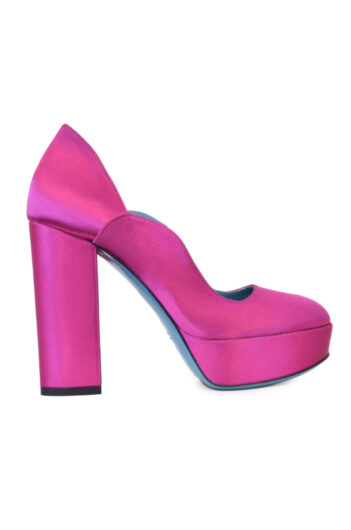 Sochi Mini Dress
Be the center of attention in this fitted feather Mini dress. This is a mid length version of our Sochi Gown! The ultimate party look, this strapless form-fitting dress is cut with a feather boa around the top of the bodice. Sophistication with a hint of edginess, the Sochi Midi is perfect for any gala, or special event.
Minimal Platform Pump
With its whimsical, daring, and charming appearance, this satin pump is sure to boost any evening ensemble.
Accessories
Accessories in magenta are a crucial component of any dress because they draw attention to and complete the ensemble.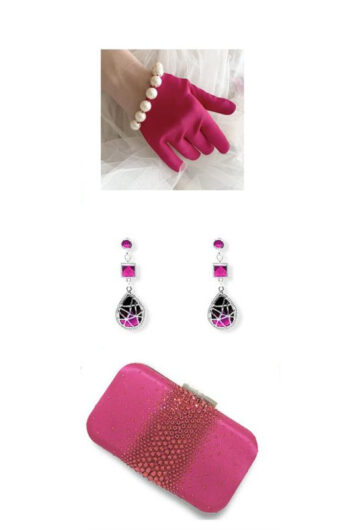 Aurora Pearly Gloves
Sophisticated, elegant and always fashionable – vintage gloves.
Pop of color with the glamorous LOLA earrings. The circle crystal post attaches to a square pendant, a play with geometric shapes. The lacey teardrop pendant add a modern twist to these colorful earrings.
Glamorous hot pink satin clutch — ELLA is adorned with the highest quality brilliant cut crystals to add the perfect touch of sparkle to any look.
For the soon-to-be brides seeking novel and playful ways to incorporate a splash of pink into their wedding, we aspire that the featured designers serve as a source of bridal inspiration. Similar to these designers, we share the excitement about the designation of Magenta as the 2023 Pantone color of the year, which presents an opportunity to infuse your big day with a trendy yet timeless hue.
If you are a soon-to-be bride in search of something new and playful, a pop of pink to include in your wedding, we hope you find bridal inspiration from the featured designers.  Like them, we are thrilled that Magenta is the 2023 Pantone color of the year.