Written by Nicole, Owner & Founder of Ivory & Beau
Amidst a crazy year of wedding postponements and store closures due to covid-19, the bridal industry and shopping for gowns continues! Like a silver lining to the chaos of 2020, bridal dresses are better than ever before and the 2021 trends have stylists and brides alike "oohing" and "aahing" over the new trends.
Justin Bieber's wedding to Hailey Bieber in 2019 in Bluffton, South Carolina started quite possibly one of our favorite new trends in bridal dresses — the illusion strapless back. While illusion mesh has been used in bridal for a long time, this new trend features an illusion look with no structure over the shoulders to hold up that illusion. The outcome is the perfect combination of elegance and sexy. Made with Love's newest dress, Penny, and Maggie Sottero's long sleeve version, Emiliano feature this new trend so beautifully.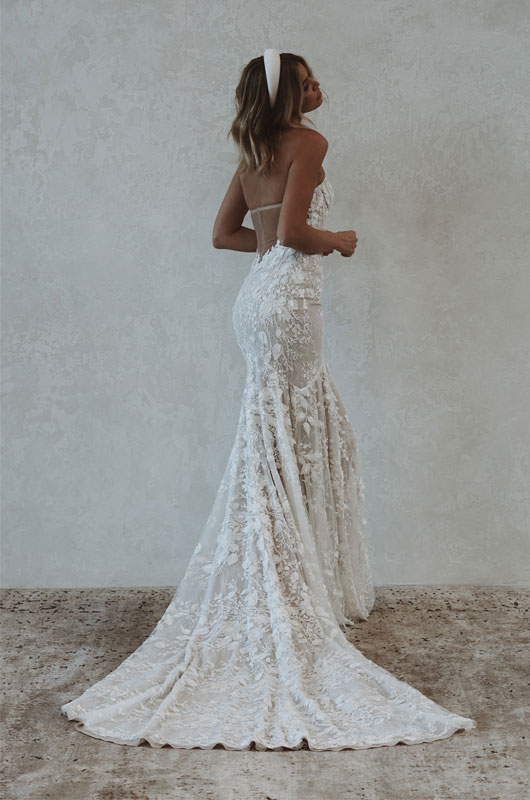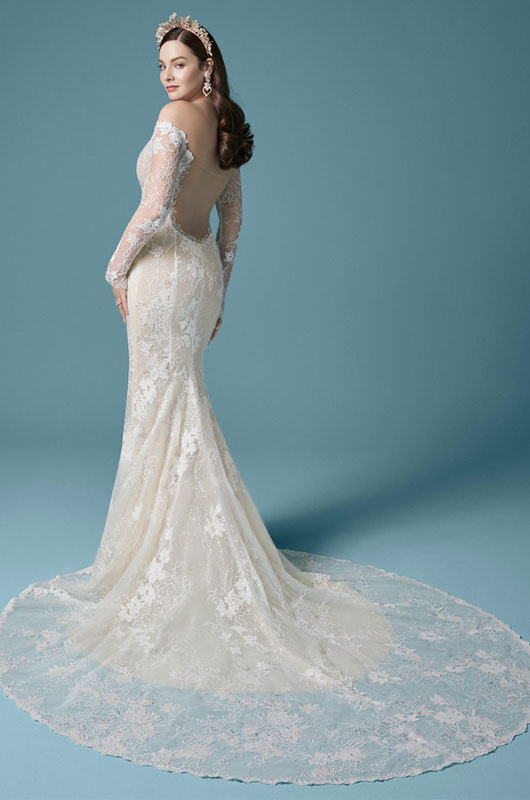 Lace has always been a popular fabric for wedding dresses and 2021 styles are taking lace to all new heights with new 3D details on some styles and the use of bohemian-inspired laces on others.
3D laces with floral petals that are unattached from the lace add dimension to a dress and appear more exquisite, detailed and couture. The 3D lace detailing transforms a dress and brings it beautiful life with floral details that are perfect for a bride looking for her dream style for a garden wedding. Sottero & Midgley's newest style, Cruz, has beautiful 3D floral lace throughout the entire dress and on the sleeves.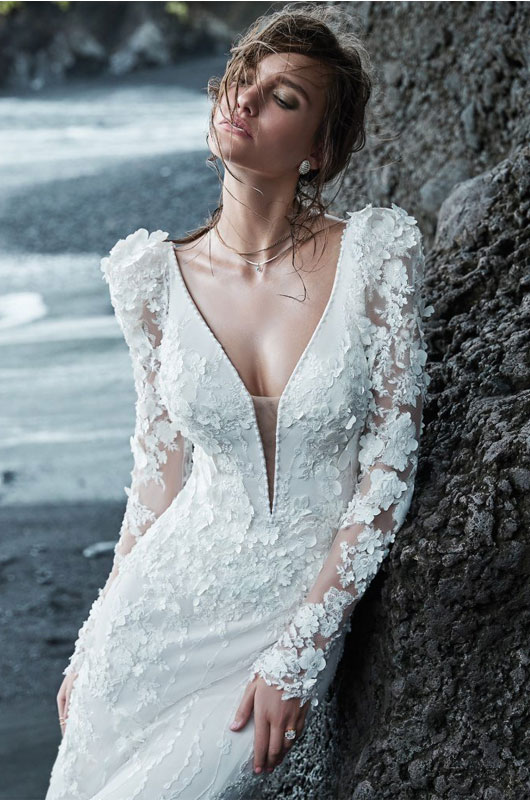 Bohemian wedding dresses are nothing new as they have been around for some time with indie and smaller designer labels, but in 2021 we are seeing these boho laces become more mainstream with collections from Maggie Sottero including Sottero & Midgley and Rebecca Ingram coming out with styles that feature these more eclectic laces. Some of our favorite styles that experiment with these unique lace textures include the Finley gown from Sottero & Midgley and Burke from Maggie Sottero.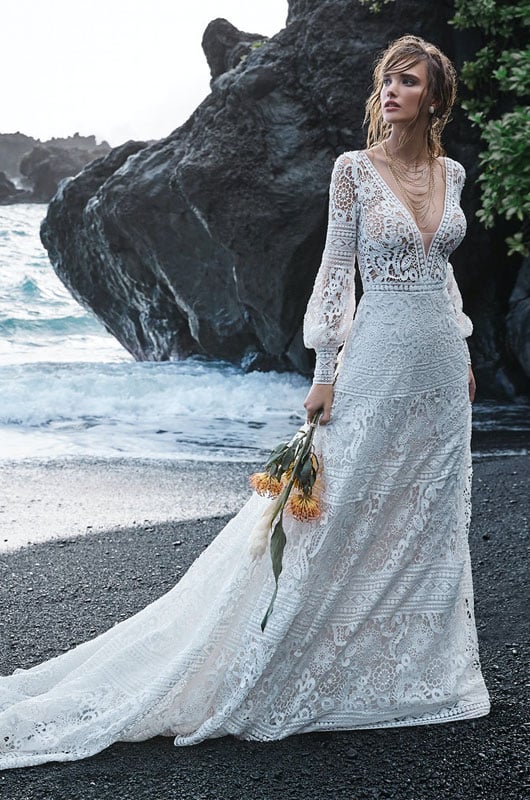 2021 collections also saw bridal designers taking new steps to create styles for brides that allowed customization and more options than ever before with accessories like detachable sleeves, trains and skirts. The Cruz dress shown above is also available for example without sleeves for a more sleek look. Rebecca Ingram's Joanne dress features long sleeves that are optional. Off-the-shoulder sleeves are also seen on a lot of the newest styles — Stevie from Maggie Sottero has a long sleeve bishop style available, Bracken Lynette from Sottero & Midgley has a butterfly off-the-shoulder sleeve option.
Detachable skirts are a fun addition for brides as well allowing them to easily create two looks in one for their wedding day. Dresses like Callan by Maggie Sottero offer detachable tulle trains whereas WTOO offers full coverage skirt options like the Nessa and Mitzy that can be paired with a multitude of styles.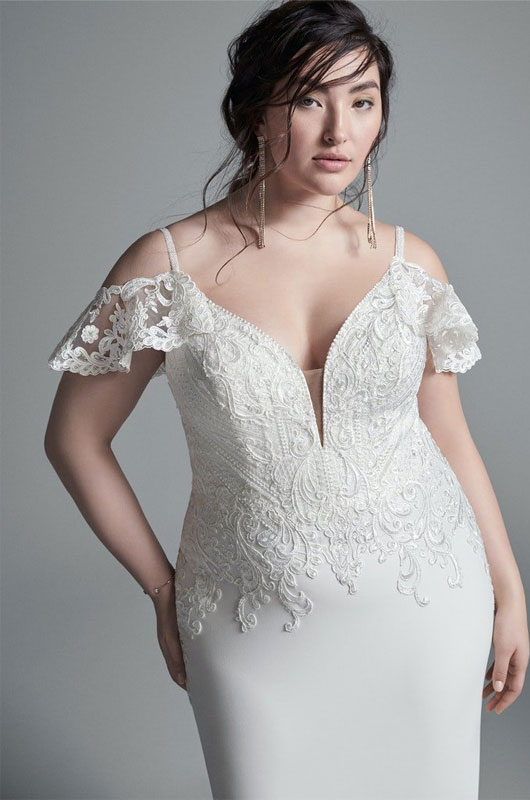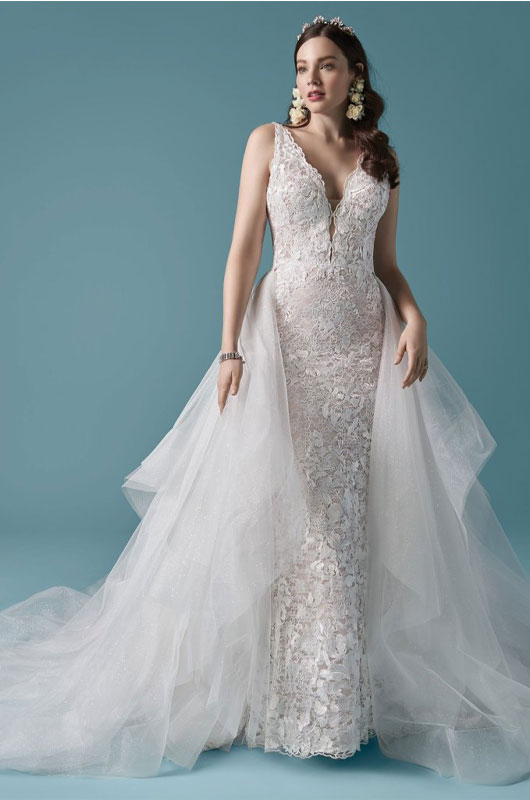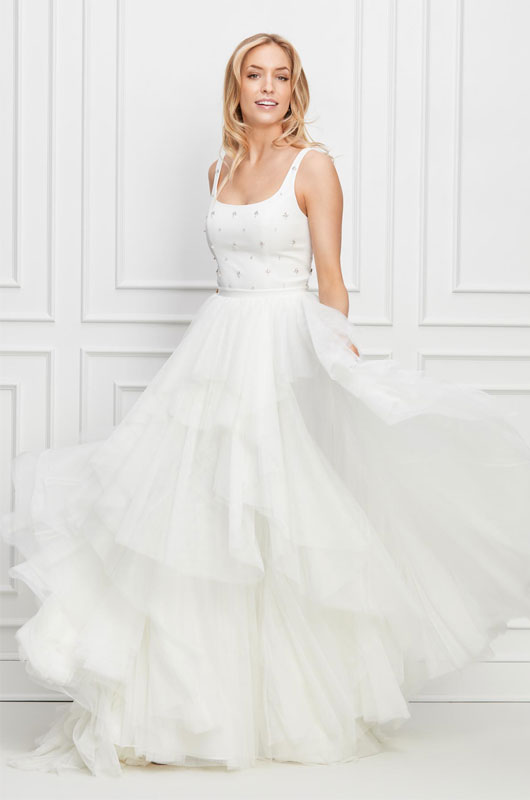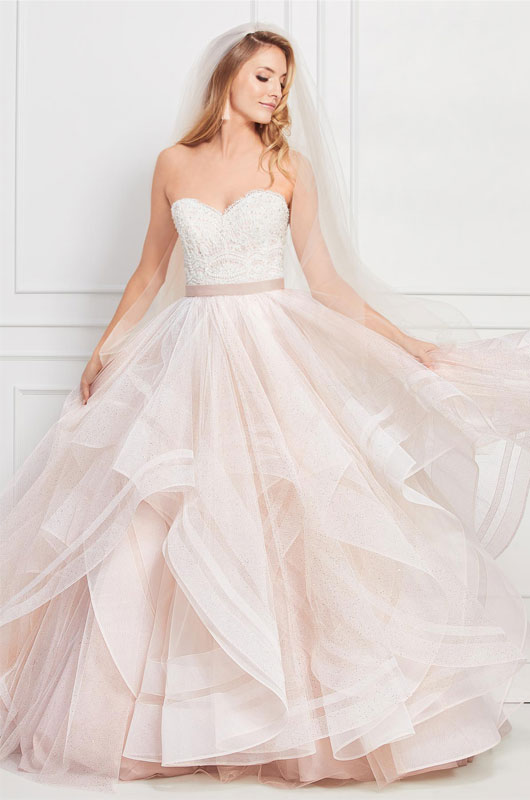 Forget covid-19, love and weddings go on! And 2021 collections bring the most exciting bridal looks for brides to try. With more customizations than ever before and styles that feature unique and couture inspired looks with prices that are not quite as hefty as those couture designers, brides have so many beautiful options to choose from.
Styles shown above are available at Ivory & Beau in Savannah, Georgia.
ABOUT IVORY & BEAU
Ivory & Beau is a bridal boutique that also specializes in wedding planning and floral design. Nestled near downtown Savannah's historic district, it's truly a one-stop wedding shop for brides and couples known for its beautiful dresses, unique wedding and floral designs, and fun laid-back personality on social media. Ivory & Beau exudes fun and happiness in all that it does from shopping for the dream dress to planning a no-fuss wedding day to creative floral arrangements to wow guests.
(from left to right) image 1: Made with Love | image 2, 5, 6, 9: Maggie Sottero | image 3, 4, 7, 8: Sottero & Midgley | images 10 and 11: WTOO