The Historic Franklin Theatre in Franklin, Tennessee, provided an ideal backdrop and striking ceremony venue for a film enthusiast couple's 60s-inspired proposal and wedding. In true movie fashion, this mod-inspired wedding shoot captures a couple's whirlwind romance from the moment she said "yes" to the place where they finally said "I do."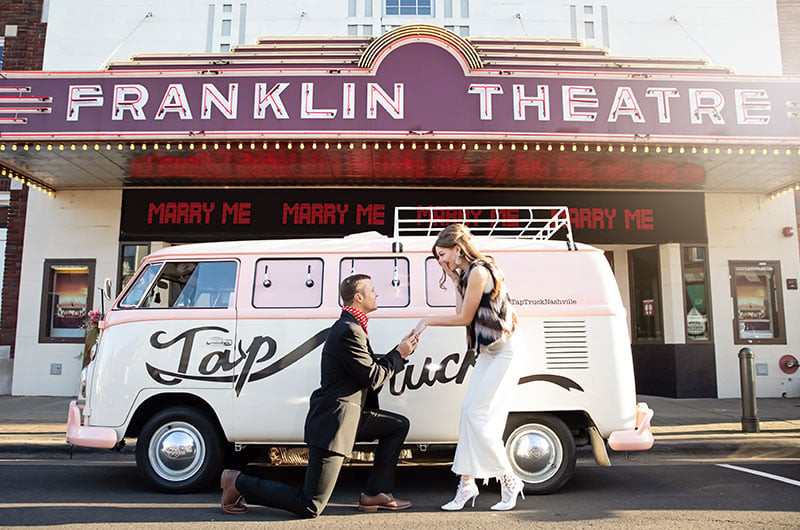 A classic VW pink love bus from Tap Truck Nashville, illustrated with sweeping whimsical typeface, effortlessly set the scene for a retro-inspired proposal. With the lights from the Franklin Theatre's digital marquee displaying "marry me," the groom got down on one knee.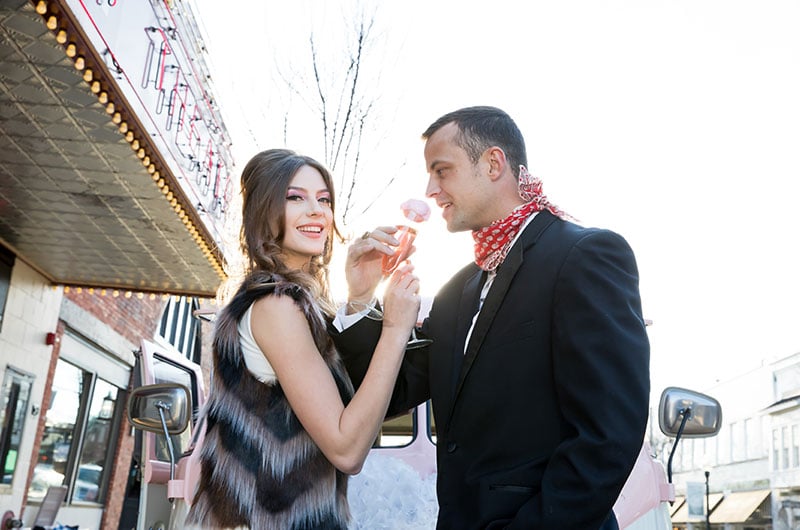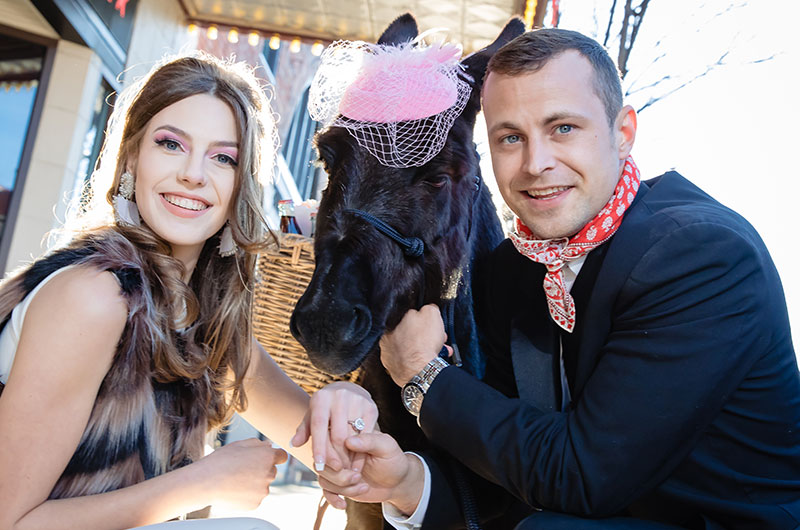 The couple enjoyed effervescent pink champagne, lightly topped with Pandy Cotton Candy, for a celebratory toast as sweet as the occasion. A spontaneous visit from Kate the Beer Burro turned into a memorable photo-op. Carrying popcorn from Pops Kernel, this beer burro is versatile with refreshments and snacks and makes serving every movie-goer's favorite treat a delightful conversation starter.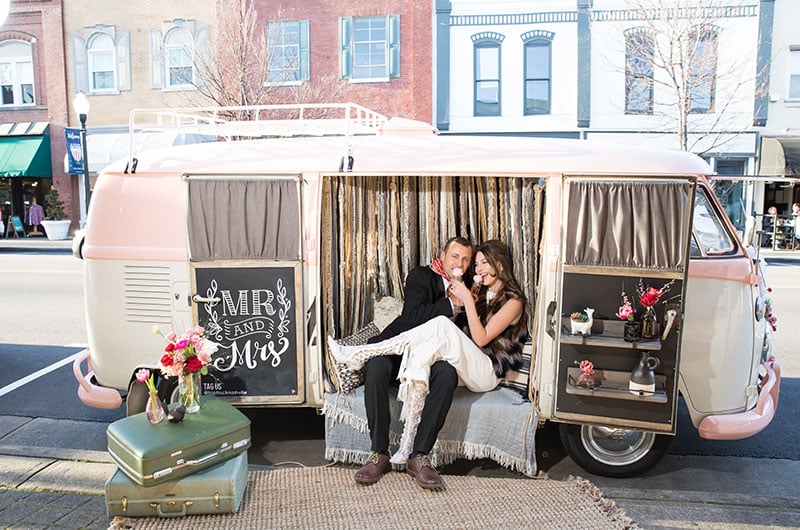 The couple leaned into Tap Truck Nashville's interior while still sipping on their bubbly topped off with a puff of cotton candy. Its shimmering silver curtains, delicate floral arrangements, and vintage luggage created a chic ambiance for a retro engagement photoshoot.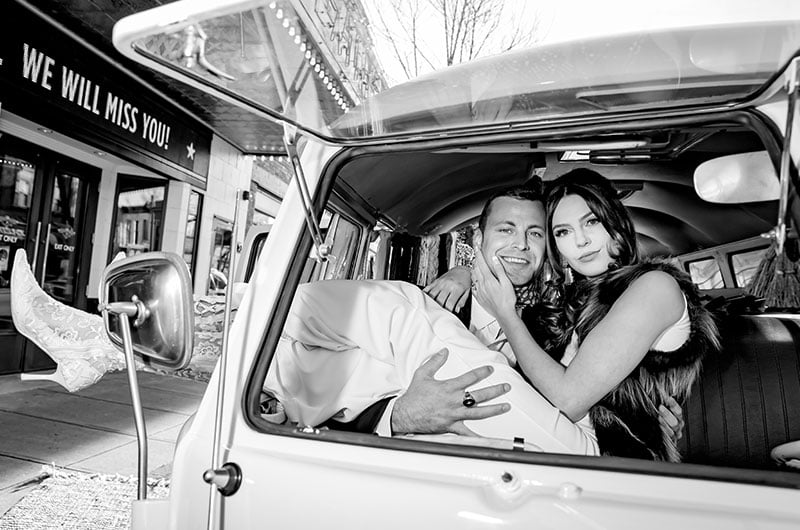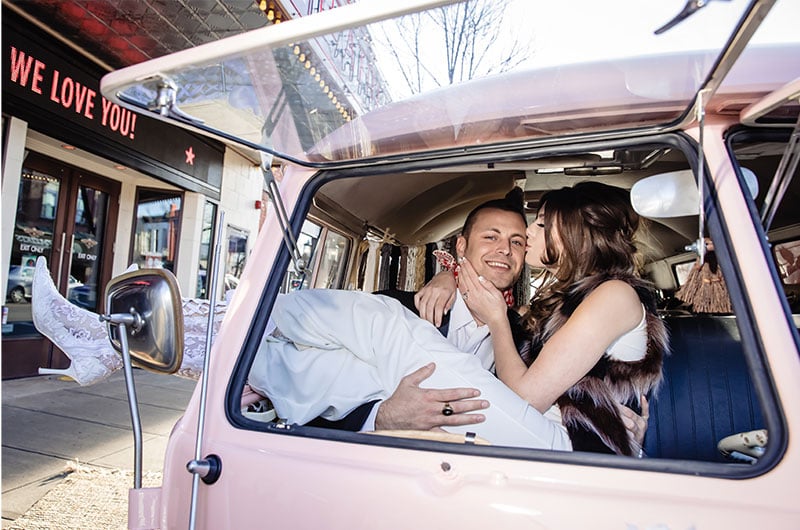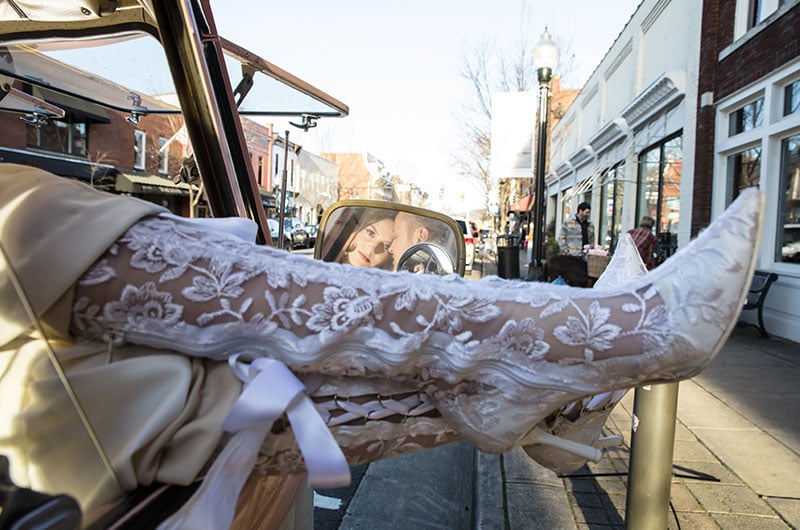 Those of us still obsessed with Anya Taylor-Joy's wardrobe in The Queen's Gambit will find inspiration from this bride's mod-inspired engagement outfit. A shaggy fur vest thrown over an elegant white jumpsuit, styled with vibrant eyeshadow and voluminous hair, exuded cool confidence characteristic of 60s fashion. Dangling out of the Tap Truck window, detailed lace boots from House of Elliot were a fashionable statement piece that add a kick of vintage flair to any outfit.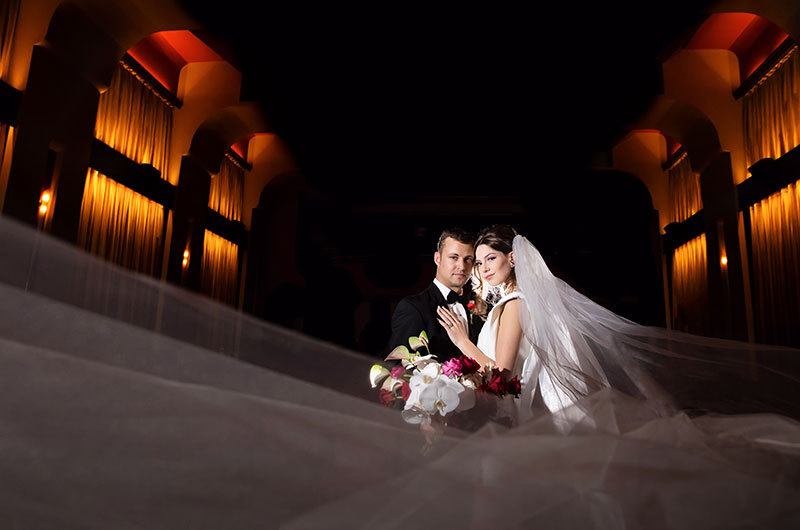 With red-carpeted floors and stately curtains, a vintage movie theater ceremony venue transformed movie-lovers into movie stars.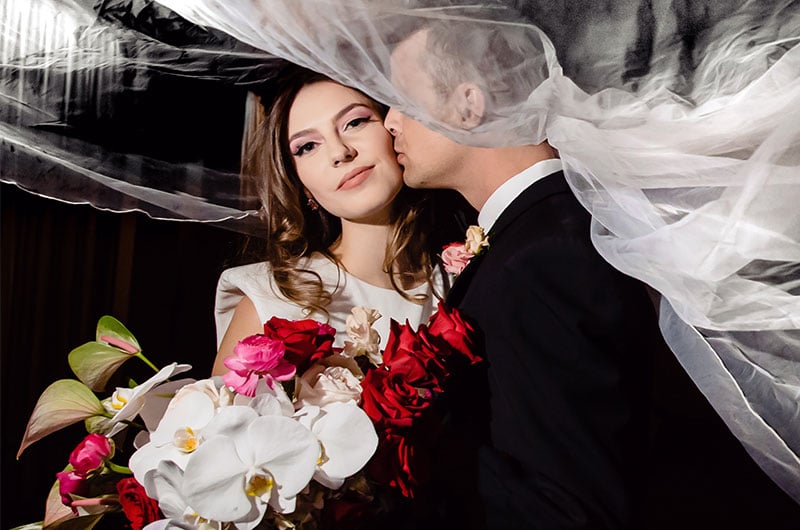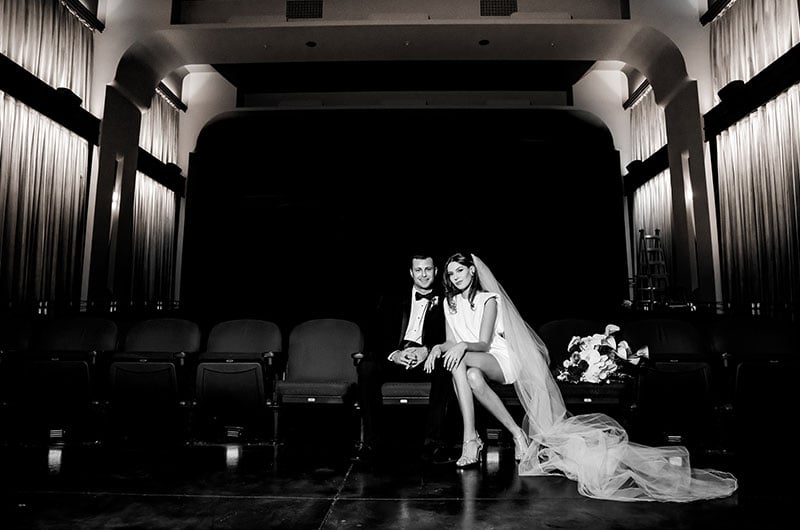 The bride's mod mini wedding dress, paired with a sweeping, elegant veil, hearkened 60s classic cinema. A stunning bouquet of orchids, hydrangeas, roses, and other botanicals, designed by Willow and Vine Floral, enhanced the venue's dramatic, stately atmosphere.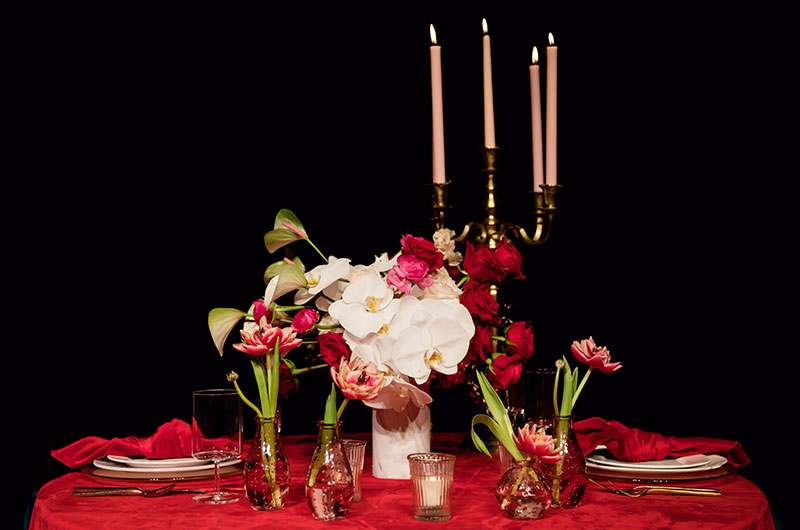 The bridal bouquet seamlessly transitioned into a sophisticated centerpiece. When seated at a table draped in red tablecloth and set with gold flatware and candelabras, newlyweds and guests alike will feel transported to a film awards show.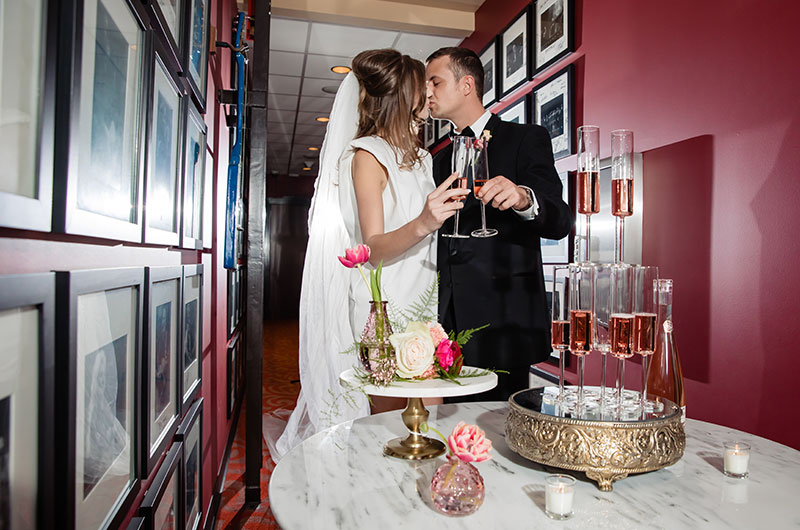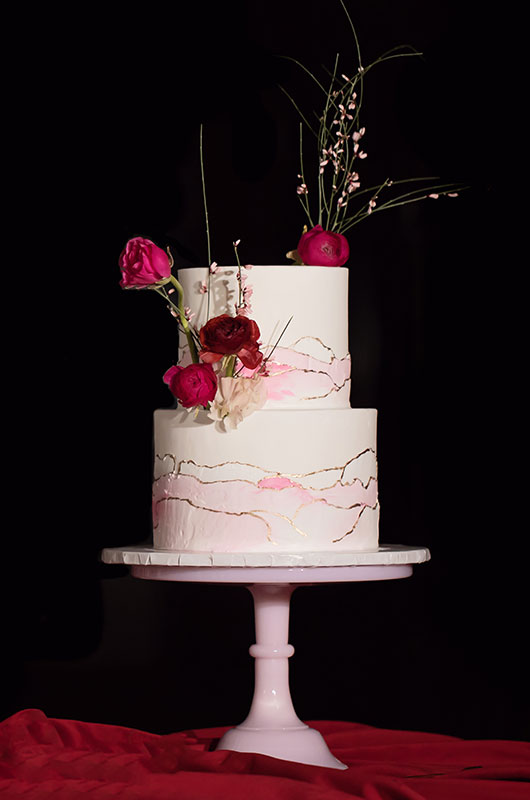 The bride's mod-inspired wedding dress carried the class and poise of the ceremony into the reception. With a gallery wall of their favorite film figures behind them, the newlyweds shared a toast from a glimmering champagne tower, accented with a delicate color-coordinating tulip table. Soon after, they cut into an elegant tiered fault line cake adorned with richly pigmented flowers.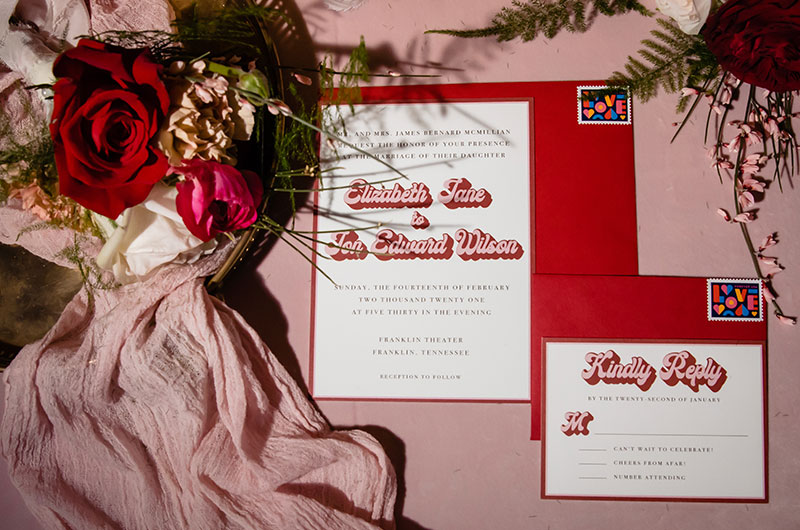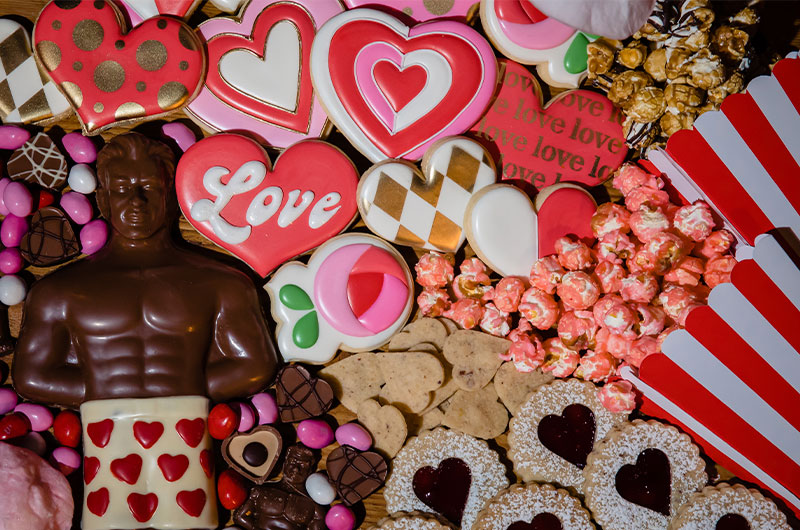 Displaying this decadent assortment of chocolate, popcorn, and vintage-shaped heart cookies from Laura's Cookie Studio added a delicious design element to reception table decor. Invitation suites from Hanny Lou Designs coordinated with the reception's pink, red, and white color palette, and the bubbly, 60s-inspired lettering complements the couple's retro-themed wedding.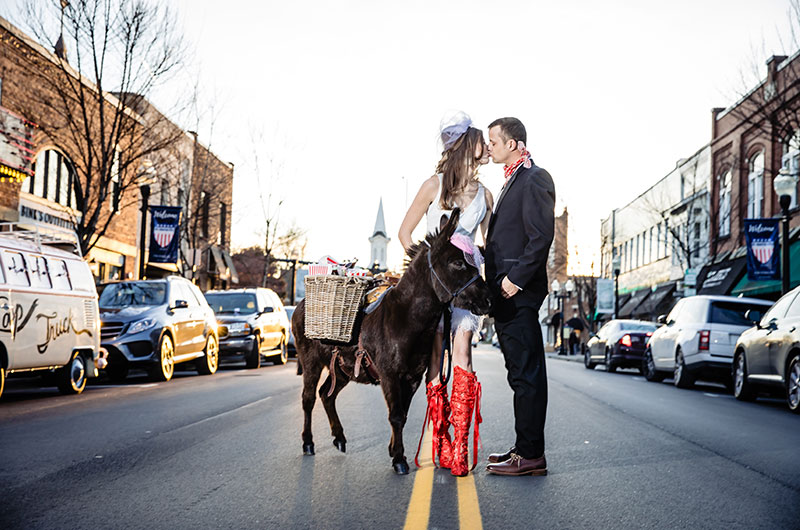 The bride's quick outfit change into a fabulous fringe mini dress and short veil carried her mod-inspired style from engagement to ceremony to final farewells. Bold red boots complemented the groom's red bandana and created a relaxed vibe for post-ceremony outdoor photos. The return of the beer burro serving up movie treats nodded to the couple's engagement in the same location.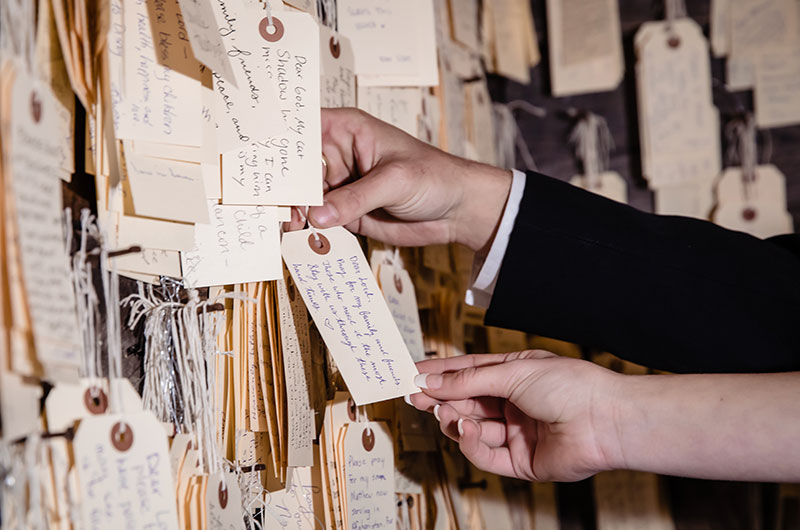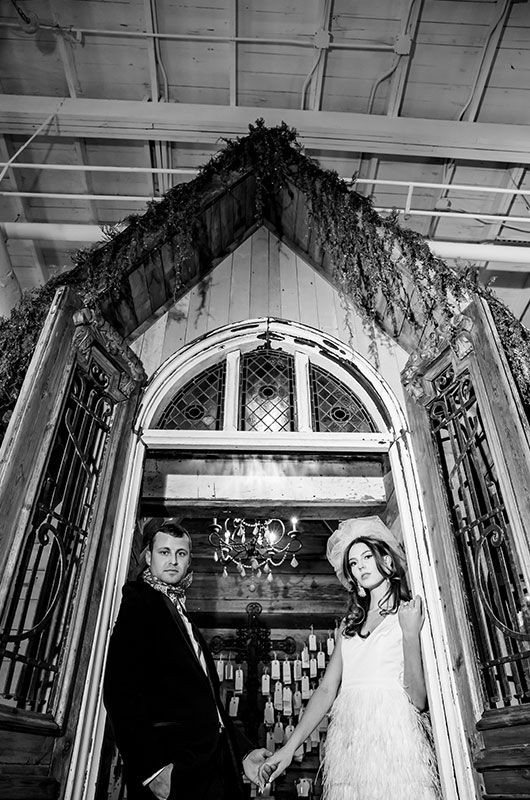 Soon after the couple progressed to a nearby chapel for their own private, spiritual celebration. Thinking of all those who could not be with them on their special day, they wrote heartfelt prayers of thanksgiving and blessings for their loved ones and hung them alongside the countless other prayer intentions of their community.
At the Historic Franklin Theatre in Franklin, Tennessee, location, design, and fashion coalesce into a mod-inspired wedding shoot for a film enthusiast couple. From a streamline mini wedding dress to a pink love bus, retro accents transform this venue into a classic setting for a 60s-inspired proposal and wedding that's fit for the big screen.