This elegance-inspired shoot of modern beauty at The Elms Mansion in New Orleans Louisiana gives us a glimpse of a fashion-forward, natural bride who managed to seamlessly merge two completely different wedding day looks. Her varying styles of whimsicalness and sophistication defined this bride's personality and graced the cover of our Fall 2021 issue.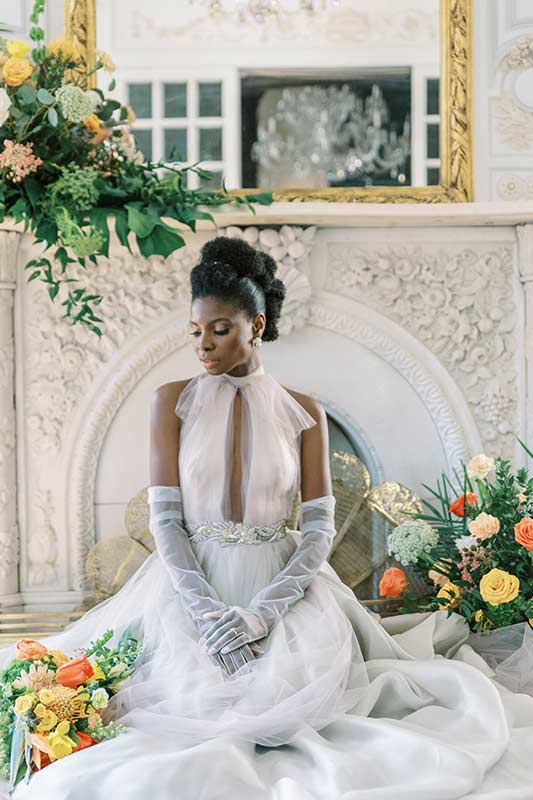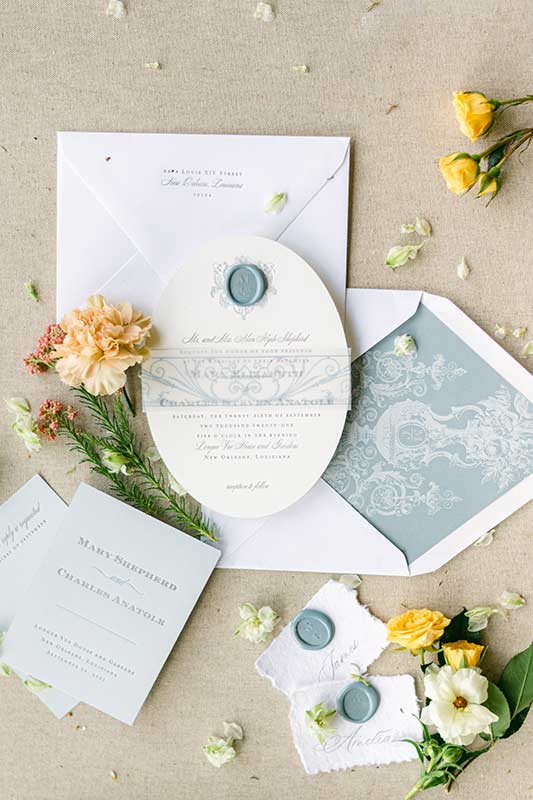 Against the backdrop of the historic Elms Mansion's elegant, Italianate architecture, the big day was anything but ordinary. From floor-to-ceiling windows that provide ample natural light and beautifully carved floral crown molding to the marble fireplace and 24 karat gold sconces, the venue makes a statement of its own while still allowing the bride to shine.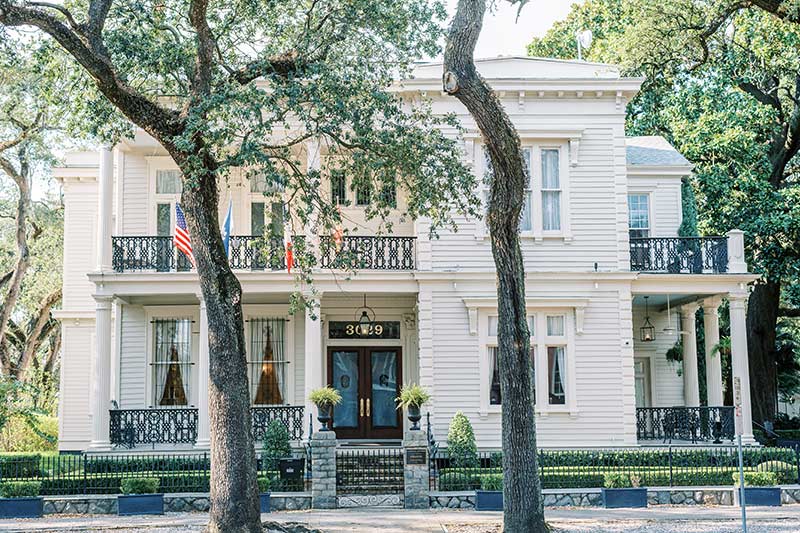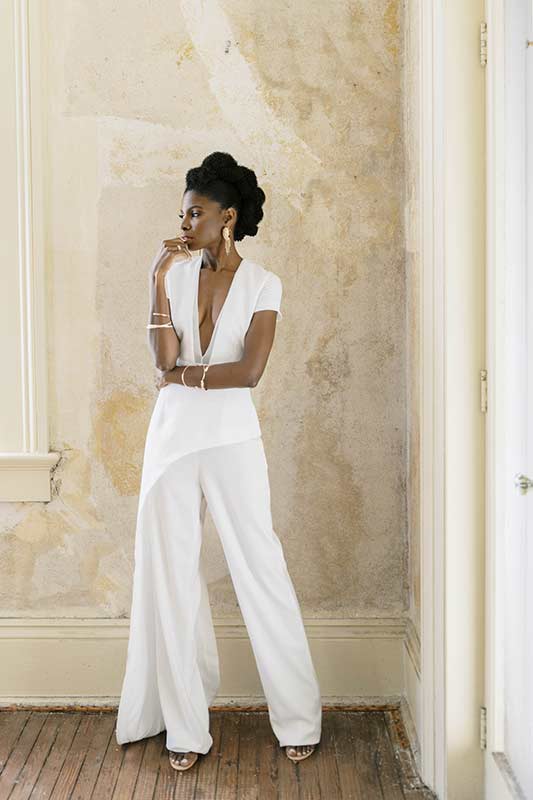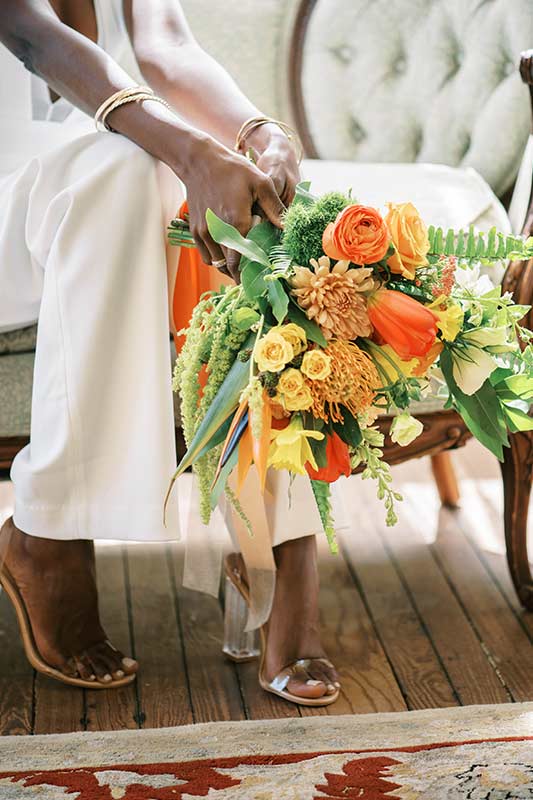 Stylist Dara Adams dressed the bridal model, Harriet Jack, in an ethereal silvery, satin ballgown with a tulle overlay, matching over-the-elbow gloves, and statement belt by Carol Hannah which was the perfect, playful counterpart to the polished pantsuit with a deep V neckline and long, asymmetric peplum designed by Fifth & Welshire. Channeling the "it's your day, you can do what you want" mentality, these two different looks show how brides can have the best of both worlds and be unapologetically unconventional when it comes to bridal fashion.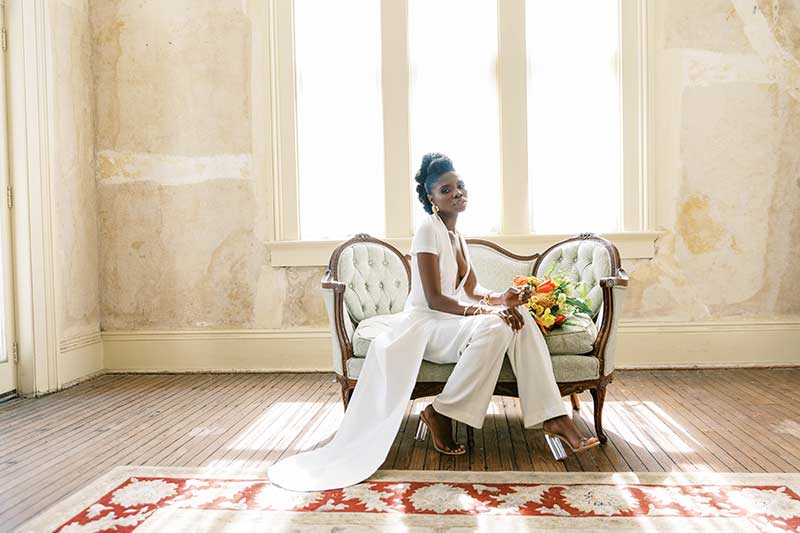 Artistry by Camille created a minimal makeup look that focused on glossy lips and highlighting Harriet's natural beauty that paired well with the simple gold jewelry, and a bubble mohawk braid accessorized with pearl clips done by Tiri Abril. The completed looks were both absolutely jaw-dropping with the bride looking stunning with the illusion of legs for days thanks to her Bella Belle transparent block heels.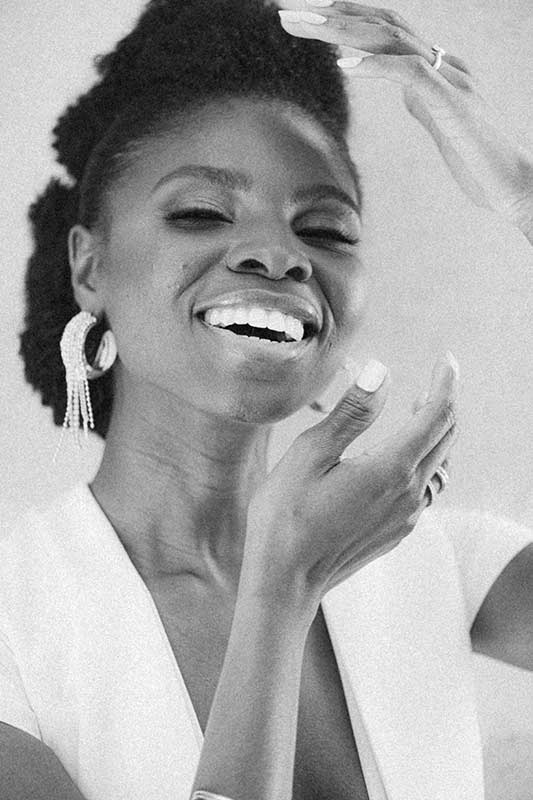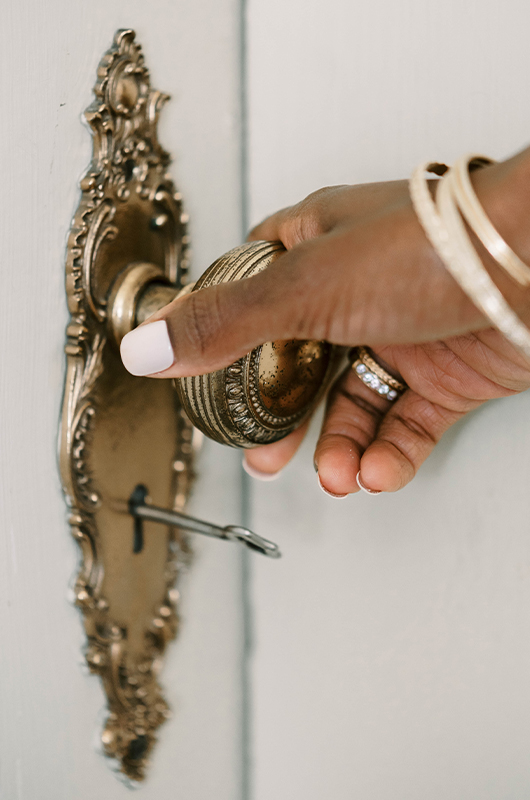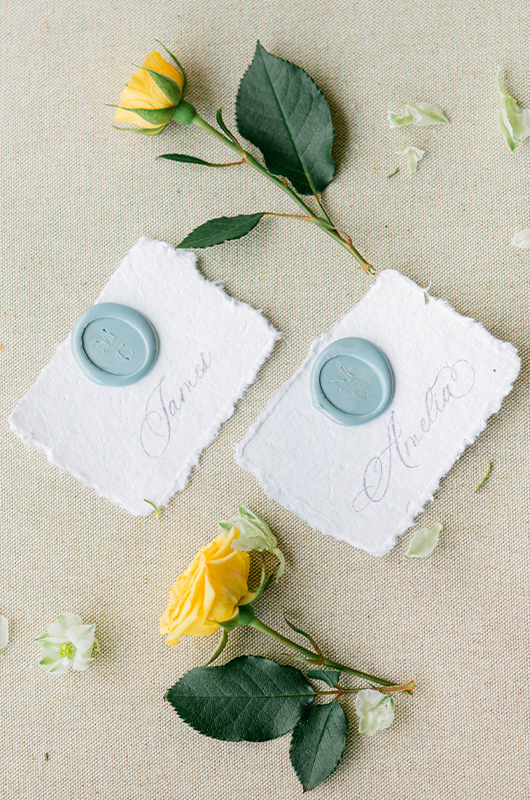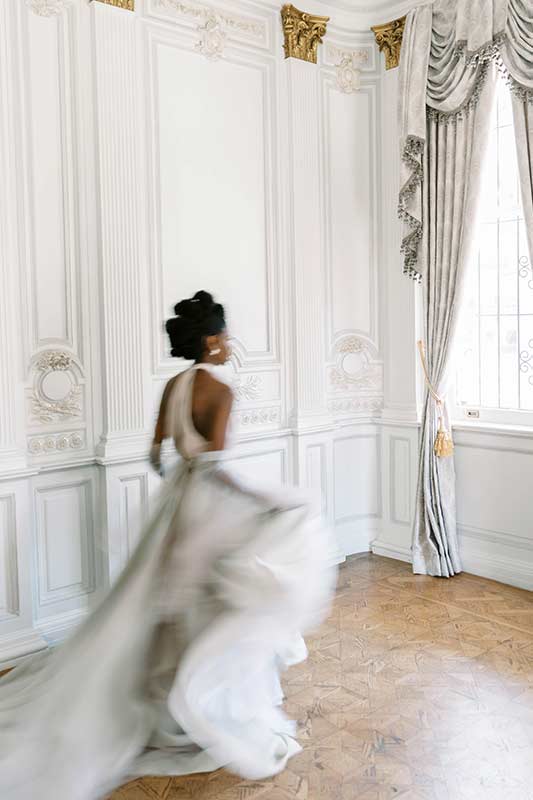 Bright, sunset-toned florals complemented the golden, neutral tones of the venue. For the something blue, the Eglantine Rose invitations showcased a trendy, bridal blue monogrammed wax seal, calligraphy, and intricate lace pattern throughout the suite.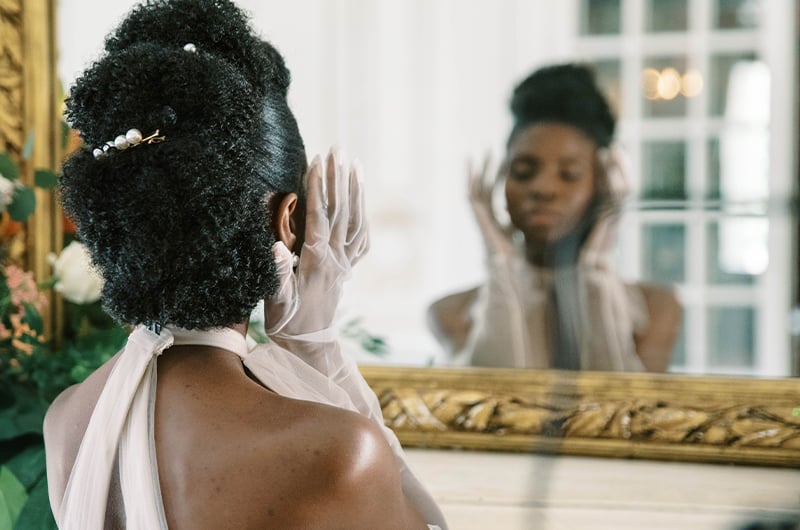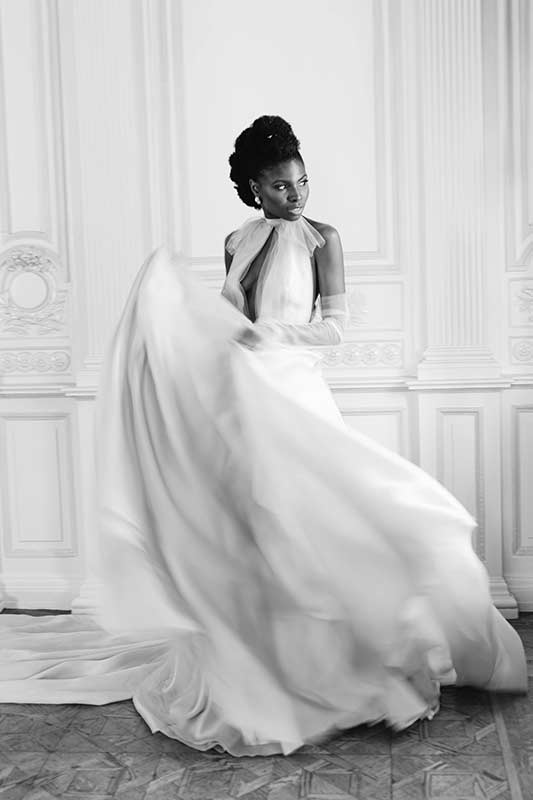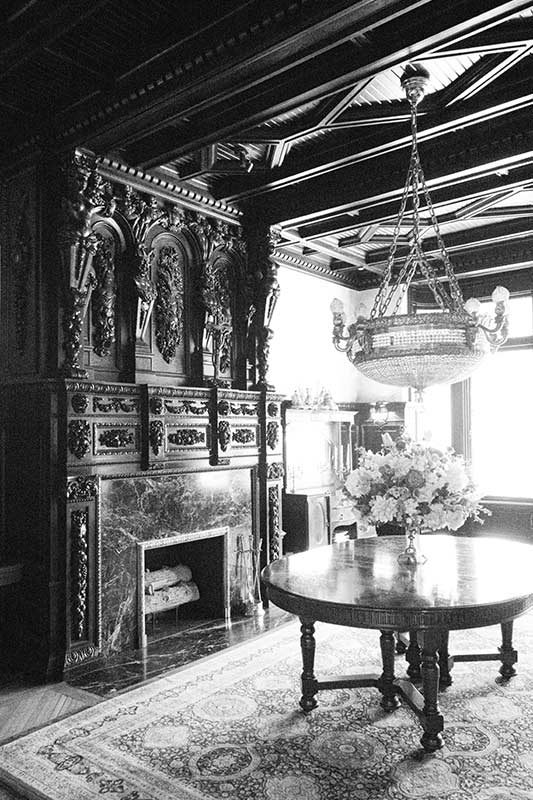 While historic venues may be overlooked, this modern beauty at The Elms Mansion in New Orleans Louisiana proves that there is certainly something to say about their charm and versatility. Whether you're a bride with class and elegance shining through, or you want to embrace your more whimsical style, these memorable properties may be just the right place to host your big day.