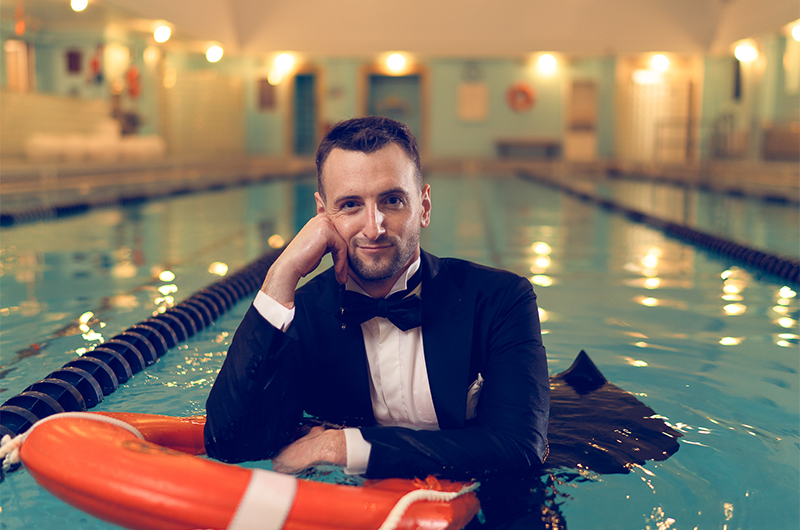 Grant McNamara – Founder of G ALXNDR
Helping Brides and Grooms Celebrate in Style.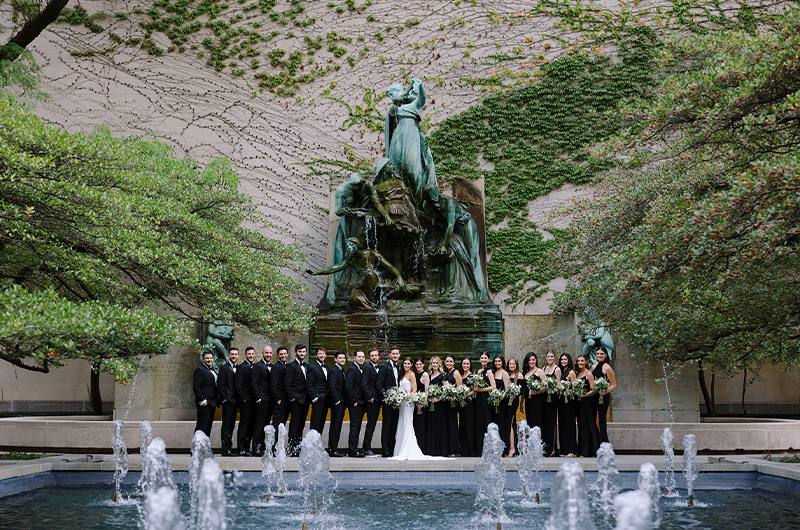 Want to learn how to have a more stylish and less stressful wedding? Learn about bespoke day of wedding styling and beyond the altar.
Curious to know how Wedding Stylist Grant McNamara Helps Brides and Grooms Celebrate in Style?
It's not just about the bride anymore. As men are stepping up their game and becoming more interested in their overall appearance, their wedding day is an important milestone and a time they want to look and feel their very best.
We reached out to Grant McNamara, an emerging Chicago-based stylist and tastemaker who is making his mark on the fashion world through his unique approach to wedding styling, retail, and custom clothing. He's dressed brides and grooms around the world, styled celebrities for major events, and created bespoke clothing with accessories hand-made across Europe.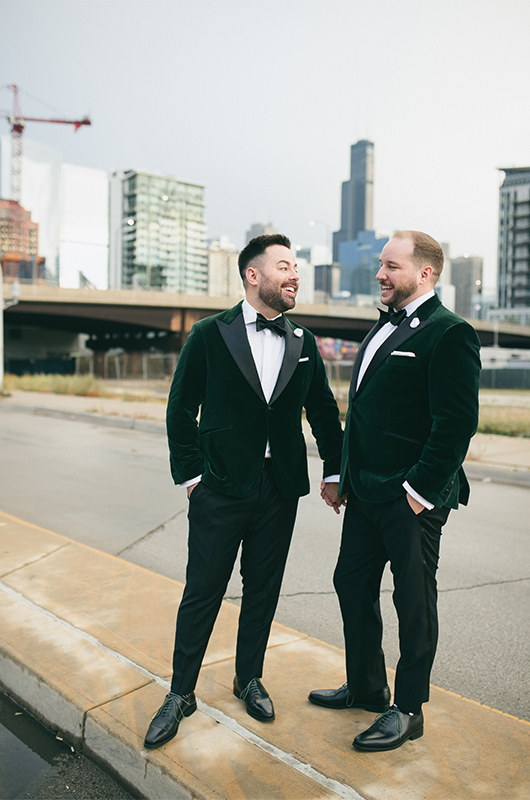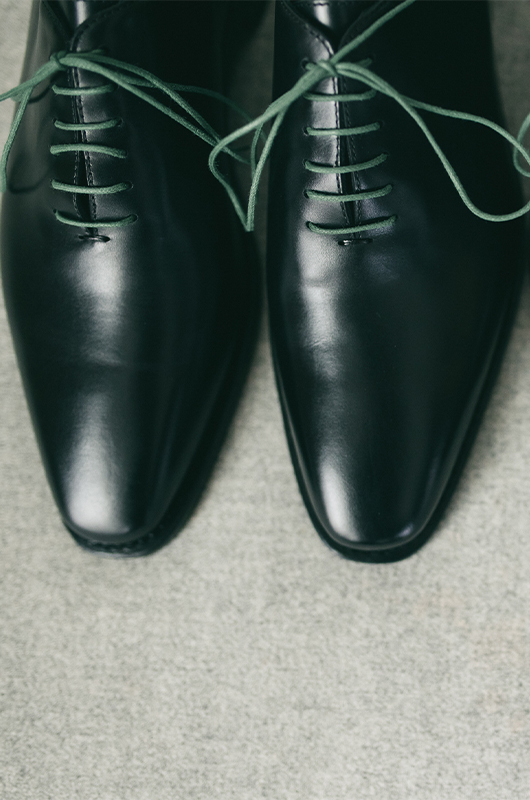 For McNamara, wedding day fashion is all about collaboration: "Stars have wardrobe teams, and on your special day, you should too."
McNamara applies his signature five pillars—versatility, timelessness, individuality, enjoyment and ease—to his work, and most recently, to his new brand, G ALXNDR. The platform fuses McNamara's most popular services—personal and day-of-wedding styling, wardrobe coordination, image consultation, and custom clothing—and offers in-person, virtual, and on-call experiences.
Whether it's a tuxedo for the big day, a new look for a new season, or personalized shirts and coats, G ALXNDR is a one-stop destination that brings style, modernity, and personalization to every part of your image.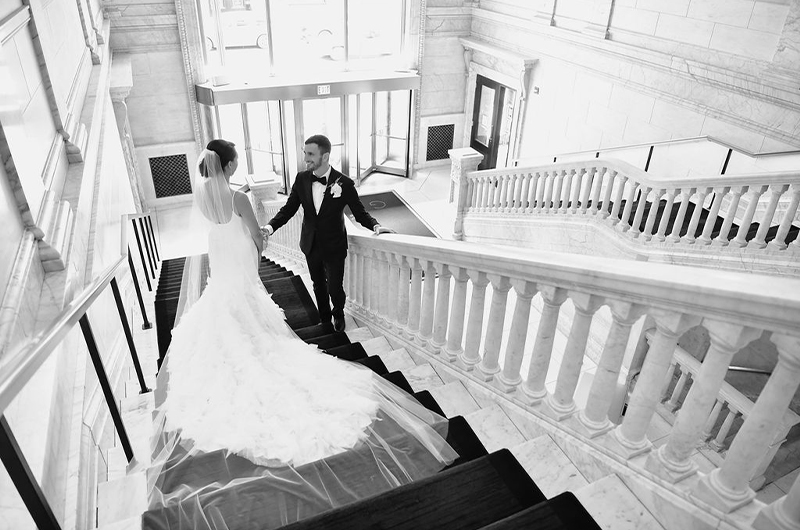 Q.
Do most males or grooms seek your styling services or their partners?
A. For weddings, it's almost always their partner or their planner. For personal styling, it's typically the individual that would be the client. I am big on the idea that you can't help someone that doesn't want to be helped, so what we do and provide would be most valuable to someone that recognizes they want to improve their style and life.
Q. What day-of styling services do you offer?
A. Our styling team attends to you and your wedding party, while your wedding planner can focus on behind the scene issues, your photographer can capture your day-of joy, and your wedding party can stand by your side, looking great and having a great time. From steaming to wardrobe malfunction service to portrait styling, our services allow other wedding professionals to do their job while ensuring the wedding couple are well taken care of. McNamara's expertise proves that the big moments feel all the more special when the little details are in order.
Q.
Tell us about your wedding day and your style for your big day.  Anything you would do differently?
A. I mixed my personal style with the needs of my entrepreneurial side that was screaming, "marketing opportunity!" and came up with a twist on a popular request for the ceremony and a show-stopping, sleek outfit for the reception. I elevated my most common request from grooms, the blue suit, by choosing two stunning blue Scabal fabrics and designing a three-piece suit whose double-breasted waistcoat underneath was a lighter shade with lots of texture. So many guys have since requested that look for their own wedding! For the reception, I chose another Scabal fabric for a unique dinner jacket that I wore with black formal pants with a navy stripe down the side. My wife got my tie for me all the way back when she studied abroad in Italy during our university years. I designed the shoes for each outfit. I wore (almost) my normal amount of jewelry and socks from my brother and sister-in-law's wedding sock company, No Cold Feet. From a design and look perspective, I wouldn't change a thing.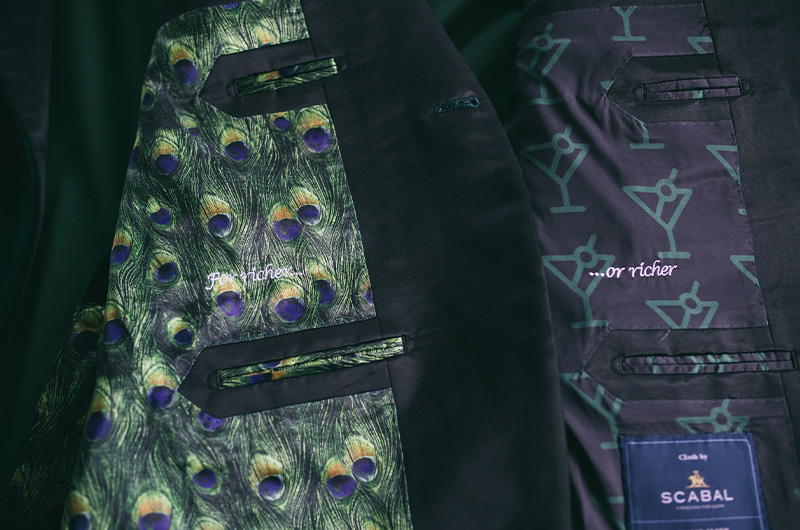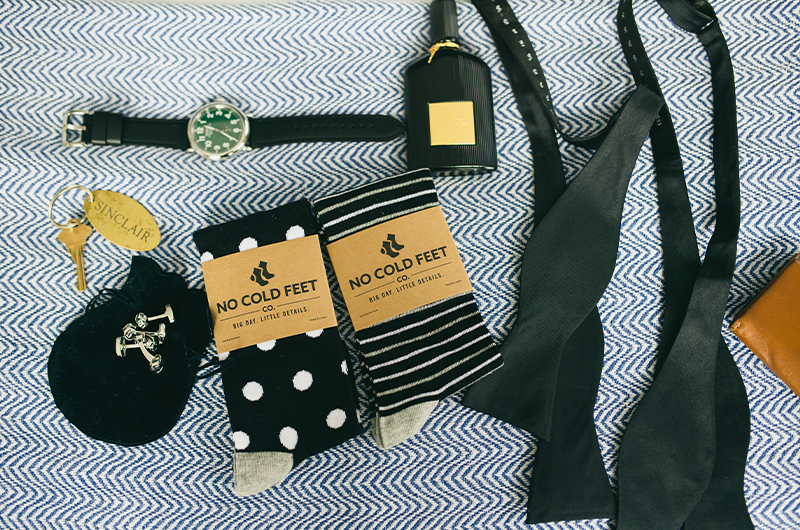 "We strive to empower grooms to be involved and make decisions, and that starts with letting their personality — the one their fiancé fell in love with and their friends and family know them for — come through their style."
Q. Best advice you would give to a groom? Wedding couple?
A. We strive to empower grooms to be involved and make decisions, and that starts with letting their personality — the one their fiancé fell in love with and their friends and family know them for — come through their style. If they hate tuxedos, wear a suit! If they hate being traditional, wear green or red. Being yourself makes you confident. I give the same advice to couples in general. Choose what's most important to you, not what's expected of you. The little details that represent you as a couple make for something special and memorable.
Q.
What is your favorite thing about being a stylist?
A. Providing such a high-touch service, paired with the vulnerability and personal nature of someone's style and appearance, has created truly genuine and deep relationships with my clients. Seeing clients' progression in their personal style journeys is an absolute pleasure each day.
​​Q.
Are there any big-name celebrities you have styled/worked with in the past?
A. We work with lots of pro athletes across the NBA and NFL, national sports media personalities, gentlemen appearing in The Bachelor franchise, and a lot more we wish we could mention. Be on the lookout for some really fun work with the NBA Champion Milwaukee Bucks.
Q. What would be your dream wedding/event/individual to style and work with?
A. On the wedding side, we'd absolutely love to work with Marcy Blum, David Beahm, Mindy Weiss, David Tutera, Preston Bailey, Lisa Vorce, Bryan Rafanelli, and Colin Cowie. Outside of weddings, as G ALXNDR continues to become one of the more sought-after styling groups, I personally would love to work closely with the most in-demand photographers, designers, and celebrities for some epic nationally and globally published shoots.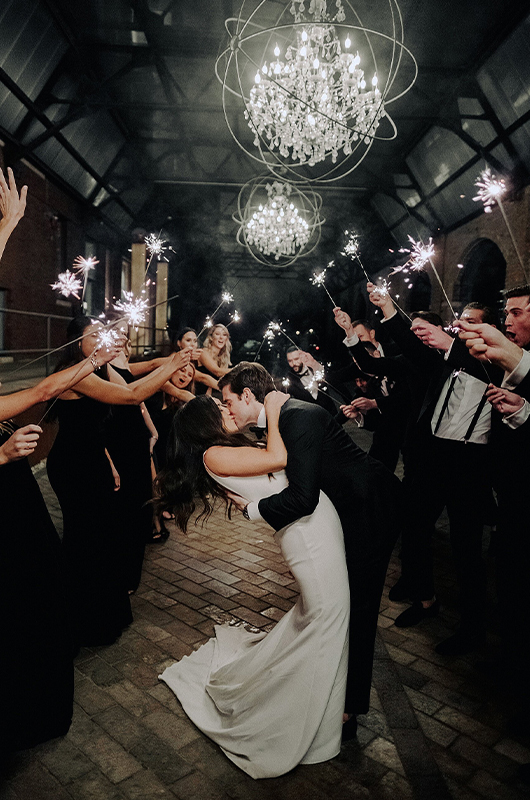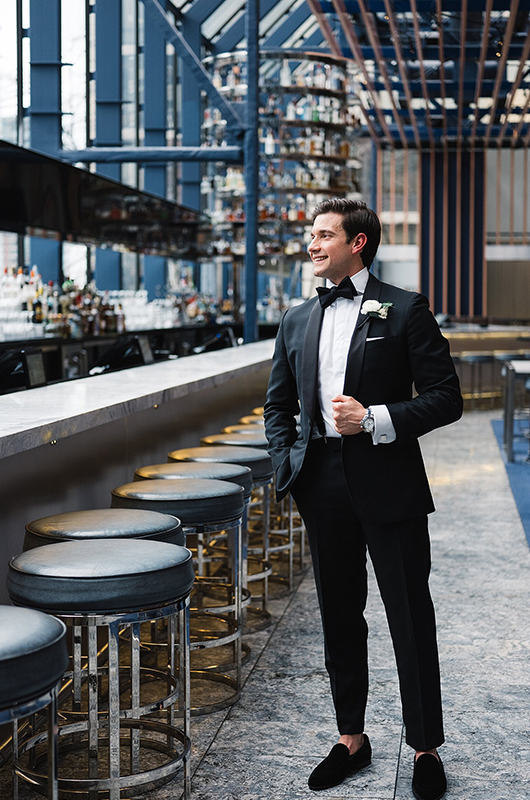 Q. What do you think most men are surprised to learn from you?
A. That style and caring about what they look like is actually a lot of fun, and that it doesn't always mean dressing up or being uncomfortable.
Q.
What are the 3-5 most essential items in a male's wardrobe?
A. This isn't male-specific because I think it works for everyone:
A perfectly-fitted blazer

A perfectly-fitted dress shirt in whatever color is most flattering

to your skin tone
A clean white t-shirt
Stylish, unique underwear (leather jacket or light topcoat are my favorites)
One go-to pair of denim that makes you feel like you're rockin' it
Q.
Any other words of wisdom?
A. I ask every client this question because it is paramount to the process: "What would you do if you knew you couldn't fail? When you surround yourself with your dream team, it allows us to say, 'Okay, we see you, and we'll make it happen. You don't have to worry about a thing.'"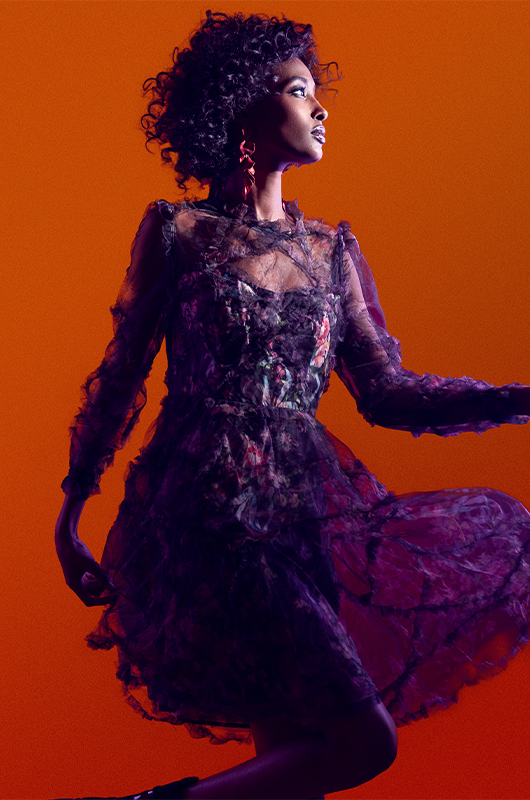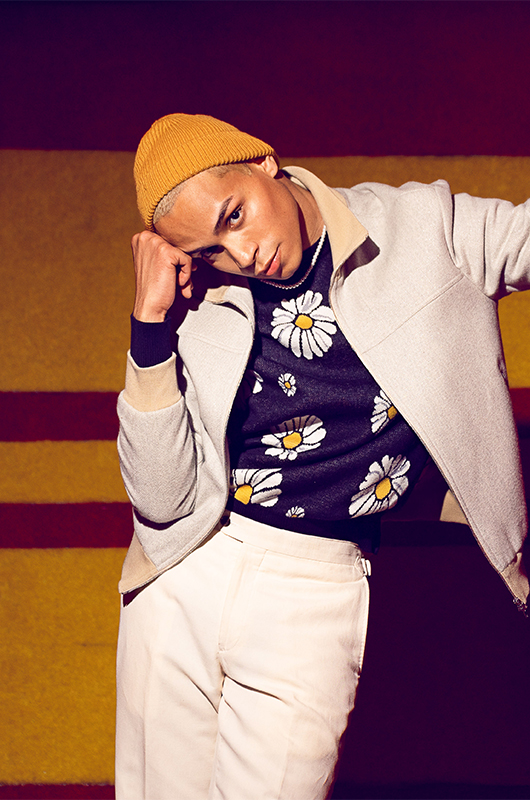 Learn more about how Wedding Stylist Grant McNamara Helps Brides and Grooms Celebrate in Style and beyond the altar by visiting – G ALXNDR.