The Southern Bride Magazine Winter 2021 issue is here to bring all kinds of inspiration for the New Year. This stunning cover features bold colors and sophisticated interior design that put a striking modern flair on a bride styled in classic winter white. Our Winter 2021 cover sets the tone for a styled shoot inspired by setting and shows how the interplay of nontraditional design and fashion elements can glimmer with sleek winter elegance.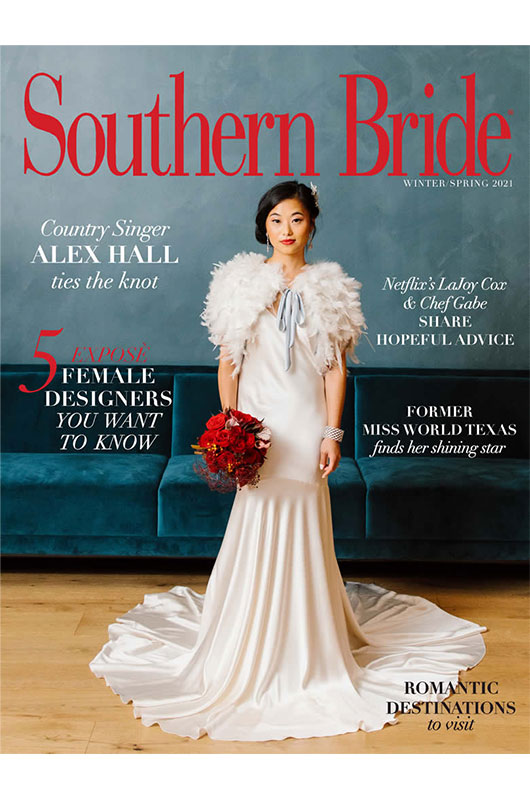 Located on Music Row, the Virgin Hotel in Nashville, Tennessee, is made to stand out, dazzling visitors with its chic bohemian vibe. Saturated ruby red and textured, moody blues pop against dramatic architectural details, creating a simultaneously funky and refined aesthetic.
Come behind the scenes of this fabulous cover and be sure to get your copy of our Winter 2021 issue to learn about diverse female designers forging their way in the industry, read about how country singer Alex Hall tied the knot, and get some Netflix-star expert advice (with an irresistible recipe!) from Chef Gabriele Bertaccini and photographer LaJoy Cox.
With its dramatic red-carpeted staircase, sleek gold railings, and a dark and smoky exposed-brick wall, the Virgin Hotel is dripping with decadent design elements. A sultry satin wedding dress paired with diamond drop earrings, a diamond bracelet, and a bold red lip only enhances this ritzy aesthetic.
Much like the Virgin Hotel's Shag Room, which boasts striking blue walls and a coordinating blue velvet couch, a pearl floral hairpiece and a white-feather fur fastened with wintry blue satin challenges the classic aesthetic. Inspired by interior design, classic fashion is infused with trendy accents, putting the modern woman's twist on old Hollywood glamour.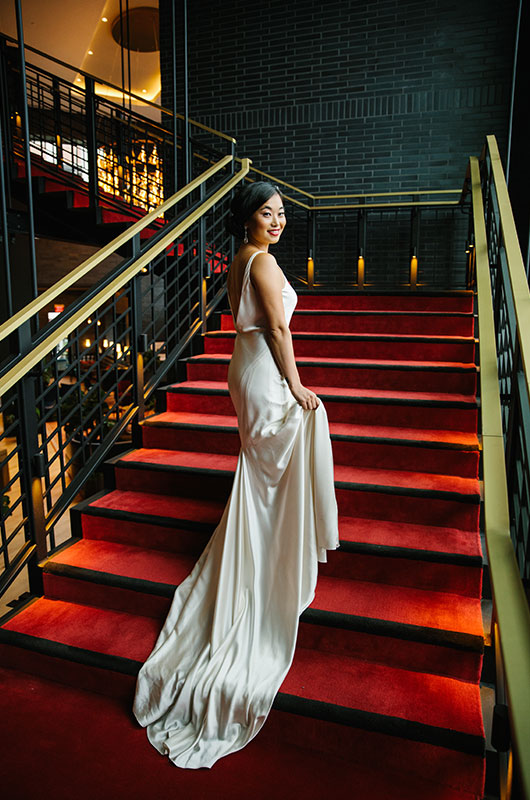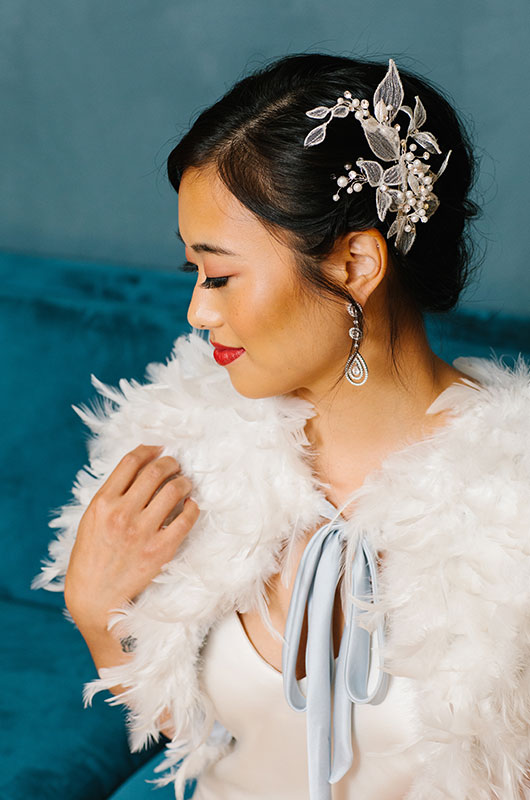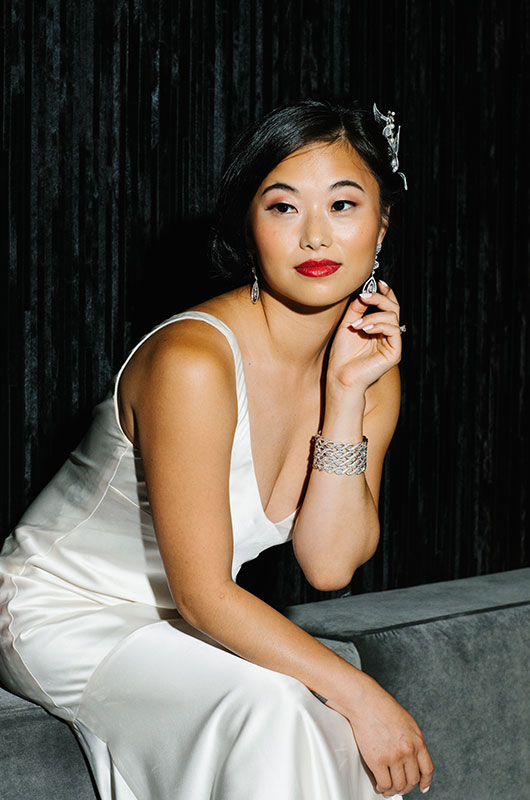 The hotel's rooftop pool, fit with a bar serving up signature cocktails, is decked out in quirky retro details. A short lace dress with a deep V back, complete with an airy veil and burgundy ankle-strap heels, sharpens the playful energy of red curvy pool chairs and cherry-striped umbrellas. The rooftop pool's casual, retro-relaxed vibe spills over into views of Nashville's urban landscape, brimming with lively restaurants, shops, and cultural amenities.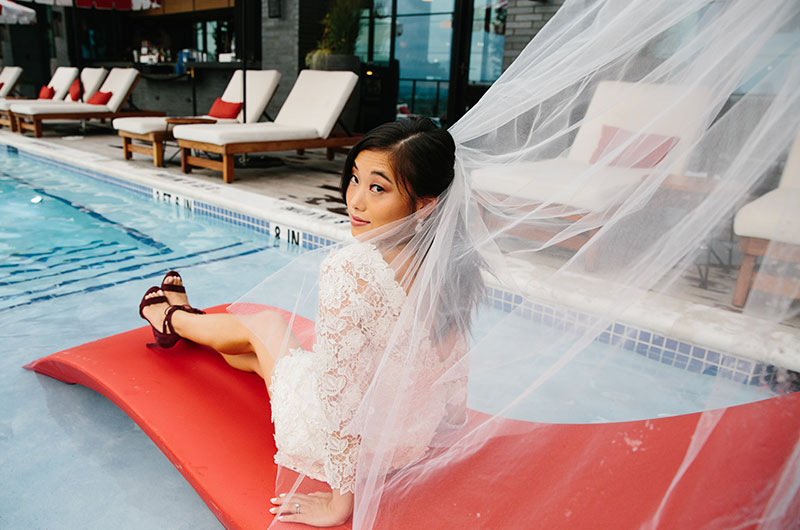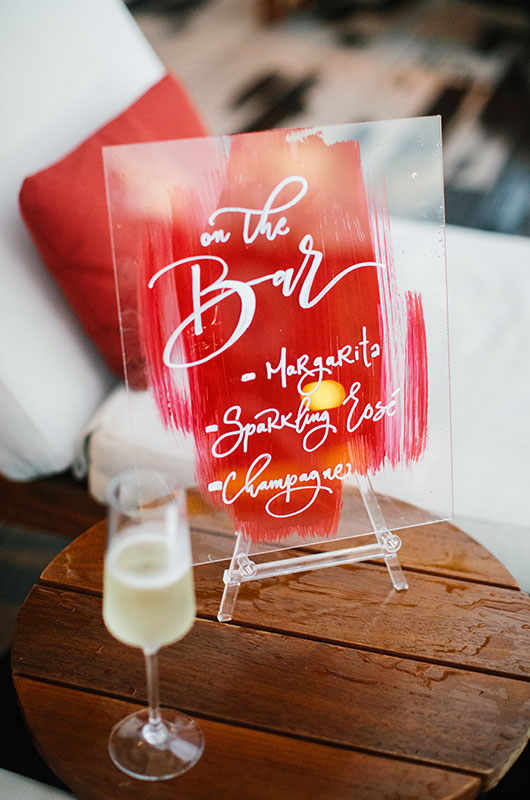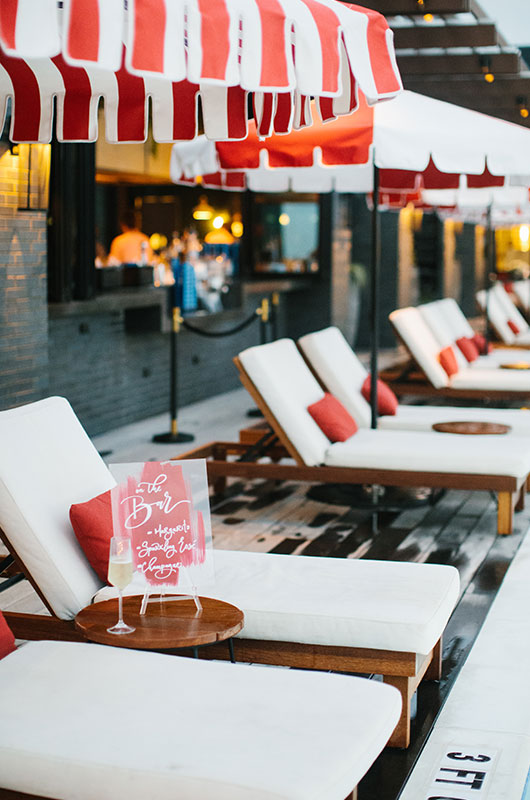 Light and bright common spaces energized with geometric patterned rugs offer up a chill game of pool and an effortlessly relaxed vibe that's characteristic of Nashville. A neutral cowboy hat and a bohemian sheer lace dress play up the hotel's breezy, carefree atmosphere.
The glowing lights of Nashville's cityscape are magnetizing, just steps away from the Virgin Hotel, which is planted prominently in the city's buzzing center. The bride's sheer bodice adds allure to a long wedding dress with a sweetheart neckline, and her bouquet and newlywed smile illuminate the dusky sky.
A colorful bridal bouquet coordinates with eclectic light fixtures and nods to the suite's rich, eye-catching design. Barefoot on the bed, the bride shares the Virgin Hotel's casual stylishess, amplified by the return of cool blue walls pulsing with energy.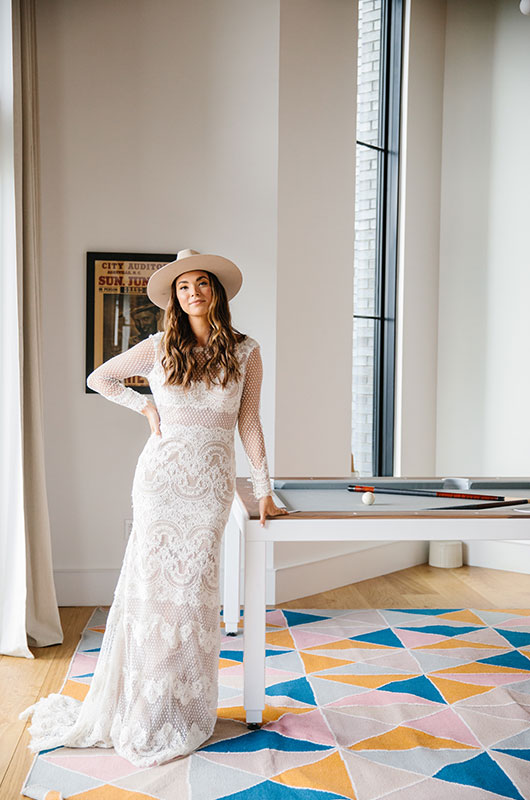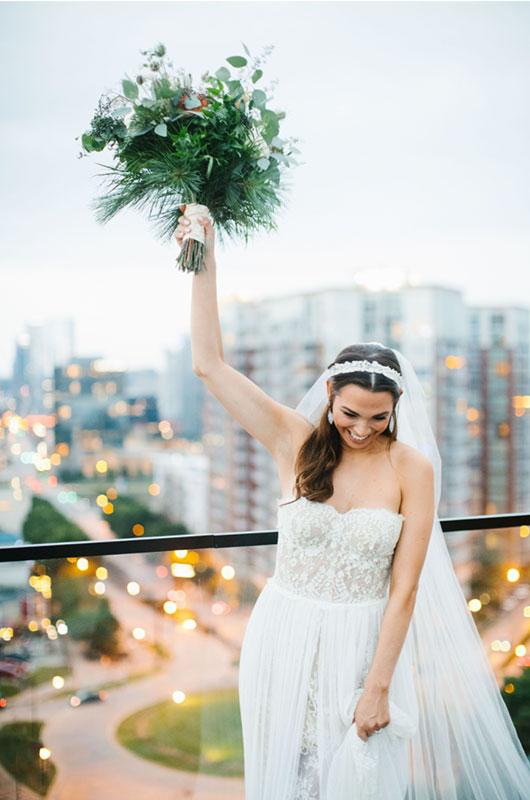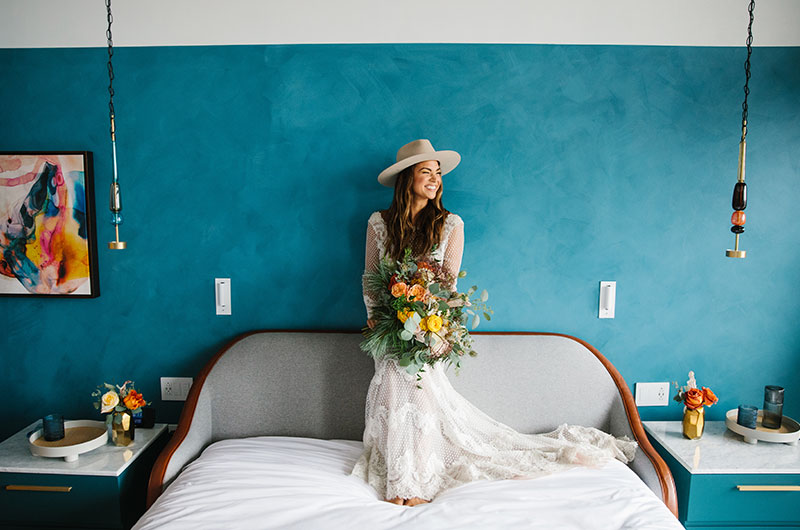 Equally classic and contemporary, the Virgin Hotel in Nashville displays vibrant versatility in its architecture and design. This styled shoot showcases both glamorous fashion and bohemian style and reflects the spectrum of inspiration for winter and spring weddings that you can find in The Southern Bride Magazine Winter 2021 issue.