A dry, crisp, sparkling wine made with organic blueberry with a stunning shade of blue.

Imagine yourself standing joyously amongst family and friends at your wedding reception, and throughout the room, glasses are held high, filled with the most enchanting sparkling blue bubbly you have ever seen. It must be Blanc de Bleu Cuvee Mousseux Brut. Its delightful combination of taste, visual appeal and soothing color is why Blanc de Bleu is capturing the fascination of couples and wine drinkers everywhere!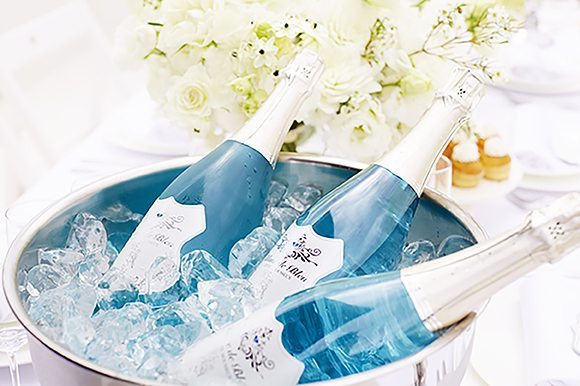 Visit BlancdeBleuUSA.com for more on the Blanc de Bleu story, and to find out where it can be purchased throughout the United States. Blanc de Bleu has plenty of charm and some history behind its creation. Bronco Wine Company is the worldwide producer of Blanc de Bleu, and is celebrating its 43rd anniversary of wine making. Blanc de Bleu gives people a reason to celebrate. Champagne Master Bob Stashak explains, "the base wine of cuvee for Blanc de Bleu is the same fruit used in our high-end, methode champenoise programs.  We add just enough organic blueberry juice concentrate to make a subtle impact." Blanc de Bleu's charm wows us before our first sip. Beyond its elegant label is a blue bubbly that is seductive, and looks stunning inside a striking bottle. Blanc de Bleu is an original. The world's first blue sparkling wine with all the attributes wine drinkers fantasize about; a dry, crisp taste, beautiful shade of blue, and elegance all wrapped in a veil of charm.  Made with grapes grown in Northern California vineyards, known for their cool and clear breezes, Blanc de Bleu offers the complete package for a wedding or special celebration, and is truly different than any bottle of sparkling wine you have ever seen. It's the one to captivate a room, inspire new beginnings, and create life-long memories. Available in 750ml and 187 ml bottles. Blanc de Bleu is a sparkling grape wine made with organic blueberry juice concentrate and certified color. Bronco Wine Company, Blanc de Bleu, Napa, CA.
Southern Bride's most favorite signature drink recipe is a Blanc de Bleu Lagoon!